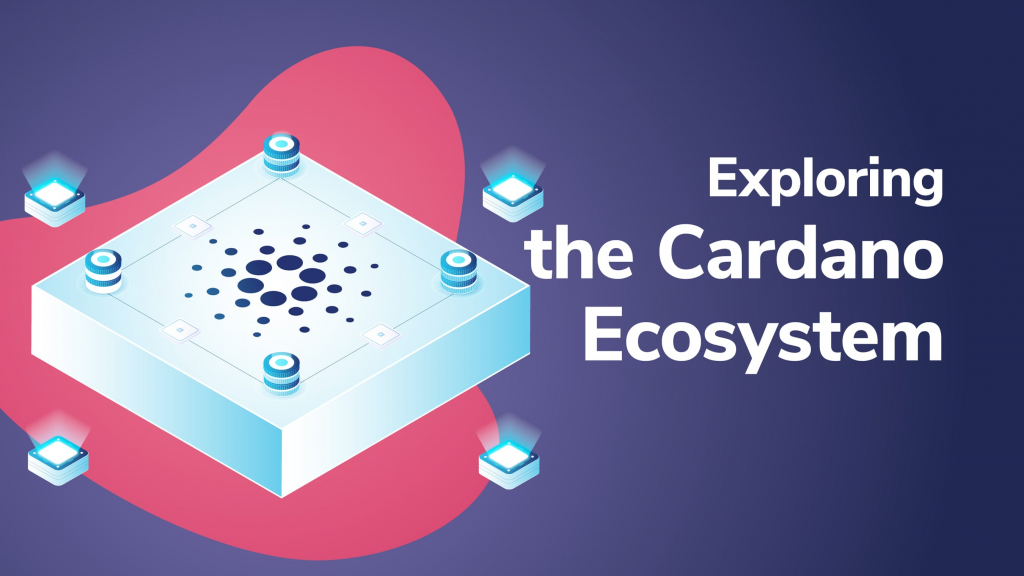 Following the launch of the Goguen phase and the Alonzo hard fork, the number of applications within the Cardano ecosystem is increasing exponentially. The Cardano network currently sits as the third-largest blockchain and cryptocurrency project by market cap, preceeded only by Bitcoin and Ethereum. Moreover, a surge in activity in the Cardano ecosystem enhances the demand and utility of its native ADA asset. Strictly ADA coin, but often known as ADA token, Cardano's core cryptocurrency is a unit of exchange with cross-chain functionality. As such, the Cardano blockchain is becoming an increasingly popular choice with developers to design and deploy decentralized applications (dApps). 
In this article, we are going to explore some of the reasons why the Cardano ecosystem is becoming so popular. Moreover, we'll discover some of the decentralized applications (dApps) operating on the Cardano blockchain and some that are getting ready to launch. First, however, we will cover the Cardano blockchain basics, including the roles of the ADA coin and Cardano's native tokens.
For a deep dive on the basics of blockchain technology, check out the Blockchain & Bitcoin 101 course at Ivan on Tech Academy. We provide expert-led tuition through easy-to-follow video tutorials, catering to all learning styles. No matter your age, experience, or background, Ivan on Tech Academy has the right course for you to start your crypto journey today! See our Crypto For Beginners course if you've yet to invest in your first crypto asset. We offer all sorts of useful tips for beginners (including how to recognize and avoid scams!) Start today, with a 14-day money-back guarantee!
What is Cardano?
Sitting as the third-largest blockchain by market cap, Cardano is a third-generation blockchain using the novel Ouroboros Proof-of-Stake (PoS) consensus mechanism. Using peer-reviewed research and evidence-based methods, Cardano aims to promote positive change and human betterment by empowering individuals and businesses alike with secure, decentralized financial (DeFi) tools.
Moreover, the project uses an original multi-asset ledger with verifiable smart contracts. With the use of these smart contracts, Cardano strives to facilitate seamless scalability for applications developing on the platform. Furthermore, Cardano achieves this without compromising on security or decentralization. With three core partners, Cardano launched in 2017 following two years of research and development.
A creation of Ethereum co-founder Charles Hoskinson and colleague Jeremy Wood, IOHK (Input Output Hong Kong) designs blockchain solutions for enterprises, governments, and academic institutions alike. As such, IOHK is the technology and engineering solution responsible for the design, deployment, and maintenance of the Cardano network. The Cardano Foundation is another key aspect of the partnership. The Foundation acts as an independent body responsible for the development and growth of the network. Additionally, The Cardano Foundation owns the Cardano brand and is the legal custodian of the project protocol. The third arm of the Cardano network is EMURGO. As a founding member of the Cardano protocol, EMURGO assists in the commercial opportunities for implementing Cardano's technologies.
The Cardano network is seeing growth around the world, with communities and organizations helping to make a profound impact. As we discuss further, a large part of the Cardano ecosystem shows commitment to making a positive difference within local and global communities. Project Catalyst is a decentralized fund created by Cardano with a reserve amount of the native ADA assets for positive-impact ecosystem growth. Further, Project Catalyst allows its community to vote on priorities within the ecosystem.
Cardano Roadmap Phases
The design of the Cardano network, Cardano blockchain, and native ADA token (or ADA coin, strictly speaking) originates from 2015. The full roll-out of the Cardano network is set to take place over five phases. Each stage is subject to rigorous testing prior to public launch. With extensive academic and peer-reviewed research, the Cardano blockchain appears to be maintaining its position as a top smart contract-enabled blockchain as the project introduces each phase.
The first phase, named Byron, saw the launch of the project's minimally viable product (MVP). At this stage, the blockchain offered no more than payment settlements. Then, phase two saw the Shelley update introduce ADA staking on Cardano. The third phase, Goguen, took place with the Alonzo hard fork update in September 2021. While still in the early stages of the update, Goguen brings smart contract compatibility to the Cardano blockchain. Furthermore, soon it will be possible for users with little-to-no programming knowledge to deploy their own Cardano smart contracts. This is thanks to integrating the Marlowe programming language.
The penultimate stage, phase four with the nickname Basho, will bring the introduction of sidechains. This update is for extending the interoperability of the Cardano network. Additionally, Basho promises to increase the Cardano blockchain throughput and enhance scalability options for developers. The final and fifth phase, Voltaire, will launch when the Cardano blockchain becomes self-sustainable. At this stage, token holders will be able to vote on Cardano protocol updates via the introduction of ADA token governance features.
ADA Token (ADA Coin)
The Cardano network native currency is ADA. Technically speaking, as ADA is the core cryptocurrency asset of the blockchain, it is sometimes known as the 'ADA coin'. However, more often than not, it is seen as the 'ADA token'. ADA gets its name from 19th-century mathematician and the first-ever computer programmer, Ada Lovelace. As a fully permissionless cryptocurrency, anyone can access, trade, and store ADA anywhere in the world with an internet connection. Moreover, as the project is a public blockchain, all transactions are immutably transparent.
Following the phase three Goguen update and hard fork, developers are beginning to launch their own decentralized applications (dApps). With these dApps comes new native tokens within the ecosystem and economic activity requiring network fees. In a similar fashion to how Ethereum dApps must pay ETH to cover gas fees, users of Cardano dApps will need some ADA coin or ADA tokens to cover network costs. This brings a drastic uptick in utility and demand for the ADA token.
Another crucial role of the ADA asset is to secure the network using the Ouroboros Proof-of-Stake (PoS) consensus mechanism. Doing so offers ADA token holders an opportunity to earn a passive income with crypto, receiving rewards for supporting the Cardano network. Furthermore, for ADA coin or token holders who don't want the responsibilities of a network validator but wish to support the network, this is also possible. ADA token holders can pledge their assets into a staking pool, receiving ADA rewards in return.
At the time of writing, more than 70% of the circulating ADA token supply is staked in ADA pools for validating blocks. This is a high staking rate, indicating high demand for the utility of the ADA asset while simultaneously increasing scarcity and thus its value.
Cardano Network Native Tokens
Going back to our previous Ethereum example, when developers deploy their own decentralized applications (dApps) and cryptocurrencies, they use the ERC-20 token standard. In a nutshell, ERC-20 is a standard that provides a breakdown of all the necessary coding for a token to interact with any Ethereum-compatible wallet, exchange, or application. If developers sway outside of the ERC-20 token rules, tokens could become incompatible with the rest of the Ethereum network.
Cardano operates a similar mechanism with its native ADA asset as the base unit and medium of exchange throughout the network. Developers who wish to deploy decentralized applications (dApps) on Cardano can deploy their own cryptocurrencies using native tokens. Native tokens operate and act very similarly to ADA. However, they have a limit on their functionality. For example, users cannot use native tokens to pay for fees or earn rewards.
The security of native tokens has outshone those of the second-largest blockchain, Ethereum. ERC-20 tokens are susceptible to various security ailments not present with native tokens. Additionally, native tokens do not operate as a "copy-and-paste" token standard such as ERC-20. Rather, the "functionality is built into the ledger itself". In turn, this removes the potential for user error when copying, pasting and adjusting code. Moreover, "Cardano's scripting languages don't have fixed-sized integers", thus reducing under or over-flow vulnerabilities as with ERC-20 tokens.
Also, native tokens are a multi-asset (MA) feature of the Cardano ledger, allowing users to interact and transact with ADA plus at least one other asset simultaneously. Moreover, the MA functionality of Cardano is versatile enough to support both fungible and non-fungible tokens (NFTs) in a single output.
Exploring the Cardano Ecosystem
Below we are exploring the various decentralized applications (dApps) within the Cardano ecosystem. Some projects are active at the time of writing. Others have yet to launch since the initiation of the Goguen phase. The Cardano ecosystem is host to a vast array of applications and utilities. This includes lending and query protocols, wallets, payments services, stablecoins, and synthetic assets.
Community Apps
The Cardano network wants to increase its social impact by supporting up-and-coming projects making a positive difference in the world. Below are just a few of the community-centric decentralized applications (dApps) within the project ecosystem.
Empowa
Empowa is introducing 'Real finance' (RealFi) through a DeFi enabled affordable housing scheme in Africa. Operating on the Cardano blockchain, Empowa allows the public to contribute to the initiative through a range of Empowa non-fungible tokens (NFTs) and native EMP tokens. Within the Project Catalyst fund, the Empowa Fund5 proposal provides partnerships with local housing development associations. In turn, Cardano is helping facilitate sustainable "climate-smart" housing, affordable for clients on low incomes.
Stay ahead of the markets with real-time, on-chain data insights. Inform your trades with true market alpha!
Green Stakepool
French blockchain-fanatic and computer scientist, Pierre, shows unique enthusiasm and support for the Cardano blockchain going back to day one of its launch. Pierre is one of the founding members of Cardano Wiki alongside a founding creator of Cardano's Mission Driven Pools (MDP). Using a "Proof-of-Donations" algorithm still in development, MDP is a "growing group of committed Stake Pool Operators donating to various charities". Also, Pierre has set up Green Stakepool, a permissionless place for ADA token holders to earn returns on their Cardano assets while contributing profits back into eco-friendly sustainable charities.
Operating with headquarters in Switzerland, Green Stakepool has servers across various other countries, appearing to have low electrical carbon footprints (including France and Nordic countries). Moreover, Green Stakepool is running almost 100% on renewable electricity sources with low CO2 emissions. Also, Green Stakepool commits 10% of its annual profits each year to different environmental charities and the protection of endangered animals, forests, and oceans.
OpenLitterMap
A more recent addition to community applications is OpenLitterMap. Using Cardano blockchain technology, OpenLitterMap is tracing and locating litter and trash to create the world's most accessible database on pollution.
Cardano Ecosystem DEXs
With the Goguen phase implementation, developers are recreating decentralized finance (DeFi) products and services seen on other chains and bringing them to Cardano, ideally with a novel twist. As such, the number of decentralized exchanges (DEXs) and automated market maker (AMM) model applications is fast increasing. This includes Orion Protocol, Mirqur, and MatrixSwap - a multi-chain perpetual trading DEX operating on Cardano, Polygon, and Polkadot.
ADAX
The ADAX decentralized exchange (DEX) offers an automated market maker (AMM) model operating on the Cardano blockchain. Instead of operating an order book-based model like many current DEXs use, ADAX Pro allows users of the ADAX DEX to interact with smart contracts directly. As such, this can reduce any slippage in trades with low-volume liquidity pools. Moreover, ADAX Pro offers users of its platform the Cardano ERC-20 converter with the native ADAX token. In turn, this allows ADAX DEX users a frictionless cross-chain decentralized finance (DeFi) experience. Furthermore, ADAX offers a fully non-custodial and permissionless service.
SundaeSwap
Another recent decentralized exchange (DEX) to choose the Cardano blockchain as its host is SundaeSwap. Run by SundaeSwap Labs in conjunction with the SUNDAE token governance mechanism, SundaeSwap is still in development. Operating with a four-token tokenomic structure, SundaeSwap aims to facilitate permissionless liquidity provision to create new markets. Moreover, with a user end experience similar to that of leading Ethereum DEX, Uniswap, SundaeSwap uses a novel "Extended unspent transaction output" (eUTXO) model under the hood. SundaeSwap has big plans. However, it has yet to provide up-to-date information as to how they plan to achieve this by implementing new mechanisms. Furthermore, SundaeSwap states it has future plans to include a secondary derivatives market.
Other Cardano Ecosystem Apps:
The Cardano ecosystem features a range of different decentralized applications (dApps) showcasing various use cases. In addition to community-centered and exchange-based dApps, the Cardano ecosystem is host to different oracles, non-fungible tokens (NFTs), and gaming applications. Also, the ecosystem features insurance protocols and crypto launchpad applications.
Bondly Finance
With an original design implementation on Polkadot, Bondly Finance announced in April 2021 its transition to the Cardano blockchain. Bondly Finance is a multi-utility decentralized application (dApp) offering multi-chain payments, exchange, and non-fungible token (NFT) marketplace services. Catering to both individual day traders and enterprises alike, Bondly Finance provides a space for cross-chain atomic swaps for decentralized finance (DeFi) token assets and NFTs. Sadly, in July 2021, the platform suffered an exploit with a hacker minting and selling over 300 million BONDLY tokens. In turn, the value of the token hit new all-time-lows. However, the team has since deployed a new token contract, increased security measures with extra auditing, and is working hard to restore the community's faith. The project itself still remains a valuable platform for users to showcase collectibles and for brands and artists to share their work.
Charli3
Charli3 is a Cardano-native decentralized oracle for bringing real-world data on-chain using application programming interfaces (APIs). The initial DEX offering (IDO) for the Charli3 project was made possible thanks to the Cardstarter platform.
Cardstarter
Cardstarter is a decentralized crypto launchpad and swapping platform. The platform helps emerging projects within the Cardano ecosystems with fundraising and marketing, acting as a business accelerator.
Exploring Cardano Ecosystem Summary
The Cardano network takes an innovative and unique approach to blockchain development, ensuring it offers developers a seamless and scalable landscape for applications. As such, the project is introducing the full roll-out of its features over five phases. Each stage is subject to meticulous testing prior to public launch. As a result, the blockchain offers solid foundations for applications within the Cardano ecosystem.
The Cardano ecosystem is host to a variety of popular decentralized finance (DeFi) applications. Moreover, the ecosystem offers a suite of DeFi tools both novice and experienced traders and developers can take advantage of. This covers borrowing and lending protocols, staking services, crypto exchanges, oracles, non-fungible token (NFT) services, and gaming. Plus, Cardano supports and is host to numerous positive-impact organizations helping communities on a local and global scale.
Let us know your favorite application in the Cardano ecosystem by following us on Twitter @Academy_IOT! If you would like to discover more about how blockchain can revolutionize an array of industries, see our Blockchain Business Masterclass course. Whether you're in the music, healthcare, real estate, or fashion industry, there is a demand for knowledge of this niche technology. Discover how to get a career in blockchain with Ivan on Tech Academy today!