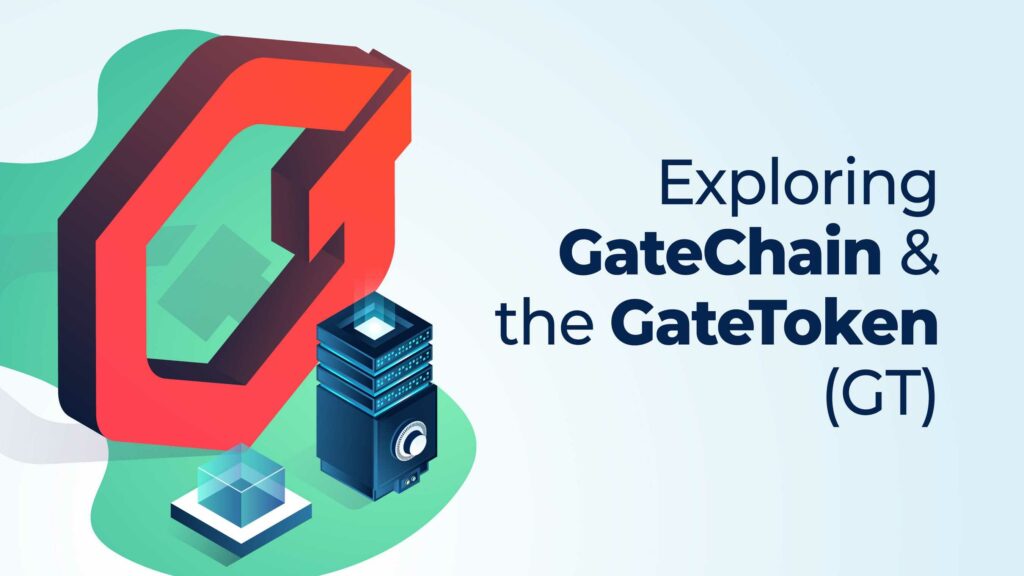 The GateChain token, known as GateToken (GT), is the native cryptocurrency of the GateChain public blockchain mainnet. Also, the GT token is the native exchange token of the Gate.io crypto exchange. Holders of the GT token receive exclusive privileges when interacting with the Gate.io exchange, including trading fee debit, airdrops, discounted token prices, and more. Plus, the GT token is essential for paying transaction fees when deploying smart contracts and interacting with decentralized applications (dApps) on the GateChain network. Furthermore, the platform makes it straightforward for developers to migrate decentralized applications (dApps) from other networks, offering a familiar development experience with Ethereum development tools and the Gatechain EVM feature.
In this article, we're going to dive deep into the GateChain public blockchain network. We'll discuss the native GateToken, the Gate.io exchange, GateChain EVM, HipoSwap, and the GateBridge platform. Also, we'll explore some of the core features and services available throughout the GateChain crypto ecosystem.
Be sure to check out the Blockchain & Bitcoin 101 course at Moralis Academy to gain a solid understanding of blockchain technology. Here, you'll learn about the core value propositions of this technology and why it is so important. Then, our Ethereum 101 course is an ideal follow-on for learning about the key differences between the two largest blockchain networks. This course teaches students about smart contracts, the Ethereum Virtual Machine (EVM), and the history of programmable money!
Also, if you want an expert-guided video tutorial on safely using a crypto exchange, check out the Crypto for Beginners course. Here, you'll learn how to safely buy, sell, and trade crypto. Plus, we offer tips on avoiding scams and keeping your assets safe using a cold storage hardware wallet. Join our community of over 30,000 students today at Moralis Academy!
What is GateChain?
GateChain is a public blockchain network and ecosystem of products featuring the GateChain HipoSwap DEX (decentralized exchange). Thanks to the novel on-chain safety account and a "customizable-time-delay-recovery feature", users of the platform can enjoy high levels of security. Furthermore, GateChain features flexible enterprise-grade multi-signature vault accounts and an asset issuance service. Plus, the project facilitates seamless payments and token transfers across various blockchain networks.
GateChain aims to provide next-generation security for decentralized trading. As such, the project uses a novel clearing mechanism as part of the GateChain Vault Account. This system helps to reduce the impact and likelihood of asset theft and private key loss. Also, the GateChain network is secured using a Delegated Proof-of-Stake (DPoS) consensus mechanism. Holders of the GateChain utility token, GateToken (GT), can lock up their funds to earn staking rewards while contributing to the security of the network. This can be achieved either by hosting a full node or delegating a stake to another node.
Moreover, the GateChain blockchain is capable of processing more than 2,000 transactions per second (TPS). Additionally, traders can enjoy low transaction fees and minimal slippage. Also, the platform makes it easy for developers to migrate decentralized applications (dApps) from other blockchains, facilitating cross-chain functionality as a core feature. The flagship GateChian decentralized exchange (DEX), HipoSwap, also enables users to provide liquidity to earn trading fees. Plus, users can make instant cross-chain token swaps with minimal friction.
Gate.io
Gate.io is a centralized cryptocurrency exchange that offers a broad range of trading services. The Gate.io exchange boasts various trading types, including margin trading, perpetual contracts, leverage, exchange traded funds (ETFs), and copy trading. Also, Gate.io offers staking facilities whereby users can lock up various crypto assets to earn a passive income. Furthermore, GateChain token (GT) holders can vote on new exchange listings on the Gate.io platform. Additionally, Gate.io features a non-fungible token (NFT) marketplace, one-click trading, cloud mining, liquidity mining, and the "callable bull/bear contract" for simple leverage trading.
Also, Gate.io supports over 20 fiat currencies and offers an interactive chat room feature. Plus, the platform uses both centralized and decentralized methods to secure user funds and is highly compliant with cryptocurrency regulations. The GateChain token, GateToken (GT), is the native exchange token of the Gate.io platform. As such, GateToken holders receive exclusive offers, discounts, airdrops, and privileges across the exchange.
GateToken (GT)
GateToken (GT) is the native currency and unit of account for the GateChain ecosystem. The GT token is essential for paying transaction fees and operational costs throughout the network. Developers who wish to deploy smart contracts and decentralized applications (dApps) on the network will need to hold a number of GT tokens. Also, the GT token is used in the GateChain Delegated Proof-of-Stake (DPoS) consensus mechanism. Plus, the GT token enables users of the Gate.io crypto exchange to receive discounts on token purchases and exclusive perks.
Furthermore, holders of the GT token can earn a passive income with crypto by locking up GT tokens to secure the network. Doing this entitles holders to earn staking rewards. Also, a buyback-and-burn mechanism means that the GT token has deflationary properties. At the time of writing, GateToken is trading at around $7.71 with a market cap of $1.2 billion, according to CoinGecko. In the future, we can expect to see GateToken exhibit further utility as the GateChain crypto ecosystem matures and expands.
The GateChain Ecosystem
The GateChain ecosystem is made up of various components. This includes the GateChain mainnet, the Gate.io centralized exchange (CEX), GateChain DEX, the GT Wallet. Plus, Gatemint is the underlying protocol that secures the broader GateChain network. Together, these elements offer enterprise-grade security and efficiency for a wide range of use cases and applications. Below we take a closer look at the GateChain ecosystem.
GateChain EVM
GateChain EVM is an Ethereum Virtual Machine (EVM)-based module with smart contract support. Using GateChain EVM, any project or developer can build and deploy decentralized applications (dApps) on the GateChain network. The GateChain EVM (Ethereum Virtual Machine) feature provides an "EVM-Account" to make developing smart contract-based applications on the GateChain network simple. Also, GateChain EVM supports a range of Ethereum tools and products, including Remix, and the number-one Web3 wallet, MetaMask.
GateChain Token Vault Account
GateChain's unique Vault Account and clearing system model offers the highest levels of asset security. Users benefit from protection against private key loss thanks to a "revocable transaction feature". This causes unusual transactions to trigger an alarm. In turn, this enables users to revoke abnormal transactions. Also, the clearing system allows users to transfer assets when private keys go missing.
GateChain offers two account types. The Standard Account is a regular blockchain account for everyday payments. This type of account does not support the revoke function. However, the Vault Account uses a revocable transaction system and must connect to a Standard Account. Users can top-up their Standard Account from their Vault Account to increase asset security. Moreover, the Vault Account implements "revocable delay periods" to minimize the risk of asset storage and safeguard user funds without additional cost.
GateChain Wallet
The GateChain wallet suite offers a range of crypto wallet applications to suit various use cases ranging from personal payments to multi-signature enterprise solutions. The GateChain mainnet will offer a broader range of wallet applications, including a command-line interface wallet, multi-sig wallets, a hardware wallet, and a mobile wallet for Android and iOS. Also, developers can access and test the GateChain application programming interface (API) via the GateChain wallet.
GateBridge
GateBridge is a multi-chain trading platform that bridges all smart contract-enabled blockchains. This includes Ethereum, Binance Smart Chain (BSC), Polygon, and more. The decentralized asset bridge also offers a cross-chain token bridge and an application hub for smart chains.
The GateChain token bridge makes cross-chain token swaps frictionless. Furthermore, GateBridge offers low transaction fees with zero slippage. Accordingly, the platform offers a convenient and cost-effective trading platform for new and advanced users alike. Users who provide liquidity to the platform will receive rewards from platform fees. Plus, GateBridge will be able to earn staking rewards by locking up a range of major crypto assets.
HipoSwap
HipoSwap is a cross-chain decentralized exchange (DEX) and automated market maker (AMM) protocol on GateChain. The platform aggregates liquidity from some of the most popular exchanges in the industry to enable users to get the best possible prices for token swaps on multiple networks.
HipoSwap supports assets on GateChain, Ethereum, Binance Smart Chian (BSC), Polygon, OKExChain, and more. Plus, the platform offers real-time analysis tools that fetch helpful data from various platforms and present it using an intuitive dashboard. This can help users to create and develop effective trading strategies. Also, HipoSwap makes it straightforward for users to track assets and manage investments across several decentralized finance (DeFi) protocols, all from one convenient location.
Furthermore, HipoSwap offers yield farming opportunities via some of the most popular DEXs on BSC and Ethereum. This includes 1inch Exchange, MooniSwap, Balancer, Curve, Kyber, SushiSwap, UniSwap, and PancakeSwap. Additionally, HipoSwap features a dedicated interface for non-liquidity providers to become market makers. As such, traders can avoid slippage and receive more favorable rates for token swaps.
If you want to learn how to interact with popular decentralized finance (DeFi) protocols like Uniswap, Compound, Aave, and MakerDAO, check out the DeFi 101 course at Moralis Academy! Here, we show students how to install and use MetaMask with some of the most-prominent DeFi protocols. Then, be sure to see our DeFi 201 course. This course teaches students about yield farming, liquidity pools, crypto arbitrage, flash loans, and more!
Or, see our Technical Analysis 101 course to learn how to develop successful trading strategies and improve your trading game! This course teaches students how to remove emotions from trading and instead learn to use trading indicators and on-chain analysis to make decisions based on probabilistic outcomes! Whatever your goals in blockchain, Moralis Academy has the right courses for you!
Gate Grants
GateChain also provides listing support and funding for research and development to bootstrap up-and-coming projects building decentralized applications (dApps). The Gate Grants program offers funding for projects between $10,000 and $100,000 to assist in building new creative technologies on the GateChain network. The project is keen to engage with developers who can generate novel use cases for the native GateToken (GT).
GateChain Explorer
GateScan is the native block explorer of the GateChain network. Using GateChain Explorer allows network participants to view all transactions on the GateChain public network, much like the Etherscan block explorer of the Ethereum network. Also, GateScan enables users to search for various on-chain data types for analysis and network monitoring. The project aims to provide full transparency of operations and make it easy for users to manage/follow the movement of funds.
Exploring GateChain and the GT Token Summary
GateChain addresses two of the most prominent issues facing public blockchains today. Beyond providing cross-chain token swaps for various digital assets, GateChain offers solutions for recovering stolen assets and lost private keys. The native GateToken (GT) entitles holders to exclusive privileges on the GateChain.io crypto exchange. Plus, GateToken is the common unit of account throughout the ecosystem and an essential part of the GateChain Delegated Proof-of-Stake (DPoS) consensus mechanism.
Furthermore, users and developers can seamlessly migrate assets and decentralized applications (dApps) across multiple chains with minimal costs. Also, the platform supports common Ethereum tooling to offer a familiar development experience.
If you want to learn how to become a blockchain developer, you've come to the right place! Moralis Academy is the ultimate Web3 and blockchain education suite available online. Regardless of experience, we have the right blockchain courses for you! For our readers with no coding experience, begin with our Javascript Programming for Blockchain Developers course to get to grips with the basics.
Then, check out our Ethereum Smart Contract Programming 101 and Ethereum Smart contract Programming 201 courses. These courses teach students how to build and deploy smart contracts using the Solidity programming language and Truffle Suite. Following this, be sure to see our Ethereum dApp Programming course. Here, you'll learn how to safely build your own CryptoKitties NFT marketplace clone! Become blockchain certified with Moralis Academy! Also, don't forget to follow us on Twitter @MoralisAcademy! We'd love to hear your thoughts about GateChain and GateToken!