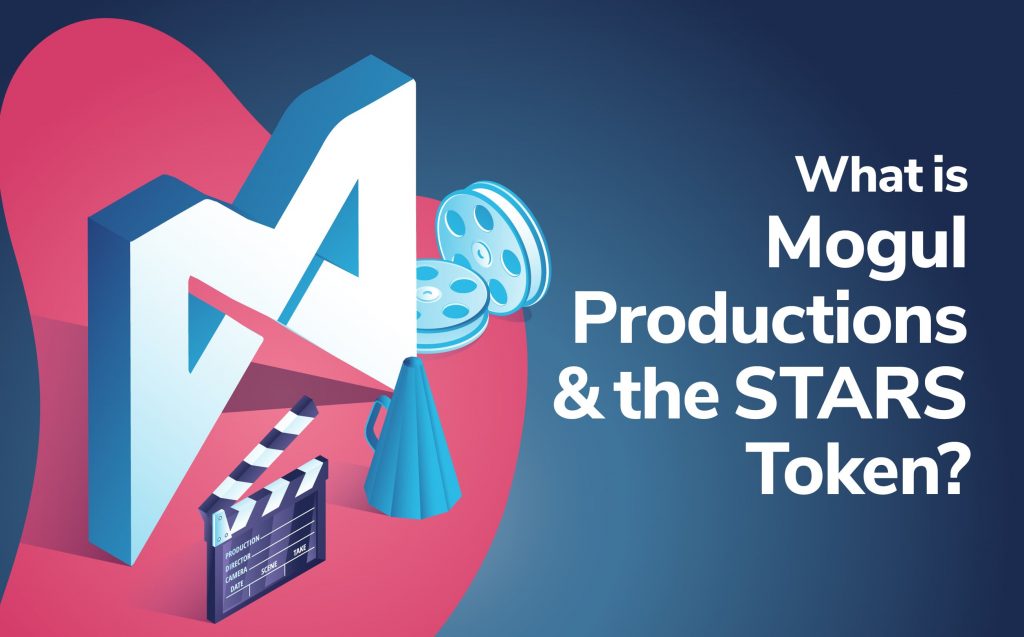 Mogul Productions is a protocol created to decentralize and democratize innovation and participation within the film industry. Offering a decentralized film financing (DeFiFi) platform and soon a movie-based NFT marketplace, Mogul Productions is using blockchain in the entertainment industry to give everyone a voice in the creative process of film production. Governed by the native multi-utility STARS token, Mogul Productions has seen immense adoption since launching in February 2021. The platform features over 40,000 users already. Moreover, Mogul Productions offers non-fungible token (NFT) Access Passes for users of the platform. These offer exclusive and exciting opportunities to be a part of the film process, pre, and post-production!
In this article, we're going to dive deep into the Mogul Productions ecosystem. We'll explore the use cases and demands the platform is ameliorating through the introduction of blockchain in the entertainment industry and decentralized film financing (DeFiFi). Moreover, we'll look at the various utilities and roles of the native STARS token. Also, we'll explore some of the partnerships with the platform and anticipated protocol updates!
If you're new to the cryptocurrency scene, welcome to Ivan on Tech Academy – the world's largest blockchain education suite! For readers yet to invest in cryptocurrency we would strongly suggest checking out our Crypto Basics course first. This includes tips on how to avoid being scammed, create an exchange account, and advice on storing your investments safely. Also, for readers interested in learning more about blockchain on a deeper level, try our Bitcoin Money Revolution course. This is the ultimate guide to the history of money! Then, try the Blockchain & Bitcoin 101 to learn about the basics of blockchain. Join Ivan on Tech Academy today with a 14-day money-back guarantee!
What is Mogul Productions?
Mogul Productions is bringing a new dimension to film production and fan interaction by introducing blockchain in the entertainment industry. Built on the largest smart contract-enabled blockchain, Ethereum, Mogul Productions offers a platform for independent decentralized film financing (DeFiFi). Further, by combining decentralized finance (DeFi) and creative demands, Mogul Productions is creating exciting opportunities for fans, artists, actors, and film producers alike. This includes chances to be involved in upcoming film productions, gain meet and greet access with cast and crew members at film premieres, put forward new film ideas, and support independent film producers. Moreover, Mogul Productions offers holders of the native STARS token the chance to earn a passive income with DeFi. Read on to learn how!
Why use Blockchain in the Entertainment Industry?
The movie industry, namely Hollywood, is home to five major centralized film studios dominating a global market. These are Universal Pictures, Paramount Pictures, Warner Bros. Pictures, Walt Disney Pictures, and Columbia Pictures. The vast majority of box-office movies have been produced through one of the aforementioned production companies. Often, with millions of dollars invested into film pre-production and a high return on investment following release.
However, for the remaining few billion people within the global population who may be interested in releasing their own film or being a part of a film production in any way, opportunities are scarce. Centralized control from a few major influences makes it notoriously difficult to earn a sustainable full-time income in the film industry. However, introducing blockchain in the entertainment industry can help to change this.
Blockchain is a form of distributed ledger technology. Blockchain uses a decentralized network of computers (nodes) to mathematically verify the validity and authenticity of transactions processed on-chain. Moreover, the ledger displaying the transaction history is fully transparent, public, and available to view on a block explorer such as Etherscan or BSCscan. Also, a copy of the ledger is stored on each node. Each node must first reach consensus on a transaction's validity before appending the transaction to the blockchain.
Further development of this technology has introduced non-fungible tokens (NFTs). NFTs represent unique pieces of information as tokens, stored on the blockchain. Each token provides transparent ownership rights and are cryptographically impossible to replicate. Also, unlike fungible currencies, NFTs cannot be sold in or broken down into smaller units. Moreover, NFTs can hold certain rights, experiences, or even be tied to a physical real-world item!
Decentralized Film Financing (DeFiFi)
Using blockchain technology to bring together film financiers, creators, and movie fans, Mogul Productions uses decentralized film financing (DeFiFi) to help filmmakers to obtain funding when they may struggle to find it from one of the major film studios.
Often, this lack of funding is not reflective of the quality of the work produced. Rather, it reflects the reluctance of film studios to take a risk on a project that deviates from the status quo. Due to a downturn in box-office revenue and an increase in streaming services such as Netflix, major film studios stand to lose out considerably if they put out a movie that fails. This means that often, major film releases are tried-and-tested sequels, reworks of successful movies, or spin-offs, frequently featuring a selection of consistently successful actors with a proven track record. Resultantly, smaller filmmakers and unknown actors are missing out, and in turn, so too are movie fans.
However, Mogul Productions is remedying this by enabling users of the platform to take part. Users can get involved in the creation, financing, and marketing of movies. Furthermore, this is achieved without the support of major film studios or career-defining critics. Moreover, thanks to decentralized film financing (DeFiFi), the barrier for entry into the film industry has been significantly lowered, creating an equitable environment for aspiring creators.
STARS Token
The native STARS token powers the Mogul Productions platform and is responsible for various utilities. Holders of the STARS token can use these to support their favorite film productions proposed through the Mogul Productions 'Showcase' section. STARS tokens are an in-app currency and critical to decentralized film financing (DeFiFi). Also, Mogul Productions offers STARS token holders the opportunity to make a passive income with crypto (explained below!).
Since the token launch in April 2021, holders of STARS can vote on films to be 'greenlit' for production. Also, token holders can have voting rights on certain parameters of the film. The STARS token is a governance token for the Mogul Productions platform too. Additionally, STARS token holders can enter a "profit-sharing pool of capital accruing from Mogul-funded movies".
As part of the Early Adopters Program during April, Mogul Productions completed a 400,000 STARS token raffle airdrop to 20,000 users of the platform. The maximum supply of STARS tokens is 400 million, with approximately 282 million currently in circulation, according to CoinGecko. However, there have been over two million STARS tokens burned through the recent non-fungible token (NFT) auction. Also, nearly 40% of the STARS token circulating supply has been locked up through the Mogul Productions farming protocol.
Mogul Growth Farming
Mogul Productions is offering STARS token holders the opportunity to earn a passive income through their Mogul Growth Farming protocol. Taking original inspiration from one of the largest decentralized exchanges (DEXs), Uniswap, the Mogul Growth Farming protocol is a fork of the popular Sushi Master Chef contract, allowing STARS holders to earn more STARS! The contract was successfully audited by Zokyo Labs which Mogul Productions has published and can be verified here.
The STARS Master Chef contract allows for two different staking pools. Firstly, there is a STARS token-only pool, where contributors can stake their STARS tokens directly to earn rewards. Plus, there is a STARS_ETH pool. Users will first need to deposit their STARS tokens and ETH and become Uniswap liquidity providers to receive LP tokens. Then, the received STARS_ETH LP tokens can be staked in the STARS Master Chef contract to earn further STARS tokens!
The Mogul Growth Farming protocol is available for a limited time only, however, there is no set end date. During the campaign, 40 million STARS tokens have been set aside as rewards for users of Mogul's Growth Farming protocol. Of these, 90% will be reserved for the STARS_ETH pool with the remaining 10% to the STARS-only pool. Rewards are to be distributed over a three to four-month period. This is to incentivize liquidity and increase engagement on the platform.
Mogul Productions Non-Fungible Tokens (NFTs)
The Mogul Productions platform offers a user-friendly dashboard. The dashboard displays your user name, wallet address, STARS token balance, and any Mogul-native non-fungible tokens (NFTs). Still in the early stages of development, Mogul Productions offers an interoperable cross-platform "NFT viewer" as a display board for Access Passes and other Mogul-based NFTs. Simply connect to the platform using the most reputable Web3 wallet, MetaMask. Then you will be able to view all your Mogul assets in one convenient place!
For an expert-led video-guided tutorial on how to install and use MetaMask, see our DeFi 101 course at Ivan on Tech Academy! Discover how to interact with popular decentralized finance (DeFi) protocols such as Compound, Aave, and Uniswap! Then, our DeFi 201 course teaches students how to take out flash loans, create decentralized hedge funds, and take advantage of crypto arbitrage opportunities. Get started in DeFi today, at Ivan on Tech Academy!
Mogul NFT Access Pass
Mogul Productions has created a novel range of non-fungible token (NFT) assets that offer holders exclusive experiences. With four different tiers available, holders of the Mogul NFT Access Pass can receive opportunities to feature in roles or producing credits in a film. Moreover, the Mogul NFT Access Pass could offer holders the chance to attend a day on set, meet the cast and crew, or attend the red carpet premiere! Rewards are unique to each film, with different tiers offering different opportunities.
Thanks to a recent partnership with NFTY Labs, Access Passes will soon hold access rights to gated Mogul Productions Telegram and Discord communities. This means Mogul NFT Access Pass holders can contribute and participate in conversations with the Mogul team and partners!
The four different tiers of Mogul NFT Access Passes are: All Access Pass (1000 available), VIP Access Pass (250 available), Backstage Access Pass (100 available), and the top-tier Red Carpet Access Pass (25 available).
The Mogul team ensured complete compatibility and transferability of the assets with the top non-fungible token (NFT) marketplaces from the day of launch. Holders of a Mogul NFT Access Pass can trade their NFT on a decentralized marketplace such as Rarible or OpenSea. Soon, Mogul Productions will be introducing its own native NFT marketplace, where users can freely trade their Access Passes.
Physical NFT Access Passes
During the early adopter stage, the Mogul NFT Access Passes were available to purchase as a 'package' investment that included STARS tokens, and various merchandise depending upon the chosen tier. The early contributors to the platform were rewarded with the opportunity to receive a physical NFT Access Pass. Mogul Productions is proud to be one of the first blockchain projects to introduce physical NFTs on a mass scale, using a QR code hologram to verify their authenticity.
However, with mass distribution comes a lot of organization, labor, data collection, and analysis, meaning the physical non-fungible token (NFT) Access Passes have yet to be dispatched to holders. Despite this, the Mogul team is keeping in frequent communication with participants, reassuring Mogul NFT Access Pass holders their physical version will be received "as soon as they are ready", with the patience of holders appreciated. Upon receipt of the physical NFTs, users will be able to verify their Access Pass at MGLNFT.com.
Proof of Origin – NFT Auctions
Renowned Marvel and DC Comics artist, Rob Prior, teamed up with Mogul Productions to produce their first-ever Proof of Origin non-fungible token (NFT). The event was live-streamed through the Mogul Dashboard with lots of guest speakers whilst the artist painted.
Prior painted various artworks. These included the CEO of Binance, Changpeng Zhao (CZ), Ethereum founder, Vitalik Buterin, and Tesla CEO, Elon Musk. These three paintings were themes chosen by a vote in the STARS token community before the event. During this time Prior was also creating the Mogal NFT artwork named "Reign of Money…. what the f$ck", inspired by The Wolf of Wall Street.
Then, viewers watched Prior burn the Mogul NFT painting live in front of an audience. This is proof that the only version of the painting that exists is in the form of an ERC-1155 non-fungible token (NFT). The NFT itself contained; a full rendering of the painting, a video of Rob Prior painting the original artwork, plus an animated version of the painting.
The non-fungible token (NFT) was sold for a bid of a whopping 5,500,000 STARS tokens (around $182,000 during the time of sale). Not bad for the first-ever NFT sale through Mogul's platform! Also, 50% of the STARS tokens received were burned to increase the scarcity of the native token's supply.
Bonded
Mogul Productions' first film to be financed and released through the decentralized film financing (DeFiFi) and NFT platform is 'Bonded'. Based on a true story, the film follows a young Mexican boy who is smuggled into Los Angeles and sold on to work at a sweatshop making party dresses. Directed by Mohit Ramchandani, Mogul is helping facilitate a social action and awareness campaign, highlighting issues around modern-day slavery. The Production Advisory Officer at Mogul Productions, and Emmy-nominated producer, David Cormican, stated:
"This is obviously an incredibly exciting time to be announcing this milestone — Mogul's first film financed via the Mogul model. Mogul initially invested in Bonded at the script level a little over two years ago. The filmmaking and producing team's level of engagement served as an inspiration for Mogul's model of interacting with investors and audiences during the script to screen journey for projects."
For any film producers interested in putting forth an idea for Mogul Productions, submissions are now being accepted. Users will first need to create an account through the Mogul Productions website to be considered for the platform showcase.
Mogul Productions Summary
By introducing blockchain in the entertainment industry, Mogul Productions is facilitating a new dimension of film production with fan interaction. Through decentralized film financing (DeFiFi) and on-chain ownership of non-fungible token (NFT) Access Passes, Mogul Productions is opening up the stage to a global community and lowering the barrier to entry for film production.
Additionally, Mogul Productions has an extensive list of partnerships with a variety of strategic collaborations. This includes the likes of Ethereum's layer-2 solution Polygon/Matic, and Chainlink VRF to assist in the development of the movie-based NFT marketplace. Also, gamification specialists GeoMercury, and NFT projects ChainGuardians and NFTY Labs are assisting in the cross-chain interoperability with Mogul-based NFTs.
Moreover, Rogers & Cowan PMK was recently appointed to oversee public relations and marketing of Mogul. Also, with Paul Sparkes and Gorav Seth as co-chairs of film financing for Mogul Productions, the project appears to have a solid foundation in the future of blockchain in the entertainment industry!
It's not just the entertainment industry that blockchain is improving. Many industries can benefit from various blockchain use cases. This includes real estate, insurance, healthcare, and the energy sector. Also, the music, art, fashion, sports, and supply chain management industries are all implementing blockchain. Would you like to learn what they're doing and how you could do the same? Ivan on Tech Academy has all the educational material needed to enter the vast world of blockchain business solutions!
Start with our Blockchain Business Masterclass to discover how to implement blockchain protocols with centralized IT systems. Or, our Blockchain for Enterprise course shows students how global businesses are benefiting from Baseline Protocol. Join over 30,000 like-minded students today, at Ivan on Tech Academy! Also, don't forget to follow us on Twitter @Academy_IOT! We'd love to know your thoughts about Mogul Productions.