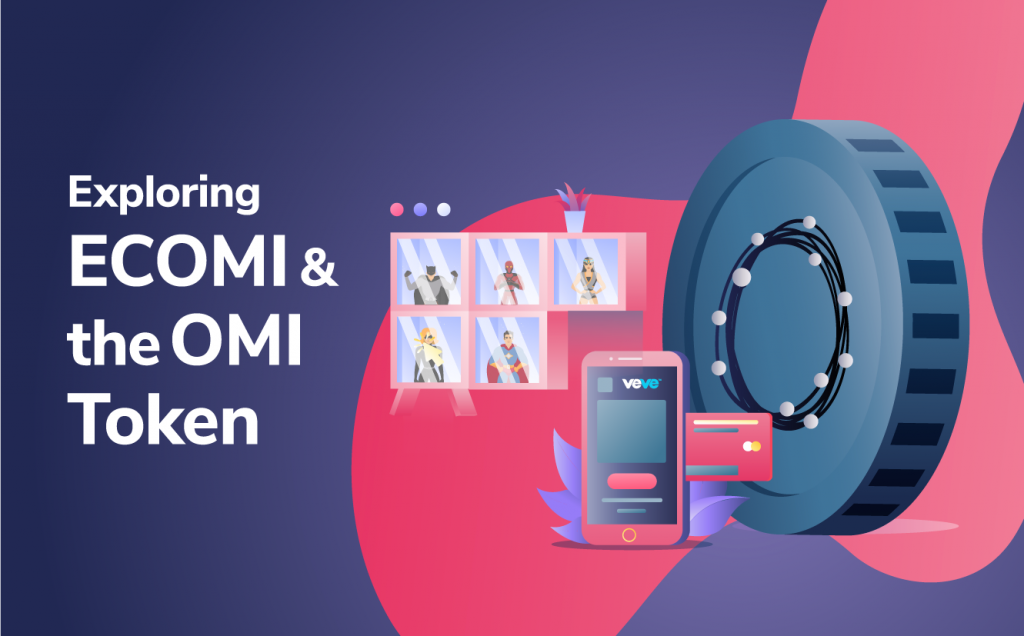 ECOMI is presenting a new type of collectibles experience with the VeVe mobile application and other digital asset services. VeVe is an app underpinned by blockchain technology offering a digital collectibles environment using augmented reality (AR) within the ECOMI technology. The native OMI token is used as a medium of exchange throughout the ECOMI crypto ecosystem. Moreover, the OMI token is used to incentivize platform engagement through in-app activities, and in the ECOMI Master Collector program offering committed members of the ECOMI community access to exclusive rewards and perks. Further, ECOMI takes care of the full user journey ensuring complete security and privacy of non-fungible token (NFT) digital collectibles using a dedicated offline cold storage solution, Secure Wallet. 
In this article, we're going to dive deep into the ECOMI crypto ecosystem. We'll explore the utility of the native OMI token, discover the underlying ECOMI technology behind the project, and how ECOMI is offering a new type of digital collectibles experience. Also, we'll look at the ECOMI Master Collector program and how to store non-fungible token (NFT) digital collectibles with ECOMI's Secure Wallet.
If you're new to the crypto industry and would like a video-guided tutorial on how to store your investments safely on a hardware wallet, see our Crypto Basics course at Ivan on Tech Academy! You'll also learn some tips on how to avoid crypto scams too!
Also, why not check out our Bitcoin Monetary Revolution course? You'll learn about the history of money and why blockchain technology is revolutionizing the financial industry. Then, our Blockchain & Bitcoin 101 and Ethereum 101 courses are the best courses for learning about the fundamentals of blockchain. Join the number one online blockchain education suite today, at Ivan on Tech Academy!
What is ECOMI?
Founded in Singapore, ECOMI is a technology startup focusing on improving the accessibility, interactivity, and security of digital assets. Furthermore, ECOMI strives to improve the digital collectibles space. This is achieved by creating a series of different applications and protocols facilitating non-fungible token (NFT) trading, gaming, and streaming.
ECOMI aims to provide a "one-stop-shop" for non-fungible token (NFT) twenty-first-century pop culture digital collectibles. The project offers an entertainment application, cold storage hardware wallet, and community-focused interactive protocols including augmented reality (AR) technology. Plus, the native VeVe application offers a secondary NFT marketplace too.
VeVe (ECOMI Collect)
Originally named ECOMI Collect (as per the ECOMI whitepaper) ECOMI's decentralized application (dApp) offers users a brand new collectibles experience. Rebranded as VeVe in December 2020, the platform is a decentralized marketplace facilitating the buying, selling, and trading of non-fungible token (NFT) collectibles. Plus, the app features an array of further interactive services.
Through VeVe, fans of pop culture, sports, gaming, TV, film or animation, can showcase their NFT collectibles with the platform's virtual showroom. This presents a novel and valuable use case for NFT collectibles. As the NFT market has increased exponentially throughout 2021, there are still very few applications or platforms to display ownership of art and collectibles.
Browsing through the VeVe marketplace, users can invest in digital collectibles from popular brands including Adventure Time, Batman, Back to the Future, DC collectibles, Jurassic Park, and Superman to name just a few. Collectibles come in five degrees of rarity: common, uncommon, rare, ultra-rare, and secret-rare.
Moreover, VeVe offers users a second chance if fans miss out on purchasing limited edition NFT collectibles through VeVe's marketplace. The app offers a secondary peer-to-peer marketplace allowing different VeVe users to trade and purchase NFT collectibles directly between themselves. After trading and adding to personal collections, users can then showcase their NFTs, create augmented reality (AR) scenography, plus share these with other users. We'll discuss this in more depth further in the article.
The application and its transactions are underpinned by the security of GoChain blockchain using a form of distributed ledger technology (DLT). GoChain blockchain is a smart contract-enabled blockchain that is 100% Ethereum compatible, offering higher throughput and lower costs than Etheruem. Further, every transaction orchestrated on the VeVe platform is cryptographically verified and immutably stored on a public blockchain, thanks to the native OMI token.
OMI Token
The GO20 OMI token is the native token used throughout the ECOMI crypto ecosystem. Every transaction on the VeVe app is completed by utilizing the native OMI token. This includes trading digital collectibles plus making use of staking facilities to generate access to exclusive premium features.
The OMI token was purposefully designed to be a valuable medium of exchange. When a transaction with the OMI token on the VeVe app is confirmed, the data is immutable and publicly stored. This removes any disagreements of ownership or illegitimate items. Users can also verify transactions using the GoChain Explorer.
OMI Token Wallet
During the account set-up process with VeVe, users are provided with a native crypto wallet stored on the app. When using the application, the wallet is accessible by selecting the "Profile" section on the bottom right-hand side. Here, you will be presented with an account balance alongside other profiles settings.
Moreover, the OMI token wallet also provides a transaction history, a breakdown of any OMI tokens staked, plus the option to purchase OMI tokens. Users have the opportunity to buy more tokens with either fiat or cryptocurrencies. Further, if paired, the in-built OMI token wallet will provide an account balance for ECOMI's associated cold storage digital hardware wallet too.
Secure Wallet
A concept in the ECOMI whitepaper refers to the "Collect digital hardware wallet". The digital hardware wallet is designed to store OMI tokens and non-fungible token (NFT) collectibles. Launched as the "Secure Wallet", the physical crypto wallet can store thousands of digital assets including NFTs.
The Secure Wallet is conveniently sized just like a regular debit or credit card and wirelessly connects to the VeVe app without the requirement of the internet. Rather, users can scan the unique QR code to connect devices removing the threat of malicious online attacks.
Alongside immense portability, the Secure Wallet technology makes use of world-leading security standards to ensure the utmost privacy and protection. For example, the majority of traditional banks use an EAL5 security standard to protect users' funds. The Secure Wallet employs an improved CC EAL5+ security standard to maximize protection over users' assets.
In addition to connectivity with the VeVe entertainment app, ECOMI also offers an ECOMI Secure Wallet application available for mobile download on both iOS and Android. The ECOMI Secure Wallet app allows users to transfer funds between wallets in addition to various non-fungible tokens (NFTs). This also includes the popular Ethereum-based breeding game, CryptoKitties.
1. Hardware Secure Element
2. E-Paper Display
3. Bluetooth connector.
4. Power/Confirmation Button
5. Integrated Circuitry
6. Rechargeable Battery
7. Charging connectors
8. LED Charging Indicator
ECOMI Technology
Because of the network congestion and high gas fees often experienced on Ethereum, the OMI token and the collectible non-fungible token (NFT) contracts are deployed on the GoChain network. This allows for much higher throughput. Currently, the GoChain network boasts 1,300 transactions per second (TPS). However, it is expected to be capable of processing 13,000 TPS in the near future.
As a fork of the Ethereum protocol, the GoChain network is fully compatible with Ethereum smart contracts, despite the considerable difference in throughput. This enables high levels of flexibility and interoperability, and it allows ECOMI to utilize the GO20 and GO721 token standards. Plus, the ECOMI NFT smart contract is designed to be 100% compatible with Ethereum's ERC-721 token standard.
All ECOMI digital collectibles are minted as non-fungible tokens (NFTs). Each comes with a Uniform Resource Identifier (URI) linking the NFT to unique metadata including the name of the collectible, brand, licensor, and edition.
Blockchain technology is currently utilized in a wide variety of industries. This includes real estate, fashion, music, and the energy sector! To find out how major companies such as Microsoft and CocaCola are benefitting from the enterprise adoption of blockchain technology, check out the Baseline Protocol course at Ivan on Tech Academy. Also, if you want to learn how blockchain is revolutionizing supply chain management, see our OriginTrail 101 course. Following this, check out our OriginTrail 102 to learn how to operate your own OriginTrail node!
Virtual Showrooms
With physical collectibles, collectors often present them with pride in display cases or collectible card wallets, sleeves, or folders. ECOMI is recreating this experience through the VeVe app with virtual showrooms.
Each user has their own personal public or private showroom, with the option to create more. Furthermore, users can explore other users' virtual showrooms through FPS (first-person shooter) game-style and augmented reality (AR). This brings the virtual showroom to life creating an experience as though the user is physically walking through a display. Also, users impressed by experiences and showcases can "like" and "comment" to show their appreciation to the showroom host.
Users can create unique and imaginative experiences, with full autonomy over the design, layout, and background images of the virtual showroom. Moreover, experiences in public showrooms can be shared within the VeVe app and on popular social media platforms. This can all be achieved through the convenience of a smartphone or tablet.
Augmented Reality
Arguably one of the most engaging features of ECOMI's VeVe application is the innovative use of augmented reality (AR). The AR features on VeVe creates the ability for collectors, fans, and application users to have their favorite non-fungible token (NFT) heroes and characters appear like a real-world object. AR collectibles can be rotated, adjusted, and scaled to interact with the surrounding real-world environment.
Also, augmented reality (AR) collectibles can be customized with accessories and props. No matter the environment, digital non-fungible token (NFT) collectibles can be intertwined with AR technology to match the scale of the environment from the size of a small tabletop to an outdoor arena. Moreover, this means users can adjust their collectibles to size at a human scale and then take photos with them. Plus, these images can be shared frictionlessly across major social media platforms.
The VeVe augmented reality (AR) features can be operated in one of four ways. Either by placing a camera for the AR technology to detect a flat surface thus creating the AR image on top, alternatively, it could be floating in space. Additionally, AR digital assets could be placed on a specific reference point or certain geolocation.
Scene Creator
The 3D visual editor tool on the VeVe app is where the main creative tools are available to create a one-of-a-kind virtual showroom experience. Users can design their own "Scenes" for their digital collectibles to be displayed using industry-standard tools including the cross-platform game engine, Unity.
Experienced through the augmented reality (AR) technology on the VeVe application, users can create immersive experiences, adjusting lighting and angles to design visually-rich 3D Scenes for their collectible display. Scenes can then be shared across most major social platforms alongside the "show and tell" Social Wall.
Social Wall (Show 'n' Tell)
The VeVe app also features a social section called "Show 'n' Tell". The Show 'n' Tell section enables the ECOMI community to connect and interact with each other while sharing and displaying digital collectibles, Scenes, and items for sale in the marketplace.
Users can personalize their Social Wall and select who can see their content. Furthermore, the Social Wall allows users to show appreciation for others' work by liking, sharing, and commenting like many popular social media platforms. Plus, users can tip their favorite creators using the OMI token. Moreover, the Social Wall can be customized to display personalized content.
Master Collector Program
To increase engagement, community interaction, and funds on the platform, ECOMI has introduced the Master Collector Program. The Master Collector Program offers users of the VeVe application the option to earn extra OMI tokens. Plus, users gain access to limited-edition collectibles, early access to certain collectible releases, alongside other exclusive perks.
The Master Collector Program is orchestrated through different levels. Each level requires an additional sign of commitment to the platform than the previous one. This could be through the amount of user activity, involvement in the community, or the number of OMI tokens staked. Each new user starts at Level 1 upon registration.
To move up a level, there are two avenues. Firstly, users can purchase OMI tokens in-app using either cryptocurrency or fiat currency. These can then be staked in "The Powerchest". Alternatively, for users not wanting to spend funds, community engagement and some in-app activities offer users the chance to earn OMI tokens. These can then also be staked in The Powerchest, allowing the holder to become a Master Collector.
ECOMI, VeVe (ECOMI Collect) & OMI Token Summary
ECOMI has designed an immersive new digital collectibles and display experience for collectors and fans of some of the most well-loved brands. This includes Harley Quinn, Cartoon Network favorites, and Ultraman among many more. Launched on GoChain, ECOMI's original conception outlined in the ECOMI whitepaper was named ECOMI Collect, prior to the application being rebranded as VeVe.
VeVe offers collectors, traders, and fans a place to purchase limited-edition digital collectibles with cryptographic reassurance of authenticity. Moreover, for fans that missed out on an original sale, there is an opportunity to interact with other platform users offering peer-to-peer trading on a secondary market. Further, ECOMI has presented a well-needed use case for NFTs offering virtual showrooms. Also, virtual showrooms make use of augmented reality (AR) technology to design imaginative scenography and experiences for users showcasing their collections. All ECOMI applications within the ECOMI crypto ecosystem, including the VeVe app, make use of the native OMI token as a medium of exchange across the network.
ECOMI is targeting the mass market and therefore has mindfully designed a user-friendly and easy-to-navigate engaging application. Moreover, ECOMI offers fiat payment options as this is still a more familiar payment method for most users than crypto. Under the hood, the project, transactions, and assets associated with the platform are cryptographically secured through the use of blockchain technology.
If you'd like to learn about blockchain programming, start with our Javascript Programming for Blockchain Developers course, designed for beginners at Ivan on Tech Academy. Then, for experienced developers, see our Ethereum Smart Contract Programming 101 course to learn the basics of the Solidity programming language! Get started at Ivan on Tech Academy today to discover your potential! Also, don't forget to follow us on Twitter @Academy_IOT!