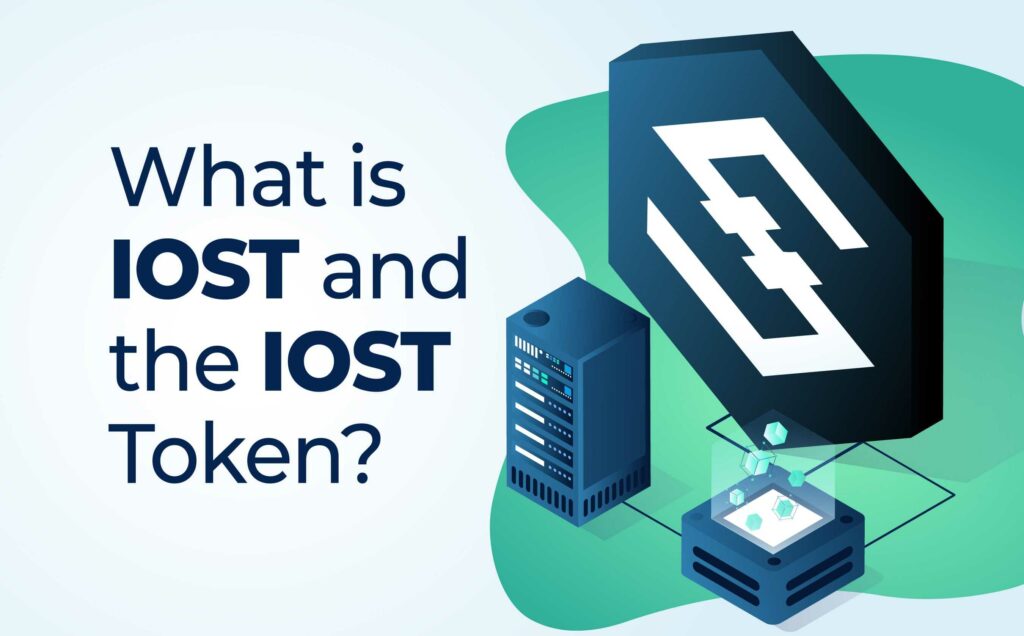 The IOST blockchain ecosystem is one of the longer-standing projects in the crypto industry. Introducing a new consensus model, "proof-of-believability" (PoB), the project offers a quicker and more affordable developer environment than Ethereum – the leading blockchain for decentralized finance (DeFi). Moreover, the project employs the IOST coin or IOST token as a key element in the IOST crypto ecosystem. The project presents a scalable, interoperable, reliable, and secure blockchain development environment. As such, the platform is host to a wide array of applications, including crypto launchpads and NFT marketplaces.
In this article, we're going to explore the IOST blockchain ecosystem and discuss the range of decentralized applications (dApps) available. Moreover, we'll look under the hood of the project and explore how the proof-of-believability (PoB) consensus algorithm operates. Plus, we'll take a look at the roles and functions of the native IOST coin and IOST token.
To clear up any confusion or knowledge-gaps surrounding blockchain, check out our Blockchain & Bitcoin 101 course at Moralis Academy. We cover all the basics, block by block, from UTXOs to forks and mining nodes. Our Ethereum 101 course is the ideal follow-up track to take the foundations of your blockchain education to the next level. Discover smart contracts, ERC-20 tokens, and the Ethereum Virtual Machine (EVM) at Moralis Academy today!
What is IOST?
IOST, an acronym for "Internet-of-Services Token", is a next-generation blockchain. The platform is introducing cutting-edge technologies to facilitate sub-second transaction settlements and scalability. In order to achieve this, the project operates using the novel proof-of-believability (PoB) consensus algorithm. Further, the native IOST token (IOST) supports the operations of the PoB consensus model. IOST is a project with support from leading global investors and employs team members with experience at notorious international companies. The team collectively strives towards providing the foundational architecture for a decentralized economy, meeting all necessary scalability and security requirements.
IOST launched its mainnet in 2019, and it offers a secure smart contract development environment that is faster and cheaper than the leading smart contract-enabled blockchain, Ethereum. The blockchain originally began offering users 8,000 transactions per second (TPS). However, since the introduction of the "efficient distributed sharding" and "micro state blocks" scaling solutions in 2020, the project now claims to be able to process 100,000 TPS. In turn, the average transaction confirmation takes less than half a second.
From a developer's perspective, the IOST blockchain can host decentralized applications (dApps) capable of handling mass real-world utility, which would remove any anxieties surrounding speed. Further, the network doesn't compromise on security. Plus, by staking the native IOST token, developers can gain access to tools and resources to aid in dApp development. This helps keep development costs to a minimum. Moreover, the platform allows developers to design and deploy their creations using one of the most familiar programming languages, JavaScript. This lowers entry barriers for blockchain development for traditional Web2 programmers.
IOST Token
Since IOST is a blockchain, its native currency powering the protocol is technically a coin. However, before the IOST mainnet went live, the project launched its currency via the Ethereum blockchain. These are native Ethereum ERC-20 IOST tokens. Then, as the project's mainnet went live, the IOST-native coins were introduced into circulation. Holders were encouraged to swap their IOST tokens for IOST coins at a 1:1 ratio through Binance.
The IOST coin has the same function and utility as the IOST token. Plus, IOST is using its own IRC-20 token standard, similar to Ethereum's ERC-20. In turn, all cryptocurrencies operating with the native standard are fully compatible and interoperable with other applications within the IOST crypto ecosystem. Also, IOST coins are compatible with some external decentralized applications (dApps) as well.
The core function of the IOST coin or token is to provide security and privacy protection to the network. In turn, the IOST coin plays a significant role in supporting the novel consensus algorithm, PoB. Additionally, users and developers will either need IOST coin or IOST token holdings to pay for transaction fees within the IOST crypto network. IOST coin is the primary currency for users as a medium of exchange for services on the platform.
IOST Wallets
The project ensures IOST token and IOST coin holders have a wide range of choices for keeping their assets safe and sound in different crypto wallets. The wallets available are large contributions from the IOST community. As such, the project stresses that users do their own due diligence and screening before committing to an IOST wallet.
Users need to register for an IOST mainnet account in order to create an IOST wallet. Also, different wallets boast "super-fast transaction speed" and "zero transaction fees". The two main types of crypto wallets available are PC Chrome extension web wallets (such as iWallet and Jetstream) and mobile wallets. Compatible mobile wallets include Huobi Wallet, Citadel Wallet, and TokenPocket Wallet.
IOST Ecosystem
The project ecosystem is host to a vast range of decentralized applications (dApps) and services. By using the original PoB design, the blockchain extends its solutions for developers to include non-fungible token (NFT) utility, a crypto launchpad, and staking facilities. First, however, we'll cover how the project's pioneering PoB consensus model operates under the hood.
Proof-of-Believability (PoB)
Proof-of-believability, or PoB, is IOST's novel consensus algorithm. Further, PoB is an extension of the traditional "delegated proof-of-stake" (DPoS) model, which lowers the barrier to entry by introducing a point system. The PoB algorithm ensures the security, scalability, and decentralization of the network. Moreover, combining the native IOST coin and token, PoB guarantees decentralization of block production, validation of transactions, and protocol governance.
Proof-of-believability (PoB) uses a decentralized block producer election and committee formation mechanism. This presents a fair opportunity for most qualified nodes, or nodes with more votes, to receive a higher probability of producing a block. In addition to node votes, another factor for consideration of block production is through a point system called "Servi".
The committee holds 17 seats for nodes which reshuffles every ten minutes. The top nodes with the highest Servi score will receive seats taking turns to complete block production. Each time a node enters the member committee, it "consumes" its Servi points. This means that unselected nodes have an increased chance of gaining a seat at the committee formation with each round. As such, hundreds of different nodes can validate and produce blocks within a single day.
Memos
Instead of a random mix of numbers and letters, wallet addresses on the project network use "memos". Memos, or "destination tags", work as an identifier of a user and wallet balance with human-readable names, such as "myiostname", for example. Plus, users can use memos when sending or receiving funds from users and exchanges. It is a critical step with some exchanges to complete the "memo" field when transferring funds, such as "binanceiost". Without doing so, users may lose their funds forever.
IOST accounts can be free or "pay-for-service" with different account options. The project stresses the importance of keeping the private key safe as it is a non-custodial service. Meaning that if users lose their private keys through restoring or buying a new computer, IOST can not retrieve any funds from the wallet. For users to be able to access their funds at any time, it is paramount for users to keep their private keys safe.
IOST Non-Fungible Tokens (NFTs)
Currently, three main non-fungible token applications are operating within the network. These are "Revival", "RIZIN Fighting Collection" (RIZIN FC), and "TOKENLINK".
Revival is the first multi-chain NFT aggregator application running on IOST, which implements the margin reward mechanism for its users. In short, this means Revival can allow users to tokenize artwork, create NFTs, and buy and sell non-fungible assets from multiple chains in one place.
Starting on September 30th of 2021, a strategic partnership between NFT-Japan Inc. and IOST presents the RIZIN FC. Available on the IOST-based Japan martial arts NFT marketplace, the project plans to provide "RIZIN Fighters Highlights NFTs" for fans to invest and trade in by the end of 2021.
Developed by Platinum Egg, a specialized blockchain gaming and entertainment development company, TOKENLINK is IOST's NFT marketplace flagship. TOKENLINK offers non-fungible asset investments in many areas. This includes a mixture of digital crypto artwork, games, music, and NFT avatars. As one of the first successful mixed-asset NFT marketplaces, TOKENLINK has seen massive adoption and attraction.
Build Your Own NFT Marketplace
IOST makes it straightforward for businesses and individual developers alike to design and deploy their own NFT marketplace. For their users and customers, the project offers an ultra-fast and near-free fee transaction experience.
The project offers a frictionless and familiar development experience for developers using the "V8" JavaScript smart contract language. Alongside the use of this popular programming language, IOST is a highly-scalable network offering complete reliability with "zero downtime since its mainnet launch in 2019". Moreover, the project uses familiar token standards for cryptocurrency and NFT deployment. Developers can make use of the IRC-20 standard, plus the IRC-721 token standard for NFTs, similar to Ethereum's ERC-721 standard.
If this sounds interesting, but you have zero programming experience – Moralis Academy can help! Our JavaScript Programming for Blockchain Developers course is available for programming beginners to discover the basics of coding. Then, our Ethereum Smart Contract Programming 101 course shows students the foundations of Ethereum's programming language, Solidity. Furthermore, learn about how to deploy your own NFTs and decentralized marketplaces on Ethereum with our Ethereum Game Programming course!
Start your blockchain programming journey with the number one online blockchain academy in the world. Join over 30,000 welcoming students at Moralis Academy today!
IOStarter
The crypto launchpad arm of the network is done via a digital asset management and exchange platform, Donnie Finance. Since the announcement of "IOStarter" on Donnie Finance, the platform has seen immense attraction from developers and investors. Further, IOStarter is the first crypto launchpad to launch on the IOST blockchain. At the time of writing, the Donnie Finance team state they "are in review for projects to raise liquidity in IOStarter".
In order to participate in the crypto launchpad's initial DEX offering (IDO), users must purchase IDO tickets. Users can do so via staking the native "DON" token or the partnership token, "Blocery" (BLY). Additionally, if users become liquidity providers (LPs), then they can also stake their LP tokens to earn IDO tokens.
Each IDO event will comprise two pools: standard and premium. The premium IDO pool offers investors a higher maximum purchase limit than the standard IDO pool. The more IDO tickets one has, the more likely the opportunity to enter the premium IDO pool. Further, the amount of IDO tokens one needs to enter the premium IDO pool varies depending on the project.
Roadmap
The IOST crypto ecosystem is ever-growing, with many projects and developments in the pipeline. As such, the project keeps its users, investors, and the public up-to-date with its frequently-updated roadmap.
During Q3 of 2021, the project developed its interoperability with Binance Smart Chain (BSC) to increase utility and liquidity. Also, this quarter saw the launch of the IOST-based NFT marketplace, Revival. Additionally, the project implemented several new protocol updates under the hood to improve user experience (UX) and security precautions.
The project plans to increase brand awareness in Q4 of 2021, alongside updates to software development kits (SDKs), plug-in wallets, and browser support. With plans to collaborate with international partners and implement new use cases for non-fungible tokens (NFTs), the project also plans to increase blockchain education by hosting university hackathons across China and India. Moreover, the project aims to conduct research and evaluate community feedback on how to improve the blockchain experience.
Exploring the IOST Blockchain, IOST Coin and IOST Token – Summary
Offering an alternative to Ethereum's high-gas and low transaction time developer environment, IOST's blockchain presents attractive qualities. With sub-second transaction confirmation times and fees less than a penny, the project is capable of processing up to 100,000 transactions per second (TPS). Further, since the launch of the project's mainnet in 2019, the IOST blockchain has become a stable, reliable network with zero downtime.
This is possibly due to the innovative PoB consensus algorithm. The novel consensus model presents a more fair, secure, and distributed version of the frequently-used DPoS model. Additionally, developers can take advantage of the PoB consensus with their own applications. In turn, this creates opportunities for developers to design and deploy applications with real-world utility capable of handling mass traffic and transactions. Additionally, the native IOST coin or token plays a crucial role in supporting the IOST crypto ecosystem.
The project is one of the leading operational smart contract-enabled blockchains in the industry. Moreover, the IOST blockchain is host to a variety of applications, including non-fungible token (NFT) platforms, a crypto launchpad, and exchanges. With over 400 active nodes and a collective of 500,000 active followers across social media platforms, IOST is a project worthy of watching during the 2021 Bitcoin bull run.
For readers yet to invest in crypto, make sure to see our Crypto for Beginners course at Moralis Academy! From learning how to create an exchange account to securing your assets in cold storage, Moralis Academy has got your back! Also, don't forget to follow us on Twitter @MoralisAcademy! We'd love to hear your feedback about this article!