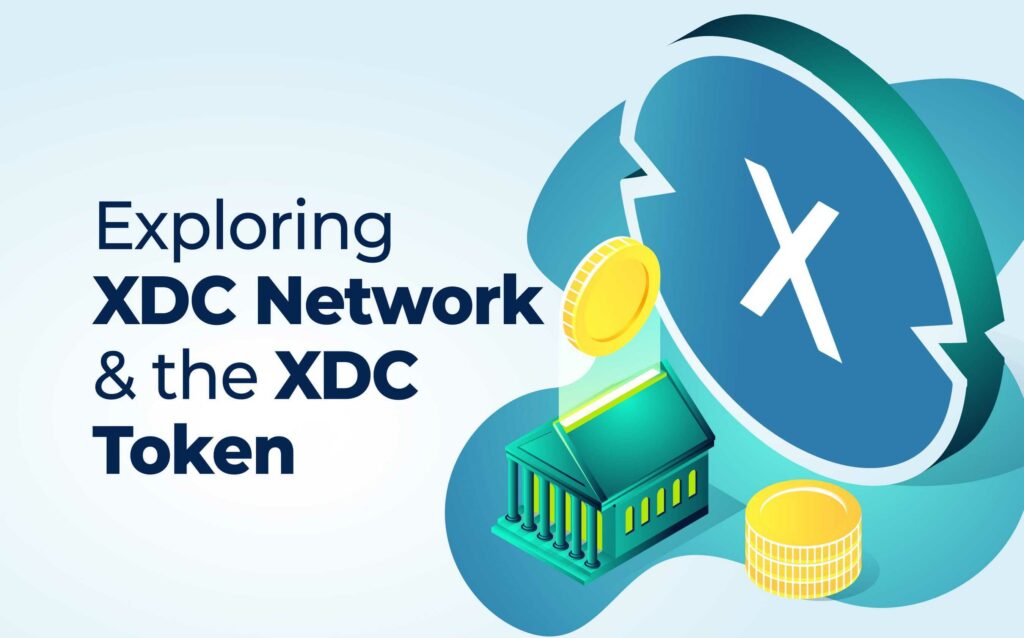 XinFin Network is an enterprise-ready hybrid blockchain solution. Powered by the native XDC token, the XDC protocol uses the Public XDPoS Consensus mechanism to validate transactions. Combining the best elements of both public and private blockchains, along with smart contract functionality, the project is optimizing business practices and promoting the institutional adoption of blockchain technology. Moreover, XinFin is at the forefront of a new economic paradigm where businesses, governments, and institutions are embracing the power of blockchain-based tools and services.
In this article, we're going to dive deep into the XDC protocol and XinFin Network. Also, we'll discuss the XDC token, the Public XDPoS Consensus model, and the various features the ecosystem has to offer.
For our readers who are yet to invest in cryptocurrency, we strongly suggest checking out our Crypto Basics course. Ivan on Tech Academy is the perfect place for beginners to learn how to create a crypto exchange account and store assets safely in a cold storage hardware wallet. Plus, students can discover tips on how to recognize and avoid scams too! Also, for our US readers, be sure to see our US Taxation of Digital Assets course. This course will help you to ensure your crypto investments remain compliant with local regulations. Start your journey in crypto the right way at Ivan on Tech Academy today!
What is XinFin Network?
XinFin stands for "exchange infinity" and is a next-generation hybrid blockchain company connecting communities and enterprises globally. The native coin, XinFin Digital Contracts, also known as the XCD token, powers the XinFin Network.
Also, XinFin Network combines the power and transparency of public blockchains with the speed and security of private blockchains and a permissioned, energy-efficient Delegated Proof of Stake consensus mechanism (XDPoS).
All XinFin Network members share a public state. Plus, enterprises can host private sub-networks. This allows users to benefit from a shared public state, enabling businesses to share basic transactional data transparently across the network while keeping vital sensitive data on a permissioned state.
Furthermore, XinFin Network facilitates cross-chain interoperability using hybrid relay bridges and ISO20022 messaging standards. This makes XinFin Network a versatile, developer-friendly platform.
Background
The team behind XinFin Network is a non-profit organization called XINFIN Foundation. XINFIN Foundation is striving to lay the global foundations of blockchain infrastructure to remove friction from international payments systems and build enterprise-scale solutions powered by community-driven digital assets.
Also, XINFIN Foundation works with international governments and enterprises to help establish new blockchain-based infrastructures that can scale quickly. Furthermore, XinFin enables investors to bid on various infrastructure projects, connecting developers with investors to finance blockchain projects more efficiently.
The XDC Protocol
The XDC protocol serves as a messaging and confirmation layer for global payments. Also, the XDC protocol supports smart contracts and Internet of Things (IoT) integrations. As a highly scalable enterprise-grade hybrid blockchain, the XDC protocol boasts a high throughput of 2,000 transactions per second (TPS) and near-instant transaction finality.
Furthermore, the XinFin Digital Contract (XDC Chain) uses the XinFin Delegated Proof of Stake (XDPoS) consensus mechanism for global trade and finance. The XDC protocol enables asset tokenization and digitization while reducing the need for complex foreign exchange infrastructures. In turn, this creates a flexible environment for the management of financial institutions.
What is a Hybrid Blockchain?
A hybrid blockchain combines the best elements from both public and private blockchains to create bespoke solutions. Hybrid blockchain solutions have become increasingly popular among enterprises, governments, and international bodies sector-wide due to the security and transparency they are able to offer.
Hybrid blockchains are often permissioned, meaning that they are not open to everyone. This is a core feature of private blockchains. However, many hybrid blockchains also use elements of public blockchains to enhance transparency and security.
Furthermore, hybrid blockchain operators can select participants and decide what type of transactions should be public and which should be private. These blockchain solutions are often highly customizable and immune to 51% attacks outside the permissioned network.
Companies benefit from hybrid blockchains in several ways. For example, using a hybrid blockchain in a closed system can dramatically increase data security. This immensely reduces the probability of sensitive data being leaked or being subject to manipulation. Also, the rules and parameters of hybrid blockchains are easy to update or change without requiring consensus from a distributed network of thousands of nodes.
Another advantage to hybrid blockchains is that they can minimize transaction costs. Generally speaking, smaller networks with fewer nodes can facilitate micropayments as it requires fewer resources than larger public blockchains. This means that small, high-frequency transactions can take place with fees often costing less than $0.01 per transaction.
XinFin (XDC) Public XDPoS Consensus
XinFin's (XDC) hybrid blockchain uses "Public XDPos Consensus", a delegated proof-of-stake consensus mechanism. The Public XDPoS Consensus model relies on real-time voting for electing a pool of validators or delegates. Validators (or delegates) validate transactions and secure the hybrid blockchain network, ensuring that the network is producing only legitimate blocks of transactions before being broadcast throughout the network. Also, validators take care of any unexpected issues that occur on the XDC network.
Furthermore, the Public XDPoS Consensus model solves four of the main issues associated with public blockchains. Firstly, Public XDPoS Consensus is highly energy-efficient and uses around 1/10th of the energy required for Bitcoin and other Proof-of-Work (PoW) consensus models. Secondly, Public XDPoS Consensus enables ultra-low transaction fees, making it ideal for micropayments. Thirdly, Public XDPoS Consensus increases scalability with high throughput. Also, the "Self-KYC" feature allows corporate clients to maintain regulatory compliance while managing permissions and identities without friction.
Moreover, XinFin's Public XDPoS Consensus is an environmentally-friendly, democratic model that lowers the barrier to entry for participants by removing the need for expensive mining equipment or excessive energy consumption.
If you want to learn more about the different types of consensus models, check out the Blockchain & Bitcoin 101 course at Ivan on Tech Academy! We cover mining, nodes, UTXOs, hash functions, and more! Then, our Ethereum 101 course is a great follow-on. These courses provide a technical overview of Bitcoin and Ethereum, the two largest blockchains, and the key differences between the Proof-of-Work (PoW) and Proof-of-Stake (PoW) consensus models. No matter your background, Ivan on Tech Academy has courses to suit all levels of experience. Plus, students receive a personalized study plan to organize the courses required to achieve their blockchain goals! Join our community of over 30,000 like-minded students today at Ivan on Tech Academy!
Stay ahead of the markets with real-time, on-chain data insights. Inform your trades with true market alpha!
The XDC Token
The XDC token is used as a payment and settlements layer by financial institutions and decentralized applications (dApps) built on the XinFin hybrid blockchain. Also, the XDC token provides a gateway to financial services that help small and medium businesses integrate the XDC protocol.
Several applications and services use the XDC token. These include the peer-to-peer trading platform, TradeFinex, the digital asset management service, MyContract, plus a range of educational establishments, financial services, banks, and technology companies. Also, the XDC token is used for land registry record management, online invoicing, and much more! According to CoinGecko, at the time of writing, the XDC token is trading at around $0.14, with a market cap of $1.8 billion. The XDC token has replaced the ERC-20 compatible XDCe taken, which has now been phased out.
XinFin Masternodes
The XinFin Network Public XDPoS Consensus model uses nodes and validators instead of miners. Whereas Proof-of-work (PoW) miners require large amounts of computational power and resources, the XinFin Public XDPoS Consensus model is an eco-friendly, sustainable mechanism.
XinFin uses validator nodes and Masternodes to secure its networks. Validators accept or reject transactions before they are appended to the blockchain by Masternodes. Plus, each validator must establish a Unique Node List (UNL) to store information about nodes they interact with on a regular basis.
Masternodes are essential to the stability and self-sustainability of the XDC protocol. Each Masternode must be publicly identifiable and go through know-your-customer (KYC) and other compliance processes. The main functions of Masternodes are appending blocks of transactions to the blockchain and facilitating decentralized governance.
There is a higher barrier to entry for becoming a Masternode compared to being a validator node. To set up a XinFin Masternode, participants must stake 10 million XDC tokens and commit to 100% network uptime. Plus, several restrictions are in place to ensure Masternodes act honestly and in the network's interest.
Any entity or person that does not comply with local regulations or has a criminal record may not qualify for becoming a Masternode. XinFin Network also provides a "one-click installer" to make it as simple as possible to become a Masternode. Furthermore, XinFin Masternodes can earn a passive income by receiving staking rewards. To learn more about Masternodes, save our Masternodes for Beginners article for later reading!
XinPay: The XinFin Wallet
XinPay is the latest XinFin self-hosted wallet for storing, sending, and receiving XDC tokens. With XinPay, users can also interact with decentralized applications (dApps) directly from a web browser. Plus, XinPay comes with a mnemonic phrase to securely back up funds. The XinPay XinFin wallet is available to download for Chrome, Brave, Firefox, and Opera.
XinFin Remix
Formally known as "Browser Solidity", XinFin Remix is a web browser integrated development environment (IDE) that enables users to write, deploy, and execute smart contracts using the Solidity programming language.
Also, developers can run XinFin Remix alongside a XinFin node client from the same local machine and communicate between the two using the XinFin application programming interface (API). Plus, developers can execute smart contracts in XinFin Remix.
XDC Ecosystem Co-Builder Plan
The XDC Ecosystem Co-Builder Plan helps with funding new XDC Network-based projects and developers. Also, the Co-Builder Plan supports and promotes the building and promotion of XDC-based decentralized applications (dApps). Any promising project with a minimum viable product (MVP) can apply for help with funding, technical support, and marketing assistance. Plus, the Co-Builder Plan can assist with reaching project milestones and financial targets.
XinFin Bounty Program
The XinFin Bounty Program allows the XDC protocol community to earn rewards for improving the ecosystem. With a range of bug bounty events and online hackathons, the XinFin community is committed to optimizing and securing the XDC protocol and the various business and applications that rely on XinFin technology.
XinFin and the XDC Network Summary
XinFin Network and the XDC protocol are paving the way for institutional and enterprise blockchain adoption. By implementing hybrid blockchain services in various use cases and industries, the XDC network could change the way businesses transact and communicate.
Also, thanks to the XDC protocol and the Public XDPoS Consensus mechanism, XinFin combines the best elements of public and private blockchains with smart contract functionalities. Furthermore, XinFin makes it simple for businesses and developers to benefit from a range of blockchain-based tools and services. With a focus on regulatory compliance and user security, XinFin provides enterprise-ready hybrid blockchain solutions that could revolutionize global trade and finance.
Blockchain is becoming increasingly prominent sector-wide. Furthermore, many businesses now rely on the use of blockchain-based applications. This includes the energy sector, healthcare, fashion, art, and music! To learn how to implement blockchain technologies into traditional business infrastructures, check out the Blockchain Business Masterclass at Ivan on Tech Academy. This course shows you how to manage a team of developers and plan and budget for projects. Plus, we teach you some of the core terminology used and mistakes to avoid.
Also, to find out how global corporations such as Microsoft, Coca-Cola, and IBM are integrating hybrid blockchain solutions, check out our Blockchain for Enterprise course. Or, see our OriginTrail 101 and Morpheus Network 101 courses to see how blockchain is revolutionizing supply chain management! Regardless of your goals or experience, Ivan on tech Academy is the perfect place to become blockchain certified and find your perfect career in crypto! Start your blockchain journey today with Ivan on Tech Academy!
Also, don't forget to follow us on Twitter @Academy_IOT! We want to hear your thoughts about XinFin Network and the XDC token!