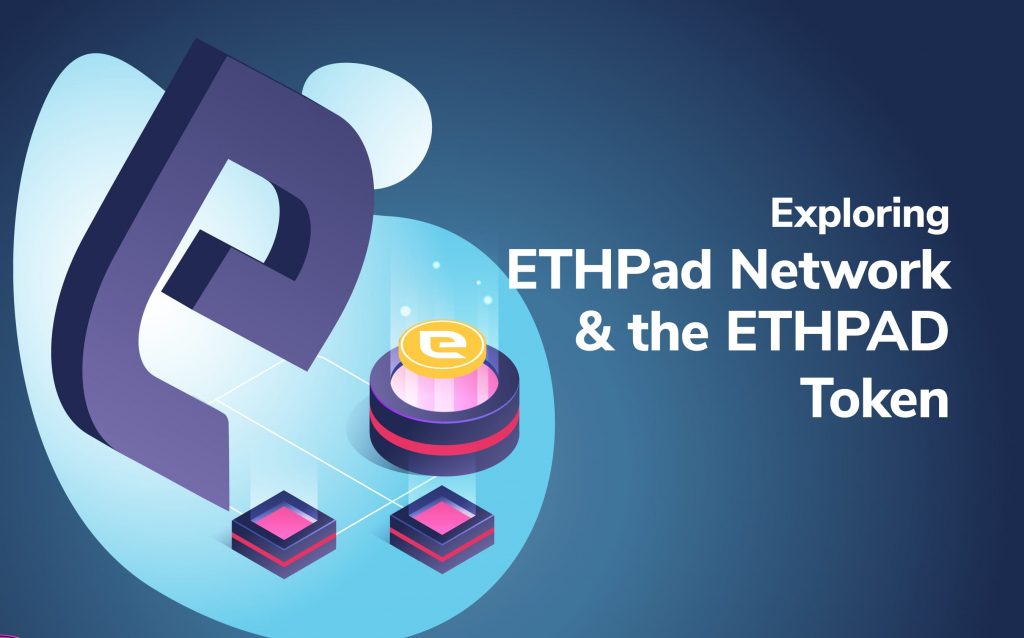 ETHPad is an initial dex offering (IDO) platform designed by BlueZilla, created on the second-largest blockchain, Ethereum. The project was launched following the success of previous launchpad platforms deployed by BlueZilla. These include BSCPad, and TronPad, among others. In addition to being an Ethereum IDO platform, ETHPad offers an incubation program for up-and-coming projects. The ETHPad network uses the native ETHPAD token as a multi-utility token across the ecosystem, including the ETHPad app. Moreover, the ETHPAD tokenomics system includes influences from Ethereum's most recent hard fork update. In particular, the EIP-1559 proposal that introduces deflationary aspects to ETH. But, what exactly are the deflationary aspects of the ETHPAD token? Also, how is this Ethereum IDO platform different from other crypto launchpads on the network?
In this article, we're going to dive deep into the ETHPad network ecosystem. We will look at the initial dex offering (IDO) platform model, plus the various utilities of the ETHPAD token. Also, we'll explore the platform's incubator program and what it can offer crypto projects.
This article talks about a crypto launchpad and incubator hosted on the Ethereum blockchain. To learn more about blockchain technology and Ethereum with easy-to-follow video-guided tutorials, check out Ivan on Tech Academy! Our Blockchain & Bitcoin 101 and Ethereum 101 courses are perfect for discovering the foundations of this cutting-edge technology and the origin of smart contracts and decentralized finance (DeFi)!
Or, if you would prefer a tutorial on how to safely invest and store your crypto offline in a hardware wallet, see our Crypto Basics course! Ivan on Tech Academy offers expert guidance on how to keep your assets safe, plus tips to recognize and avoid scams too! Start your crypto journey today with over 30,000 like-minded students at Ivan on Tech Academy!
What is ETHPad.Network?
ETHPad is a crypto launchpad and incubator platform for upcoming blockchain projects. Moreover, the platform offers a "result-oriented staking system" plus a cross-chain bridge for exchanging assets across different blockchains.
Operating on the number one smart contract-enabled blockchain, Ethereum, ETHPad takes inspiration from Ethereum's London hard fork update, specifically, the EIP-1559 proposal. The project's tokenomic structure mirrors certain deflationary aspects of the Ethereum proposal, which we will discuss in further detail later in the article.
ETHPad's primary value proposition is offering new crypto projects a platform to facilitate cross-chain launches through initial dex offerings (IDOs). Furthermore, the platform offers sniping bot defenses to prevent front-running during token launches for investors.
ETHPad is another crypto project launched by BlueZilla, following the success of the previous BSCPad and TronPad platforms.
BlueZilla
Claiming to be "an incubator like no other", BlueZilla is the investment and incubation organization responsible for the design and launch of BSCPad, KCCPad, TronPad, and more. BlueZilla specializes in accelerating early-stage blockchain and crypto projects, offering a holistic service from technical expertise to legal advice.
Providing high-potential crypto projects with end-to-end value, BlueZilla offers a full suite of services. BlueZilla has an extensive influencer network that can help projects get their platforms known across their target audience. Moreover, BlueZilla can provide marketing tools and materials, including graphics, video, and web design, if projects are lacking in the marketing department. Additionally, BlueZilla's services include smart contract auditing and development, strategic partnerships, and tokenomic design tailored to the project's own ecosystem.
The proof is in the pudding for BlueZilla. The successful launches of BSCPad and TronPad boast more than a 300x return on investment (ROI) for early investors. Both of the crypto launchpad projects generated immense levels of social media awareness, in addition to becoming trending projects on CoinGecko. Moreover, the market push for TronPad ran so well that the project began trending on Twitter!
The BlueZilla team can reliably show their knowledge and success from project launches. The successful incubator platform boasts "consistent month-on-month growth since inception".
ETHPAD Token
The native ERC-20 ETHPAD token is a multi-utility token with various use cases across the network. This includes staking, selling, and participation in initial dex offerings (IDOs). The token has a maximum supply of one billion tokens, with 137 million in circulation at the time of writing, according to CoinGecko.
In line with the cross-chain ethos, traders can invest in the project token on the two largest decentralized exchanges (DEXs) at present, PancakeSwap and Uniswap. Originally only available on Binance Smart Chain's largest DEX PancakeSwap v2, with an ETHPAD/WBNB token pairing, the ETHPAD token has recently started trading on the number one DEX on Ethereum too, with a native ETH pairing on Uniswap.
As the project's network is deployed on the Ethereum blockchain, some of the tokenomics have been influenced by the recent EIP-1559 implementation following the Ethereum London hard fork.
EIP-1559 Inspiration
During Ethereum's recent London hard fork update, five new Ethereum Improvement Proposals (EIPs) were introduced. One of these includes the controversial EIP-1559 proposal that made headlines for its radical re-model to miners' rewards. Moreover, EIP-1559 introduces new deflationary aspects to ETH. The Ethereum Network will now burn a percentage of ETH used in transaction fees. This aims to counterbalance Ethereum's uncapped supply, to increase the chances of ETH becoming a scarce and deflationary digital asset.
ETHPad claims to be the first decentralized initial dex offering (IDO) platform taking inspiration from Ethereum's recent update. As such, the project's native token will too have deflationary aspects, generating a continuous reduction in supply over time.
There are currently two deflationary mechanisms within the ETHPad network. Firstly, there is a minimum 21-day staking period which, if users choose to unstake their funds early, will be a 25% burn fee. Secondly, the project will charge a 10% fee on all token sales through the platform. Of this, 7.5% is awarded to the stakers (in ETH), and the remaining 2.5% of tokens are burned. The project states on its website plans for further deflationary mechanisms to be introduced to the ETHPad network in the future.
ETHPad IDO Platform
The ETHPad initial dex offering (IDO) platform offers innovative and permissionless investment opportunities. This means anyone can access the ETHPad IDO platform with its various staking tiers and IDO pools. In summary, projects launching through the ETHPad IDO platform will have their tokens split into several pools. This includes an 85% allocation for the higher-tier ETHPAD token stakers, and a 10% allocation for Bronze lottery-level ETHPAD stakers. Plus, the remaining 5% is allocated to a lottery pool for whitelisted participants who have no staked tokens.
There are three levels of staking with the ETHPad network. The first, Bronze, requires users to stake 5,000 ETHPAD tokens. This level offers users a lottery ticket to access the designated lottery pool (10% of the token offering). However, the Silver and Gold tiers (requiring a stake of 120,000 or 200,000 ETHPAD tokens) offer a guaranteed allocation to the ETHPad initial dex offerings (IDOs).
ETHPad App
Users can enter the ETHPad application (app-ethpad.network) via the ethpad.network website. The decentralized application (dApp) offers a staking system and a token bridge. Users can access exclusive rewards and opportunities through staking the project token in the app. This includes guaranteed allocations to the ETHPad initial dex offerings (IDOs), as mentioned in the previous section.
The ETHPad app also offers a bridge to convert crypto assets from Binance Smart Chain (BSC) to the Ethereum blockchain. The token bridge presents a chic graphical user interface (GUI) similar to that of top decentralized exchanges (DEXs). To interact with the ETHPad application, users must connect a MetaMask wallet.
For readers who would like expert-led tuition on installing and navigating the most popular Web3 wallet, look no further! The DeFi 101 course at Ivan on Tech Academy is perfect for discovering how to use MetaMask with top decentralized finance (DeFi) platforms. This includes the likes of Aave, Compound, MakerDAO, and Curve, to name a few! Then, our DeFi 201 course shows students how to take their DeFi game to the next level. Learn about decentralized hedge funds, yield farming, and making the most of crypto arbitrage opportunities! Kickstart your blockchain education at the world's largest online blockchain education suite, Ivan on Tech Academy!
ETHPad Incubator Program
Besides presenting an initial dex offering (IDO) platform for up-and-coming crypto projects, ETHPad offers an incubator program. The ETHPad incubator program will choose only the top promising projects to offer investment and incubation services to. ETHPad hopes to present these as "tentpole projects". Similar to BlueZilla, the team behind the launch of ETHPad, the ETHPad incubation program offers a holistic service for projects.
For successful applicants, teams will have access to funding, legal advisory services, smart contract development, and much more. Projects launching through the incubator program will gain exposure to ETHPad marketing, KOL (Key Opinion Leaders), and expert advisory networks. Moreover, crypto projects accepted in the ETHPad incubator program gain exclusive access to the native initial dex offering (IDO) platforms.
Do you have an idea for a crypto project? Applying for the incubator program is super easy! Simply head to the ETHPad network website and scroll down until you see the "Apply Now" button. This will open up a google doc to complete and send off to the team. If your project appears to have potential, the incubator program team could be in contact!
Why Choose ETHPad?
As the crypto industry welcomes unprecedented user adoption and the development of new blockchains, cross-chain token launches are becoming increasingly popular. Following the successful BSCPad, TronPad, and KCCPad launches, it only made sense for BlueZilla to design a decentralized initial dex offering (IDO) platform on the second-largest blockchain. Until now, BlueZilla was dependent on third-party cooperatives to assist with Ethereum-based token launches. With more and more projects launching tokens every day, it is important for ETHPad to choose only the best projects with high potential for launch through the platform.
Furthermore, ETHPad offers investors one of the best IDO platform experiences available on Ethereum. There are several popular crypto launchpads on Ethereum. However, many fall victim to manipulative tactics and sniping bots during the token launches. ETHPad assures investors of its bot defenses, offering a fair and honest token launch for investors.
Creating ETHPad means BlueZilla has successfully designed a novel decentralized initial dex offering (IDO) platform that has been recreated across top-performing smart contract-enabled blockchains. With the combination of BSCPad, KCCPad, TronPad, and now ETHPad, the platforms no longer need to rely on third-party providers for Ethereum solutions. This invariably speeds up the entire process of cross-chain token launches.
Exploring ETHPad & ETHPAD Token Summary
ETHPad is an Ethereum-based cross-chain initial dex offering (IDO) platform that additionally offers a crypto incubation program. Operating with the native ETHPAD token, the IDO takes influence from the EIP-1559 update. As such, the token holds deflationary mechanisms. Further, the token is used to partake in initial dex offerings (IDOs) and earn exclusive rights and opportunities through staking rewards.
The project offers token holders a way to earn a passive income with crypto. Plus, users can receive allocations to token sales with the opportunity to become early investors through the Ethereum IDO platform. Moreover, projects launching through the incubator program will have a reputable background, with expert-guided strategies and development.
If you're interested in learning how to create a cryptocurrency project but not sure where to start, you have come to the right place! Ivan on Tech Academy can help you achieve your crypto goals even if you're not a developer! For non-technical readers interested in learning more, see our Blockchain Business Masterclass. This teaches students everything one needs to know about managing a blockchain-based project.
For our readers with some programming experience already, start with our Ethereum Smart Contract Programming 101 course. This will teach you the basics of the Solidity programming language. Further, our Ethereum Smart Contract Security course teaches students about contract auditing and how best to prevent hacks in your code. Start your blockchain developer career today at Ivan on Tech Academy!
Also, don't forget to follow us on Twitter @Academy_IOT! We'd love to hear your thoughts about this article and the Ethereum IDO platform!