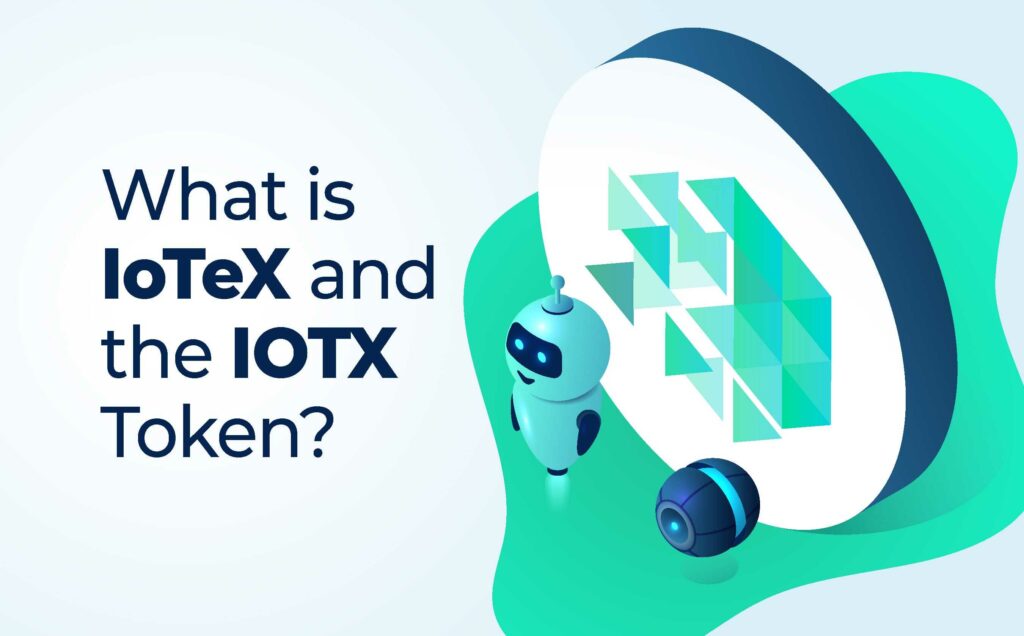 IoTeX is a privacy-preserving open-source blockchain and Internet of Things (IoT) network. The decentralized IoTeX ecosystem consists of a network of smart devices connected via the internet. The multi-utility IOTX token (or IOTX coin) is an essential part of the IoTeX platform, serving functions such as transaction fees, device registration, and protocol governance via the novel Roll-DPoS consensus mechanism. Furthermore, IoTeX is at the forefront of the MachineFi movement. MachineFi is the term that describes the coming together of blockchain and IoT technologies to build decentralized data economies. Moreover, IoTeX aims to build a decentralized network for IoT while providing an equitable and profitable platform for data providers and device owners.
In this article, we're going to dive deep into the IoTeX ecosystem. We'll explore the concept of MachineFi, the IOTX token, and the novel Roll-DPoS consensus mechanism. Also, we'll discuss the technical architecture of the project, decentralized identities (DIDs), the ioTube cross-chain token bridge, and some of the significant partnerships and integrations the platform boasts.
Moralis Academy provides a first-class Web3 and blockchain education experience. If you're new to the industry, you've come to the right place! Check out our Crypto for Beginners course to learn how to safely buy, sell, and trade digital assets. Also, this course teaches students how to store crypto securely using a cold storage hardware wallet. Plus, we offer tips on how to avoid crypto scams!
Following this, see our Blockchain & Bitcoin 101 course to gain a firm understanding of blockchain technology. Then, see our Ethereum 101 course to learn about smart contracts, the Ethereum Virtual Machine (EVM), and the world of programmable money! Or, check out our Bitcoin Monetary Revolution course to learn about the history of money and currency. Join our community of over 30,000 students today at Moralis Academy!
What is IoTeX?
Established in 2017, the IoTeX platform is an open-source blockchain project built specifically for Internet of Things (IoT) applications. The goal of the project is to create a network where "humans and machines can interact" in a privacy-preserving, trustless environment. Furthermore, the IoTeX ecosystem comprises blockchain technology with secure hardware and computing "to enable trusted data from trusted devices" for use in decentralized applications (dApps).
The team behind the IoTeX platform is made up of industry-leading experts, drawing experience from some of the biggest names in tech. Also, the platform uses a randomized, scalable variation of the Delegated Proof of Stake (DPoS) consensus mechanism known as Roll-DPoS. Delegates maintaining the network include Blockfolio, CoinGecko, and many other prominent names in the industry.
Moreover, IoTeX is at the forefront of IoT and blockchain technology. Combining hardware with connectivity and highly scalable technical architecture, the IoTeX platform allows trusted devices to connect with trusted data for a broad range of real-world applications and use cases. Plus, the project was chosen alongside Amazon and Huawei as the Co-Chair of the Industrial Internet Consortium (IIC) Blockchain Group.
The IoTeX platform was created from the ground up. In just a few years, the project has created multiple blockchain-based IoT products. Also, developers can use the trusted data provided by the IoTeX platform to create IoT and blockchain applications. By taking advantage of the various tools and services the platform offers, developers can concentrate on the logic/application layer of their projects. Accordingly, IoTeX provides a plug-and-play IoT service that makes it easy to create advanced applications with little fuss using trusted devices and data.
MachineFi
In an environment where our workforce is made up of machines, IoTex poses the question – "who will own them?". MachineFi is a term that refers to the merging of blockchain and The Internet of Things (IoT) technologies. This movement aims to bridge the real world with the metaverse. Furthermore, MachineFi describes a network of smart devices that connect to each other on the blockchain via the internet. Blockchain has created an ideal environment for facilitating decentralization on many fronts.
From finance to gaming, blockchain reduces the concentration of power and removes centralized gatekeepers to emerging economies. The same is happening in the MachineFi space. IoTeX 2.0 aims to decentralize the MachineFi space to enable users of smart devices to participate in an emerging trillion-dollar economy free from the shackles of centralized data services. The MachineFi update will introduce the "Proof-of-Anything" concept. This will enable IoT devices to deliver proofs of real-world events on-chain such as health metrics and GPS location.
Also, the forthcoming roadmap will see the introduction of a universal smart device registration hub and layer 2 oracles for machines. Also, the latest updates will bring about higher levels of composability, a cross-chain data bridge, machine identity solutions and a MachineFi marketplace. Moreover, the MachineFi movement aims to facilitate autonomous smart machines that create value for their users and transform society using free market incentives.
Exploring the IoTeX Ecosystem
The IoTeX ecosystem combines various novel technologies for privacy-preserving artificial intelligence (AI) practitioners and blockchain developers. Below we discuss some of the core features of the project and how they function.
Roll-DPoS
Despite being an efficient and flexible consensus mechanism for decentralized applications (dApps), the Delegated Proof-of-Stake model must be adapted to cater to the vast quantities of data that IoT-based systems require. In response to this, IoTeX introduces the novel Roll-DPoS consensus mechanism.
Roll-DPoS is a "randomized delegated proof of stake algorithm" that boasts all the advantages of DPoS. However, Roll-DPoS builds on DPoS by implementing a host of new cryptographic techniques to optimize the process of consensus. This includes features such as distributed key generation, BLS threshold signature, random beacon, and more. Plus, the mechanism makes use of the Practical Byzantine Fault Tolerance (PBFT) consensus protocol.
As a highly scalable and randomized variation of the popular DPoS model, Roll-DPoS selects block producers at random from a "dynamically updated" candidate pool. Also, the Roll-DPoS mechanism supports automatic scaling and advanced blockchain infrastructures without compromising on decentralization, security, or scalability.
IOTX Token
The IOTX token (or IOTX coin) is the native cryptocurrency and multi-utility token of the IoTeX ecosystem. Some of the main uses for the IOTX token include paying for gas fees, device registrations, staking, and protocol governance. Also, the IOTX token is essential for enabling multiple entities to transact and interact in a trustless manner throughout the network.
Furthermore, to deploy decentralized applications (dApps) and access resources on the IoTeX platform, users must hold an amount of IOTX tokens. Plus, consumers require the IOTX token to use said applications. Additionally, the IOTX token provides economic incentives to encourage network participants to secure the network via staking. At the time of writing, the IOTX token is trading at around $0.20 with a market cap of $1.9 billion, according to CoinGecko.
If you want to take your cryptocurrency trading to the next level, check out the Technical Analysis 101 course at Moralis Academy! This course teaches students how to remove emotions from trades and create reliable trading strategies. Plus, we teach students how to read chart patterns, trading indicators, and on-chain analytics to make informed decisions. Following this, be sure to check out our Algorithmic Trading and Technical Analysis course. Here, you'll learn how to backtest your trading strategies and automate them using custom trading bots! Join Moralis Academy today, the number-one Web3 and blockchain education suite online!
Burn-Drop
The IOTX token is subject to a tokenomic mechanism known as "Burn-Drop". This mechanism will remove 1 billion IOTX tokens from circulation (equalling 10% of the total supply) as the platform onboards its first 1 million IoT devices. Of these 1 billion tokens, 90% will go towards token burning.
However, the remaining 10% will be "dropped". This means that tokens will be distributed to voters who stake for more than 91 days via a smart contract. The Burn-Drop program will see the burning of 900 million IOTX tokens, equal to 9% of the total supply. Plus, 100 million IOTX tokens, or 1% of the total supply, will be dropped.
Decentralized Identity (DID)
The IoTeX decentralized identity (DID) framework provides identification for IoT devices, enabling them to "interoperate and form human-machine economies". The concept caters to institutions for creating real-world applications. However, DIDs are finding use cases in the decentralized world.
Confidential computing is at the core of the IoTeX platform. It allows DIDs to make data useful while retaining privacy. Furthermore, there are three pillars that form the architecture of this technology. Firstly, the device layer enables devices to generate verifiably trustworthy data. Secondly, the storage layer uses blockchain technology and cloud storage to facilitate timestamped, immutable indexing of vast quantities of data.
Finally, the blockchain layer provides a trust layer for the entire IoTeX ecosystem. This layer also provides smart contract functionalities along with device registration storage facilities. These layers combine to make a robust, flexible platform for blockchain developers and AI practitioners. Accordingly, the IoTeX blockchain architecture is among the fastest in the world.
IoTeX Partnerships
The "Powered by IoTeX" MachineFi product range boasts several innovative offerings built in conjunction with some of the leading names in tech. For example, Ucam is the world's "first private security camera". Ucam was built in partnership with hardware company, Tenvis. Furthermore, Ucam features as one of Amazon's Choice cameras.
Also, Pebble Tracker is a device for tracking assets and writing verifiable, real-world IoT data into smart contracts and onto the blockchain. This was created in partnership with leading chip manufacturer Nordic Semiconductor. Furthermore, IoTeX is partnering with Polygon to bring real-world use cases to non-fungible tokens (NFTs).
ioTube Bridge
ioTube is a cross-chain bridge that supports token swaps between Ethereum, Binance Smart Chain (BSC), and Polygon (MATIC). Not only does the ioTube bridge enable users to make cross-chain token swaps, but it also deepens the liquidity made available to users of the project while expanding the utility of the IOTX token.
Why use the IoTeX Platform?
Smart devices are appearing in homes and buildings at a tremendous rate, from cameras, scanners, and thermostats in vehicles and machines, to seemingly mundane household appliances like refrigerators and printers. By connecting smart devices via the internet, they are able to talk to each other to provide a broad range of tools and services to generate value and increase efficiency.
However, when IoT devices are under the control of centralized institutions, this value cannot be truly captured by users of the technology on a ground level. Furthermore, the threat of tech giants and major institutions holding countless data points without the consent of users has the potential to lead to mass surveillance on an unprecedented scale. Plus, the centralization of such quantities of data provides hackers with an easy target.
The IoTeX platform aims to ensure that Internet of Things (IoT) devices, services, and applications preserve privacy and remain decentralized. Plus, IoTeX is empowering users to take control of their data via the MachineFi movement.
In the future, we can expect to see IoTeX play a pivotal role in ensuring that the new data economy and the machines that power it are not at the behest of centralized corporations. In doing this, IoTeX aims to put users, developers, and data gatherers in a position to benefit from this shifting technological landscape which will undoubtedly have an immense impact on how we live and how we collect and share our data.
What is IoTeX and the IOTX Token? Summary
While many blockchain projects focus on decentralized finance (DeFi) and memes, the IoTeX ecosystem is using blockchain to power IoT devices and lay the foundations for a decentralized infrastructure. According to IoTeX, there are currently 25 billion Internet of Things (IoT) devices. Projections suggest that this number could increase to 100 billion by 2025.
The IoTeX platform aims to use blockchain technology to help keep the multi-trillion-dollar AI industry decentralized, with data provenance at the very heart of the project. Moreover, with a host of high-profile partnerships, IoTeX is promoting decentralized AI on an enterprise-level while upholding the highest standards of data privacy.
Do you want to become a blockchain developer? Moralis Academy provides a range of blockchain courses that cater to all levels of experience! If you've never tried coding, we recommend starting with our Javascript Programming for Blockchain Developers course to learn the basics.
Following this, check out our Ethereum Smart Contract Programming 101 and Ethereum Smart Contract Programming 201 courses. These courses will teach you how to use Truffle Suite and Solidity to build and deploy your own smart contracts. Then, see our Ethereum dApp Programming course to create your own decentralized applications! Here, you'll learn how to build a CryptoKitties non-fungible token (NFT) marketplace! There has never been a better time to learn a new skill in an emerging tech field. Start your blockchain journey with Moralis Academy! Also, don't forget to follow us on Twitter @MoralisAcademy! We'd love to hear your thoughts about the IoTeX ecosystem and the IOTX token!