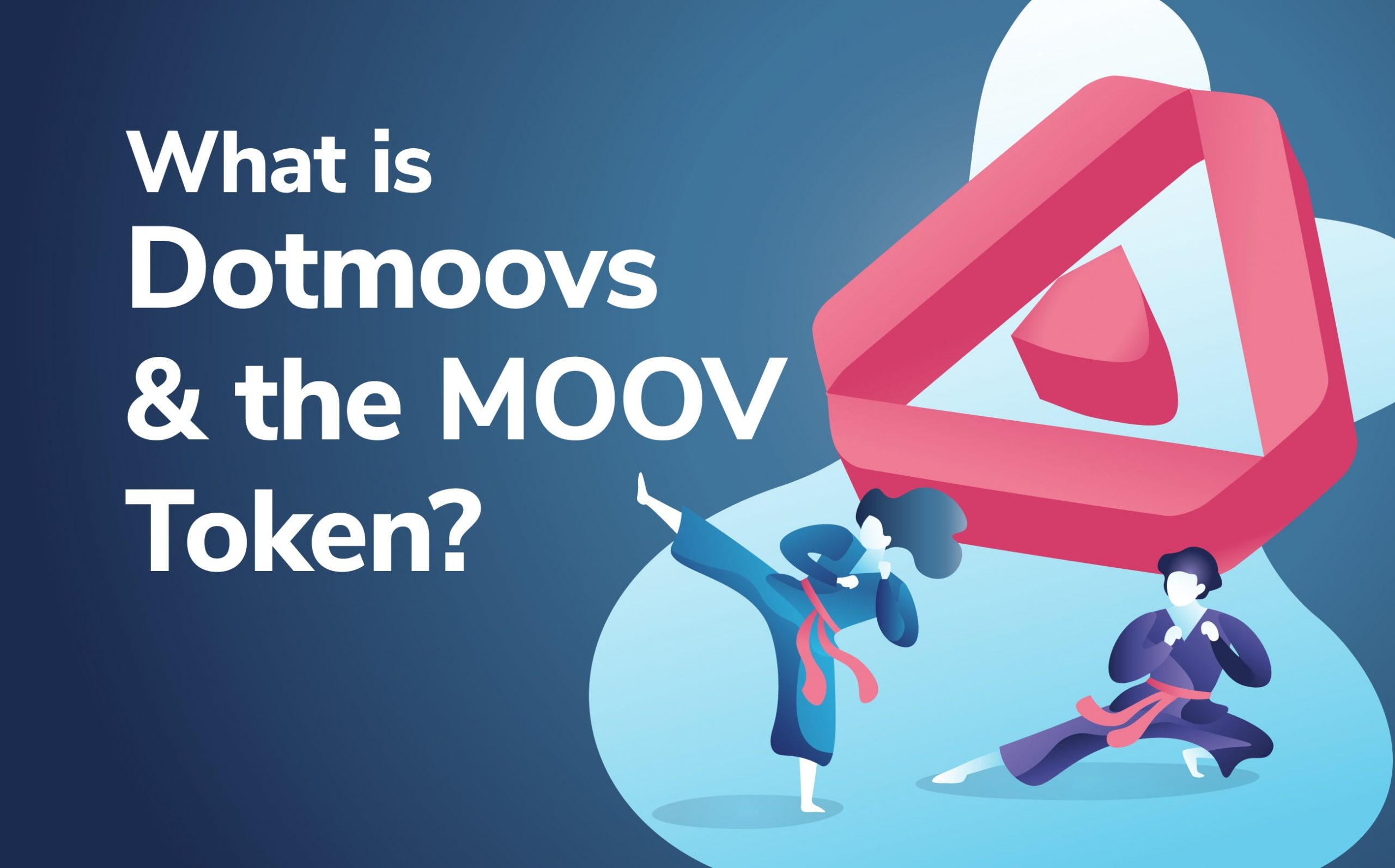 Following the success of blockchain fan engagement platforms, the use of blockchain in the sports industry has increased dramatically. With use cases such as collectible non-fungible tokens (NFTs) and exclusive fan experiences, non-fungible tokens (NFTs) appear to be an attractive prospect for sports fans around the world. The dotmoovs platform rewards athletes for practicing and competing in games and tournaments in a process known as sports mining. Participants can earn the native MOOV token by showing off their skills, or by competing in a range of challenges. With footballing legends Luís Figo and Ricardo Quaresma as ambassadors, dotmoovs is implementing blockchain technology in the sports industry in a way that has never been seen before!
In this article, we're going to explore the dotmoovs mobile platform and the native MOOV token. We'll look at some of the innovative features of the platform and how it is changing the game for up-and-coming athletes across the globe. Also, we'll discuss sports mining and the growing presence of blockchain in the sports industry. Furthermore, we'll look at non-fungible tokens (NFTs) and the role they play within the dotmoovs platform.
The presence of blockchain is ever-increasing across a wide array of industries. The sports industry is no exception! To discover how blockchain technology works on a fundamental level, be sure to see our Blockchain & Bitcoin 101 course! After this, our Ethereum 101 course is a fantastic follow-up. Here, you can learn about the origin and use cases for smart contracts, and decentralized finance (DeFi) protocols. Discover all this and more, at Ivan on Tech Academy today!
What is dotmoovs?
Backed by Moonrock Capital and Morningstar Ventures, dotmoovs is a blockchain-based sports mining and mobile competition platform. dotmoovs is also a member of the Blockchain Game Alliance. Users can compete with others around the world to earn MOOV token rewards by showing off their skills and challenging one another in various sports. dotmoovs provides artificial intelligence (AI)-driven video-referees and fraud detection algorithms to monitor practice sessions and oversee challenges between users. This ensures fairness in the outcome of challenges and gives confidence to participants by preventing cheating. Moreover, all of this can be achieved simply by anyone with a smartphone with a camera!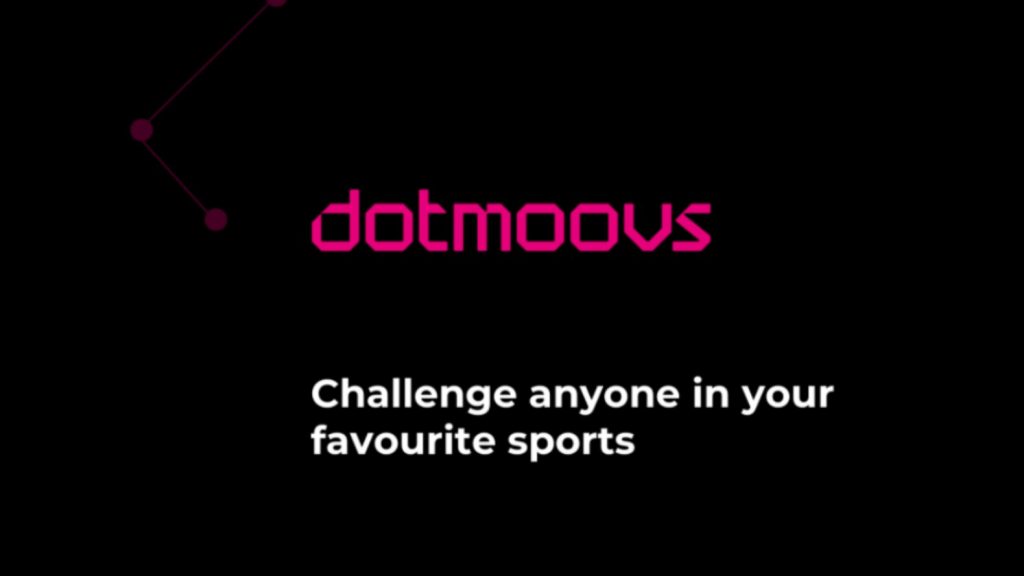 The goal of dotmoovs is to "democratize access to sports challenges", by allowing anyone in the world to compete in a setting that is free from the constraints of currency value, geographic limitations, and lack of skill assessment opportunities. By leveling the playing field and lowering the barrier to entry, dotmoovs provides an equitable platform for athletes. dotmoovs enables athletes to showcase their skills and earn non-fungible token (NFT) rewards in the process. The gamification of the platform allows users to bet on their performances against other athletes with the MOOV token. Furthermore, dotmoovs features an AI-driven arbitration of skill engine. This provides an unbiased overview of performances across several different sports.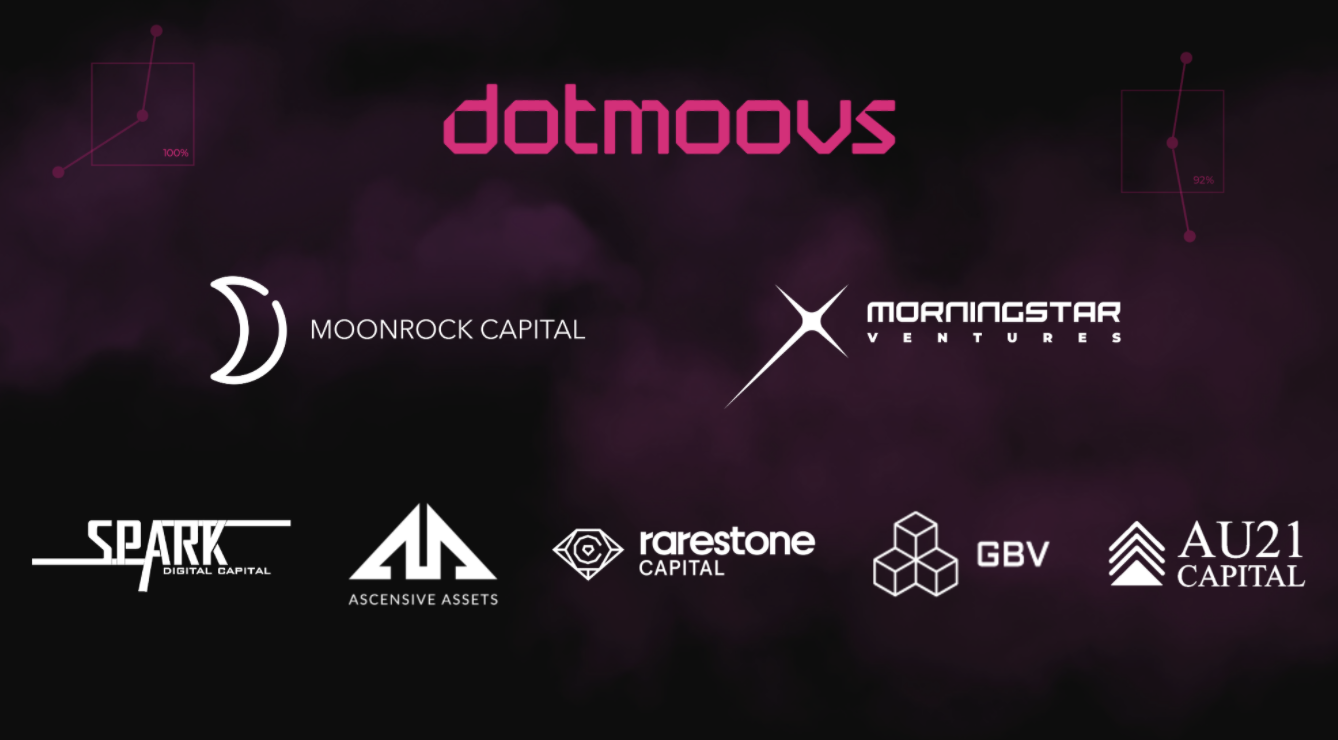 For those looking to take their game to the next level, the "matchmaking" feature enables users to challenge friends or users of a similar skill level. Winners earn MOOV tokens which can be freely traded into fiat or other currencies. For up-and-coming athletes, this is a great way to earn a passive income with crypto and make the most out of training and practices.
Why use Blockchain in the Sports Industry?
Blockchain technology is best known for the impact it has made in the finance industry. However, blockchain is being implemented sector-wide! The use of blockchain in the sports industry is no exception, reimagining the fan experience.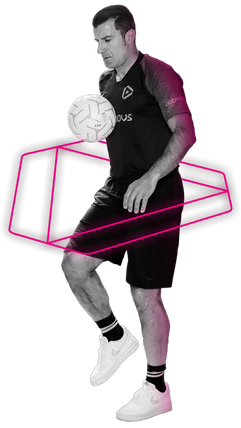 There are several use cases for blockchain in the sports industry that benefit players, fans, plus management teams and venues alike. For example, counterfeit tickets and merchandise will soon be a thing of the past! Thanks to the introduction of blockchain, goods, tickets, and even experiences can be tokenized, then immutably and publicly stored on a blockchain. Moreover, this can help to maintain transparency of ownership of any rare, limited-edition merchandise.
Also, blockchain in the sports industry can benefit players and athletes! All sporting profiles and information can be immutably stored on the blockchain. This includes bio measurements, scorecards, medical history, contract terms, and agreements. Not only does this provide a layer of security with the inability to alter data, but it also makes transfers across teams and clubs far more efficient. All the relevant data needed can be accessed from distributed parties involved in real-time. Plus, financial and data transactions of players will take seconds; not weeks or months. All of this can be done without the need for coordinating several different third parties.
Another use case for blockchain in sports is for betting and gaming. Blockchain takes this to a whole new level for participants. Sports betting can now be achieved peer-to-peer, thanks to the use of smart contracts. This drastically reduces fees and removes the need for a traditional broker. Also, blockchain-based games allow fans and gamers to make a passive income with decentralized finance (DeFi) and gaming. Users can actually own in-game digital assets as non-fungible tokens (NFTs). Additionally, fans can earn crypto by betting on an athlete's performance.
Non-Fungible Tokens Explained
Non-fungible tokens (NFTs) are a hot topic in crypto at the moment. NFTs have been making headlines in the likes of Forbes, The Wall Street Journal, and The New York Times. But, what are NFTs and why are they such a big deal?
Non-fungible tokens (NFTs), on a basic level, are unique tokens that can represent anything. This could be something physical, such as real estate or merchandise, or it could be virtual, such as a digital asset or experience. The unique tokens, like cryptocurrency, are immutably stored on a blockchain. This means NFTs are transparent (when using a public blockchain) and can be viewed by using a block explorer such as Etherscan or BSCscan.
However, unlike cryptocurrencies, non-fungible tokens (NFTs) are not interchangeable and can't be used as a medium of exchange in a transaction. Also, NFTs can not be duplicated or removed without a trace. Furthermore, unlike divisible cryptocurrencies, NFTs can not be broken down into smaller units.
The flexibility of use cases and the potential for non-fungible tokens (NFTs) is phenomenal. With the ability to tokenize real-life assets and virtual assets on decentralized blockchains, the use cases and adoption of NFTs have exploded in recent months, with trends suggesting this surge could continue for some time yet. Indeed, NFTs are already being used across the world in countless industries!
Sports Mining
After the success of fan engagement platforms such as Chiliz, Revv, and Animoca Brands, blockchain in the sports industry has seen many iterations. However, the dotmoovs platform has created a unique experience that allows users to earn cryptocurrency from practicing their favorite sport and participating in challenges and tournaments in what is referred to as "sports mining".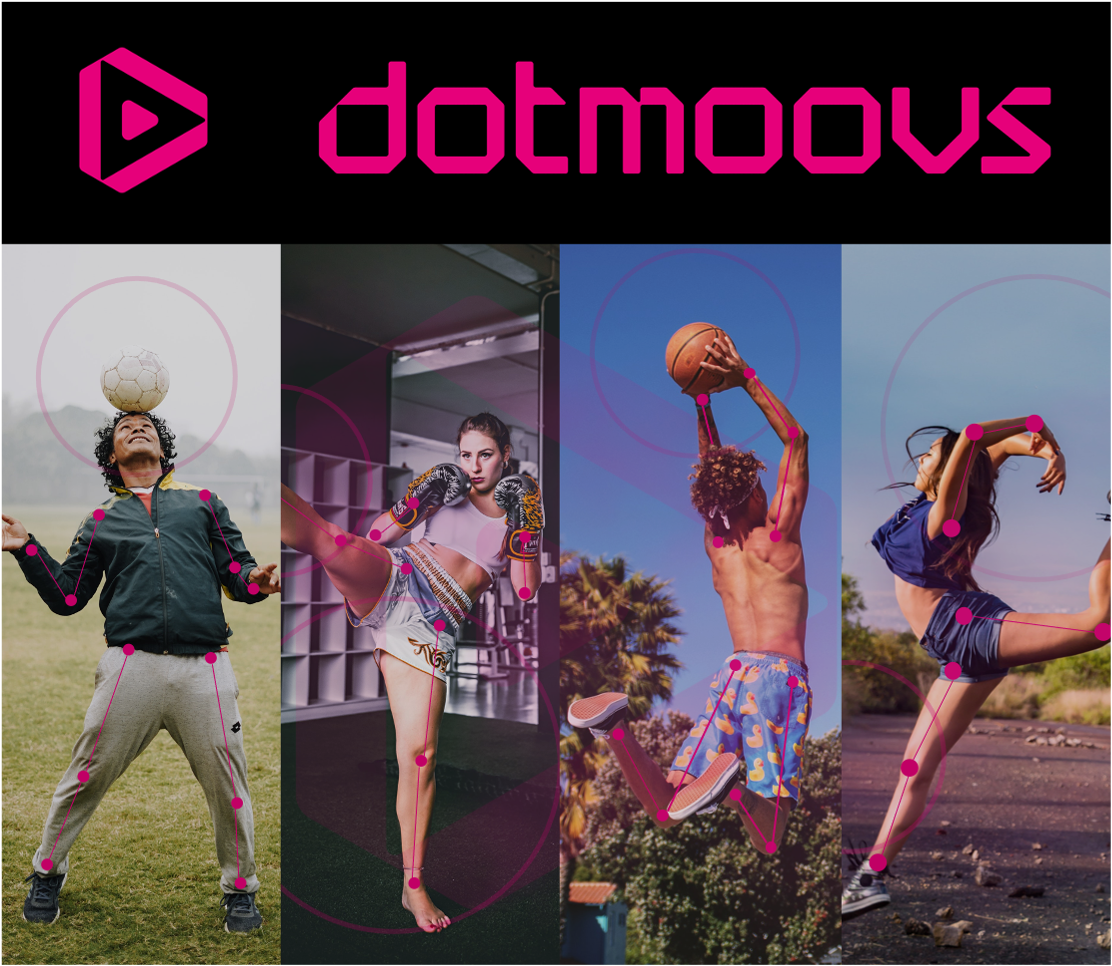 Currently, there are many issues in the sports industry that inhibit competition. For example, two athletes in different parts of the world would normally struggle to compete in a way that accurately measures their performances. Furthermore, many of the methods used for measuring the skill of an athlete rely on outdated models, while many are absent altogether in some geographies. On top of this, during times of crisis, many freestyle sporting events are called off. This can seriously impede the progress of developing athletes and players.
Through sports mining, dotmoovs is democratizing the world of sports by directly addressing these issues. This is achieved using a suite of innovative features, including:
Advanced algorithms that are tailored to specific sports.
An arbitration engine that can detect body movements and limb positions.
A scoring algorithm that measures the skill of an athlete.
Peer-to-peer challenges that can be used to monetize training with non-fungible tokens (NFTs).
A tamper-proof ranking and reward system.
Matches & Tournaments
Participants can decide the rules of the game, the players involved, and the amount at stake. Alternatively, players can use the matchmaking feature to let dotmoovs do the legwork for them by selecting a suitable competitor. Gaming modes include Party, Teams, Solo, and Pro-Seasons. In these games, winners claim the prize pool minus a fee for the organization of the event. Also, users can filter through leagues based on skill to ensure a healthy level of competition. Plus, non-fungible token (NFT) collectibles are awarded to the highest-ranking players. These NFTs can then be sold at an NFT marketplace such as OpenSea, Rarible, or Nifty Gateway.
If you want to learn more about NFT marketplaces, be sure to save our Ultimate Guide to NFT Marketplaces 2021 article for later!
MOOV Token
The native MOOV token is used across the platform to pay for organizing fees and to reward players. Players can earn MOOV tokens in sports mining games and challenges. Regardless of the result, every tournament or match participant earns MOOV token rewards for their efforts. Also, the MOOV token is used for funding the MOOV Reward Pools, NFT Reward Pools, and for the continued development of the platform. Furthermore, users can stake MOOV tokens to earn non-fungible tokens (NFTs) or more MOOV!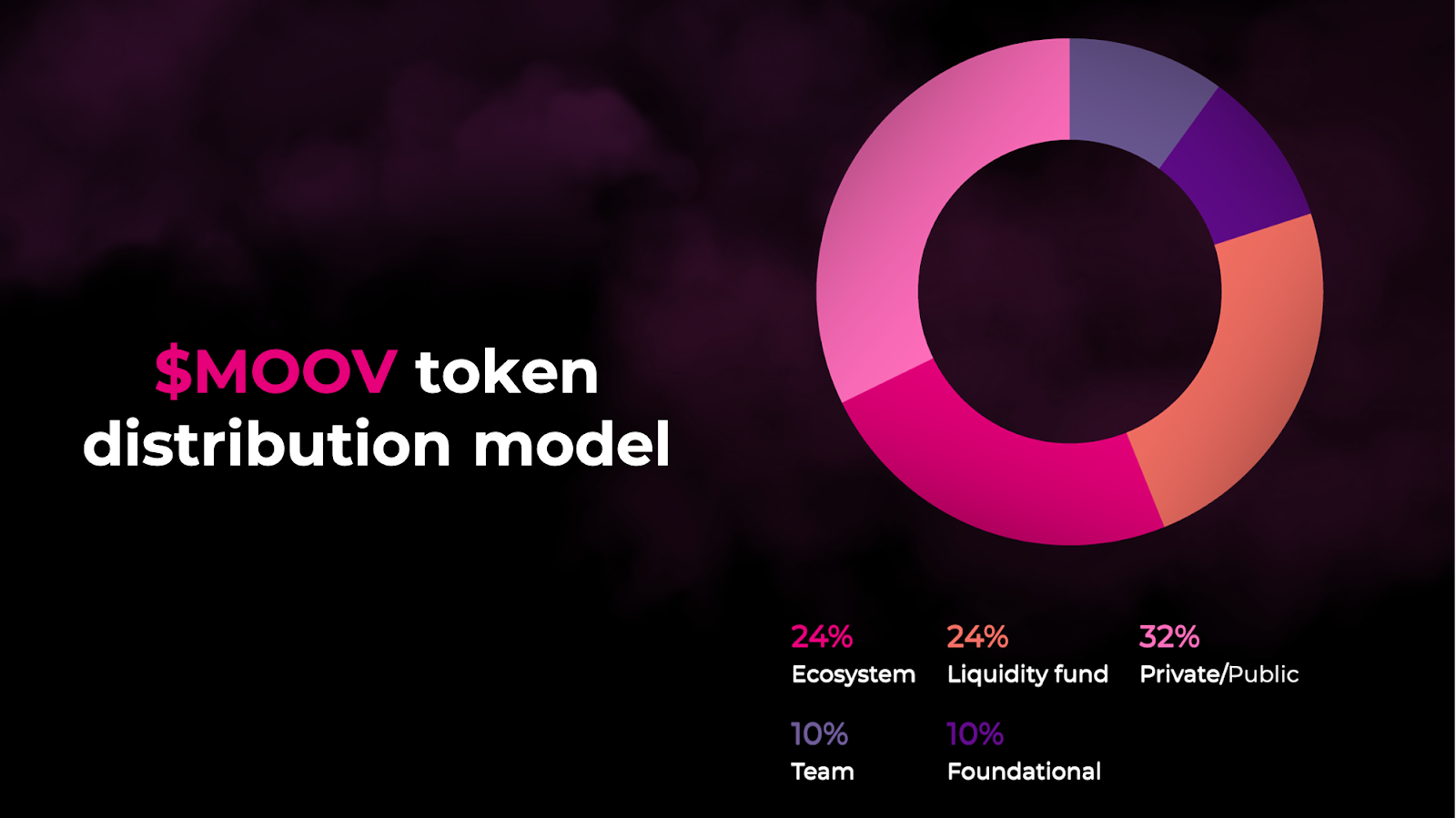 The ERC-20 MOOV token was launched in May 2021. Of the total distribution of MOOV tokens, 32% were sold in private and public sales. During the private round, the MOOV token was sold at $0.003, and during the public round, the price was $0.004 per token. Following these sales, the MOOV token was listed on decentralized exchange (DEX) Uniswap at a price of $0.005 per token. At the time of writing, the MOOV token is priced at approximately $0.01. Of the total token distribution, 24% was allocated for the dotmoovs Liquidity Fund, with another 24% allocated to ecosystem growth, marketing and partnerships. Furthermore, the dotmoovs team received 10% of the total token distribution, with the remaining 10% going to the dotmoovs Foundational Reserve.
For a video-guided tutorial by leading industry experts on how to interact with decentralized finance (DeFi) protocols, be sure to check out the DeFi 101 course at Ivan on Tech Academy! You'll learn how to install and navigate MetaMask, the number one Web3 wallet. Also, you'll learn how to use the wallet to interact with popular DeFi platforms, including Compound, Uniswap, and Aave! Ivan on Tech Academy is the largest online blockchain education suite in the world. Join us and learn how to get started in blockchain today! 
dotmoovs Platform Roadmap
In the future, we can expect to see several new features implemented into the dotmoovs platform. This includes additional arbitration engine tests, and a "beta freelance scorer open for data capture". Also, dotmoovs will introduce new sports scenarios and A/B testing for the scoring algorithm. The first arbitration engine release for freestyle soccer is expected to launch in 2022. After this, the platform will continue to explore new avenues and additional features.
dotmoovs & MOOV Token Summary
Assessing the skill or performance of an athlete can be difficult. Both because of the expensive equipment required and the lack of infrastructure in place in many parts of the world. Also, it can be challenging to recover the investment required by athletes that want to be at the top of their game. dotmoovs aims to solve these issues by allowing athletes to create a global network to compete against. All that is required is a smartphone with a camera, and players can sponsor themselves to monetize their favorite sports.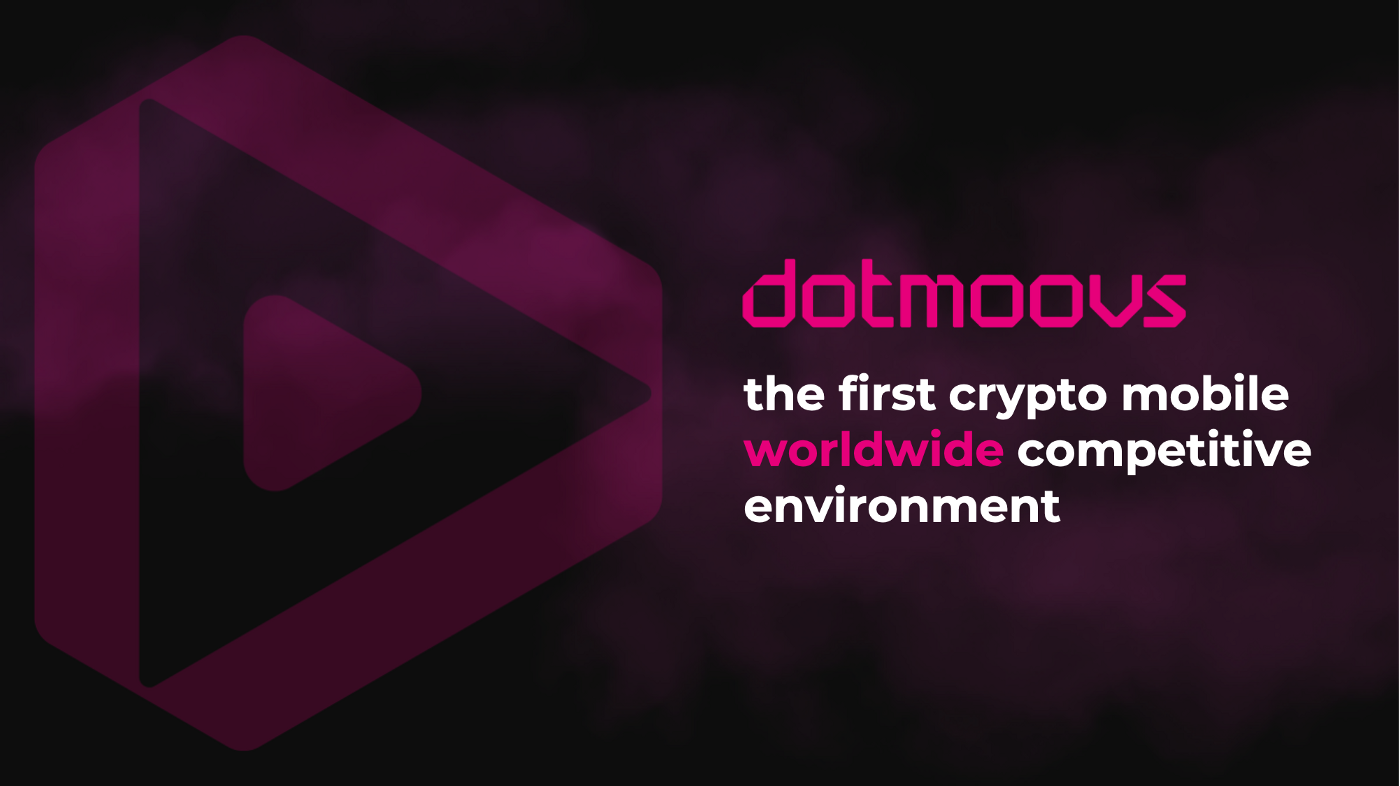 With Binance Smart Chain (BSC) integration, and endorsements from international footballing legends Luís Figo and Ricardo Quaresma, the dotmoovs platform and the MOOV token look set to take full advantage of the rising popularity of blockchain in the sports industry. Sports mining provides an equitable platform for athletes to take part in highly competitive challenges, regardless of geography, access to equipment, or availability of infrastructure. Furthermore, the dotmoovs platform is providing a brand new audience with exposure to blockchain and cryptocurrency.
The integration of blockchain technology in the sports industry brings with it many advantages. The use of tokenization and transparent immutable transactions can be applied across a range of other industries. This includes art, insurance, fashion, music, and the energy sector! See our Blockchain Business Masterclass course to learn how to implement blockchain into current centralized IT infrastructures.
Also, check out our FinTech 101 course to learn about the regulation and compliance within the finance and tech industries. Ivan on Tech Academy has a range of courses suitable for your blockchain needs. Also, don't forget to follow us on Twitter @Academy_IOT! We'd love to hear your thoughts about dotmoovs and the MOOV token!