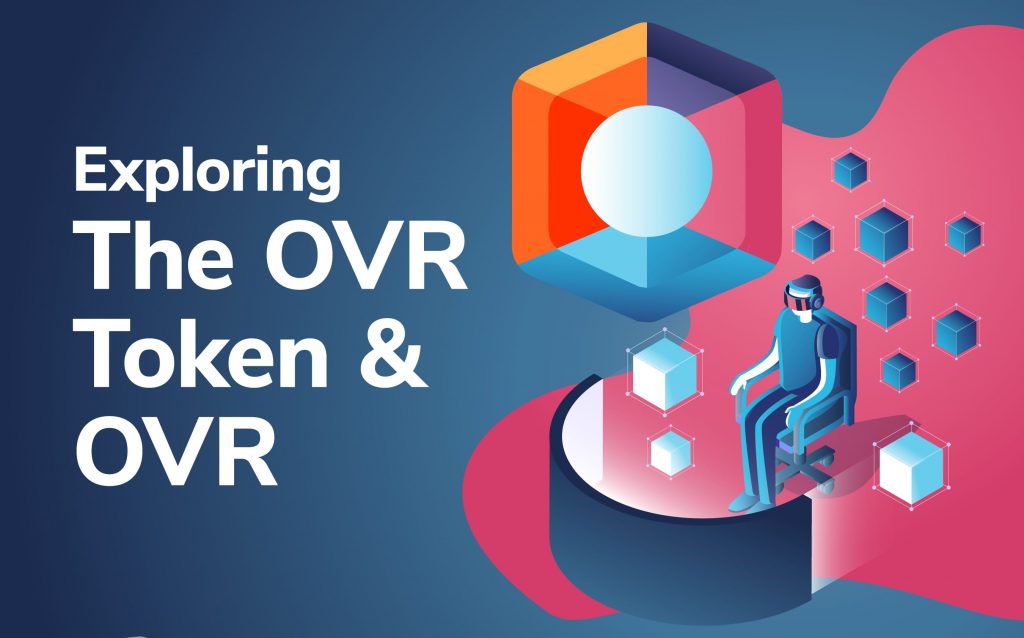 OVR is an augmented reality (AR) and virtual reality (VR) platform created on the Ethereum blockchain. Offering users OVRLand, anyone can design any OVRExperience imaginable within their environment. Moreover, creators can sell their virtual reality experiences through the OVR Marketplace. OVR offers artists a platform for closer and more intimate relationships with their fans, whilst offering them an out-of-this-world immersive AR experience. OVR is completely decentralized and offers an advertising infrastructure for sponsored adverts within chosen AR experiences. The platform is secured by the native OVR token and the OVRNodes. The OVRNodes are also responsible for ensuring good behavior across the OVR ecosystem.
In this article, we are going to dive deep into the OVR ecosystem. We will explore how the platform operates and look at the use cases for the OVR utility token. Also, we'll look at the OVR app and the various features it offers.
For readers new to cryptocurrency, OVR is created on and secured by the largest smart contract-enabled blockchain in the industry. If you would like to learn more, see our Ethereum 101 course! Ivan on Tech Academy is perfect if you would like some tuition and guidance on entering the crypto industry safely. See our Crypto Basics course to discover how to set up an exchange account and safely store your investments on a hard wallet. Discover this and more, at Ivan on Tech Academy!
What is OVR?
OVR is a global-scale, open-source augmented reality (AR) platform building decentralized infrastructure for the spatial web on Ethereum. Bringing together the physical world and the virtual world, OVR provides all the tools required to make immersive, interactive experiences and virtual reality in a decentralized way.
With technology compatible with mobile devices and smart glasses, OVR is offering a new augmented reality (AR) experience for gamers, content creators, fans, artists, and everyday users alike.
OVR takes inspiration from two highly regarded protocols. Firstly, Ethereum provides a base layer for OVR that facilitates the granting of OVRLand ownership. Plus, the OVR token runs on the Ethereum blockchain. Secondly, OVR uses the Interplanetary File system (IPFS) for the decentralized storage of OVRExperiences (mentioned later).
OVR Token
The native ERC-20 OVR token is available for users to earn by participating within the OVR ecosystem. This includes buying, renting, or selling OVRLand assets. Moreover, users can earn OVR tokens by using the OVR staking facilities.
Alternatively, content creators of augmented and virtual realities can earn OVR tokens by designing and publishing experiences for users. The multi-utility token is also responsible for offering governance rights through voting for OVRNodes.
OVRNodes
The OVRNodes are responsible for hosting augmented reality (AR) and virtual reality (VR) assets. OVRNodes form a decentralized interplanetary file system (IPFS) network, offering optimal efficiency for processing and executing transactions.
Similar to most validator models, the OVRNodes are rewarded for their contribution to the OVR network in native OVR tokens. This incentivizes honest behavior from participants. Participants are rewarded more for being honest than any kind of achievement from bad acting, malperformance, or trying to cheat the network.
Operating an OVRNode requires a minimum stake of 500 OVR. Also, OVR token holders that do not operate an OVRNode directly can vote to select a node by staking tokens with said node.
OVR Staking
If users of the OVR platform want to support the OVR ecosystem and are unable to provide storage, bandwidth, or the minimum upfront requirement, they can alternatively stake their OVR tokens. When OVR tokens are staked, holders become eligible to vote on nodes with the top hosting performances.
Nodes receive a score based on two key metrics which are equally weighted;
The total number of OVR tokens staked to the node directly and indirectly.
The resources (bandwidth and latency) deployed by the node
OVRNodes with the top-performing hosting service and most votes receive OVR token rewards periodically. Also, voters of the top OVRNodes are rewarded with OVR tokens as a thank you for supporting the network.
Nodes and stakers will receive staking rewards for the first three years following the launch of the platform. These rewards will come from a reserve fund and no inflation will arise as a result of subsidies for staking rewards.
After this, OVRNodes will be subsidized by hosting fees as the platform matures. During the initial three-year period, OVRNodes will receive 6% APY of their stake, plus the opportunity to earn a bonus depending on their rank. Moreover, OVR voters and stakers will receive 5.5% APY during this period.
OVR App
Available on Apple iOS and Google Play, the OVR app is the gateway to the OVR ecosystem. It offers users, creators, fans, and artists a new exciting platform to interact with and potentially earn a passive income with OVR tokens.
OVRLand
Users can purchase virtual land, known as OVRLand, and create their own auctions. Additionally, users can then mint their own unique Land tokens.
There are 1.6 trillion OVRLands available as unique hexagons. The OVR team decided on a hexagon shape after considering the three shape tilings that can cover the Earth's surface; square, triangle, and hexagon. OVRLands are hexagon shapes boasting two main properties over the other polygon counterparts. Firstly, they are neighbor transversal, meaning all neighbors are positioned equally apart. Also, this makes it easier for neighbor map calculations. Moreover, hexagons offer the most number of neighboring sides. This coincides with OVR's community ethos, encouraging neighbor user interaction.
OVRLands are ERC-721 non-fungible token (NFT) standards, representing unique pieces of data. OVRLand assets can be adjusted and enhanced with OVRExperiences available through the OVR Marketplace (explained further on). Moreover, once a user has purchased OVRLand they can rent, trade, or auction their OVRLand assets.
To help keep Ethereum gas costs as low as possible, OVR makes use of the XDai sidechain to process OVRLand transactions. This is to prevent any network congestion on the native Ethereum blockchain. However, XDai still maintains the network security of Ethereum. There are bridging smart contracts available if users wish to send assets from XDai to the Ethereum chain. This could be to sell the assets on an NFT marketplace such as OpenSea.
OVR Live
One of the options on the OVR app is OVR Live. Firstly, OVR Live will prompt users to create their own avatar by uploading a photo or taking a selfie at the time. Users will have the option to adjust their features with the "personalize your face" option, creating a hyper-realistic personal 3D avatar. Then, users can select "Enter In OVR Live" to enter events hosted by public or private virtual rooms.
Users will first need to hold their camera over a surface to begin the live events as the OVR app will need to select and confirm key points within the environment to accurately anchor the 3D augmented reality scene.
OVR Live Events
Thanks to the combination of augmented reality (AR) and blockchain technology, users can now attend a concert of their favorite artist in the comfort of their own homes. Fans will be able to watch artists perform music for OVR Live Events. The artist is recorded and reproduced through hyper-realistic AR technology in real-time, recreating the performance for every fan. For every participant of the OVR Live Event, it will feel like the artist is performing to them directly. Moreover, artists will be able to interact directly with fans in a much safer and intimate capacity than a physical gig.
Stay ahead of the markets with real-time, on-chain data insights. Inform your trades with true market alpha!
Similar to real-world concerts, OVR Live Events will often require ticket entry requiring cryptographic non-fungible token (NFT) passes. Further, fans can purchase upgraded premium tickets that can offer exclusive rights such as interaction with the artist, recording the event to share on social media, or the opportunity to take photos. Fans can interact with each other using their 3D avatars, including activities such as "What do I wear for tonight's concert?"
From the artist's perspective, the options for creating a concert experience are endless. With augmented reality (AR) artists can add anything they can imagine to their shows. This could include light shows, animals, aliens, water, fire, or anything the artist desires. This will transform a fan's living room, bedroom, or any physical environment, with creative and mind-blowing AR scenography.
OVR Treasure Hunt
Another option on the OVR app is the OVR Treasure Hunt. The OVR Treasure Hunt offers a similar experience to the popular augmented reality (AR) game, Pokemon Go. Users will use their devices to search their local environment for AR treasure chests. Also, users can extend the map for a bird's eye view using the pink arrowhead. Moreover, the OVR Treasure Hunt shows the world map divided into the tessellated hexagon OVRLands.
Users can use the map to follow the arrow towards the hidden treasure chests. Upon finding, users can then open a chest to receive a random amount of OVRokens. As the game is immutably recorded on the blockchain in real-time, users can then check their profile to see their earned amount of OVR tokens.
OVRExperiences
Thanks to Unity3D, the experiences produced within the OVRLands can be realized as OVRExperiences that can be bought and sold within the platform. Unity3D, in addition to other top 3D development environments, was used for its leading "versatility, diffusion and ability to manage a cross-platform compilation of projects". Further, the technology is designed to be seamlessly compatible with smart glasses and mobile devices.
OVRExperiences can be bought and sold through the OVR Marketplace (mentioned below), with transactions secured through smart contracts. Also, the asset storage is facilitated on the IPFS OVRNodes. Using the OVR software development kit (SDK) creators can build unique experiences and sell them to potentially earn a passive income with crypto.
OVR SDK
OVR aims to be a fully community-orientated application, where anyone can build, design, and share their own creations. As such, OVR has created the OVR WebGL Builder. The OVR WebGL Builder is in Beta and only available on web browsers and is designed for non-programmers and non-technical users. Users can upload or create their own 3D content for their OVRLand without the need to be a professional 3D developer! The simple user interface offers users the choice to import a design from Sketchfab or create their own through the builder. Plus, OVR WebGL Builder offers users the choice to create accounts and log in either on-chain or off-chain.
The OVR software development kit (SDK) is available for users familiar with blockchain development. The OVR SDK offers users the ability to manage spatial borders and 3D asset positioning. Further, the SDK includes gateway opportunities with Infura and several oracle projects. Moreover, users can directly manage resource limits that are provided by the OVR app.
If you would like to learn how to create your own smart contracts on Ethereum, be sure to check out Ivan on Tech Academy! Regardless of your experience, we can offer the right programming course for you to become a confident blockchain developer. For readers with no experience, start with our Javascript Programming for Blockchain Developers course to learn the basics of coding.
Then, for experienced programmers, see our Ethereum Smart Contract Programming 101 course to learn the foundations of the Solidity programming language. After, the Ethereum Smart Contract Programming 201 course teaches students how to deploy their own decentralized exchange (DEX)! Start your blockchain developer career today, at Ivan on Tech Academy!
OVR Marketplace
The OVR Marketplace is the ideal place to discover the OVR ecosystem and participate in OVRLand auctions. The OVR Marketplace is a platform for creators to upload their augmented reality (AR) OVRExperiences. Moreover, OVRLand owners can access the OVR Marketplace to discover a variety of AR experiences that can be implemented to enhance the OVRLand environment.
OVRLand can be bought through the OVR Marketplace with the native OVR token. To do so, users will need to be familiar with a Web3 wallet, either MetaMask or Imtoken Wallet. Then, the OVR Marketplace will prompt users to connect their wallets with the site. Following this, as a one-time-only action, users may need to approve the spending limit of OVR tokens. This allows payment to be authorized from your wallet if you win an auction. After clicking "increase" the allowance should rise to 10,000,000, then you're ready to participate.
Users can then place a bid on OVRLand through the OVR Marketplace and will need to wait approximately 24 hours. If no other user outbids you during this period the OVRLand asset will appear in the "My Assets" section of your user profile. Also, transactions are publicly transparent and viewable on Etherscan.
OVR Cashback
For a limited time only, OVR is offering OVR token cashback on any OVRLand purchase.
The OVR cashback offer is available for nine months, with reducing rewards each month. In November 2020, at the time of launch, users received 95% cashback on OVRLand purchases. In the second month, it was 85%, 75% for the third, and so on until the final cashback offer in July 2021. OVR cashback rewards are limited to a selected number of users on a first come first served basis, with the number of participants adjusting each month. At the time of writing, the cashback offer is no longer available with the number of auctions exceeding the maximum 500 user limit.
OVRAdv
The age of advertising is slowly shifting again. First advertising media moved online, now it is moving into virtual and augmented reality (AR). Mobile, browser, and social advertising is costly and oversaturated. With OVRAdv, the platform offers a decentralized advertising infrastructure where OVRLand owners can make a passive income with OVR tokens by including sponsored content within their AR experiences.
Moreover, the use of augmented reality advertising can be considered more engaging and yet less intrusive within the overall user experience (UX). With the use of blockchain technology, smart contract executions and transactions are immutably stored and easily verifiable. This makes operations between advertisers, sponsors, creators, and hosts far more efficient and reliable with cryptographic terms of contract between parties.
Furthermore, the OVRNodes are in charge of moderating activity, creating, and managing a blacklist of addresses for any bad actors. OVRAdv offers a completely decentralized advertising platform in a novel interactive medium.
OVR Ecosystem & OVR Token Summary
The OVR platform offers a wide range of augmented reality (AR) and virtual reality (VR) experiences. Plus, OVR offers several ways to make a passive income. From on-the-go treasure hunts with random OVR token rewards, to hosting sponsored advertising space, and supporting the network as an OVRNode, there are many ways to get involved.
Also, the OVR WebGL Builder allows users with no programming experience to create and sell their own AR assets and experiences. The OVR Live Events hosting AR concerts offers artists a new and more intimate way of interacting with fans. Additionally, artists can create any scenography they desire offering fans a novel and immersive virtual gig experience.
If blockchain technology sounds interesting to you and you'd like to learn more, see our Blockchain & Bitcoin 101 course! Ivan on Tech Academy is the perfect place to learn how to get a job in crypto. This applies even if you have no programming or technical background. Then, see our DeFi 101 course to discover how to safely interact with the top decentralized finance (DeFi) protocols.
Also, our Blockchain Business Masterclass is a great place to learn how businesses can implement blockchain into their current IT infrastructures. We offer students a personalized study guide, industry expert tuition, plus a community forum for students to connect and network with like-minded people. Join over 30,000 students today, at Ivan on Tech Academy! Also, don't forget to follow us on Twitter @Academy_IOT! We'd love for you to share your thoughts with us about OVR and the OVR token!