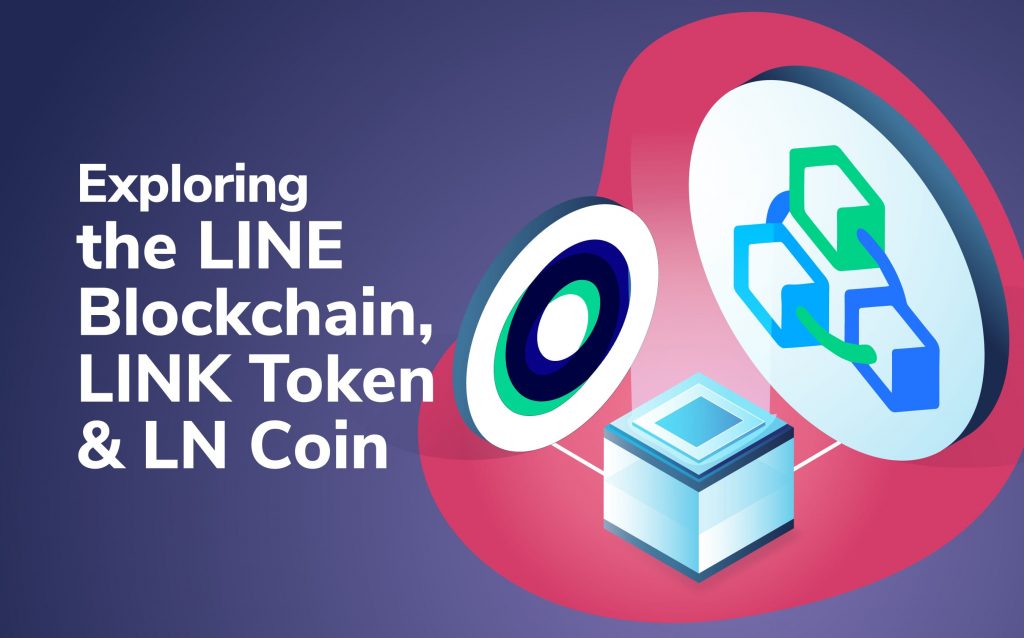 The LINE Blockchain Network strives to offer easy development experiences for blockchain developers, alongside a straightforward user experience (UX) that appeals to the non-technical-minded general public. Operating with the LINK token, or LN Coin as it is sometimes called, the LINE ecosystem hosts a vast range of decentralized applications (dApps). The community-centered ethos behind the project is evident throughout its technical implementations. Users of the network receive rewards with the LINK token (LN Coin). Furthermore, LINE focuses on operating a fair token economy while providing easy-to-navigate, user-first applications.
In this article, we are going to dive deep into the LINE ecosystem. Moreover, we'll explore the roles and functions of the LINK token (or LN Coin) and how they operate within the LINE Token Economy. Also, we'll look at some live use cases for LINE Blockchain currently available.
Would you like an expert-led easy-to-follow tutorial on breaking down the basics of blockchain technology? Then, see our Blockchain & Bitcoin 101 course at Ivan on Tech Academy! We discuss how the first implementation of blockchain came about, including consensus mechanisms, mining, and hash functions, and mempools. Then, our Ethereum 101 course is an ideal follow-on! This course covers the history of smart contracts, the Ethereum Virtual Machine (EVM), and the underlying infrastructures of decentralized applications (dApps). These two courses only scratch the surface of the wealth of educational material available. Start your blockchain journey at Ivan on Tech Academy today!
LINE Background
With over 185 million users, the LINE chat application is one of the most popular mobile messenger services. Launched in 2011, LINE Tech Plus Pte. LTD (LTP) has since become a global leader in the IT industry, offering users a "smart portal" service within the app. The smart portal provides various features, including an online store, loyalty cards, and organizational tools for users to manage their coupons. LINE aims to connect users and brands with the information and services they desire, anyplace, anytime. Now, LINE is emerging into the FinTech industry, offering payment and settlement services. Moreover, LINE recognizes the best way of introducing advanced security, transparency, and value to their services is with blockchain technology.
Operating on the Interchain network, supported by the Cosmos Network, the LINE Blockchain Network integrates into the underlying fundamentals of the LINE app and LINE ecosystem. The Network provides a wide range of services for developers and end-users alike. LINE aims to distribute the value of the LINE ecosystem to participants using the LINE Token Economy through the native LINK token (or LN Coin). The platform uses the LINE Token Economy to accelerate adoption and interaction with the LINK token in everyday use cases.
What is LINE Blockchain?
The LINE Blockchain Network serves two main demographics covering a wide spectrum of users. These are blockchain developers and the not-so-tech-savvy general public. The LINE ecosystem prides itself on being a "service-oriented blockchain ecosystem". Moreover, it is the native LINK token (LN Coin) that operates at the center of the ecosystem. The LINE Token Economy ensures the value of LN Coin will grow with the increase in adoption and usage of the LINE ecosystem. Furthermore, LN Coin enables the distribution of value the LINE ecosystem generates to its participants in the network.
The LINE Blockchain Network and ecosystem operate with three core principles in mind. Firstly, is rewarding contributors of the network generating value within the project ecosystem. Secondly, is facilitating a "balanced economic model". This means that the distribution of LINK (LN Coin) is fair and generates a "balanced and interconnected ecosystem". Thirdly, is presenting a friendly and easy-to-navigate user experience (UX) for network participants and front-end users. LINE is constructing its blockchain ecosystem to ensure that it is simple to use, regardless of technical expertise, age, or background.
Furthermore, as the project hopes to become an everyday brand name, LINE focuses on advancing its technology largely in scalability and usability. Scalability is a key focal point to ensure the user experience (UX) doesn't suffer due to an influx of traffic. Moreover, the scalability and ease of development within the LINE ecosystem offer an attractive platform to developers for building and deploying decentralized applications (dApps).
LN Coin (LINK Token)
The platform's native token is LINK, sometimes referred to as LN Coin. LINK (or LN Coin) is at the heart of the LINE ecosystem, facilitating decentralized cooperation, connection and incentivizing honest participation. A lot of blockchain-based projects allocate a reserve amount of tokens to sell for financing the application. Various seed, private, and public funding rounds can often result in large amounts of tokens in the hands of a small number of investors. Moreover, financing through token sales pre-launch can contribute to the value of the market capitalization post-launch. This could potentially lead to an over-valuation of a project if the ecosystem is not yet fully operational.
The LINE Blockchain Network publicly promises to not distribute LINK (LN Coin) for the financing of the project. Further, LINK operates through the LINE Token Economy on two levels; service level and platform level.
For readers yet to invest in cryptocurrency, be sure to check out our Crypto For Beginners course first! We cover everything from creating a crypto exchange account to storing assets offline in cold storage. Plus, you'll learn tips on how to recognize and avoid crypto scams too! Join Ivan on Tech Academy today!
LINE Token Economy
The service level is for rewarding end-users for interacting with decentralized applications (dApps) within the LINE Blockchain Network. Additionally, users of dApps operating on the platform can accrue LINK (LN Coins) to use them across various other dApps. Users can choose to spend their LINK paying for content, such as music, videos, or webtoons. Alternatively, LINK can pay for commerce features that offer payback and discount benefits. Furthermore, LINK is fully operational with social in-app payment services, in addition to payment for blockchain-based in-game assets and trading. LINK is the unit of exchange throughout the LINE ecosystem.
On the platform level, developers use LINK (LN Coin) to charge users a small platform fee when interacting with a decentralized application (dApp). The fee covers the cost of the computational power to fulfill a transaction request. As such, fees will vary with different transaction types. Furthermore, each dApp within the LINE Blockchain ecosystem is able to set its own fee structure. Fees can be paid by the user or application depending on the dApp's policy.
LINE Blockchain dApp Ecosystem
LINE Blockchain is fully operational, providing a landscape for blockchain developers to build scalable decentralized applications (dApps) on the LINE Blockchain Network. The project recognizes that it is the dApps on the network that bring value and utility to the ecosystem. Therefore, the LINE Blockchain ecosystem uses the following protocols to attract more decentralized projects, increase the number of network participants, and drive overall growth for the blockchain ecosystem.
Reward dApps
Responsible for introducing functions for the native LINK token (LN Coin), the Reward dApps are a collective of dApps developing the LINE Blockchain ecosystem. Moreover, the Reward dApps allocate LINK (LN Coin) from the LINK Secretariat to participants in the network as user rewards. The Reward dApps distribute LINK (LN Coin) to either users or native LINE Blockchain decentralized applications (dApps). Furthermore, current active Reward dApps are from development in-house, as LINE's own applications. However, the creation of Reward dApps by third-party developers is possible, subject to successful completion of vetting and screening procedures. The LINK Secretariat holds the responsibility of selecting Reward dApps during the initial phases of the ecosystem launch.
LUCAS (LINK User Contribution Assessment System)
LUCAS (LINK User Contribution Assessment System), as the name suggests, is a system that calculates and assesses the amount of LINK (LN Coin) rewards a user is entitled to. At present, LUCAS includes the number of transactions per decentralized application (dApp), the number of monthly active users (MUA), and number of active wallets within the rewards assessment.
Over time, the LUCAS formula will expand and evolve. Soon, LINE aims to recognize user staking amounts and transaction volume within its calculations. At the time of writing, LINE Blockchain Network has a limit in place of the amount of LINK allocation one decentralized application (dApp) can acquire during a one-month period. In turn, this is helping to incentivize participation in the LINE Token Economy alongside ensuring healthy growth of the LINE ecosystem without the risk of over-expansion.
General dApps
General dApps refer to decentralized applications (dApps) that operate on the LINE Blockchain Network that do not reward users. Instead, users participate voluntarily. LINE Blockchain encourages individual blockchain developers to frictionlessly create dApps on the network using "LINE Blockchain Developers". LINE Blockchain Developers is a software development kit (SDK) specifically for deploying LINE Blockchain-based applications. Moreover, LINE plans on assisting developers in registering their dApps on the LINE Blockchain dApp store. Here, developers can advertise their dApp services to millions of LINE ecosystem users across the globe.
Support Programs for dApps
The final category of decentralized applications (dApps) within the LINE Blockchain dApp ecosystem is the support programs. The LINK Secretariat aims to orchestrate a range of programs to provide technical and financial assistance for users of the LINE Blockchain Developer kit. Promising developers that can demonstrate potential to add value to the ecosystem with a use case for LINK (LN Coin) will soon receive support for integration into LINE Blockchain Network. Moreover, developers can also receive consultations with LINE experts surrounding LINK and the LINE Token Economy.
LINE Blockchain Use Cases
The LINE Blockchain Network is available now for developers to create their own decentralized applications (dApps) on LINE Blockchain. LINE Blockchain currently hosts over 15 applications, with more in the pipelines.
One of the dApps already live is SOMESING, a social karaoke application based in Japan. As the world's first blockchain-based karaoke app developed by EMEL Ventures Inc., SOMESING uses LINE Blockchain to enable user rewards. Users share their karaoke content, and fans can support the user by giving likes and SOMESING tokens. Then, each month SOMESING tokens can be claimed for LINK rewards.
Another decentralized application (dApp) active on LINE Blockchain Network is the decentralized game DozerBird, again based in Japan. The idea is for players to collect items, avoiding set challenges and obstacles to fly as far as possible. Thanks to LINE Blockchain, players can trade non-fungible token (NFT) in-game items from CryptoDozer, immutably recorded on-chain.
Additionally, THETA.tv provides the leading decentralized video streaming service for LINE Blockchain. Built in conjunction with Theta Network by Theta Labs, THETA.tv leverages its pre-existing community of millions of viewers to expand its network and operate with LINE Blockchain. Moreover, Theta Network has partnerships with household name content brands such as Lionsgate, ConTV Anime, NASA, and many more!
Other decentralized applications (dApps) on LINE Blockchain include crypto exchanges, payment services, investment management tools, and social media platforms.
Exploring LINE Blockchain & LINK Token (LN Coin) Summary
LINE Blockchain Network, operating on Interchain, aims to provide a user-friendly host for decentralized applications (dApps) catering to both blockchain developers and the everyday user. Furthermore, LINE uses the native LINK token (often known as LN Coin) to distribute the value of the LINE economy to its users.
Also, LINK provides incentivization to network participants, using the LINE Token Economy system for service and platform use cases. The LINE Blockchain Network boasts a fair distribution of its token, with no seed round or pre-sale to finance the project. This coincides with the three core principles of LINE Blockchain. Alongside rewarding network users, LINK (LN Coin) operates with a balanced economic model. The third core value of the LINE Blockchain Network is offering a user experience (UX) so effortless and straightforward, it can be accessed by non-technical users.
The platform rewards its users for participation with its decentralized applications (dApps) through its Reward dApps. Reward dApps operate in the LINE Blockchain network alongside general dApps. Further, the LINK Secretariat will soon be offering a range of support programs for LINE Blockchain developers hoping to deploy dApps on the network.
Would you like to learn how to deploy your own decentralized applications (dApps) on the industry's largest smart contract-enabled blockchain? Check out the Ethereum Smart Contract Programming 101 course at Ivan on Tech Academy to get started! Here, you'll learn about the Ethereum programming language, Solidity, before moving on to our more advanced courses.
Kickstart your blockchain career at the world's largest blockchain education suite, Ivan on Tech Academy! With over 30,000 students enrolled, we can help you achieve your blockchain goals. Also, don't forget to follow us on Twitter @Academy_IOT! We'd love to hear your thoughts about the LINE ecosystem and the LINK token (LN Coin).