It is an open secret that the traditional payments industry struggles with keeping up with today's digital society. Legacy technologies like SWIFT mean cross-border payments can take days to process and often incur huge fees. Furthermore, the risk of fraud or financial loss as a result of using traditional financial systems is also alarming. This is something that Utrust and the HOLD app are looking to tackle.
By harnessing the transparency and security of blockchain technology, Utrust has developed a payments service that benefits consumers and merchants alike. Furthermore, the UTK token underpins the development and expansion of the platform, while also incentivizing users. This article answers the question "What is Utrust" and provides a Utrust review for anyone interested in the project
In this article, we're going to explore the Utrust platform, the UTK token, and the HOLD app powered by Utrust. Also, we'll look at how Utrust makes it simple for merchants to accept payments in many different digital currencies, and convert crypto to fiat quickly and safely. This is especially interesting seeing as Utrust could potentially play a part in disrupting the multi-billion dollar payments industry. Consequently, there's never been a better time to learn about blockchain and cryptocurrency. Ivan on Tech Academy has courses designed to fast-track your crypto education, suited to any previous experience level. If you want to learn about blockchain technology, Ivan on Tech Academy is the place to start. Check out our Crypto Basics and Bitcoin & Blockchain 101 courses to kickstart your blockchain education!
What Is Utrust?
Founded by Nuno Correia and Roberto Machado in August of 2017, Utrust is a cryptocurrency payment solution looking to modernize the finance and payments industry. Utrust aims to circumnavigate the issues associated with traditional payment methods by offering fast, cost-effective transactions and instant crypto-fiat settlements for merchants. Furthermore, Utrust makes it easy to make payments using most major cryptocurrencies and ERC-20 tokens. When accepting payment in cryptocurrency with Utrust, it can be converted immediately into GBP, EUR, or USD.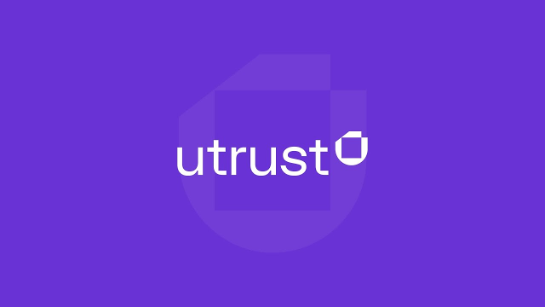 Payments are made simple for both merchants and individuals using Utrust. Moreover, by removing third-party intermediaries, Utrust provides a low-cost, transparent, and flexible payment solution that is much faster and more convenient than anything seen in the traditional payments space. With Utrust, users can expect low fees and near-instant transaction times.
This is a game-changer for merchants as it makes it easy to accept payments in crypto. Merchants can choose to instantly convert crypto payments into fiat, or, keep crypto assets on their balance sheet. Additionally, Utrust helps to prevent fraud and charge-backs.
For individuals, Ustrust aims to change the way we shop online. Paying for goods and services using crypto has historically been cumbersome. Many merchants simply opt-out when it comes to taking payments in crypto for simplicity's sake, and to avoid the complications of price fluctuations. However, Utrust has simplified this process by allowing users to make payments using cryptocurrency in a way that makes it easy for merchants to manage and keep track of. In this Utrust review and breakdown, we explore some of these features in more detail.
Utrust For Personal Use
Despite the many advancements in cryptocurrency payments, including the advent of crypto debit cards, it is still quite difficult to use crypto to make payments online. Most merchants are reluctant to accept crypto payments, which is particularly frustrating if you receive your salary in crypto.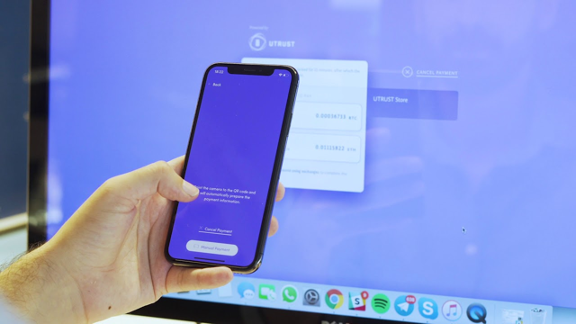 Utrust wants to make it quick and easy to pay for goods and services using most major cryptocurrencies. With a unique and flexible solution, Utrust enables users to choose which digital assets they wish to pay with. This allows users to capitalize on market conditions.
The Utrust transaction process is both faster and cheaper than most traditional payment systems, such as SWIFT or PayPal, and is integrated with most major crypto wallets. By combining the speed and transparency of the blockchain with a user-friendly and familiar experience, Utrust has created a way to spend cryptocurrency in a way that has never been seen before. Utrust is often heralded as a tool that benefits only merchants, but as you'll soon discover in this Utrust review, consumers also benefit from using Utrust.
Utrust For Merchants
Merchants can still be reluctant to integrate or accept cryptocurrency payments. Specifically, the impact of price volatility can be detrimental to a business and is often difficult to keep track of. Although the option to accept crypto payments has been around for years, merchants are only now starting to provide crypto payments in a flexible, hassle-free manner.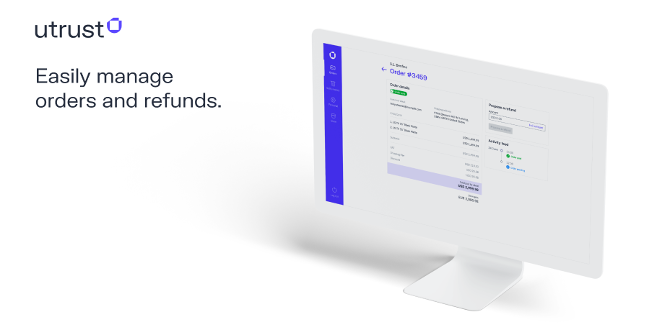 Utrust empowers businesses in over 180 countries, and argues that it is facilitating sustainable growth with the help of blockchain technology. Also, Utrust supports over 30 different currencies, which Utrust claims means "over 90% of the world's GDP has access to Utrust".
The Utrust dashboard has important features for any merchant looking to process multi-currency payments and crypto-fiat settlements. The dashboard is designed for efficiency, making each step of the selling process as simple as possible. Furthermore, Utrust facilitates "seamless" rapid API integration. Also, Utrust claims to have made escrow and invoicing quick and easy.
The Utrust checkout process is asynchronous. Upon checkout, customers have 15 minutes to select the cryptocurrency they wish to pay with and confirm the transaction on the relative blockchain. As soon as the requested funds are pending in the address provided by Utrust, the payment is recognized in a matter of seconds. From here, the customer is redirected to the merchant success callback URL. Transaction confirmations can then take up to 2 hours. Once a transaction is confirmed, a notification is sent to the merchant's store using a webhook.
The Utrust Payment Process
The Utrust payment process is completed in 6 simple steps:

Upon checkout, merchants send order details to the Utrust server, receiving a redirect_url.
The merchant then redirects the customer to the provided URL which displays the Utrust Payment widget.
After paying for the order, users receive a "Payment Complete" message, along with an email from Utrust containing the relevant payment details for their order and confirmation of the completed transaction (from the user-end).
The order is then redirected back to the customer from Utrust via the provided return_url from the first stage.
After transactions are confirmed on the chosen blockchain, an HTTP request is sent by Utrust to the merchant system to inform that payments have been received.
Requests are verified, validated, and orders finalized.
Merchants that wish to get a feel for Utrust can use the Ethereum Ropsten Test Network to simulate the process with "test Ether". Here, merchants can experience the process from the user end while also seeing how simple it is to integrate Utrust into their current systems.
Furthermore, Utrust could be a catalyst for a wave of big businesses accepting crypto payments. As the project continues to accelerate and onboard new users, larger companies are being drawn to the opportunities afforded by Utrust.
If you're interested in learning about the history of money and the important role of blockchain in the future of finance, The Bitcoin Standard course on Ivan on Tech Academy explains exactly how cryptocurrency and blockchain technology is disrupting the legacy financial system. Ivan on Tech Academy brings you the most current and up-to-date educational content in this emerging industry. Also, our courses are regularly updated to keep up with the latest trends and discussions in crypto.
The UTK Token
The initial coin offering (ICO) for the Utrust token (UTK) took place in November of 2017. During this process, approximately $21 million was raised. UTK has a maximum total supply of 500 million, with over half of the total supply distributed during the ICO.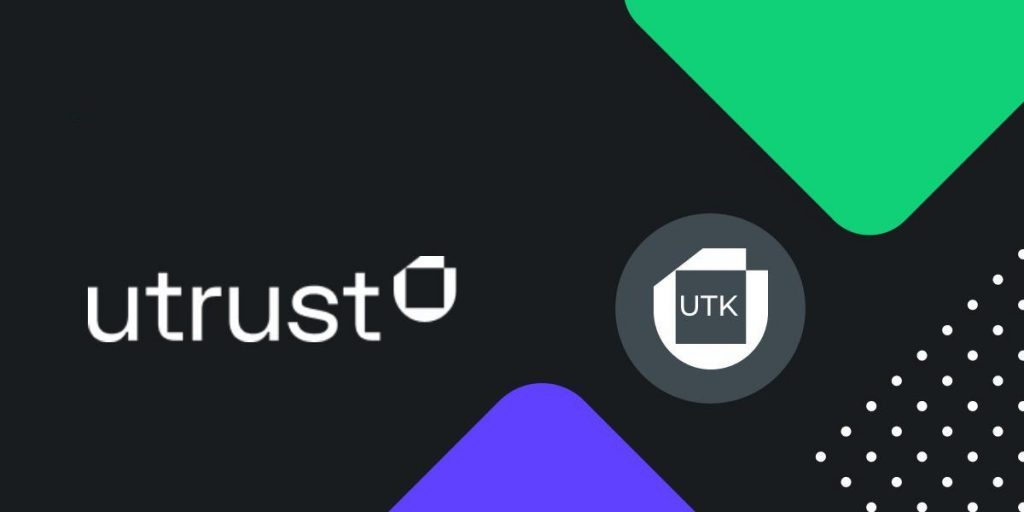 Around 30% of the tokens were allocated to presale events, while 10% were reserved for development. The remaining 5% of UTK tokens are reserved for bug bounty programs and marketing. At the time of writing, the circulating supply of UTK is 450,000,000, with a market cap of $89,664,042.
When making payments using the UTK token, users pay zero exchange rate fees. This provides further utility and promotes the use of the UTK token.
The utility of the UTK token is finally being realized as the Utrust platform begins to blossom. New incentive models allow users to earn UTK for spending, rather than holding tokens. We've explained this in a little more detail later in our Utrust review.
The HOLD App & Utrust Wallet
The Utrust Wallet was launched in November 2019, available on both iOS and Android. Following the launch of the WordPress + WooCommerce plugin in June, the HOLD app powered by Utrust was launched in late 2020. The HOLD app is currently available in most European countries.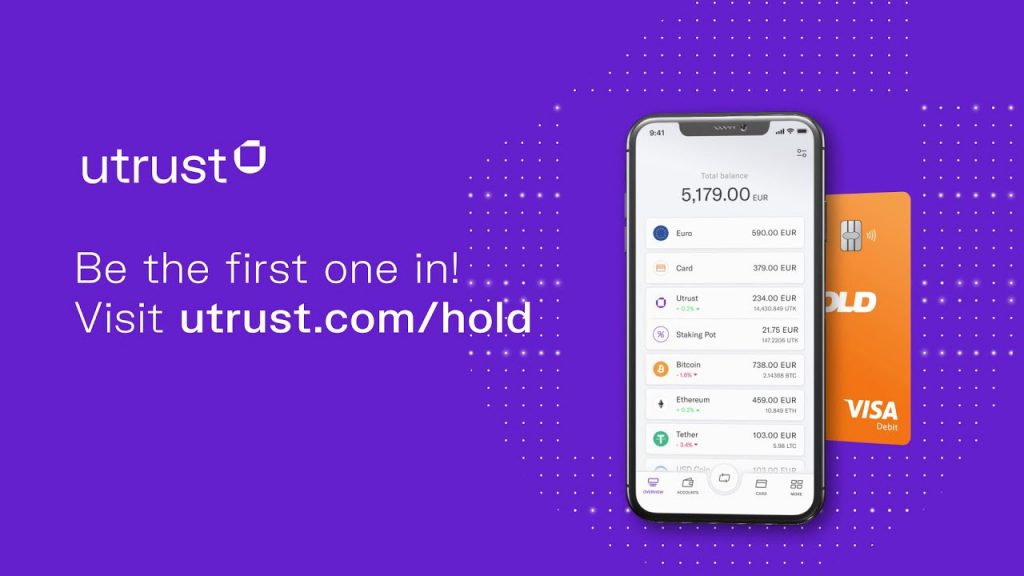 In effect, the HOLD app will replace the Utrust wallet as the two are merged. Resultantly, holders of the native HOLD token receive an amount of UTK tokens at a 100:1 ratio. The Hold app features a multi-currency exchange and will be the platform used to rollout the latest UTK token features. One of the most exciting features in the Utrust ecosystem is Reverse Staking.
Reverse Staking
Rather than rewarding people for holding and staking assets, Utrust rewards people for actually using them. For each trade executed or purchase made using Utrust, users can unlock 1% of the market value of each trade. This reward is then bought back by Utrust and added to a user's staking pot.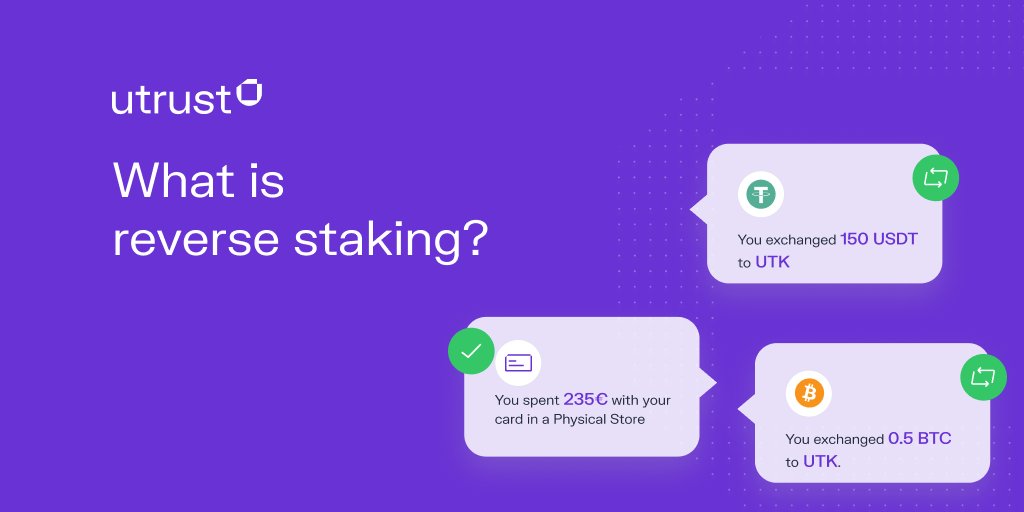 This means UTK tokens no longer remain in circulation, and the supply therefore decreases. This deflationary model can be viewed as giving fundamental value to the UTK token, which is why it is an interesting component of the Utrust ecosystem. Essentially, reverse staking has two tiers:
Tier 1
Users must stake 1,000 UTK to participate. Users receive 1% of each trade or purchase made using the Hold app into their reward pool. Reward pools are unlocked after 6 months.
Tier 2
Still to be announced, the second tier will feature additional perks. Users will receive the same benefits as in Tier 1, but with larger rewards. Also, users receive a metal Visa debit card linked to their wallet.
In the future, we can expect to see more utility brought to the UTK token as further objectives are achieved and additional features are implemented.
Utrust Review: Summary
Utrust provides a frictionless online shopping experience for consumers that makes it simple for merchants to accept a range of digital currencies. Furthermore, users get all the benefits of traditional payment methods, while also benefiting from blockchain technology advancements.

The SWIFT payment system is notoriously slow, and wire transaction fees can be sizeable when sending remittances. Alternatives like PayPal may provide a quicker alternative, but the associated fees are nonetheless extortionate. With Utrust, merchants can take advantage of fast, borderless settlements. Also, Utrust saves users a great deal in fees while accommodating a wider customer base. As such, merchants adopting Utrust are essentially bootstrapped for a new economic paradigm, through which crypto payments are painless, less risky, and straightforward.
Utrust's aim is to democratize payments and promote global cryptocurrency adoption, using digital currencies to empower businesses and individuals with blockchain payment solutions for the future. This could boost emerging economies by providing a simple, accessible, and borderless banking system.
Hopefully, this Utrust review gives you some insight into how blockchain is changing business and finance. If you run a business and want to incorporate blockchain into your current infrastructure, the Fintech 101 and Blockchain Business Masterclass courses at Ivan on Tech Academy are an ideal place to begin. Blockchain is becoming increasingly popular across industries from supply chain management to the medical industry. Now is the perfect time to position yourself to be the go-to person in your company for all things blockchain-related!
Ivan on Tech Academy has courses designed to teach you everything you need to know about blockchain, and how to implement your newfound skills to prepare for future career prospects in this emerging industry! Check out our Baseline Protocol course to see how enterprise-grade blockchain solutions are being developed and implemented on a global scale.