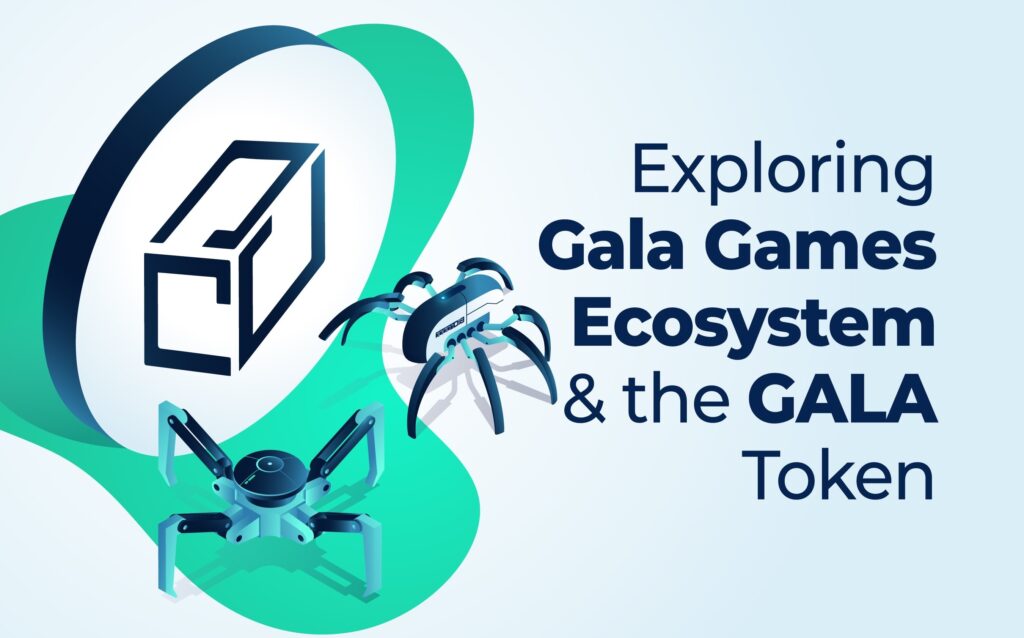 Operating on the leading smart contract-enabled blockchain, Gala Games aims to redefine the gaming industry through the use of innovative blockchain developments. Offering players a truly decentralized gaming economy, the Gala Games Node network is the largest in the blockchain industry. Additionally, the Gala Games crypto ecosystem is home to the native GALA token, responsible for incentivization and securing of the Gala Network. Moreover, the Gala Network aims to make it fast, simple, and efficient for designing and deploying crypto gaming applications within the Gala Games ecosystem. Furthermore, Gala Games is in the process of developing its own native blockchain, GalaChain. 
In this article, we are going to dive deep into the project ecosystem, exploring the various gaming applications available on the Gala Network. Additionally, we will look into the operations of being a Gala Games Node, the utilities of the GALA token, and various Gala Games crypto assets within the ecosystem.
This article assumes readers are familiar with blockchain technology, decentralized finance (DeFi), and non-fungible tokens (NFTs). If you would like a primer on these topics, our Blockchain & Bitcoin 101 course at Moralis Academy is a fantastic place to start! We cover everything from mining node networks and consensus mechanisms to UTXOs and hashing functions. Start your blockchain journey with Moralis Academy today!
What is Gala Games?
Live since 2019, Gala Games currently hosts the world's largest gaming node network. With a focus on community participation and decentralization, Gala Games offers a player-owned network of blockchain-based games. Moreover, the project keeps the blockchain technicalities under the hood of the project, appealing to gamers who are unfamiliar with blockchain. As such, by creating an innovative development platform for user-friendly decentralized games, players have the opportunity to be a part of their favorite games in exciting new ways. Furthermore, users can earn digital assets as rewards that are tradable across external cryptocurrency exchanges.
The Gala Games crypto ecosystem comprises a player-run Gala Network and node ecosystem. Also, the platform is host to several blockchain and crypto games in various stages of development. Additionally, the Gala Games ecosystem roadmap is shaped and governed by the players and holders of the ERC-20 GALA token. Plus, the work-in-progress native GalaChain will see the introduction of a native GALA coin upon launch.
The Gala Network is "powered by the people". With more than 20,000 active player-run nodes, the Gala Games crypto ecosystem sees more than one million monthly active users (MAU) at the time of writing. With the community at its' heart, the project has seen a continuous increase in adoption since launch, selling over 26,000 non-fungible token (NFT) game assets.
GALA Token and GALA COIN
As the initial design of the Gala Games project runs on the Ethereum blockchain integrating a Polygon (MATIC) partnership, its native asset uses the ERC-20 token standard. GALA is, therefore, strictly speaking, a token of Ethereum. However, after the launch of Gala's own blockchain, GalaChain, any GALA minted will technically be a coin. Nevertheless, the project mainly refers to its asset throughout the platform as the "GALA token".
As a multi-utility digital asset, the GALA token holds several key responsibilities, including securing the network. Largely, holders use the GALA token as a medium of exchange for transactions within the Gala Games crypto ecosystem. This could be for fees or purchasing a rare asset. Furthermore, the GALA token offers incentivization mechanisms for developers to use within their games on the Gala Network. For example, the pioneering Gala Games product, Town Star, offers a GALA token reward structure for the top 100 most active players. Plus, the Gala Games crypto ecosystem provides a non-custodial in-app crypto wallet for GALA tokens.
Gala Games makes it abundantly clear that its token asset is not representative of any shares or rights to the project. Further, the GALA token is not a guarantee of returns, profits, or dividends to holders. There are two ways to get GALA tokens. Traders can either invest through a crypto exchange or become Gala Games Node operators. The latter option also offers an opportunity to put any GALA token assets to work and earn a passive income.
Gala Games Nodes
For enthusiasts of the Gala Games crypto ecosystem wanting to support the Gala Network, they can choose to become a Gala Games Node. Gala Game Nodes currently operate using the Proof-of-Availability (PoA) consensus mechanism. However, this is subject to change with further developments of the project. By becoming a Gala Games Node, users receive rewards, including GALA tokens and exclusive non-fungible tokens (NFTs). To do so, Gala Games Nodes must earn points by operating nodes for specific periods. The distribution of rewards is sent to the node's Treasure Chest. We'll dive deeper into Treasure Chests further into the article.
Presenting the "largest decentralized gaming network in the world", the Gala Network has a capped amount of 50,000 Founder's Nodes. At the time of writing, the project website states there are 20,800 currently active Founder's Nodes on the Gala Network. While becoming a Gala Games Node secures the network, validates transactions, and generates GALA assets, the node infrastructure doesn't operate a traditional cryptocurrency mining model. Each Founder's Node receives one point for each continuous six-hour cycle, with accumulators for active referral nodes. Then, nodes are awarded GALA tokens daily in accordance with the number of points earned within that period. As such, being a Founder's Node doesn't require extensive computational resources. This means it can be run on a home desktop computer.
Gala Games Ecosystem
The Gala Games ecosystem consists of a variety of blockchain and crypto games at various stages of completion. One of the Gala Network gaming applications in development is the tower defense game, Fortified. As a browser application, players can own their land and assets as non-fungible tokens (NFTs) and compete as a player-versus-player (PvP) strategic battle. Moreover, players who don't own any NFTs or land can still play and compete to gain access to prize pools!
Another Gala Network gaming application is Spider Tanks, currently in Beta. Developed by GAMEDIA, this game allows players to choose their NFT battle tanks, then compete with other players in the Spider Tanks arenas. Thanks to the use of blockchain, players can own their digital asset NFTs and trade them across exchanges.
Mirandus
Mirandus is an additional game in the Gala Network currently development, redefining the traditional gameplay model. As a massively multiplayer online role-playing game (MMORPG) and adventure simulator, Mirandus offers players true flexibility of their role within this epic fantasy game. Set in a world "ruled by five player-monarchs", players can choose to serve the monarchs, create a shop in one of the cities, or set out to fight the "monsters of the deep woods and dungeons".
The Gala Games crypto platform means players can purchase land deeds as non-fungible tokens (NFTs) and trade or rent out land within the game. Furthermore, players can create in-game decentralized economies from "small farms to massive cities".
Town Star
The first and most developmentally advanced gaming application on Gala Games is Town Star. Players create their own towns and compete in weekly competitions for prizes! Witnessing more than 600 million participants, Town Star is a pioneering part of the Game Node Licenses development.
Stay ahead of the markets with real-time, on-chain data insights. Inform your trades with true market alpha!
Town Star Node Licenses are a recent development to empower players with the opportunity to be a part of the game like never before. With a limited supply of licenses available, players can share the workload of the Town Star game network demands. Further, the design of the Town Star Node Licenses strictly adheres to the standards and operations of the Founder's Nodes network. Instead of competing in the network, the nodes use a design to operate in parallel with each other. In return, users receive TOWN token rewards.
This new player-participation model is reimagining community game development. Plus, this offers substantial scalability options for future gaming applications as part of the Gala Games ecosystem. The Town Star Node License is just the beginning of future Game Node Licenses expected with future development.
Treasure Chest
At the time of writing, Treasure Chest is the in-app all-in-one asset management protocol for the Gala Games ecosystem. Whether you're a Gala Games Node earning exclusive rewards, or an avid gamer on a winning streak, all rewards appear in the users' Treasure Chest. This particular part of the project is vital to the decentralization of the Gala Games crypto ecosystem.
To redeem rewards - either GALA tokens or non-fungible tokens (NFTs), users must first "mint" the assets. This happens upon transferring them from the Treasure Chest to an external wallet such as MetaMask. In turn, this will require a small gas fee. It's worth noting that the price of gas can fluctuate significantly with high levels of volume on Ethereum.
If you would like a video tutorial with industry-expert tuition on installing MetaMask, look no further! Moralis Academy offers just this with our DeFi 101 course. We show students new to decentralized finance (DeFi) how to navigate the number one Web3 wallet with popular Ethereum platforms. This includes the likes of Aave, Compound, and Uniswap! Check out Moralis Academy today!
GalaChain
Still in development, GalaChain is soon to be the Gala Network's native blockchain. Taking on the same responsibilities as Treasure Chest, GalaChain will expand on the capabilities of the asset management functions. Although the functions and operations will largely be the same, the names of certain actions will change. For example, instead of users' rewards accumulating in Treasure Chest, they will be minted on GalaChain. In turn, they will appear in users' GalaChain Wallets.
Currently, users must mint their rewards to transfer their assets from their Treasure Chest to an external Ethereum wallet. As a result, users must pay to cover gas costs. In a similar way, when users choose to transfer assets from their GalaChain Wallet to an Ethereum wallet, this will also require gas.
As a novel sovereign blockchain, GalaChain will be solely for minting and trading assets, alongside hosting decentralized blockchain games. With the launch will come the ability for users to send non-fungible token (NFT) assets and GALA tokens to other users' GalaChain Inventories. This is in addition to being able to convert GALA tokens seamlessly from GalaChain to Ethereum.
Game Development Studios
Further to GalaChain, the Gala Games ecosystem plans to expand to offer an all-in-one development solution for blockchain game developers. Provisionally dubbed the Gala Game Development Studios, the project aims to make it easier than ever to release content using the Gala Games protocols. Moreover, the project wants to make the Gala Network as appealing to as many developers as possible to continuously evolve the Gala Games crypto ecosystem.
The Gala Game Development Studios will provide a comprehensive suite of development tools, including standardized crypto packages offering plugins, wallets, and non-fungible token (NFT) libraries. Through the Game Development Studios, developers can receive a "Game License" NFT, allowing their gaming applications to be accessible within the Gala Games ecosystem. Sticking with its community ethos, it was the Gala Games Full Node holders who approved the vote to introduce studies to the Gala Network.
Exploring Gala Games Crypto Ecosystem and GALA Token Summary
Gala Games is an ecosystem hosting innovative decentralized blockchain and crypto games. With its community as its core focus, the Gala Games uses distributed voting mechanisms for suggested proposals for the future direction of the project. The Gala Network interacts and considers suggestions via social media engagement before presenting a vote to GALA token holders.
With several games currently in development, the Gala Games ecosystem is set to see continuous adoption. Averaging more than one million monthly active users (MAU), the Gala Games Node network is the largest in the blockchain gaming industry. Moreover, the project is set to redefine traditional gaming models offering players the ability to truly own their in-game assets.
Additionally, the Gala Network is also focusing on the development of its native blockchain, GalaChain. With this will come the introduction of a native GALA coin. Also, GalaChain will be taking over the responsibilities of the current asset management protocol, Treasure Chests. Furthermore, the project is working on offering an easy all-in-one solution for developers to deploy their own games on the Gala Network. The Gala Games crypto ecosystem is at the forefront of blockchain gaming development.
Would you like to build your own blockchain gaming platform? If so, you have come to the right place - even if you have no experience! If you're a programming novice, start with our Javascript Programming for Blockchain Developers course. Then, for experienced developers, our Ethereum Smart Contract Programming 101 course teaches you the Solidity programming language. From here, our Ethereum Game Programming course will teach you the rest to deploy your own blockchain game application! Also, check us out on Twitter @MoralisAcademy! We'd love to hear your thoughts about the Gala Games crypto ecosystem and the GALA token!