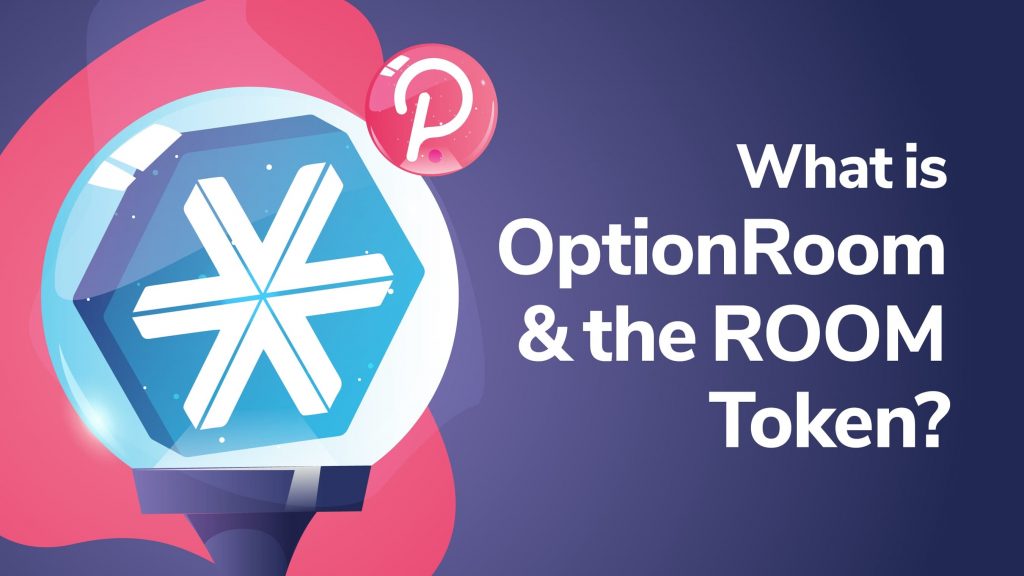 OptionRoom is a user-governed Oracle-as-a-Service (OaaS) provider and forecast protocol built on Polkadot. The platform uses a dual token model consisting of the ROOM token and the COURT token. The ROOM token is the platform's utility token, while the COURT token is to be used for protocol governance. Furthermore, OptionRoom provides a diverse range of features. This includes staking with non-fungible tokens (NFTs), an oracle request service, and event-based derivatives based on the outcomes of real-world events. Furthermore, the OptionRoom platform aims to be the go-to Oracle-as-a-Service (OaaS) provider for the emerging Polkadot ecosystem.
In this article, we're going to dive deep into the OptionRoom Oracle-as-a-Service
(OaaS) platform. Also, we'll explore the ROOM token and the COURT token, and look at the roles they play within the OptionRoom ecosystem. Plus, we'll discuss some of the innovative features that the platform has to offer.
If you're just getting started in crypto, you've made it to the right place! Ivan on Tech Academy is the number one blockchain education suite available online. Be sure to check out our Crypto for Beginners course to learn how to buy, sell, and store your crypto safely using a hardware wallet. Then, why not try our Bitcoin Monetary Revolution and Blockchain and Bitcoin 101 courses? These courses are designed to teach you how blockchain works on a fundamental level.
Following this, check out our Ethereum 101 course to learn all about the most widely used programmable blockchain! Ivan on Tech Academy has courses suited to all levels of knowledge and experience. Check out some of the courses available today and start your crypto journey with Ivan on Tech Academy!
What is OptionRoom?
Built on Polkadot, OptionRoom is a user-governed Oracle-as-a-Service (OaaS) and forecast protocol. OptionRoom facilitates oracle requests and a derivatives service that enables users to create and participate in forecasts of real-world outcomes.
Furthermore, the OptionRoom OaaS requests will be solved by governance. Users can stake the native ROOM token to earn an authenticity score and participate in the governance of the OptionRoom protocol. A higher authenticity score gives users more voting power when it comes to making decisions that could alter the course of the protocol and determine any changes made via the governance mechanism.
Also, OptionRoom features a dual token model. The ROOM token serves as the platform's utility token and can be staked to participate in governance to earn ROOM staking rewards. Also, the COURT token serves as the protocol's governance token. Furthermore, the COURT token can be earned by liquidity pool mining and staking rewards.
OptionRoom aims to be a sustainable, community-focused project. The founding team does not receive any of the protocol fees. Rather, protocol fees are used to fuel the OptionRoom buyback mechanism. Plus, governance participants and liquidity pool creators earn a portion of fees via OptionRoom governance staking and by creating liquidity pools. Any surplus fees go to the "reward buffer pool". This is used to reward participants, while also reducing inflation of the ROOM token supply.
Moreover, the OptionRoom platform has several varied use cases. This includes the Oracle-as-a-Service (OaaS) function, prediction markets, decentralized polls and surveys, dispute resolution, and non-fungible token (NFT) staking!
What is Polkadot?
Polkadot is a top ten blockchain project at the forefront of interoperability in the blockchain industry. Often referred to as the "blockchain of blockchains", Polkadot itself is a network consisting of several core components. These are the Relay Chain, parathreads, parachains, and bridges.
The Relay Chain is the heart of the network, securing all blockchains within the Polkadot ecosystem. Moreover, the Relay Chain is responsible for cross-chain communication and asset interoperability.
Parachains are independent sovereign blockchains that have customizable governance and tokenomic structures individual to each protocol. Developers creating parachains have endless scaling opportunities whilst the transactional operations are secured by the core native Relay Chain. However, there are only a set amount of slots available in the Relay Chain. Slots are available for limited periods only and are available through seasonal parachain slot auctions.
Parathreads are similar to parachains. However, they are often smaller chains that don't require continuous connection to the Relay Chain. Parathreads offer more structured templates with less customization. However, this doesn't jeopardize the availability of development tools and time to deployment. Polkadot bridges are responsible for creating gateways and connecting chains together. This includes internal parachains and parathreads alongside external smart contract-enabled blockchains such as Ethereum, Cardano, and Binance Smart Chain.
What are Oracles?
Without oracles, most smart contracts would cease to function. This is because oracles are responsible for collecting, verifying, and distributing data to tell a smart contract how to execute its next action. Oracles are frequently used for on-chain transactions, verifying a wallet address or funds for example.
Also, oracles have the powerful ability to take off-chain data and bring it on-chain in a smart contract-compatible format. An example of this could be a sports betting contract between friends. The oracle would be responsible for scanning various sports websites to confirm the match score, then bringing this information onto the blockchain to inform the smart contract of the winner and thus transfer funds accordingly. You can discover more about oracles by reading our Explaining Blockchain Oracles article!
Alternatively, to learn more about oracles on a technical level, check out our Chainlink 101 course! This advanced Solidity course teaches you how projects such as Aave, Curve, and Synthetix use oracles, and how to implement your own! If you're new to programming, start with our Javascript Programming for Blockchain Developers course! This gives you the foundational knowledge to move on to our Ethereum Smart Contract Programming 101 course to learn how to use the Solidity programming language.
Following this, why not try our Ethereum Smart Contract Programming 201, and Ethereum Smart Contract Security courses? These advanced programming courses teach you how to make highly robust smart contracts. Want to learn how to build your own decentralized applications (dApps)? Then be sure to check out the Ethereum dApp Programming course at Ivan on Tech Academy today!
Oracle-as-a-Service (OaaS)
OptionRoom takes inspiration from some of the best elements of various popular forecast protocols and Oracle-as-a-Service (OaaS) providers. These include Augur, Polymarket, and Kleros. However, it's only Kleros that is a competitive OaaS provider. On top of this, OptionRoom offers decentralized polls, user incentives, and a community-focused token alongside its primary use case as an Oracle-as-a-Service provider.
As an open-source protocol, anyone can create an oracle request with OptionRoom by fulfilling a request fee in ROOM tokens. The Oracle-as-a-Service (Oaas) platform then uses these ROOM tokens as rewards to the request solvers. Only governance participants who hold voting rights with staked COURT tokens can participate in solving requests that appear in the 'oracle governance' section of the OptionRoom application.
The creator of the oracle request must first set a confidence threshold. This involves setting parameters such as the number of participants voting, the minimum number of valid votes, plus a percentage vote threshold.
If the oracle service request is successfully fulfilled, the ROOM token rewards are distributed to the participants who voted in that successful service request. Rewards are distributed proportionately to the weight of the vote in which participants contributed. Participants who contributed losing votes have a percentage of their COURT tokens slashed plus their authenticity score reset.
Furthermore, if the oracle request doesn't meet the fulfillment criteria, the request creator has a choice to re-submit the request or withdraw their ROOM tokens. However, the request fee is not refunded.
The ROOM Token
The ROOM Token is the utility token of the OptionRoom protocol. All oracle request creation fees and solution rewards are paid using the ROOM token. Plus, fees paid by users throughout the OptionRoom protocol are used to buy back ROOM tokens before being distributed as rewards for governance participation. At the time of writing, the ROOM token has a circulating supply of 12,493,373 tokens of a maximum of 100,000,000 tokens, according to CoinGecko.
The COURT Token
The second token in the OptionRoom dual token model is the COURT token. COURT tokens can be obtained via three different avenues. Firstly, as a liquidity provider, users can provide ROOM/USDT liquidity to receive COURT tokens. Then, users can provide COURT/USDT liquidity to earn further COURT tokens. Alternatively, the third pool is available for ROOM token holders to stake their tokens and receive COURT tokens as rewards.
Locking COURT tokens in the governance protocol allows users to participate in voting on oracle requests, market settlement and validity, and platform governance proposals. Token holders receive an authority score or voting weight when staking COURT which increases with the length of time staked. Effectively, participant's weight in a vote will increase with the increased commitment shown to the protocol.
COURT tokens are scarce and provide high utility to the OptionRoom platform. Dishonest participants in the network will have their COURT token stake slashed. Moreover, a participant's authority score will be reset.
The maximum supply of COURT tokens is 500,00. During the first 30 days of launch, there was 1 COURT produced per block. Thereafter, the rate of introduction to circulation is 0.1 COURT per block.
Governance
The heart of the decentralized oracle-as-a-service (OaaS) and forecasting project is governance and voting. The governance platform is the lynchpin of the OptionRoom protocol, offering COURT token holders the chance to vote on pool outcomes.
The governance system is created to incentivize honest behavior and punish bad actors on the network. In order for participants to vote, a proposal request must first be submitted. The request then becomes available for all users to see in the governance section on the OptionRoom decentralized application (dApp).
Only users of the network holding COURT tokens are eligible to participate in voting on submitted oracle requests. Depending upon the type of proposal submitted, there are different types of voting protocols with various voting thresholds. For example, market validity voting requires a 51% majority vote for a proposal to be validated. With market validity voting specifically, if the vote threshold isn't met, the proposal will be re-cast. However, market settlement voting requires a 66% majority vote to be validated. On the other hand, in normal proposals unrelated to markets, the threshold is also a 51% majority vote.
OptionRoom Roadmap
OptionRoom has gone from concept to a fully-audited protocol and is soon launching its Governance Portal. From the research and funding rounds carried out during Q4 of 2020, OptionRoom developed a minimum viable product (MVP) in early Q1 2021 alongside the ROOM token generation event. Entering Q2 in 2021, we can expect to see the Staking launch v2 alongside code audits and bug bounties. This is a critical stepping stone for the launch of the OptionRoom protocol and Governance Portal.
Furthermore, in Q3 of 2021, we can expect to see continued development according to the OptionRoom roadmap. Moreover, the launch of the OptionRoom protocol v2 will coincide with the OptionRoom Polkadot integration!
Exploring OptionRoom & ROOM Token Summary
OptionRoom is making the integration and participation of Oracle-as-a-Service (OaaS) easier than ever. Moreover, OptionRoom is an open-source permissionless protocol, built on one of the most reputable blockchain networks for interoperability, Polkadot. Also, the OaaS provided by OptionRoom is user-governed, adhering to the decentralized nature of blockchain technology.
OptionRoom offers more than just an Oracle-as-a-Service (OaaS) protocol. The project facilitates decentralized forecasting and prediction markets, dispute resolution, and decentralized polls. This is underpinned by the community-centric ROOM token. ROOM tokens can be used to obtain COURT tokens to allow users to participate in governance voting. This includes oracle requests alongside governing rights on certain protocol parameters.
OptionRoom aims to become a key player in the Polkadot ecosystem. To learn more about Polkadot and the Polkadot ecosystem, check out the Polkadot 101 course at Ivan on Tech Academy. This course teaches you all about the Relay Chain, parachains, and parathreads. Plus, you'll gain an insight into why the Polkadot ecosystem has seen such a surge in popularity since launching.
Ivan on Tech Academy has courses covering every area of the blockchain and crypto space. For example, see our OriginTrail 101 course to learn how blockchain is revolutionizing global supply chain management. Or, check out our Technical Analysis 101 and Algorithmic Trading courses to take your trading game to the next level! With easy-to-follow video tutorials and courses curated by industry-leading experts, Ivan on Tech Academy has all the tools and resources needed to get started in crypto and blockchain, whatever your goals! Join over 30,000 students today at Ivan on Tech Academy! Also, don't forget to follow us on Twitter @Academy_IOT! We'd love to hear your thoughts on OptionRoom, the ROOM token, and the COURT token!