This article will illustrate how to connect MetaMask to Fantom quickly and easily. If you're not familiar with MetaMask, it is the most popular crypto wallet available, with over a million active users each month. Furthermore, this wallet operates as a browser extension that lets you securely store Ethereum and other ERC-20 tokens. So, to learn how to connect MetaMask to Fantom, you must first install MetaMask.
The MetaMask Wallet
ConsenSys developed MetaMask in 2016 to interact with Ethereum, which is the leader among all smart contract programmable blockchains. Nowadays, MetaMask offers wallet services to various blockchains as long as they are compatible with Ethereum Virtual Machine (EVM).
The best part is that MetaMask is free, and most browsers offer it on their web store. Furthermore, although we're using the Chrome browser in our example, the installation process works similarly on other web browsers. Below is a step-by-step process for installing the MetaMask extension on Chrome. After, we're going to explore how to create a MetaMask account before we dive into the main topic of this article.
How to Install the MetaMask Extension on Chrome
1. First, go to Google's web store.
2. Second, choose MetaMask from the Google Chrome extensions.
3. Next, click on "Install".
4. Click on "Add to Chrome".
5. Lastly, click on "Add Extension".
Installing the MetaMask extension on your browser is necessary if you want to learn how to connect MetaMask to Fantom. As you can see, it's not that challenging. Next, you'll need to create an account.
Web3 is the next evolutionary stage of the internet, and it's coming quickly! With developers creating exciting decentralized applications (dapps), now is a great time to learn it. Furthermore, becoming a developer in this new economy opens up all sorts of opportunities. Suppose you want to explore more reasons why you should learn Web3 development, read our "Why to Learn Web3 Development" article. However, if you already have some programming skills, enroll in the Moralis Web3 Dapp Programming course. As a result, you'll get to improve your skills and build dapps such as a DEX and NFT marketplace!
How to Create a MetaMask Account
1. Click on the extension icon of your browser and open MetaMask.
2. Follow the instructions to install the latest version and click on "Continue".
3. Next, you'll create a password and click on "Create".
4. Click on "Next" to accept the terms of use.
5. Select "Reveal Secret Words." Next, you will see your seed phrase, which consists of twelve words. It's best to write these down on paper and keep them in a safe place such as fireproof storage rather than saving them to your computer.
6. Lastly, you must verify your secret phrase and click on "Confirm".
Now that you've created your account and public address, you're ready for the next step in how to connect MetaMask to Fantom. For more information on how to set up a MetaMask wallet, please check out our in-depth article on Moralis Academy's blog.
Now, without further ado, let's dig into the main topic of this article - how to connect MetaMask to Fantom!
How to Connect MetaMask to Fantom
1. Log in to MetaMask as you usually would.
2. Select "Ethereum Mainnet" to access the drop-down menu. From there, choose "Add Network".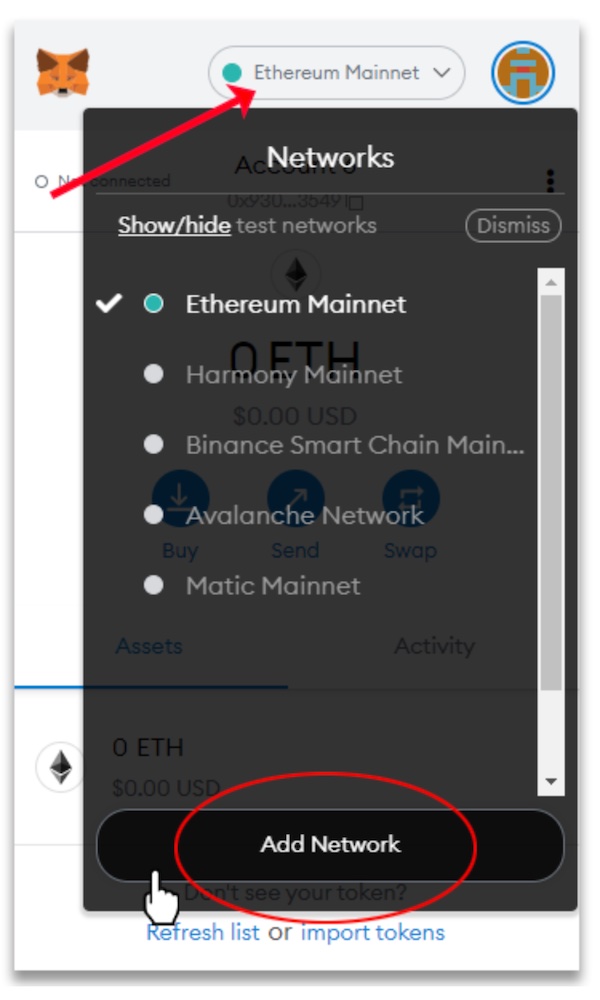 3. Fill in the following fields on the next screen:
Network Name: Fantom Opera
New RPC URL: https://rpc.ftm.tools/​
Chain ID: 250
Symbol: FTM
Block Explorer URL: https://ftmscan.com/​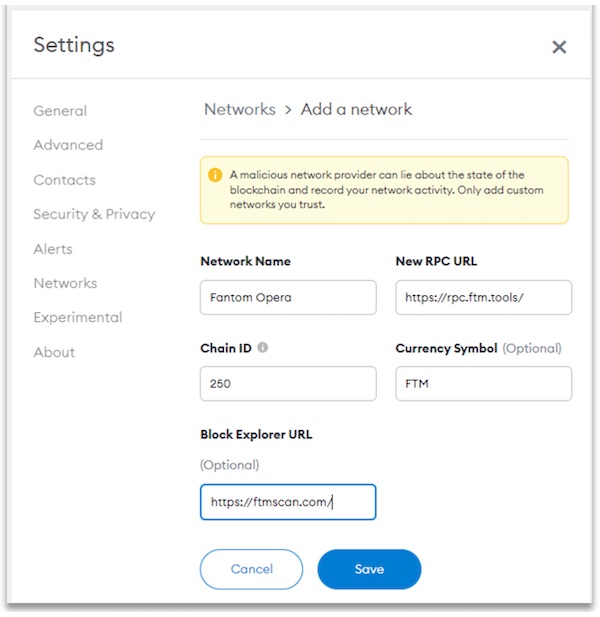 If you get an error message from MetaMask stating "Invalid RPC URL", check the URL. Ensure the URL you entered doesn't have any extra spaces between the characters.
4. Click on "Save".
5. Make sure that Fantom Opera is on the accessible networks list.
You can toggle between Ethereum and Fantom and check your balances on each network. Your Fantom balance should be zero, and since you'll need FTM tokens to transact on the Fantom network, you'll need to get some in your wallet.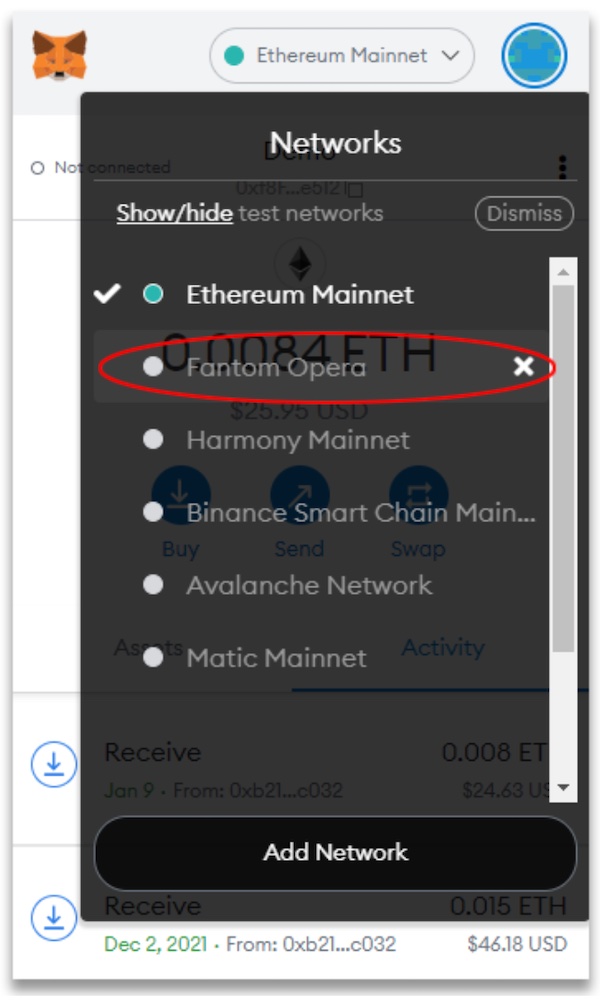 How to Send FTM to MetaMask
Now that you know how to connect MetaMask to Fantom, you need to acquire some of Fantom's native token, FTM. Since FTM is Fantom's native token to pay gas fees on the network, you'll need to get some for your new wallet to pay for transactions. Moreover, FTM works similarly to ETH when paying for gas on the Ethereum blockchain or BNB on Binance.
Furthermore, you'll need an exchange such as Binance to send FTM to your MetaMask or use SushiSwap to swap for Fantom tokens. For this article, we'll use Binance. Nevertheless, the process will be similar to other crypto exchanges that offer FTM tokens.
Are you ready to learn about Ethereum? If so, take the Ethereum Fundamentals course at Moralis Academy, where you can discover the most comprehensive classes on blockchain technology.
How to Connect MetaMask to Fantom and Send FTM to MetaMask - Binance
1. First, log in to Binance and choose the token pair to swap for FTM and confirm the transaction.
2. Afterwards, click on "Wallet" at the top right, then click on "Fiat and Spot".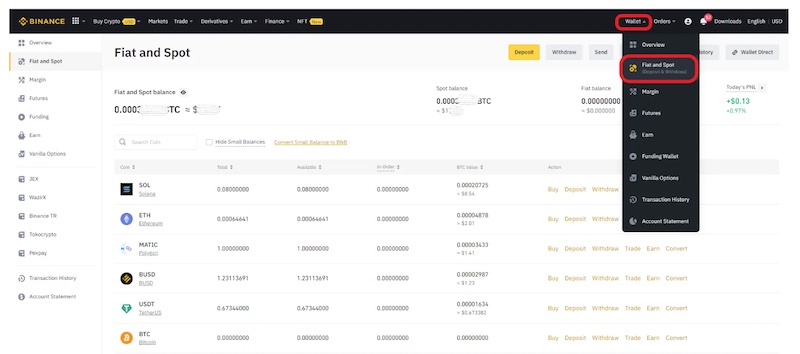 3. Search for "FTM" in your list of assets.
4. Select FTM and click on "Withdraw".

5. Open your MetaMask wallet and select the Fantom network that you already set up.
6. Copy your MetaMask address. You'll find the "copy" icon above your FTM balance.
7. Return to the Binance withdraw window and paste your MetaMask address.
8. Choose "FTM Fantom" as the network address.
9. Enter the amount you wish to transfer. If this is your first time sending to MetaMask, we recommend sending a small amount first. By doing so, you can send a small amount as a test to make sure it works before sending more significant amounts. At the time of this writing, you will need to send a minimum of ten FTM.
10. Click on "Withdraw".
Stay ahead of the markets with real-time, on-chain data insights. Inform your trades with true market alpha!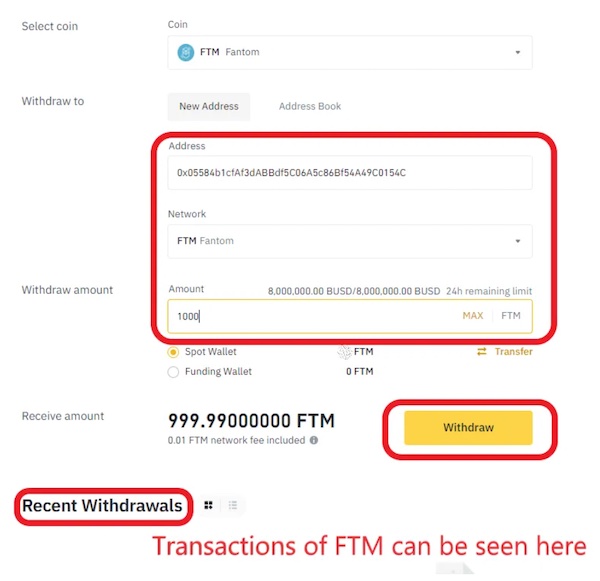 11. A pop-up confirmation window will appear. Double-check the address and network one more time and click on "Continue".
12. Complete the authentication check by entering the code sent to you via email and text.
13. A final "Withdrawal Request Submitted" pop-up will appear. Click on "Complete".
14. Check the "Recent Withdrawal" section of your Binance account to see your transfer.
15. Lastly, review your MetaMask wallet for the deposit.
Funding Wallet on Binance
If your FTM is on the "Funding" wallet page, you won't find it on the "Fiat and Spot" wallet. Therefore, you'll need to first transfer your tokens by following the steps below:
1. First, you need to locate FTM on the "Funding" wallet page.
2. Second, click on the three dots on the bottom right of the window.
3. Click on "Transfer".
4. On the "From" field, select "Funding".
5. Select "Fiat and Spot" on the "To" field.
6. Type in the amount you want to transfer.
7. Click on "Confirm".
8. Lastly, return to the "Transfer FTM" section above and repeat the steps to complete the transfer to MetaMask.
Fantom's Features
The excellent news about transacting on Fantom is the low price. Moreover, you'll find it much less than the gas fees on Ethereum. Accordingly, you can do a lot of transfers on Fantom without incurring significant expenses. In short, here are some notable features:
1. Quick Transfers
First, Fantom offers quick transactions within a second.
2. Low Costs
Second, transfers only cost a fraction of a penny.
3. Secure
Third, Fantom uses validator nodes in its proof-of-stake (PoS) network.
4. Scalable
In addition, the Fantom network processes thousands of transactions in seconds and can scale to thousands of nodes.
5. EVM-Compatible
Lastly, Fantom is compatible with EVM, which means users can deploy their Ethereum dapps there. There are already over 200 dapps deployed on Fantom. Furthermore, developers can build on Fantom using the same tools Ethereum devs use, such as Solidity, Truffle, Remix, and MetaMask.

Solving the Blockchain Trilemma
Current blockchain solutions must compromise between the three components representing the blockchain trilemma: security, scalability, and decentralization. Some blockchains can master two. However, offering all three is a different story.
Take Bitcoin, for example. It specializes in security and decentralization. This tight focus makes it less suitable for transfers demanding quick confirmation times, such as retail transactions or asset trading. But trying to decentralize at scale while simultaneously providing traditional bank-level security offers a challenge for any blockchain.
Above all, Fantom claims to overcome this "trilemma" with a high-speed consensus mechanism that allows transfers of digital assets to proceed at unprecedented speeds. Further, unlike other solutions, Fantom doesn't have to forego decentralization and security to achieve scalability. Also, its PoS consensus mechanism saves energy over proof-of-work (PoW) models.
Some experts forecast that the blockchain industry will grow in business value to over $3 trillion by 2030. So, it's no wonder that business interest in the blockchain is rising. Now, for a fraction of the cost of traditional education, you and your business team can learn from the world's most outstanding blockchain academy. Learn more about how you can prosper in our blockchain for business series of courses.
Transparent and Open-Source
Fantom is an open-source and open-participation network. Thus, the team is committed to transparency when producing code that others can use and customize to fit their needs. Because of these principles, Fantom's code is open-source on GitHub.
On Fantom, an unlimited number of validators can participate in securing the network. The primary requirement, however, is they stake 1,000,000 FTM. Those who can't meet the minimum token amount or don't have the technical expertise to operate a node can still participate. For example, a user can delegate as little as one FTM to a validator node and still get rewards.
The Bored Ape Yacht Club NFT collection has been getting lots of attention lately, with Elon Musk tweeting about it and the media scrutinizing the exorbitant prices. Moreover, Bored Ape Yacht Club has a governance token, ApeCoin, to help expand the product offering. Want to learn more? Read our "Exploring ApeCoin (APE)" article! While we're on NFTs, and if you want to get some hands-on experience, check out our recent blog article from Moralis. In that article, you can learn how to build a marketplace to buy NFTs.
Fantom and Financial Institutions
The range of targeted industries for Fantom is broad and includes healthcare, education, and financial markets. However, many others willing to integrate Fantom into their technology stack can benefit from its unique infrastructure. As such, this article will briefly explore how Fantom helps financial institutions by allowing them to digitize their existing instruments and build new investment vehicles.
First of all, Fantom's research shows how blockchain technology can help eliminate out-of-sync ledgers leading to a 95% reduction in errors. Also, it can offer up to a 40% increase in efficiency and a 75% reduction in capital consumption. As a result, it can free up capital flows and quicker settlements.
In addition, their problem-solution scenario demonstrates that "TradFi" investment companies have poor transparency and higher costs than necessary. Below are some of the problems juxtaposed against Fantom's solutions.
However, it's interesting to see how Cardano's development team discovered mathematical solutions to some of the security vulnerabilities plaguing the blockchain industry before we get to that. Also, it has surpassed scalability levels that neither Bitcoin nor Ethereum can match. On the other hand, Polkadot works to ensure that the process of programming dapps on their platform remains as straightforward as possible.
Ironically, both founders of Polkadot and Cardano are also co-founders of Ethereum. That's one notable similarity, but there are many differences covered in our Polkadot vs Cardano article. Follow the link to learn more!
Problems and Solutions Facing Traditional Finance
1. Manual Input
Fragmented and inaccurate data resulting from the manual input requirements are prone to human error.
2. High Costs
Poor UX and high costs are other problems with high asset management costs getting dumped on the investor.
3. Unnecessary Third Parties
Too many intermediaries can complicate any process. Various go-betweens such as banks and brokers hamper a direct relationship between investors and issuers in TradFi asset management firms.
Fantom offers solutions to these problems and more. The blockchain, in general, provides a single source of truth where all parties can access pertinent data from a single ledger. Furthermore, smart contracts facilitate automation, thereby lowering the risk of human error. Investment firms can, thus, work with users worldwide directly at lower costs unlocking market potential by tapping into this global pool of investors.
Here's another source of truth, deciding to become a certified blockchain developer can hugely benefit your career. Whether you're already a developer in Web2 or brand new to the Web3 realm, Moralis Academy has the path to success tailor-made for you. Enroll today!