The goal of this course is to allow you to build Web3 dApps with Web2 programming tools. After it you will be able to develop dApps like DEXs, NFT marketplaces, and more. Perfect course for a building Web3 developer's portfolio and CV.
Blockchain, Programming, DeFi, Ethereum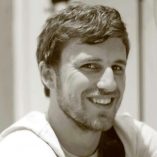 Chris is a professional developer since 2001, after hearing about blockchain in 2017 he didn't waste a minute and used his decades of experience in front-end design to learn Web3 Programming. Since then he has been working in the space nonstop, and helped us create Moralis as it is right now.