Learning how to buy cryptocurrency isn't that difficult. You're good to go if you have a bank account (debit or credit card), personal identification, and an internet connection. Another thing to consider is fractional purchases. Some beginners get confused when looking at the prices of the most popular cryptocurrencies and think, "I can't afford to buy a Bitcoin or an Ethereum". For example, today's Bitcoin price is around $19,700. But, remember, you don't have to buy crypto in whole numbers, such as one Bitcoin.
Even if you don't have much money, you can still participate in buying cryptocurrency in fractional amounts, so if you have $100 to invest at today's price of Bitcoin, $19,700, $100 will buy you 0.005 Bitcoin (subtracting any fees). However, remember that crypto exchanges will require minimum investments, with some starting as low as $2.
Many analysts predict the Solana blockchain to be an "Ethereum killer". While Ethereum uses Solidity, Solana uses Rust. Moreover, learn about Rust & Solana in our blog. Or better yet, take the Rust Programming course at Moralis Academy!
Step 1: Find a Crypto Exchange
When learning how to buy cryptocurrency, you'll find various options. However, the safest bet is to deal with a reputable crypto exchange. Be aware of random people advertising to sell crypto on internet forums; these alternatives aren't worth the risk, especially when first starting.
Some top cryptocurrency exchanges are Binance, Coinbase, Gemini, Kraken, FTX, KuCoin, and others. For US customers looking to trade on Binance, you'll have to use the Binance.US option. Furthermore, you'll need a valid payment method, a secure internet connection, and identification to set up an account. If you don't have a crypto wallet right now, don't worry, we'll cover wallets later.
Step 2: Get Your Documents in Order
As we demonstrate how to buy cryptocurrency, we'll use Coinbase as our example. Here are the specifics of what they require before you can sign up:
In the United States:
A state-issued ID. This can be a driver's license or ID card.
This ID must prove that you're at least 18 years old.
Outside the United States:
1. Government photo ID such as a passport or national identity card.
Coinbase does not accept the following IDs:
1. US Passports
2. US Green Cards
3. School IDs
4. Residence Permits
5. Military IDs
Step 3: Open an Exchange Account
After you've chosen an exchange, you'll need to open an account. It will only take about five to ten minutes to set up. Although we're using Coinbase as an example, most work similarly.
1. Go to "Coinbase.com" and click the appropriate link to open an account.
2. Choose whether you're opening an individual or business account and click on "Get Started".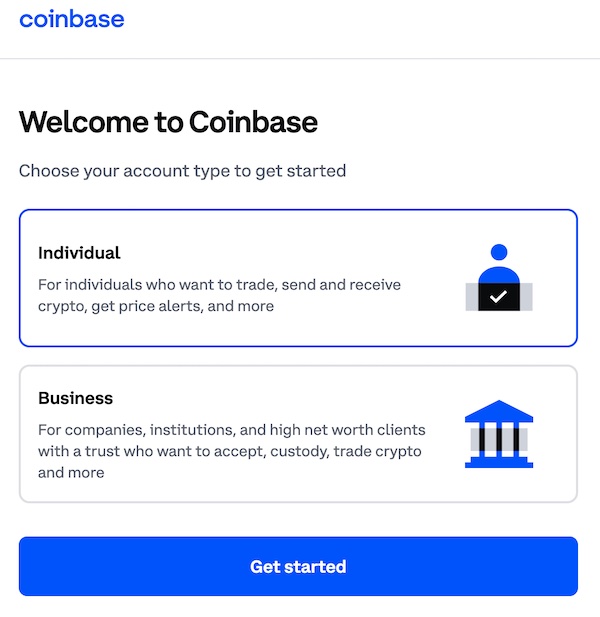 3. Fill out your details and click "Create Free Account".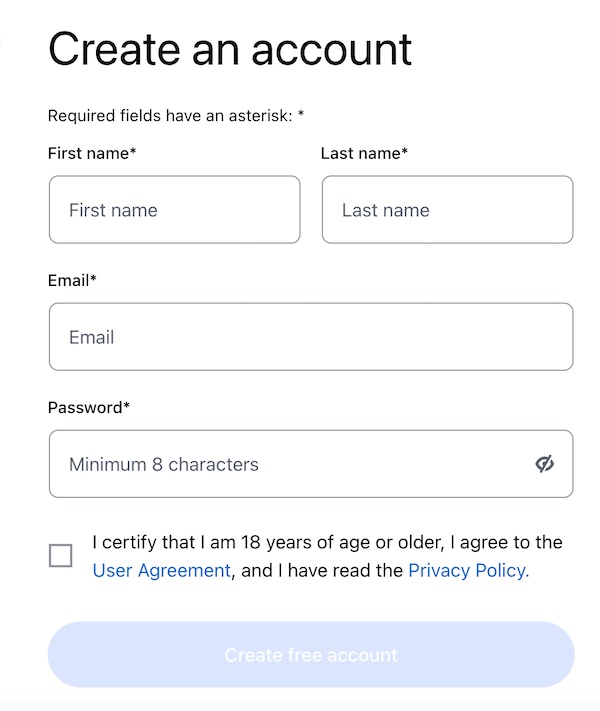 4. Coinbase will send you an email asking you to verify your email.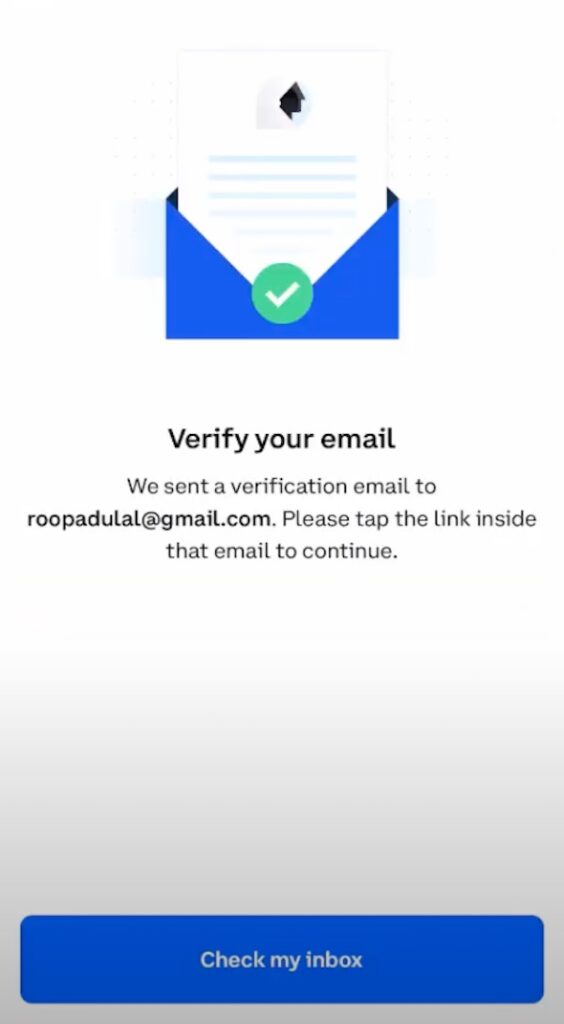 5. Next, they will verify your phone number by sending you a text with a verification code.
6. After you've verified your email and phone, you'll need to enter more of your personal information. Copy this information from your government-issued ID so it will match when Coinbase asks for verification later.
7. After finishing the application process, press "CONTINUE". You will then need to wait for an email with further instructions.
Bear markets are no fun, but we're in one now. Knowing how to invest during a crypto bear market is critical in these market conditions.
Step 4: Verify Your Identity
1. Follow the email link to log in to your new account.
2. Next, you will verify your identity, which you can do by uploading your photo ID or snapping a photo of it with your webcam. Make sure your picture is not fuzzy, or you'll have to redo it.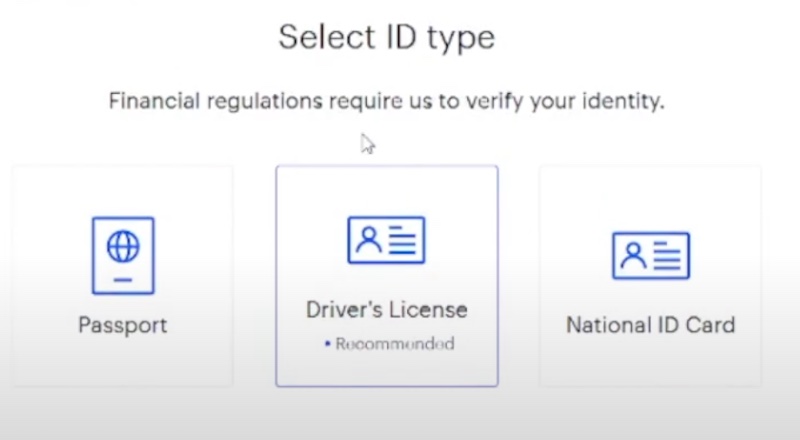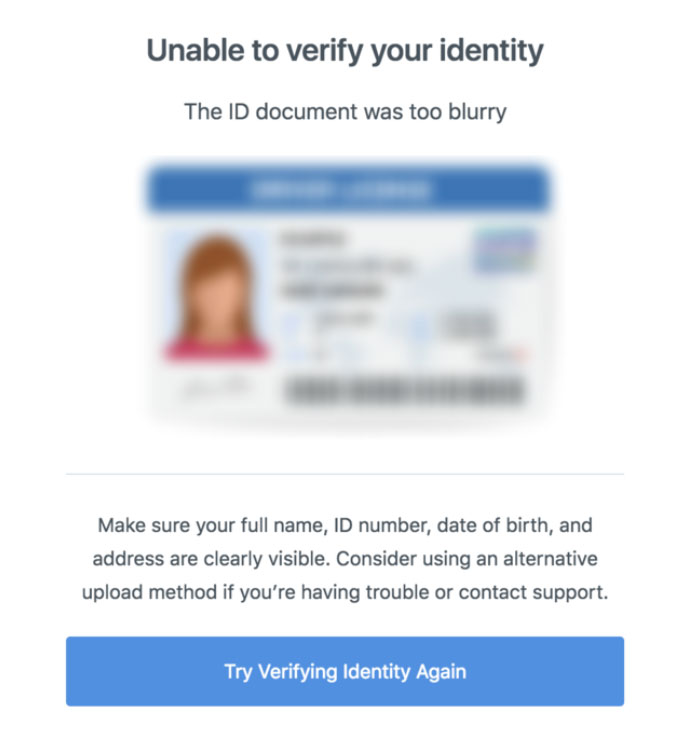 3. After submitting your identity, the following screen will say that Coinbase is reviewing your identity.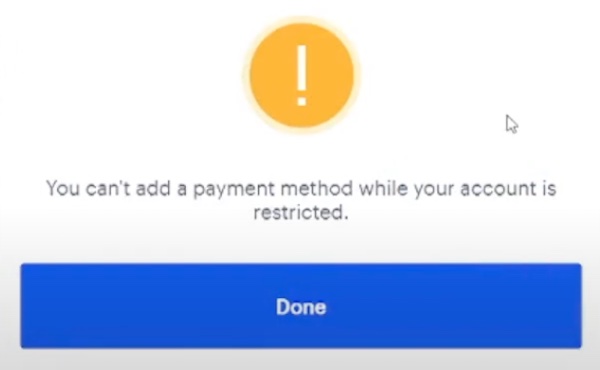 4. The next step is to set up 2-step verification. Google Authenticator is the most popular option, and even if it seems like an extra step, it will give you an added layer of security to keep intruders out of your account.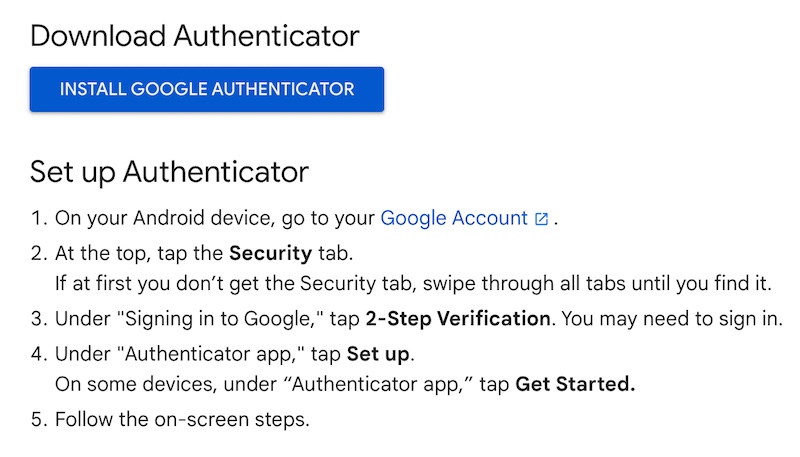 Processing times on identification verification can vary. So, you can either wait to receive a confirmation email or keep logging in to Coinbase to check your status. Remember that you won't be able to complete the next step until Coinbase verifies you.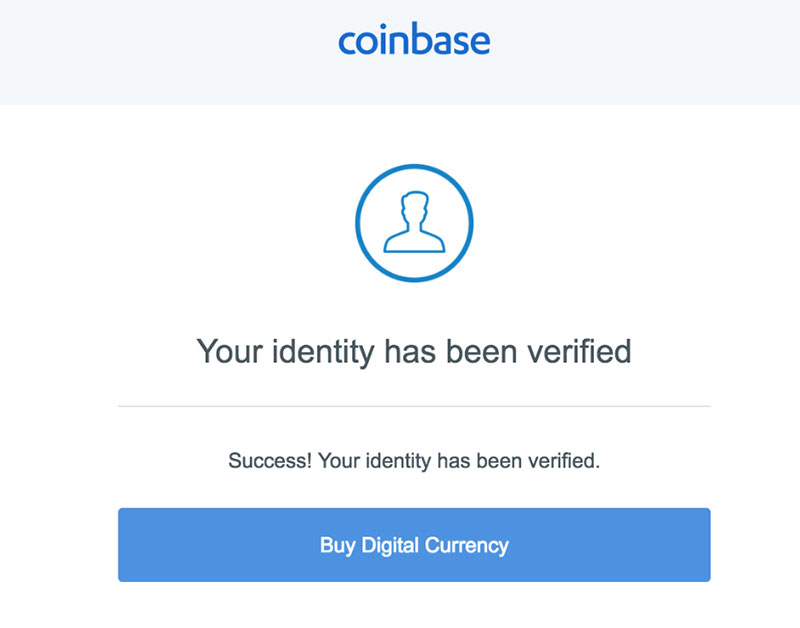 Step 5: Connect Your Payment Option
1. After Coinbase approves your identification documents, you'll need to connect your payment method.
If you don't see payment methods, select "Settings" > "Payment Methods".
3. Select "Add a Payment Method".
4. Select what kind of account you want to use. As you can see from the graphic, there are many options: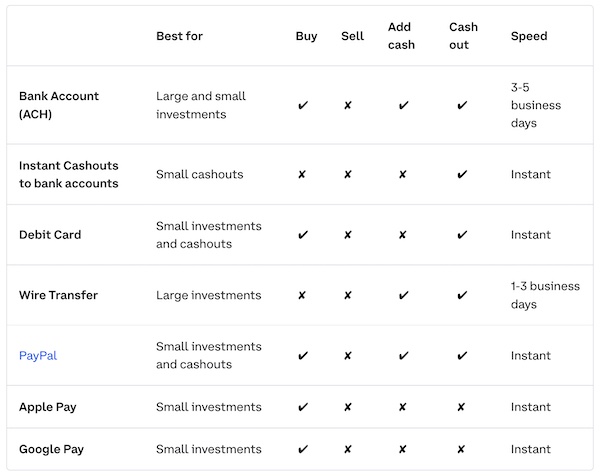 5. Follow the instructions to complete verification. The steps will vary depending on which payment method you choose.
Step 6: Place an Order
Log in to Coinbase, and click on the "Buy / Sell" button at the top right or the "Trade" link at the top left menu. (See graphic for more info).
Stay ahead of the markets with real-time, on-chain data insights. Inform your trades with true market alpha!
2. A list of assets will appear: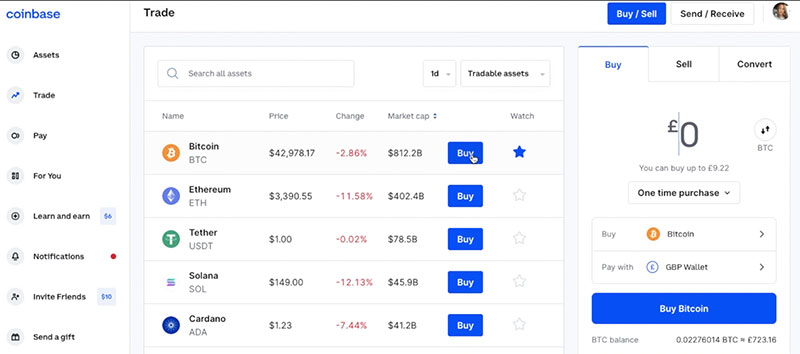 3. Click on the "Buy" button to the right of the cryptocurrency you want to purchase.
4. Select your payment method: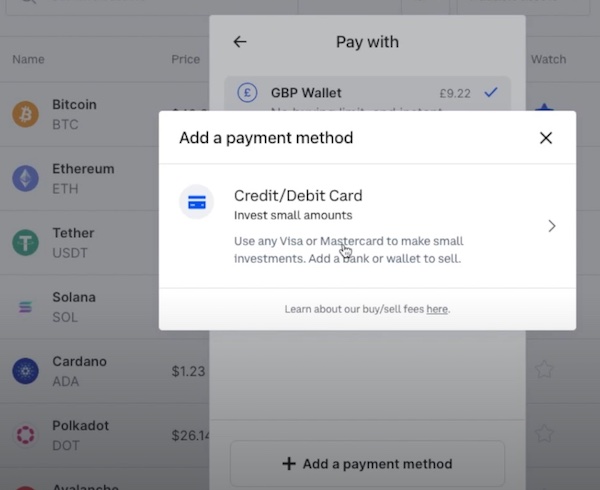 Remember that paying with a credit card can inflate the purchase price when factoring in the cost of a credit card's interest rate. A bank account or debit is less expensive. Also, some banks will reject your debit card for crypto purchases. So, you may have to go through extra steps with your bank to get them to approve your debit card for buying crypto.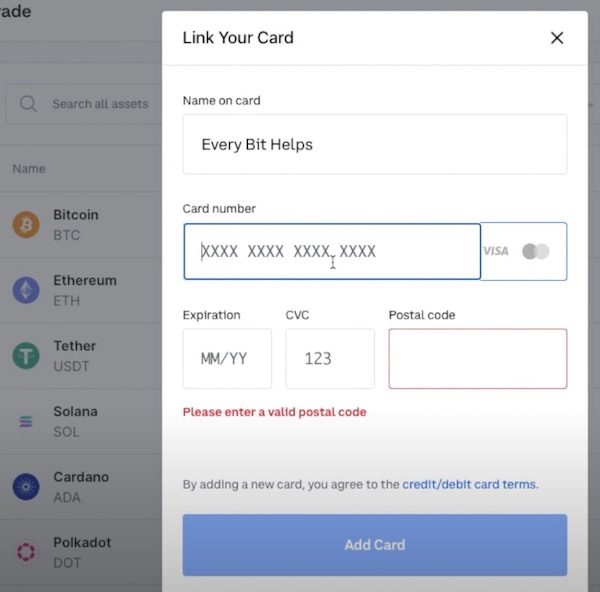 6. Type in how much you want to buy and click on "Preview Buy":
In the preview window, you'll see the price of your crypto purchase and the Coinbase fees. When you're ready, click on "Buy Now".
8. You're done! You'll have access to your crypto instantly. Now, you can click on the "Assets" link on the left to see your purchase(s).
More Trading Options on Exchanges
If you've traded stocks before, you'll be happy to know that cryptocurrency exchanges are improving their trading options to match traditional brokerage accounts. They now include various order types and ways to invest. For example, many offer market, limit, and stop-loss orders. Furthermore, Coinbase lets users set recurring purchases to employ a dollar-cost average investment strategy. In addition, Kraken offers "take-profit" and "take-profit" limit orders. Such features will make the crypto transition easier for traders from traditional brokerage accounts.
Web3 is the next iteration of the internet. So, knowing how to make a Web3 website and the fastest way to build a Web3 app will be a real plus for your resume.
How to Buy Cryptocurrency - Crypto Wallets
After you've learned how to buy cryptocurrency, you'll need a place to store it. You can leave your funds on the exchange if you're purchasing small amounts. Similarly, if you're an active trader, you can leave your crypto there for simplicity's sake. However, if you're buying more significant amounts or engaging in a "buy-and-hold" strategy, you'll want a safe place to store your funds. Exchanges get hacked, and there's no FDIC coverage to protect your funds. So, if a hacker breaks in, your crypto could be gone. So, it's your responsibility to keep your cryptocurrency safe.
Coinbase has crime insurance to protect its exchange against hacks. But that insurance does not extend to individual customers who get their passwords stolen. Thus, after you know how to buy cryptocurrency, you'll need to learn how to store it securely. Moreover, many cryptocurrency investors use wallets to store their digital assets securely. Moving your crypto off the exchange and into your wallet ensures that you have control of the private key to your funds.
Hot Wallets
There are a variety of crypto wallets from which to choose. Web-based wallets on desktops or mobile devices are known as "hot wallets" because they remain online. These wallets generate your private keys to your crypto on internet-connected devices - computers, phones, or tablets.
Furthermore, users of hot wallets are initially presented with private keys to their crypto. However, the hot wallet is always connected to the internet; therefore, if a hacker gets access to the computer, they can get control of the crypto and send it to their address. Moreover, hot wallets work well for small amounts of crypto or funds heavily traded on an exchange. MetaMask is an example of a hot wallet since it holds crypto tokens in your browser.
Have you ever noticed how people in crypto speak their own language? Crypto terminology can be confusing to newcomers. But now, you can learn all about it in one of our recent blog articles. 
Cold Storage Wallets
These wallets are not connected to the internet, so they face less risk of getting hacked. Offline wallets are called cold wallets, storage wallets, and hardware wallets. As such, they store the user's private key offline.
Cold wallets come with software so users can view their portfolios without exposing their keys to prowlers on the internet. Furthermore, a hardware wallet looks like a typical USB device that keeps a user's private keys securely offline. Moreover, one advantage of hardware wallets is that even if a virus gets loose on a crypto holder's wallet, it won't affect cold wallets. The only way to steal a user's crypto is by getting a hold of the user's password or keyphrase. That's why the most security minded keep their keyphrases written on paper stored in a fireproof vault. As you can see, knowing how to buy cryptocurrency is the first step. Storing it is the next step.
While they are more secure, the only problem with cold storage wallets is they require more technical knowledge to set up.
Alternative Ways to Buy Cryptocurrency
There are other options if you're wondering how to buy cryptocurrency without going through a major exchange. Let's consider a few options!
Buy Crypto with PayPal
You can buy Bitcoin, Bitcoin Cash, Ethereum, and Litecoin directly through your PayPal account. Further, you can connect your PayPal to a bank account or debit card or use your PayPal balance to purchase.
One disadvantage of using PayPal is that you can't transfer your crypto off their platform to your wallet. But a few exchanges, such as eToro, will allow you to use PayPal as the payment processor to buy Bitcoin.
Buy Bitcoin with Cash App
With Cash App, buying Bitcoin is super quick. Download the app to your phone, connect your bank account, and provide your ID, and that's all there is to it.
The only problem with Cash App is you can't buy other cryptos. But if you already have an account on another exchange, you can transfer your Bitcoin from Cash App to swap it for other cryptos. You can also move your funds from Cash App to your crypto wallet.
Have you ever wanted to create an NFT or NFT marketplace? If so, make sure to check out our NFT coding tutorials!
Buying Crypto with a Credit Card
We already mentioned that credit cards could charge fees on top of what the exchange will charge. Credit card companies tend to treat crypto purchases like cash advances. Therefore they can charge hefty fees and interest rates. Furthermore, not all exchanges will take credit cards due to processing fees and the risk of fraud. Nonetheless, some crypto services and wallets offer credit card options to onboard you quickly if you're in a hurry.
Bitcoin ATMs
Bitcoin ATMs are like in-person exchanges. You can insert cash and buy Bitcoin, which gets transferred to an online wallet. Bitcoin ATMs are more popular with the less techy crowd. Some are available in grocery stores or big retail outlets such as Walmart. In addition, RockitCoin has Bitcoin ATMs located in gas station convenience stores.
ATM Bitcoin purchases come with two costs, however. One is the purchase fee for buying Bitcoin, and the other is a conversion fee for converting your fiat to Bitcoin. The combined costs are relatively high. Additionally, these ATMs require government-issued IDs in the US.
How to Buy Cryptocurrency - Summary
In this article, we explored multiple options on how to buy cryptocurrency. We went from major exchanges to in-store ATMs to help onboard you to the crypto domain. However, the example we explored herein was how to buy crypto on the popular exchange Coinbase. Hence, you're now more familiar with that exchange and can purchase crypto easily! In sum, we went through the following six steps to purchase crypto:
Find a Crypto Exchange
Get Your Documents in Order
Open an Exchange Account
Verify Your Identity
Connect Your Payment Option
Place an Order
If you'd like to learn more regarding the technology behind cryptocurrency, enroll at Moralis Academy to learn about blockchain technology and better understand the ecosystem in which you're investing. Visit Moralis Academy and get started today!