In addition to diving deeper into Wagmi Coin, we'll also show you how to find the next big meme coin using Moralis Money - the ultimate on-chain trading indicator!
With Moralis Money, our users managed to discover Wagmi Coin early and have been able to track the token since its launch yesterday. If you're eager to try it yourself, you can do so for free using the interactive widget just down below. Apply a pre-made filter, or create a new one-of-a-kind search query by combing a variety of parameters based on your preferences: 
Nevertheless, Wagmi Coin has been shooting up the ranks of Moralis Money with over 2.4k new experienced buyers, 3.5k holders, and 4.7k buyers since yesterday. As such, now is a better time than ever to dive into Wagmi Coin.

What is Wagmi Coin? And Should You Buy WAGMI Token?
Minted only yesterday; it seems like Wagmi Coin might be the new meme coin on the block. Since its launch, the price of Wagmi Coin has already increased by 400%, giving the community a significant boost. So, what is Wagmi Coin?
Wagmi Coin is a meme coin, where, according to their website, the meme symbolizes unity and opportunity within the world of cryptocurrencies. It's supposed to embody the belief that, despite uncertainty and challenges, everyone can achieve personal growth and financial success. Furthermore, this meme represents a mindset of perseverance, determination, and the pursuit of making big cryptocurrency gains.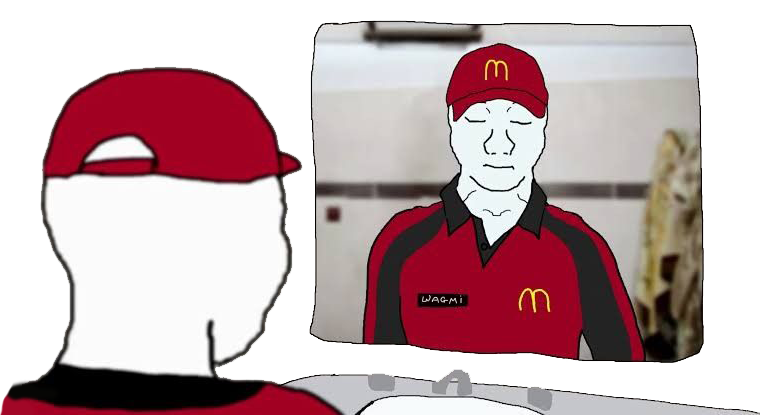 The Wagmi community describes itself as a collective of dream-chasers and cryptocurrency enthusiasts, united by the belief that everyone can become successful in crypto. What's more, they say that the WAGMI token is their ticket to opportunities and financial freedom.
So, is Wagmi Coin worth investing in? Well, this isn't a straightforward yes/no question, as there's a lot to take into account. In the past month during this memecoin season, we have seen the likes of the PEPE token, WOJAK token, Generational Wealth token, etc., explode and skyrocket in price.
However, it's essential to know that meme coins don't generally have any intrinsic value and aren't always successful, making it extremely hard to make accurate price predictions. For this very reason, we can't give you our verdict on whether to buy or not. This needs to be dependent on your altcoin trading strategy, your preferences, and your willingness to take risks.
What's more, we can't emphasize enough the importance of doing your own research, as an altcoin gem today might not be so attractive tomorrow!
Nevertheless, to make your life a bit easier, we'll show you where to buy Wagmi Coin and how you can monitor this token's market data!
Where to Buy Wagmi Coin?
Before making your decision on whether to buy or not to buy Wagmi Coin, you should look at the token's on-chain analytics. On-chain data and cryptocurrency signals are the most reliable way of trying to make accurate crypto predictions.
So, how can you monitor the market activity surrounding Wagmi Coin? Well, the easiest way is to check out the Moralis Money token page: 
With Moralis Money, you can follow how Wagmi Coin is performing in real time. This is done by examining various data points like changes in liquidity, holders, buyers, experienced buyers, market cap, etc. What's more, if you scroll down in the interactive widget above, you'll also get price charts and other valuable data regarding Wagmi Coin.
Nevertheless, with this tool, you get the necessary data to make a more informed decision about Wagmi Coin's price development!
How To Buy Wagmi Coin
If you're interested in buying Wagmi Coin, then here's a three-step breakdown of the process:
Step 1: Get a Web3 Wallet - If you want to buy Wagmi Coin, the first step is to acquire a Web3 wallet like MetaMask.
Step 2: Get ETH - To buy Wagmi Coin, you need some ETH. You can get ETH by buying it directly through MetaMask, sending it from another wallet, or using a centralized exchange.
Step 3: Buy Wagmi Coin - With ETH in your wallet, you can head over to Uniswap, find the Wagmi Coin, and swap ether for WAGMI.
Now, with a better understanding of Wagmi Coin and how you can buy the token, let's look at how you can find the next Wagmi Coin. To do so, a good starting point is to examine the three challenges hindering people from crypto trading success.
The Challenges 99% of Traders Struggle With
When it comes to crypto trading, 99% of people struggle with one of three challenges:
The Fear of Missing Out (FOMO) - Even if you're new to the crypto market, you'll most likely have heard of or read about someone becoming a "Bitcoin millionaire". Maybe this is even why you got into crypto in the first place.

Nevertheless, in a fast-growing market with an abundance of success stories, traders commonly feel like they're missing ample and profitable opportunities. As a result, they tend to trade emotionally, buying at the top based on hype, only to see their assets drop shortly after.
Time Limitations - Keeping track of all the exciting tokens and opportunities take time. And without the right crypto analysis tools and systems, becoming a successful trader is generally a full-time job. Going full-time in crypto isn't something everyone can do, which is why some people struggle with crypto success.
Crypto Scams - Lastly, the crypto market is full of bad-faith actors looking to exploit traders. And in a fast-moving market, complete due diligence is sometimes a luxury. For this very reason, it's common for traders to fall for rug pulls and exit scams.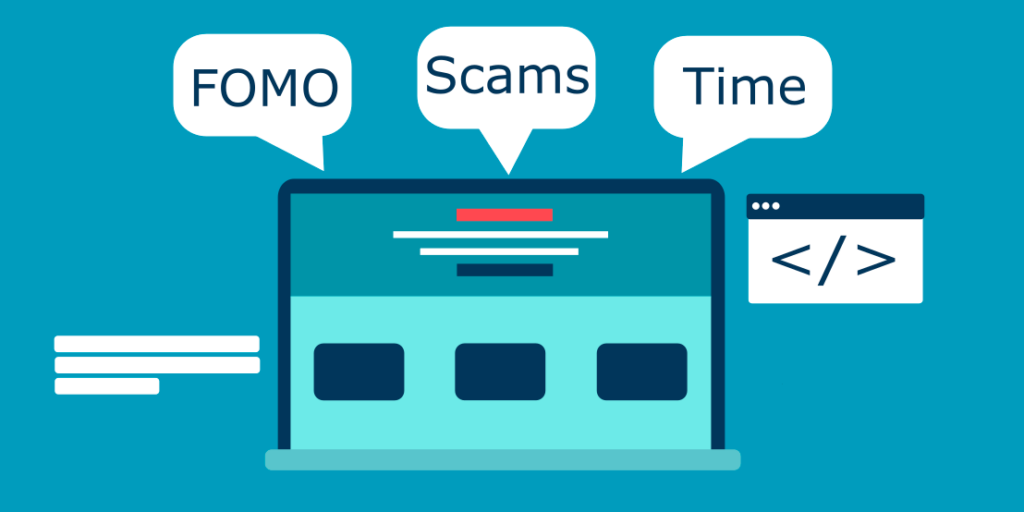 So, how can you dodge these pitfalls? The answer to this question is Moralis Money, the ultimate on-chain analysis tool designed to help you overcome the challenges above. To learn more, join us in the next section for a Moralis Money overview.
Moralis Money Overview - The Easiest Way to Find the Next Wagmi Coin
Moralis Money is the industry's premier on-chain trading indicator. With this tool, you can seamlessly find tokens before they pump and outpace the masses! So, how does it work?
There are three core Moralis Money features:
Token Explorer - With Token Explorer, you can combine various search parameters to find new crypto coins before everyone else. As such, with this feature, you'll never again have to FOMO into buying a token!

For instance, by just adding the Coin Age and Experienced Buyers metrics, you can effortlessly generate a list of tokens minted within the past 30 days gaining traction from other crypto traders: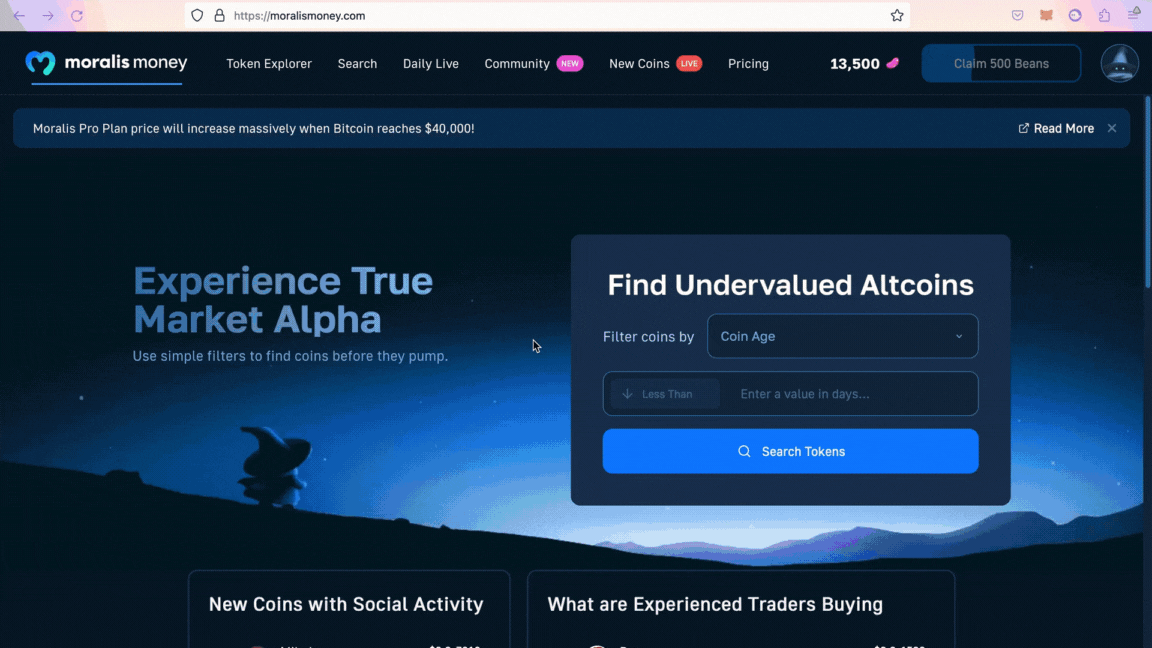 Token Alerts - Once you have created a search query using Token Explorer, you can use Token Alerts to set up email notifications based on your custom filters. To do so, start by saving the custom query. From there, go to the home page, locate the saved query, hit the bell button, and add your details: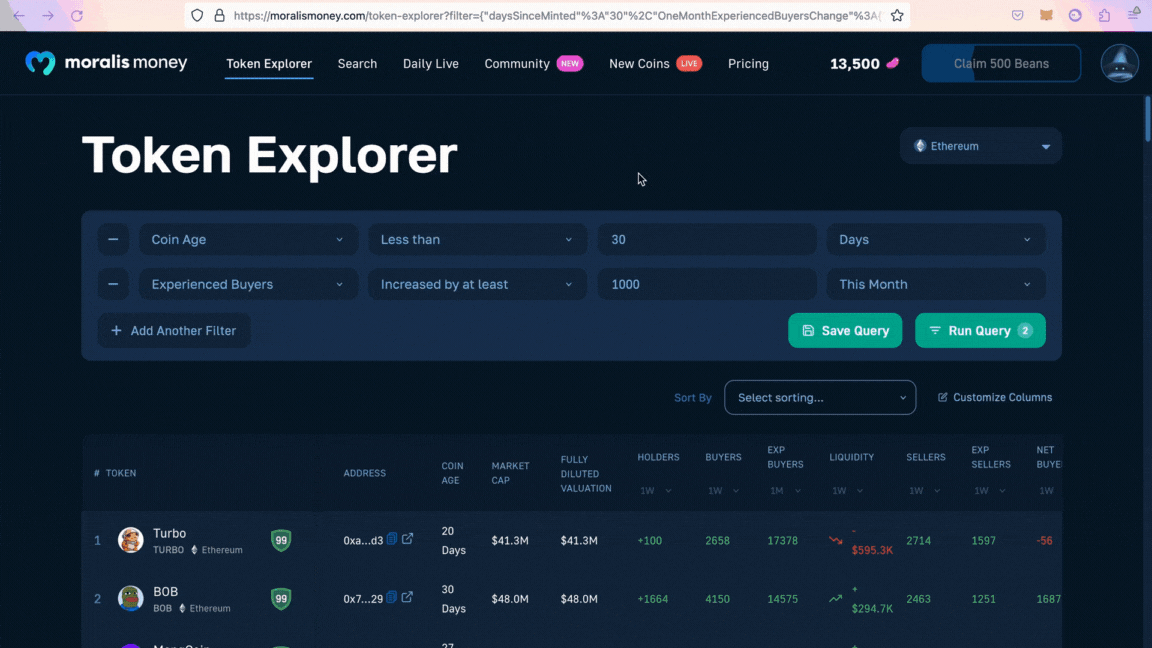 In return, you'll now receive email notifications whenever new tokens matching your preferences emerge. This is a significant time saver, and with this feature, you can become a successful trader even if you aren't full-time in crypto!
Token Shield - With the Token Shield feature, you can now efficiently and effectively dodge cryptocurrency scams. All you need to do is identify the shield symbol attached to each coin: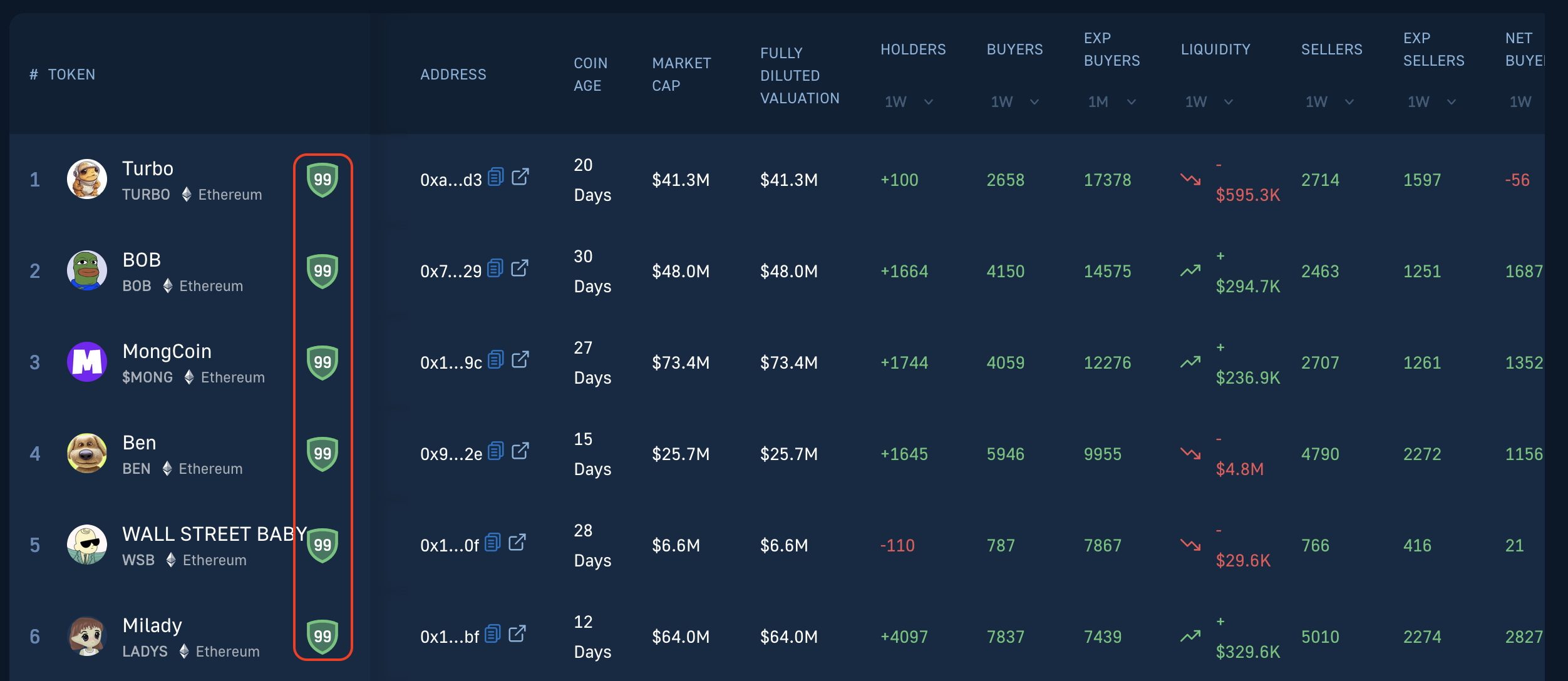 The numbers are the coins' DEXT scores. It is used to measure the confidence of a project. And the closer the number is to 99, the less likely it is to be a scam.
Stay ahead of the markets with real-time, on-chain data insights. Inform your trades with true market alpha!
Also, did you know you can supercharge these features with the Moralis Money Pro plan? To learn more, check out the following section, where we dive deeper into why you should subscribe to the Moralis Money Pro plan.
How To Start Trading Like a Pro With Moralis Money
If you want to start trading like a professional, then you need to check out the Moralis Money Pro plan. The Pro plan boosts the three central features of Moralis Money, giving you a significant edge over crypto whales, sites like CoinGecko, and the masses!
With the Moralis Money Pro plan, you can save up to ten search queries, access the Token Alerts feature, get narrower timeframes (market updates daily, hourly, and even every ten minutes!) for all search parameters, and much more!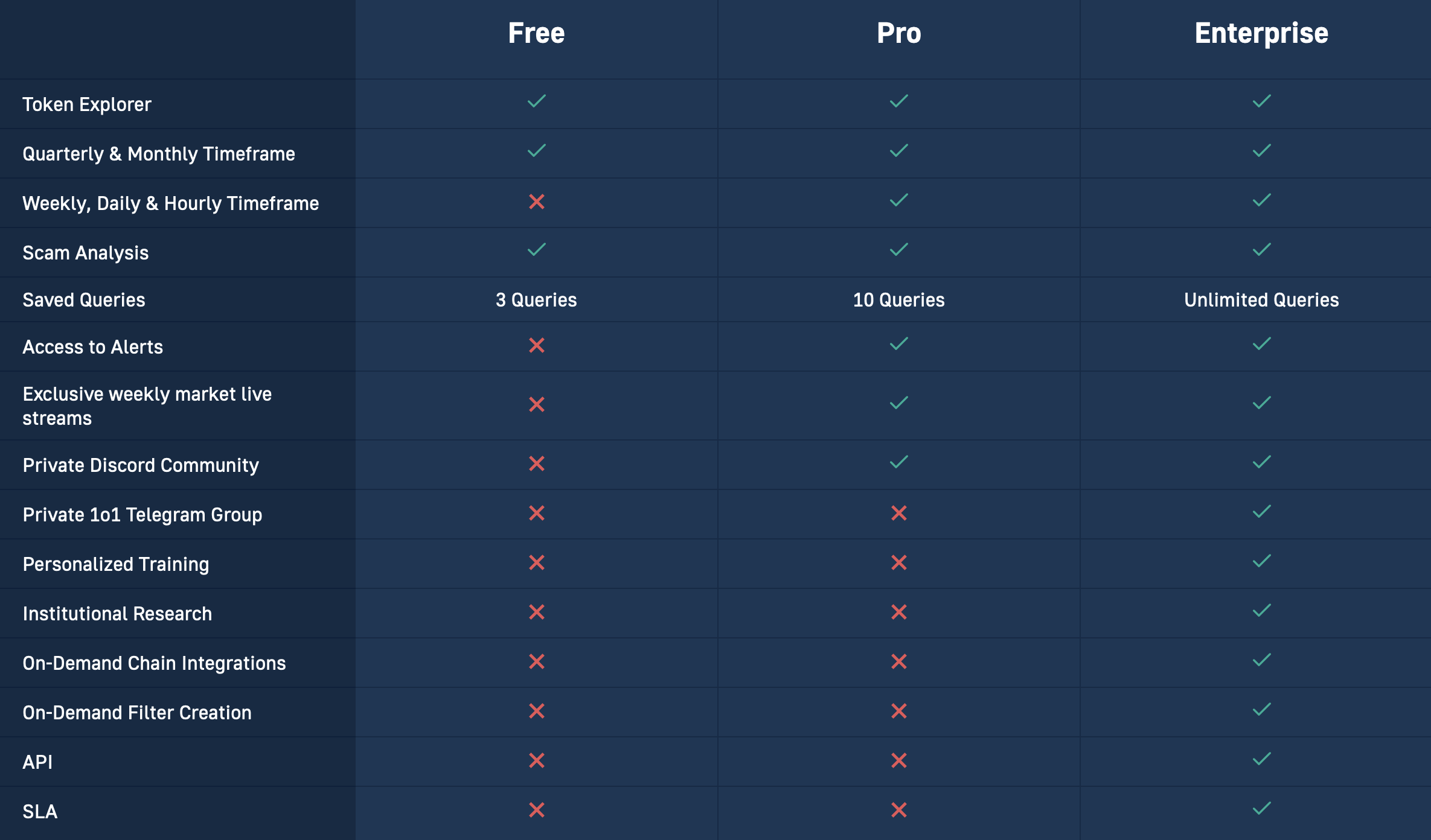 So, with the Pro plan, you can leverage Moralis Money to the full extent and get true market alpha.
Furthermore, did you know you can subscribe to the Moralis Money Pro plan at a discount? Before Bitcoin hits $40k, you can now purchase the Pro plan at a lower price. And if you take advantage of this opportunity today, we'll honor the price for as long as you stay subscribed.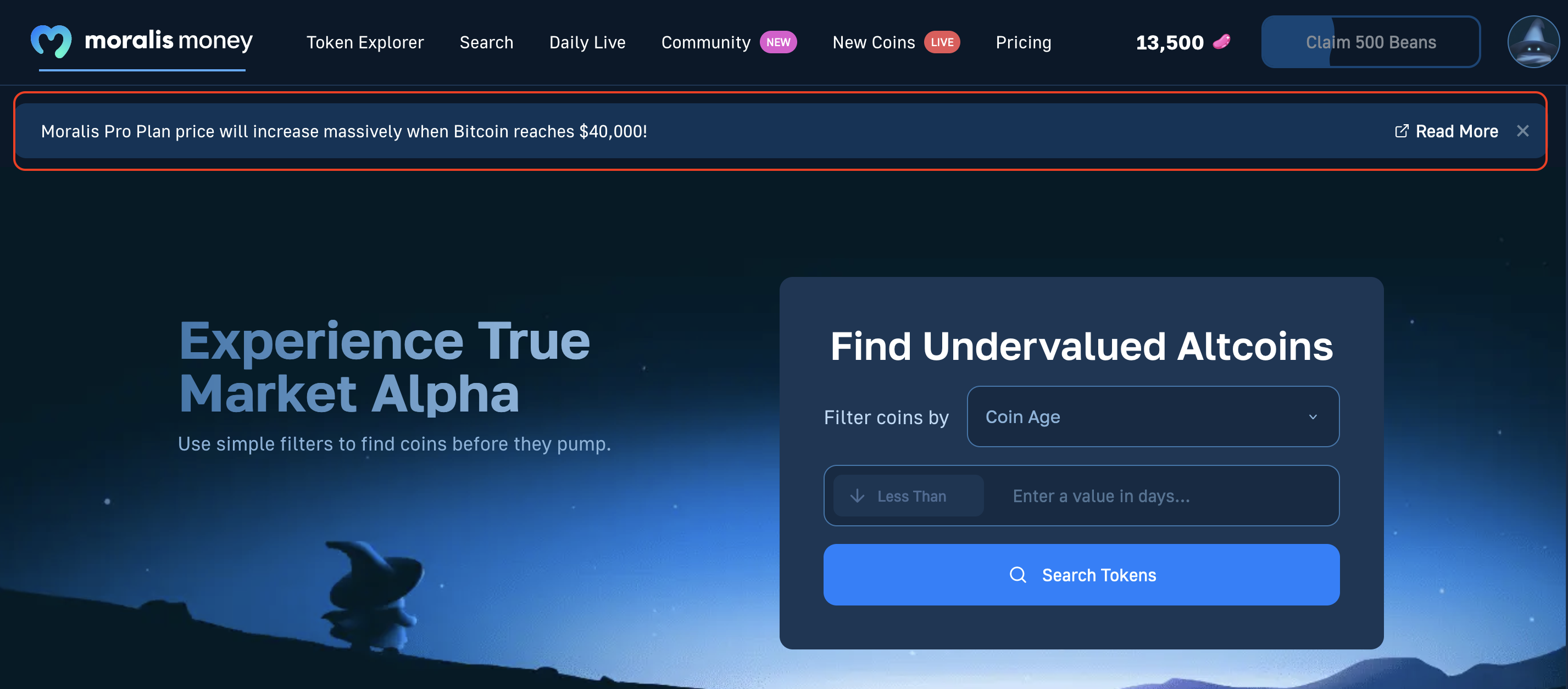 How to Find the Next Wagmi Coin with Moralis Money
Now that you have familiarized yourself with the features of Moralis Money, it's time to show you how you can find tokens similar to Wagmi Coin. To do so, start by launching Token Explorer and add the Coin Age metric: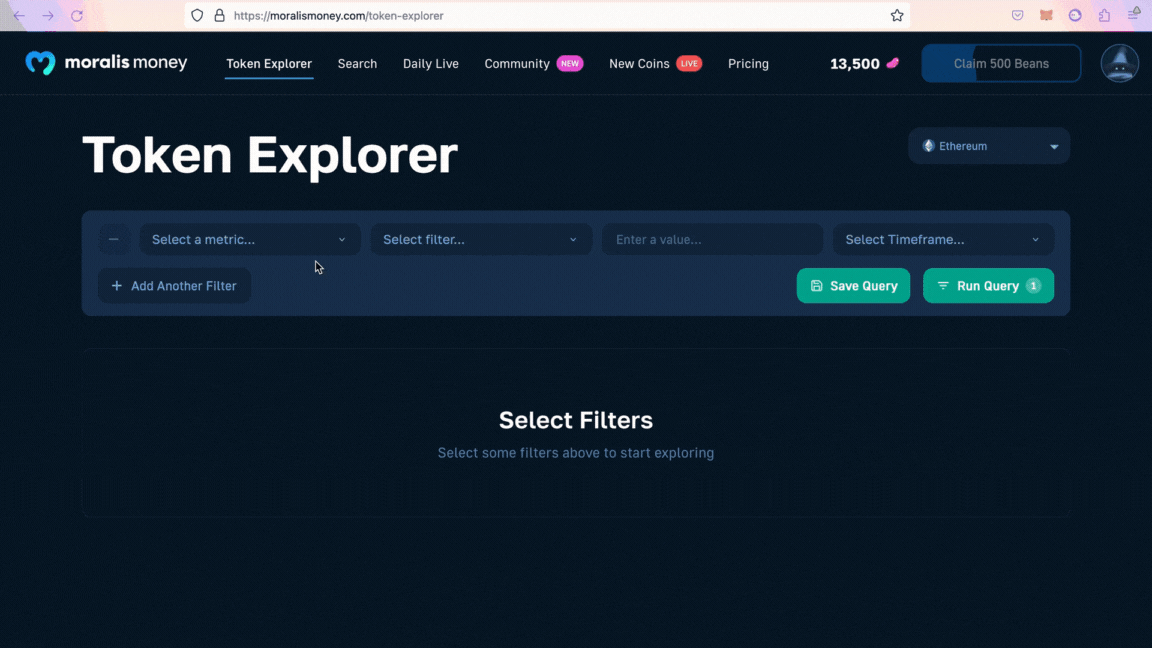 By adding the Coin Age metric, we can specify that we only want coins minted within the past seven days.
By applying this filter, we manage to narrow down our list. However, we can limit our search even further. As such, let's add the Buyers and Market Cap filters: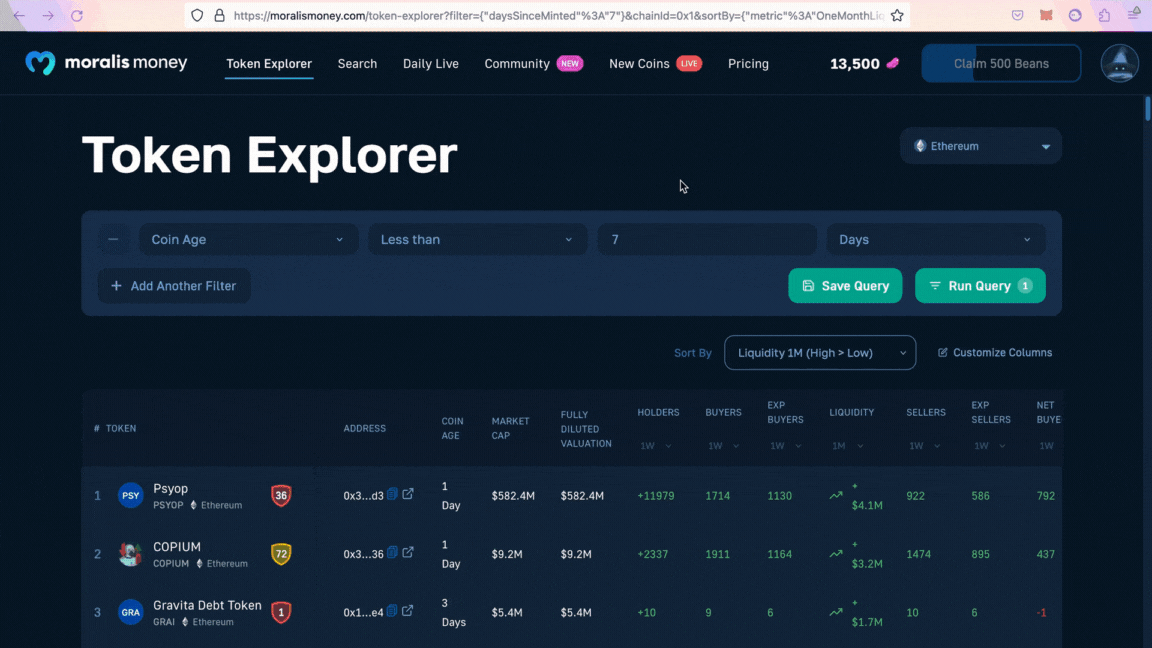 Adding the Buyers metric ensures that our search only contains coins gaining traction from other crypto traders. Combining this with the Market Cap metric gives us tokens with low market cap and, therefore, growth potential.
As you can see, adding these three filters narrowed our list of potential candidates significantly. From here, you can now add any other metrics to make the query even more specific.
With that said, there's nothing guaranteeing that any of the coins in the list above will take off. And we highly recommend that you continue doing your own research. Moreover, if you do the exact search, you might not get the same results, as the market is continuously changing.
Discover Tokens Cross-Chain with Moralis Money
With the recent launch of Pulsechain support, we want to highlight the cross-chain capabilities of Moralis Money. With this tool, you can easily toggle between the major blockchains to find the next 1000x crypto across networks!
At the moment, Moralis Money supports Ethereum, Polygon, Binance, Arbitrum, Fantom, Optimism, and Pulsechain. To toggle between them, simply click the drop-down menu at the top right and select the network you're interested in: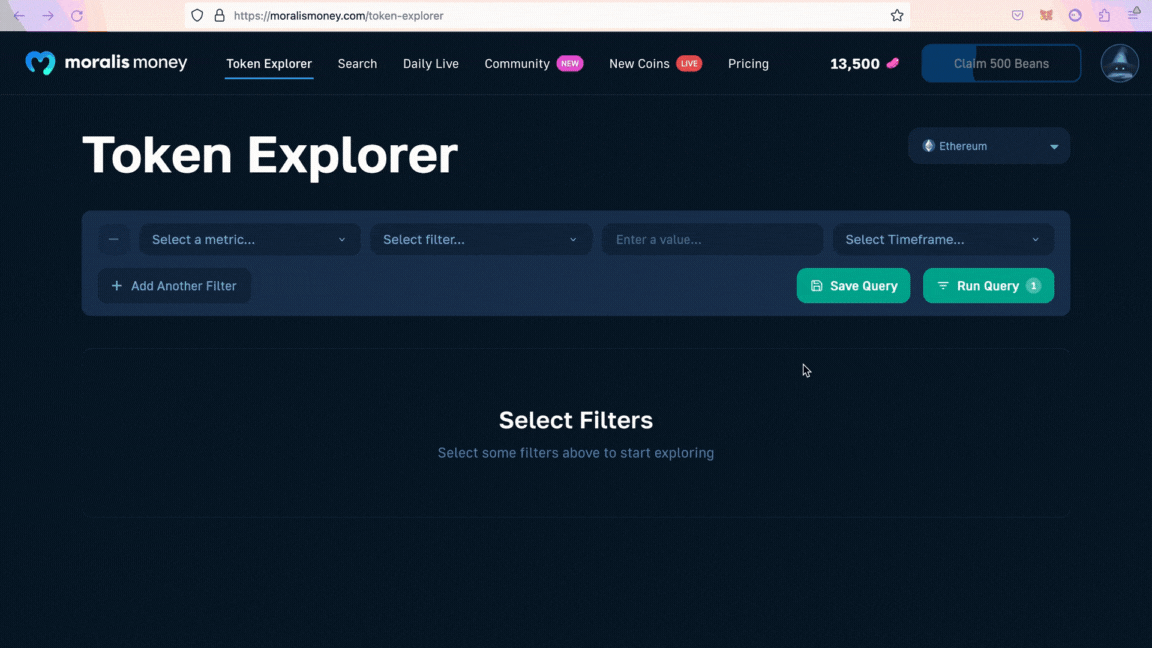 As such, you can now easily find altcoin gems across multiple blockchain networks and take advantage of all the major opportunities!
Summary - What is Wagmi Coin?
Do we have a new meme coin on the block? Or will Wagmi Coin flop? Well, only time will tell. However, the best way to monitor this potential gem is to use an on-chain trading indicator like Moralis Money. This tool allows you to closely follow the latest market activity and make informed investment decisions.
What's more, with Moralis Money's Token Explorer feature, you can easily find altcoin gems before they explode. Combining this with the Token Alerts feature allows you to stay updated without having to go full-time in crypto. Lastly, with Token Shield, you can protect yourself from scams while trading cryptocurrency.
Also, if you want to use these three features to the max, check out the Moralis Money Pro plan and start trading like a professional today!
Moreover, did you know there're multiple ways of making money in crypto? In addition to trading, you might also want to check out crypto affiliate marketing. Setting up your own affiliate marketing side hustle is easy, especially with the best Web3 affiliate program in the industry.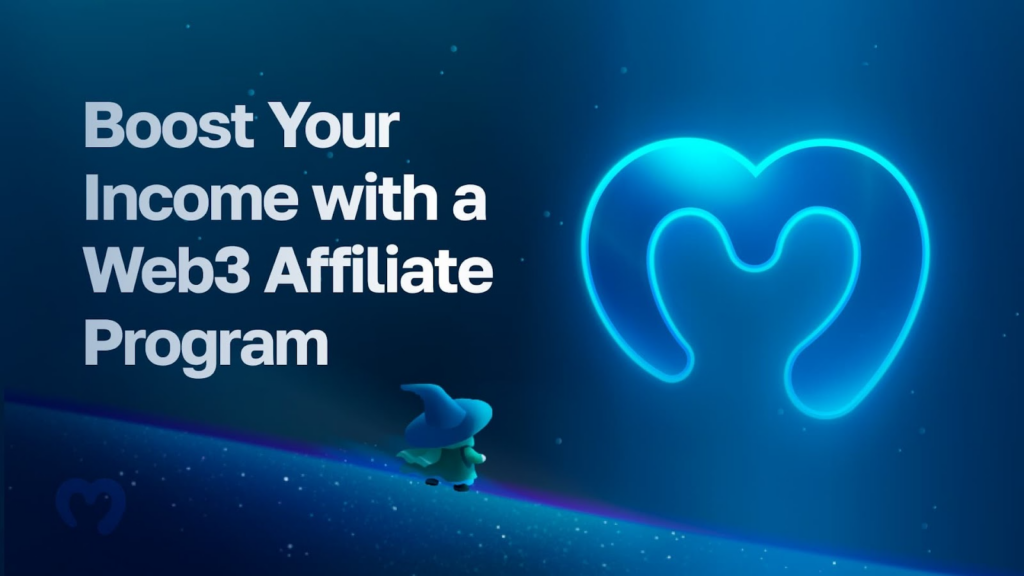 If you'd like to try it out, join the Moralis Money affiliate program for free today!