Altcoins Can Pump Over 100x
Imagine if you found MATIC when it was trading at $0.016. Just a year later, MATIC was trading at $2.73 - a 171x increase.
Imagine if you found Elrond (EGLD) in November of 2020 when it was trading for $7.06. A year later, Elrond was trading at $549.23 - a 78x increase.
Investing $500 into these two projects at the right time could have netted you $124,500. We know, because we identified both MATIC and EGLD before they pumped. If you missed out on these opportunities, the coming bull market is your chance - but only if you start preparing now.
Avoid The 3 Investing Mistakes 99% People Do
Even in bull market conditions, most traders end up failing. Why? It all comes down to three main challenges why traders fail to make the most of altcoin opportunities:
1. FOMO - Many traders don't have the proper tools for trading and lack a system. Instead, they let emotions guide their trading. They're late into coins and FOMO in at the top, only in time for the price to dump.
2. Scams - Casual traders will get scammed by rug pulls and exit scams. Traders fail to identify sketchy-looking coins and fall victim to scams.
3. Time - Keeping track of different tokens is a full-time job. Crypto never sleeps, and the market is volatile - meaning opportunities will come and go fast.
The Solution
We built Moralis Money specifically to tackle these three challenges. Moralis Money is built by experienced traders, is free to try, and lets you get straight to the point in a few clicks.
Moralis Money comes with three features specifically designed to help you unlock the opportunities of the altcoin space. These are the Token Explorer, Token Shield, and Token Alerts.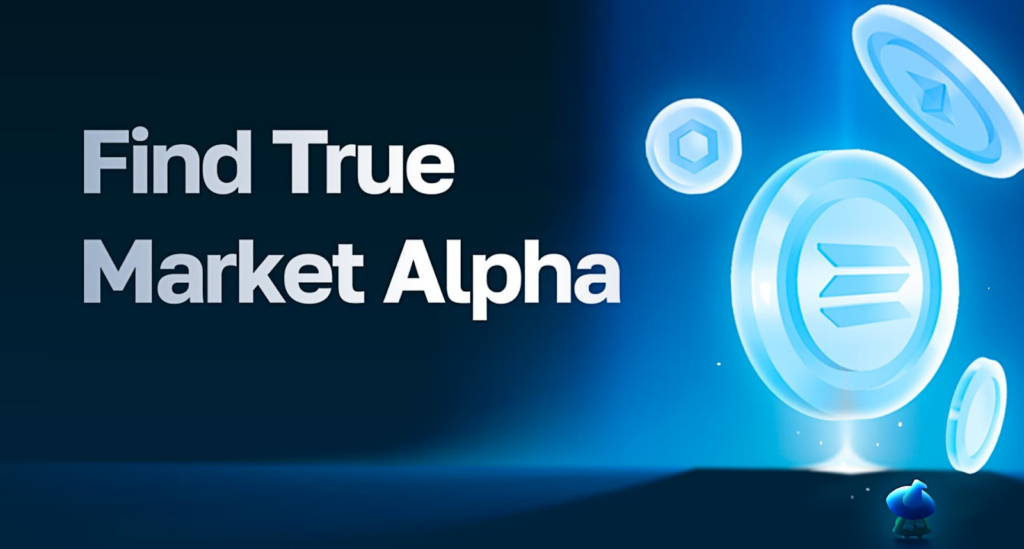 Find Tokens with Token Explorer
Lets say you want to be early into new coins that may go 50-100x in the near future.
1st step - Open up the Token Explorer
Just use the Coin Age filter to see ALL coins listed in the last 3 days.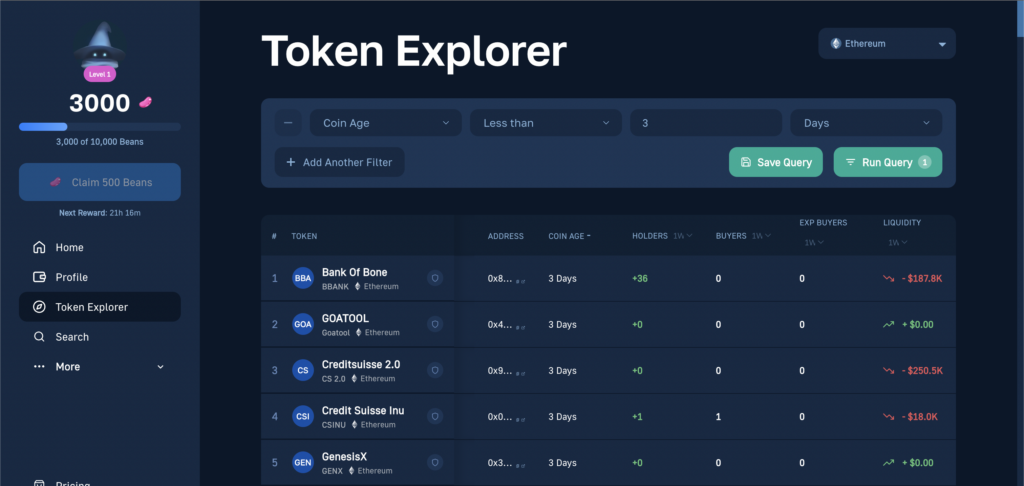 As you can see, this is so easy!
But what if we want only new coins that actually are gaining traction? We don't want any newly minted garbage coin! We want coins that are gaining momentum.
To see them, we can simply add a Holders filter and see only the coins which are actually getting Holders: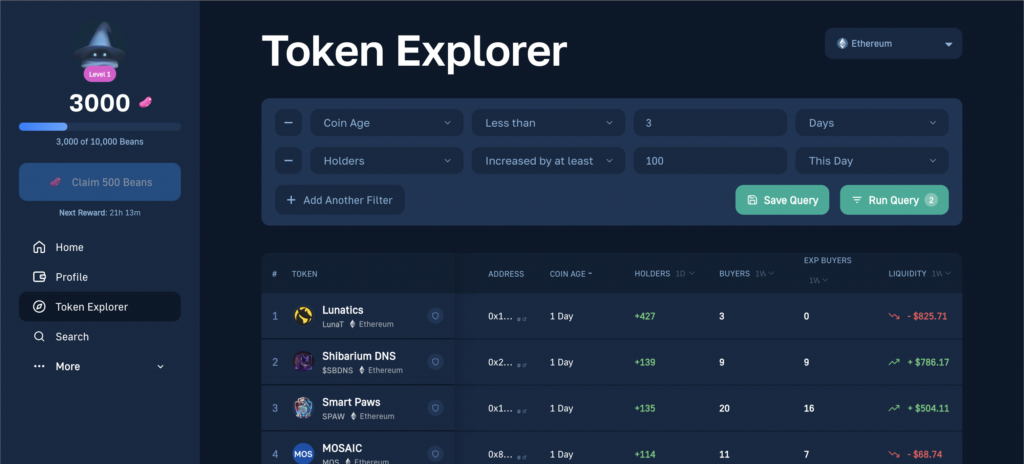 As you can see, this becomes very powerful and shortens your journey to finding the next pump by applying some simple filters.
Find up-and-coming altcoins with our Token Explorer. Set your own filters to identify altcoins before they pump, or simply use our preset filters to learn which coins whales are buying.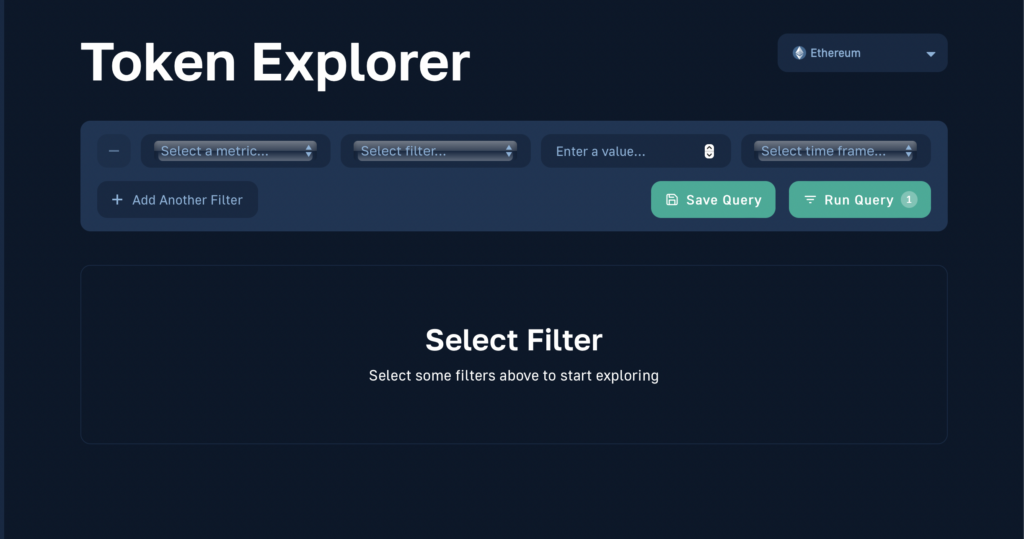 As you are getting raw, on-chain data with our Token Explorer, you'll get this alpha before there's any Twitter hype, and far before you can find the coins on other services like CoinGecko.
Avoid Scams with Token Shield
Token Shield, on the other hand, keeps you safe from scams. Simply look for the green shield to get information about total liquidity locked in a token project.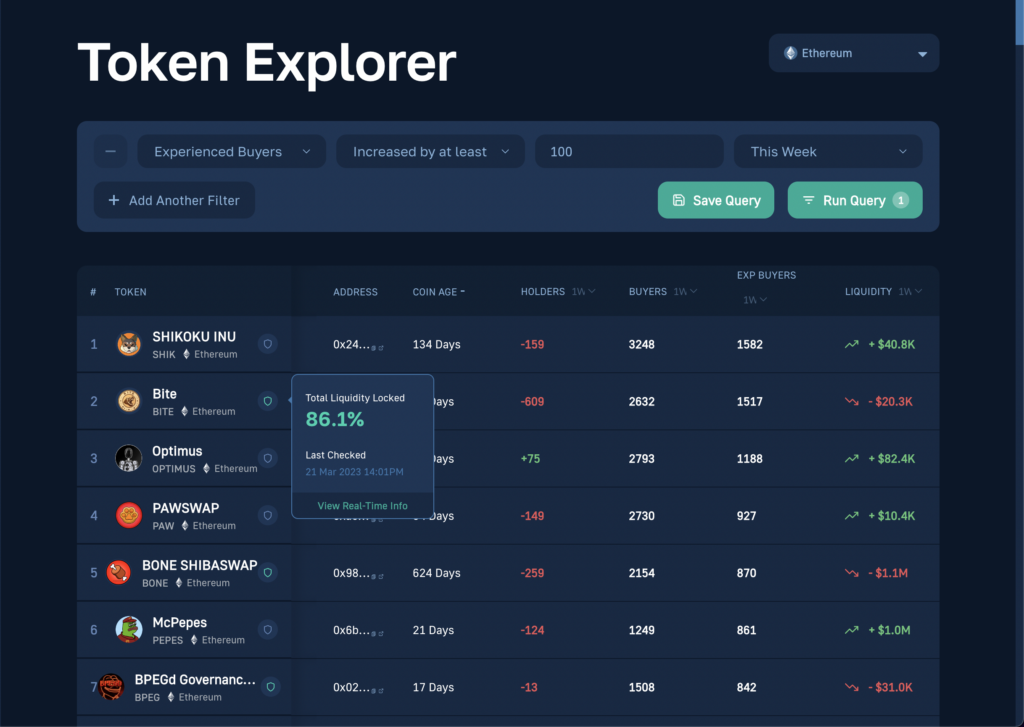 We're also continuously adding more security information to the Token Shield to ensure you're as safe as possible!
Get Real-Time Updates with Token Alerts
Token Alerts allows you to stay up-to-date with everything relating to tokens. Set up customisable alerts over email to always be informed when new opportunities arise.
Token Alerts allow you to trade with access to real-time information and opportunities without needing to be full-time in crypto.
Try Moralis Money & Find Coins Before They 100x
The best way to experience how easy Moralis Money makes it to find tokens before they pump is to use Moralis Money yourself:
Moralis Money gives you access to unparalleled market alpha in just a few simple clicks.
It's never been so easy to find undervalued alts. Either use our preset filters, or create your own!
Our team of experienced traders have created Moralis Money specifically for other traders to be able to detect token opportunities. Using Moralis Money is the best way to ensure you won't be caught on the sidelines during the next bull run.
Step-by-Step: How to Find Tokens Before They Pump
So, let's demonstrate just how easy Moralis Money makes it to find token before they pump.
By following our step-by-step guide, you'll be able to find up-and-coming tokens before they take Twitter by storm, or even before they show up on the likes of Coinpaprika and CoinGecko.
We offer great premade filters so you can start exploring tokens straight away. However, we also allow you to set up your own, fully customisable filters.
Use Filters to Find Pre-Pump Coins - Walkthrough
For example, you might want to sort coins by their "coin age", to find fresh opportunities and newly released coins. In our example, we're only going to look at coins less than 50 days. We'll set our filter for this, and run the query.
That will show you the coins matching your preferences.
However, that's not all.
Moralis Money allows you to add more custom filters to find exactly the type of metrics you're looking for.
Perhaps you want to be more specific - such as only search for coins which have gotten at least 50 new "experienced buyers" in the past week.
To ensure that the coin has positive liquidity, you can search for tokens that have increased by at least 1 in liquidity the past week.
You can add both of these filters to your previous one about coin age. You can then save your query, which now shows you results only for coins minted within 50 days, with at least 50 experienced buyers, and with liquidity that has increased in the past week.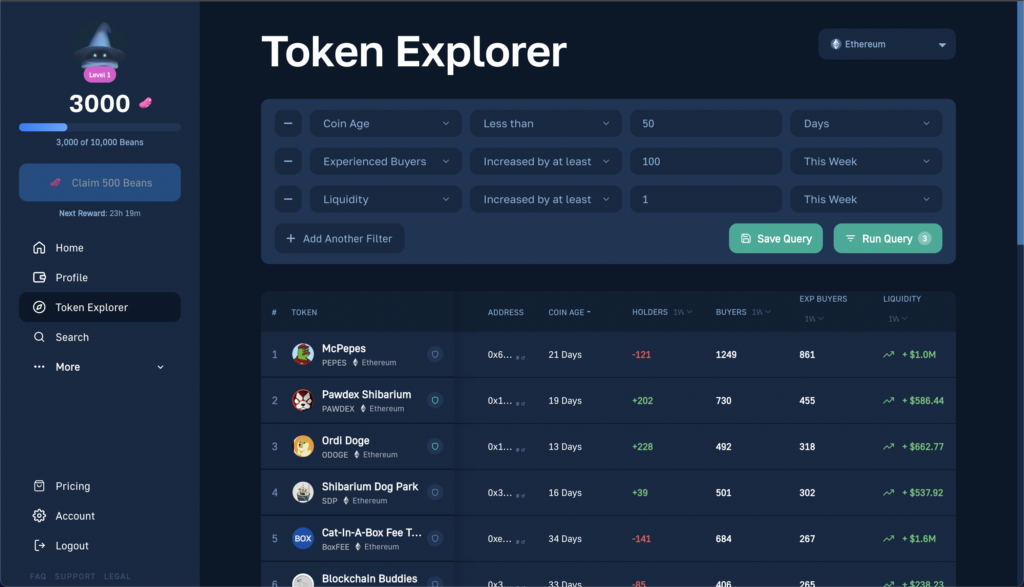 This is a game-changer for traders. Moralis Money also allows you to save your queries, so you can keep a list of your favourite customised filters for finding tokens before they pump.
Moralis Money Token Explorer Filter Metrics
Our team is working hard on adding even more filter metrics to Moralis Money. We are adding more functionality to Moralis each week.
Here's a overview of our current filter metrics to help you find tokens before they pump. Make sure to try Moralis Money yourself to see when we add new filter metrics!
Coin Age - Find New Tokens
The "Coin Age" filter metric allows you to search for tokens based on when they were created. This is a powerful metric for finding new tokens and new opportunities.
For example, in the following screenshot we're searching for tokens created less than 25 days ago.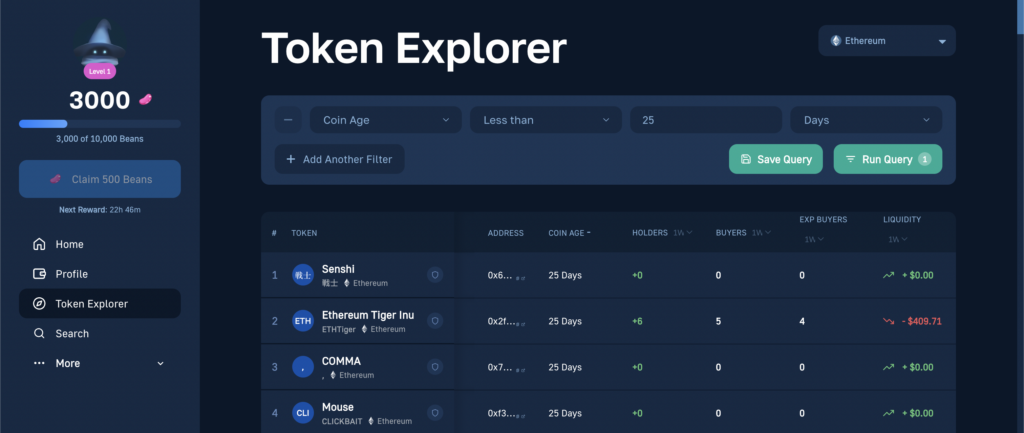 Liquidity - Stay Ahead of Pumps and Dumps
You can also filter the coins according to "Liquidity".
Choose between specifying "Increased by at least" and "Decreased by at least" to discover tokens that have experienced recent liquidity change.
Stay ahead of the markets with real-time, on-chain data insights. Inform your trades with true market alpha!
Environments with rapidly changing liquidity hold a lot of opportunity.
Monitor if there's an increase or decrease in activity to find tokens before they pump or dump.
With just a few clicks, Moralis Money lets you view e.g. coins which liquidity increased by over $1,000,000 last week:
Holders, Buyers, & Experienced Buyers - Who's Buying?
Moralis Money also lets you filter tokens based on who is buying.
Find tokens whose number of "Holders" (addresses that hold the token) has increased or decreased in a specific time frame.
Here's an example that displays tokens that gained 1,000 or more new holders in the last week:

You can also discover coins with an increase or decrease in "Buyers" in a specific time frame.
Here's an example that returns tokens that increased with at least 500 buyers during the last week: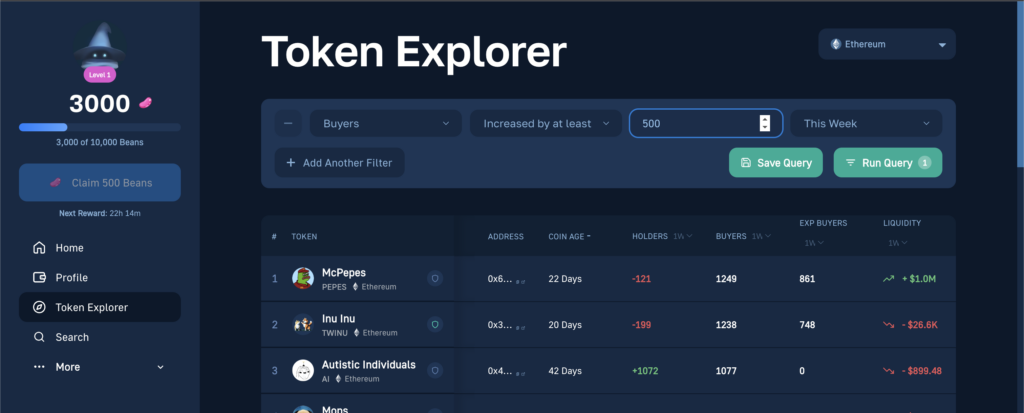 Finally, "Experienced Buyers" are buyers with proven address records.
For example, here's a search for coins where experienced buyers increased with at least 250 experienced buyers in the past week.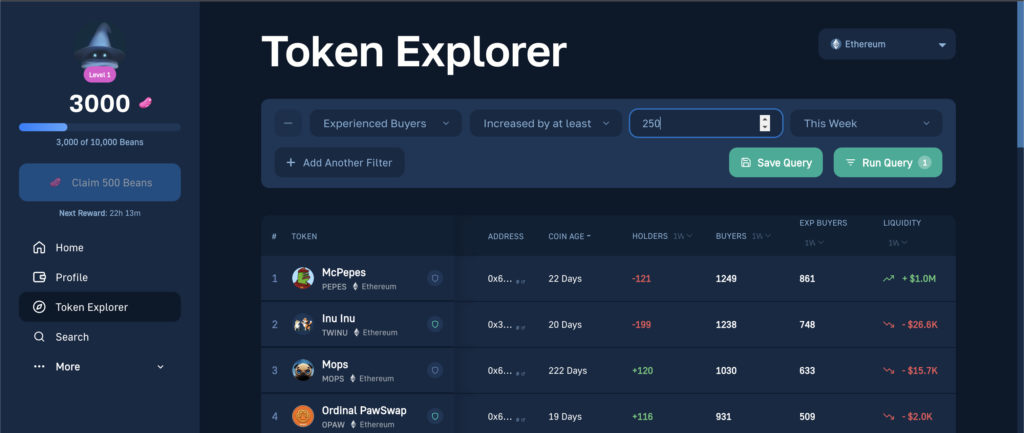 Note: Our team of traders are constantly at work improving Moralis Money. Thus, expect new metrics & filter options to be added at short notice. Start using Moralis Money today to try them out first!
Combine Custom Filters to Find Tokens Before They Pump
Part of the magic of Moralis Money is that you can combine your own custom filters.
This is a killer feature for identifying coins before their price skyrockets.
Moralis Money users can even save their queries. This means you have your favourite filters just a click away.
All user plans can save their favourite queries. For professional traders, though, they will likely want to upgrade to the Pro plan to be able to save up to 10 queries.
Token Shield - Stay Safe in a Wild Market
Jumping into altcoins without the proper tools is a high-risk, high-reward venture.
However, Moralis Money comes with Token Shield.
Token Shield is another game-changer, that helps you avoid exit scams and rug pulls.
With it, you can easily see a token's total liquidity locked.
When you find new tokens with a high percentage of their total liquidity locked, Token Shield marks them with a green shield to indicate that they're "safer" than those with low liquidity locked.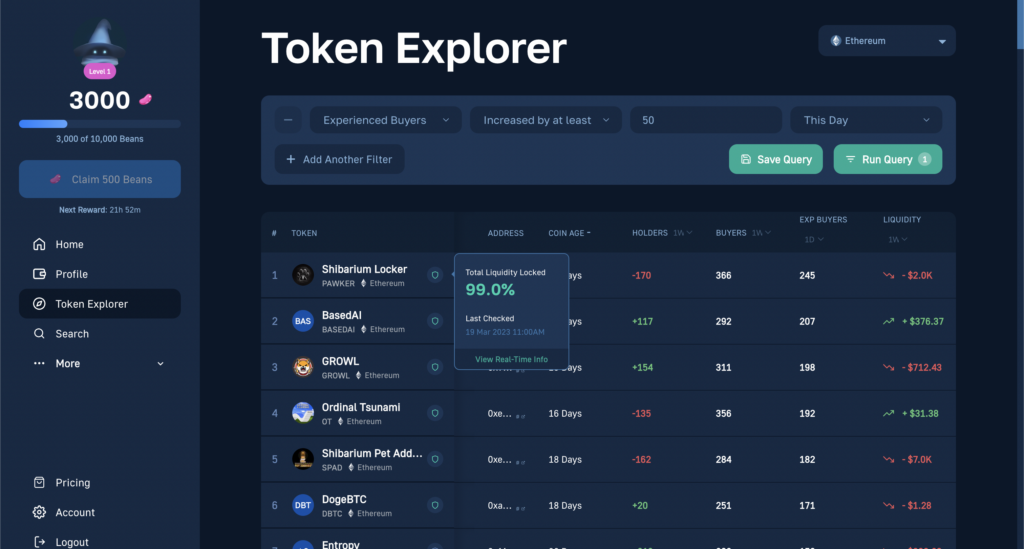 You simply hover over the shield icon to see the percentage of total liquidity locked.
Note: Moralis Money continuously adds new Token Shields features to keep traders safe.
Token Alerts - Get Notified Before Coins Pump
At this point, you are already aware of the power of Moralis Money Token Explorer.
However, you probably don't want to spend your days stuck to your screen to find tokens before they pump. With Token Alerts, you don't have to.
Simply set up alerts for your saved queries and get notified whenever new tokens match your filters.
Essentially, this feature enables you to set up on-chain listeners that let you know whenever new opportunities arise.
Note: Token Alerts is launching to the public soon; sign up today to be among the first to use it!
Moralis Money - By Traders, For Traders
Moralis Money is built by traders, for traders. We know what traders want and need in order to get an edge, as we are traders ourselves.
Moralis Money leverages the leading Web3 API provider (Moralis) to deliver actionable, on-chain data to help you find tokens before they pump.
What's more, Moralis Money presents it all in a way that makes sense. Forget about information overload or a thousand technical charts that no one can read.
Moralis Money gives you all the alpha, all the insights, and none of the BS.
How to Find Tokens Before They Pump - Full 2023 Guide - Summary
Take the guesswork out of trying to find tokens before they pump.
With Moralis Money, you'll be able to discover the on-chain signs well before a coin starts going parabolic.
In the next bull market, you're going to see tokens 50x, 100x, and 200x.
It's up to you if you want to be on the sidelines for this, or if you want to start trading like a pro with Moralis Money.
Also, our Pro plan is still available at a discounted price until Bitcoin reaches $30k. So, lock in the special deal while it lasts! After all, the BTC price is currently extremely close to breaking $30,000.
Having good tools is essential. Even if you have the best crypto trading strategies, you won't get anywhere without having access to the right information.
Also, there's more to crypto than just trading. You can also be a builder.
Create everything from multi-chain dapps, such as a portfolio tracker, Web3 wallet, NFT marketplace, blockchain explorer, etc. With the Moralis Web3 API suite, you can build killer dapps the easy way.
If you want to learn more about Web3 development with NodeJS, Python, and other leading Web2 programming languages and frameworks, visit the Moralis docs.