This course is for anyone who wants to learn the basics of the Ethereum Blockchain. After taking this course you will understand how Ethereum works, how it's different from Bitcoin, what smart contracts are, how the EVM works and what ERC20 tokens are. This course is perfect for someone who is new to blockchain and is looking to learn the basics of one of the fastest growing blockchain ecosystems in the world. After this course, you could move on to one of our many programming courses where you can learn how to program smart contracts on Ethereum.
Share your latest skills with your network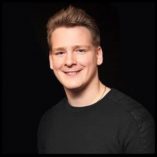 Ivan runs Ivan on Tech - one of the most successful and trusted blockchain channels on Youtube and is also an international blockchain speaker and educator. Millions of people all around the world have listened, learned and been inspired by Ivan. Now he has created a course for his followers and subscribers, so that they can get the same knowledge as the big corporations.