This course will teach you all about the different attacks a Bitcoin Network may encounter and how the network stays secure despite it. You will learn how an attacker might execute an attack, how the network protects against the attack, and what is the probability of the different attacks being executed. Although this course focuses on Bitcoin you will be able to apply this knowledge to any cryptocurrency or blockchain network because all cryptocurrencies share a similar security model. Check out the curriculum to see an overview of the different attack vectors and vulnerabilities we cover.
Share your latest skills with your network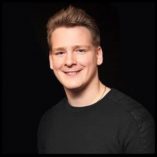 Ivan runs Ivan on Tech - one of the most successful and trusted blockchain channels on Youtube and is also an international blockchain speaker and educator. Millions of people all around the world have listened, learned and been inspired by Ivan. Now he has created a course for his followers and subscribers, so that they can get the same knowledge as the big corporations.