Coca-Cola, EY, Microsoft, and hundreds of other global corporations are now adopting blockchain technology at a rapid pace. Baseline Protocol is the core technology that is used by these enterprises. Do you want to get hired as a Baseline Protocol expert in one of these companies? Then this course is perfect for you! In this course you will learn all about Baseline Protocol and how to use Unibright to develop enterprise blockchain apps. You will understand enterprise blockchain space and real world use-cases and be able to practically contribute to the industry.
Share your latest skills with your network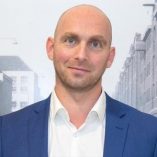 Ruud Huisman spent most of his career as a teacher of maths & social studies but stepped into the world of crypto & blockchain in 2017. Immediately after seeing the possibilities that this technology had to offer he quit his daily job as a teacher and started to do presentations about blockchain, crypto and after getting deeply involved with the Unibright community, started setting up an ambassador team in 2018. Currently he is working on a new project that involves Unibright, charities, and blockchain.