Crypto is more than trading. DeFi allows anyone to earn financial returns on tokens through yield farming, staking, and more. Experts Josh and Amadeo will walk you through everything, from how DeFi works, to assessing and using DeFi products to understanding and managing any potential risks.
Josh Cross started his crypto journey while living in China and facing the problems of remittances. He jumped in big in 2017 and learned a lot of the painful lessons many new people face. But he stuck with it and focused on educating himself on blockchain, game theory, economics, and business. He joined the Ivan On Tech Academy shortly after it was created and spent the bear market learning. In 2020 he went full-time crypto with his YouTube channel, DeFi NOW, which focuses on project explainers, educational videos, interviews, and livestreams. He also has a dog named Steve Irwin, It's not relevant, but he thought you should know that. You can subscribe to his YouTube channel here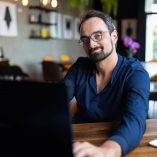 Amadeo Brands has a background in Computer Science & Economics and is an early crypto investor, who worked for the first crypto hedge fund in The Netherlands. To date, Amadeo is a Fundamental Analyst and Token Engineer with a passion for Decentralized Finance #DeFi working for multiple DAO's and as a freelancer for different companies in the digital asset ecosystem.