This course will give you the fundamental knowledge needed to dive deeper into the wonderful world of Decentralized Finance. Together we will build your knowledge and lay the foundation to build your Digital Financial Stack. After following this DeFi 101 course you will understand the fundamental building blocks of DeFi and how to Interact, fundamentally understand and verify DeFi protocols and the financial revolution that is unfolding before our eyes.
Share your latest skills with your network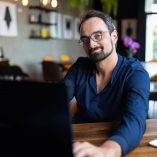 Amadeo Brands has a background in Computer Science & Economics and is an early crypto investor, who worked for the first crypto hedge fund in The Netherlands. To date, Amadeo is a Fundamental Analyst and Token Engineer with a passion for Decentralized Finance #DeFi while working as the CTO at EOI Digital, DotYeti. Besides his busy schedule he is also an ambassador for Maker DAO and runs the non-profit foundation BlockDevs Asia, where he educates about blockchain development and token economics in emerging economies such as the Philippines.