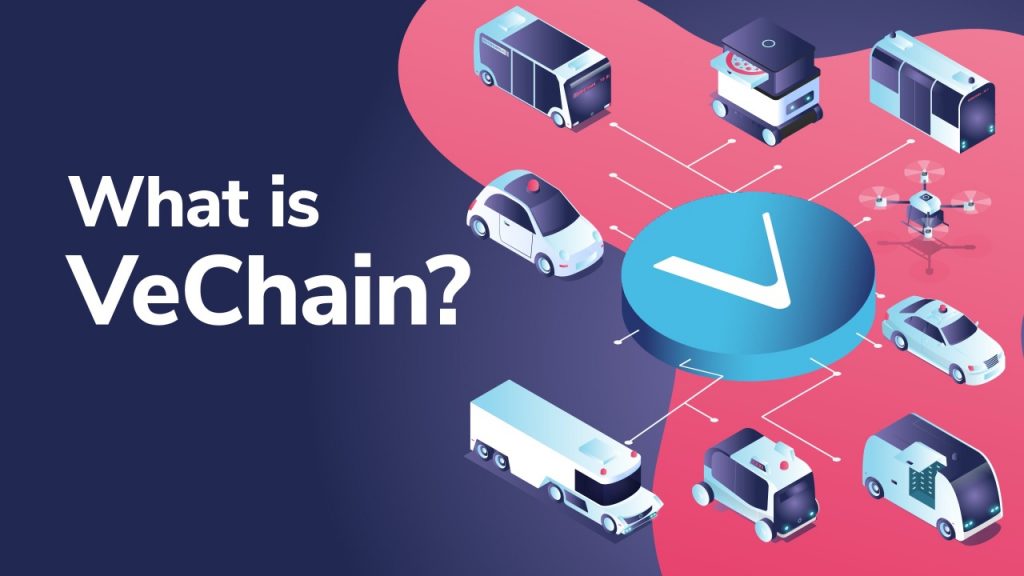 VeChain is a blockchain-powered solution for supporting various business processes. Renowned for blockchain-based supply chain management services, VeChain keeps track of each stage of the chain, ensuring quality and compliance measures are adhered to. VeChain uses physical tracking devices to track each stage of the supply chain. With records held on a transparent immutable ledger, this ensures that goods and materials reach their destination without being tampered with. Powered by the VeChain (VET) token, the VeChain Foundation is helping to bring digitally verifiable provenance to supply chains. This is achieved with the help of the VeThor Token (VTHO) and the proprietary VeChainThor blockchain. But, what is VeChain doing to become so popular? VeChain is pioneering blockchain supply chain management, carbon credits, and anti-counterfeiting services.
In this article, we're going to dive deep into the VeChain ecosystem and explore the various blockchain-based services they offer. Moreover, we'll look at the VeChainThor blockchain and the different use cases for the VeChain VET token and the VeThor VTHO token.
Blockchain technology can be implemented into any business that deals with financial or data transactions. The world of finance finally has the technological developments to transition to digital online services. If you'd like to learn more about the FinTech revolution, be sure to see the FinTech 101 course at Ivan on Tech Academy. Also, if you'd like to learn how blockchain technology can be implemented into various business models, check out the Blockchain Business Masterclass course. Ivan on Tech Academy provides all the tools needed to get involved in the world of blockchain, whether you're a trader, investor, entrepreneur, or CEO. Check out the many courses available at Ivan on Tech Academy today!
What is VeChain?
VeChain is a blockchain-based service tool for businesses, to improve transparency and efficiency around supply chain management. The project was conceptualized in 2015, by ex-COO of Louis Vuitton China, Sunny Lu. VeChain was then launched in 2016.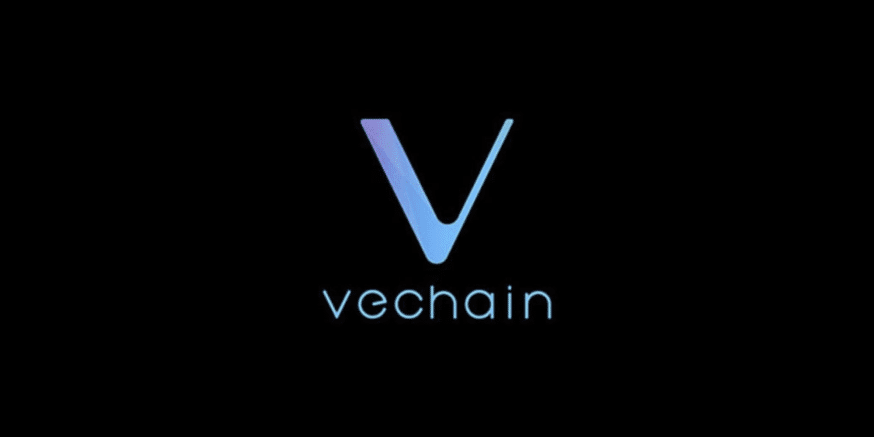 The VeChain project was one of the first in the crypto industry to offer blockchain supply chain services to enterprises. VeChain was originally built on the Ethereum blockchain. At the time, the native VeChain token ticker was VEN. However, in June 2018, the genesis block was mined on the VeChainThor blockchain. From here, the VeChain ecosystem transitioned and expanded. Previous ERC-20 VEN tokens were swapped at a 1:100 ratio to VET tokens. Additionally, this brought about the introduction of the VeThor VTHO token (more explained later on).
VeChain works in conjunction with various devices and IoT (internet of things) technology. This allows businesses to record and view every step of a product life cycle.
Internet of Things (IoT)
The "internet of things" (IoT) concept can be quite a nuanced subject. However, in a nutshell, IoT refers to different everyday 'things' being digitally connected through distributed or decentralized networks. This can range from nearly any electronic device imaginable to any non-electronic device with an added QR code or microchip.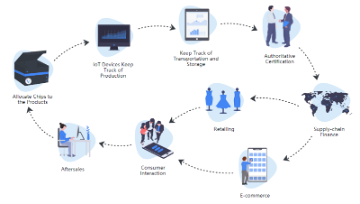 The symbiosis of blockchain technology and the internet of things (IoT) creates an ideal solution for tracking and monitoring data and products across a distributed ledger. This creates a trustless, tamper-proof, decentralized method of ensuring that standards and regulations are adhered to.
Furthermore, the combination of blockchain technology and the internet of things (IoT) is helping to build a community with a shared goal of optimizing efficiency and minimizing risk and wastage throughout the supply chain.
Not only does this benefit businesses and manufacturers by reducing costs, but it also reassures consumers that the items they purchase are genuine and the food they eat is fit for consumption. Moreover, the VeChain ecosystem is cultivating a community that is focused on using innovative technologies in a way that is eco-friendly and benefits everyone!
VeChain Foundation
The VeChain Foundation was created in 2017, shortly after the launch of VeChain. The VeChain Foundation was created as a non-profit organization, designed for research and development into VeChain's future in blockchain. Members of the VeChain Foundation are responsible for the decision-making and governance of the VeChain ecosystem. The VeChain Foundation has publicly stated that they hold a significant reserve of VeChain (VET) tokens in order to continuously support and develop growth within the ecosystem.
VeChain acknowledges both the benefits and challenges of the decentralized nature of blockchain. The project is carefully balancing elements of centralization and decentralization to ensure continuous growth of the platform. Governance is currently centralized operating through VeChain (VET) token holders at the Vechain Foundation. However, the VeChainThor blockchain framework is fully decentralized. As the project matures, elements of centralization will be reduced. In the future, all VET token holders will be able to vote on proposed protocol updates.
What is VeChainThor Blockchain?
The VeChainThor blockchain (not to be confused with ThorChain!) is host to the VeChain ecosystem. As a public blockchain, a history of all transactions is available through the VeChain Explorer service. VeChainThor is a public blockchain designed for enterprises with scalability in mind.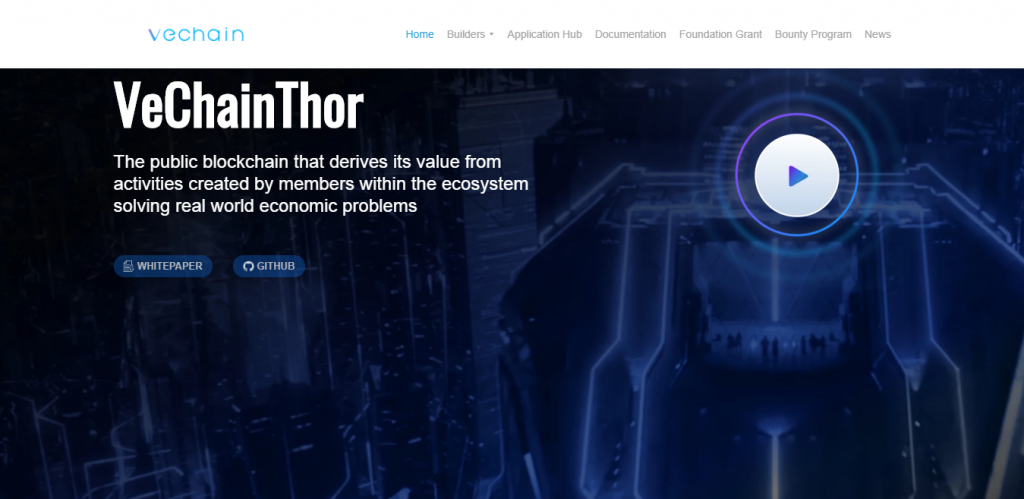 Businesses can deploy their own decentralized applications (dApps) or make use of other applications built on the VeChainThor blockchain. VeChain's goal for the VeChainThor blockchain is to become the "foundation for a sustainable and scalable business blockchain ecosystem".
There are currently more than 30 different Fortune 500 companies that are using innovative solutions based on the VeChainThor blockchain. This shows the scale of the demand for these services on an enterprise level.
What is the VeChain Token (VET) and VeThor Token (VTHO)?
The VeChainThor blockchain operates a dual token system consisting of the VeChain token (VET) and the VeThor token (VTHO). VeChain (VET) tokens are used as a store and transfer of value, like most other cryptocurrencies.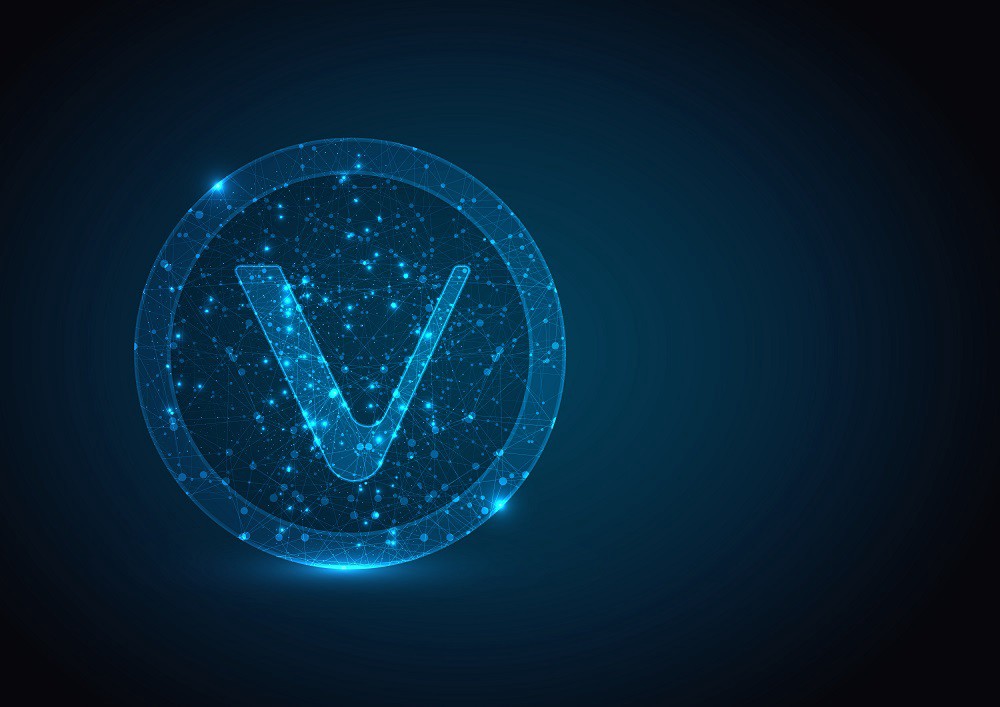 On the other hand, the VeThor (VTHO) token is referred to as the "energy token", used as gas to pay for transactions on the network. Each time any data is added to the blockchain through any financial or data transaction, this will require units of computational power. The VTHO token is used to cover the computational gas costs for all transactions on the VeChainThor blockchain. The cost will vary depending on the data and size of the transaction being processed.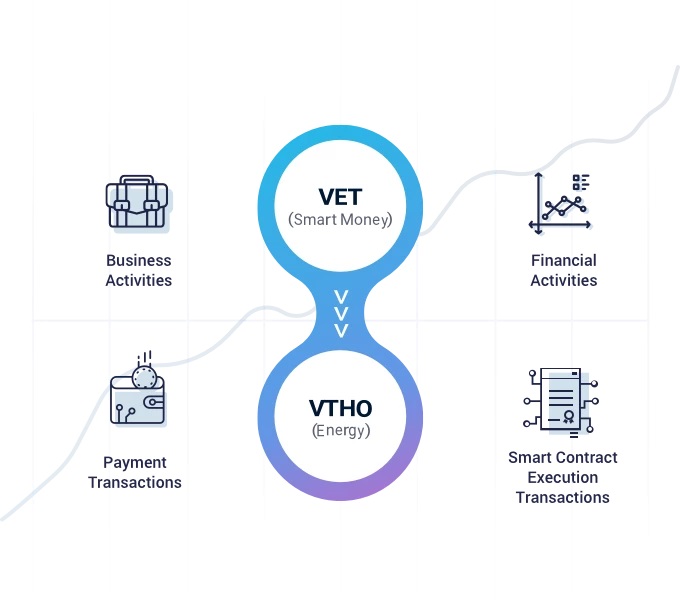 If you would like to gain a deeper understanding of the technology underlying these tokens, be sure to see the Blockchain & Bitcoin 101 course at Ivan on Tech Academy. This course is the ultimate beginner's guide to blockchain, helping build the foundational blocks for further learning. When you know your hard forks from your soft forks, why not try the Ethereum 101 course? Here you'll discover the fundamental differences between the two largest cryptocurrencies in the industry.
VeChain ToolChain
VeChain ToolChain is a blockchain-as-a-service platform geared towards businesses looking to implement blockchain into their current IT infrastructure. The ToolChain protocol makes it simple for any sized business to take advantage of blockchain for things such as data management and certification or product lifecycle tracking.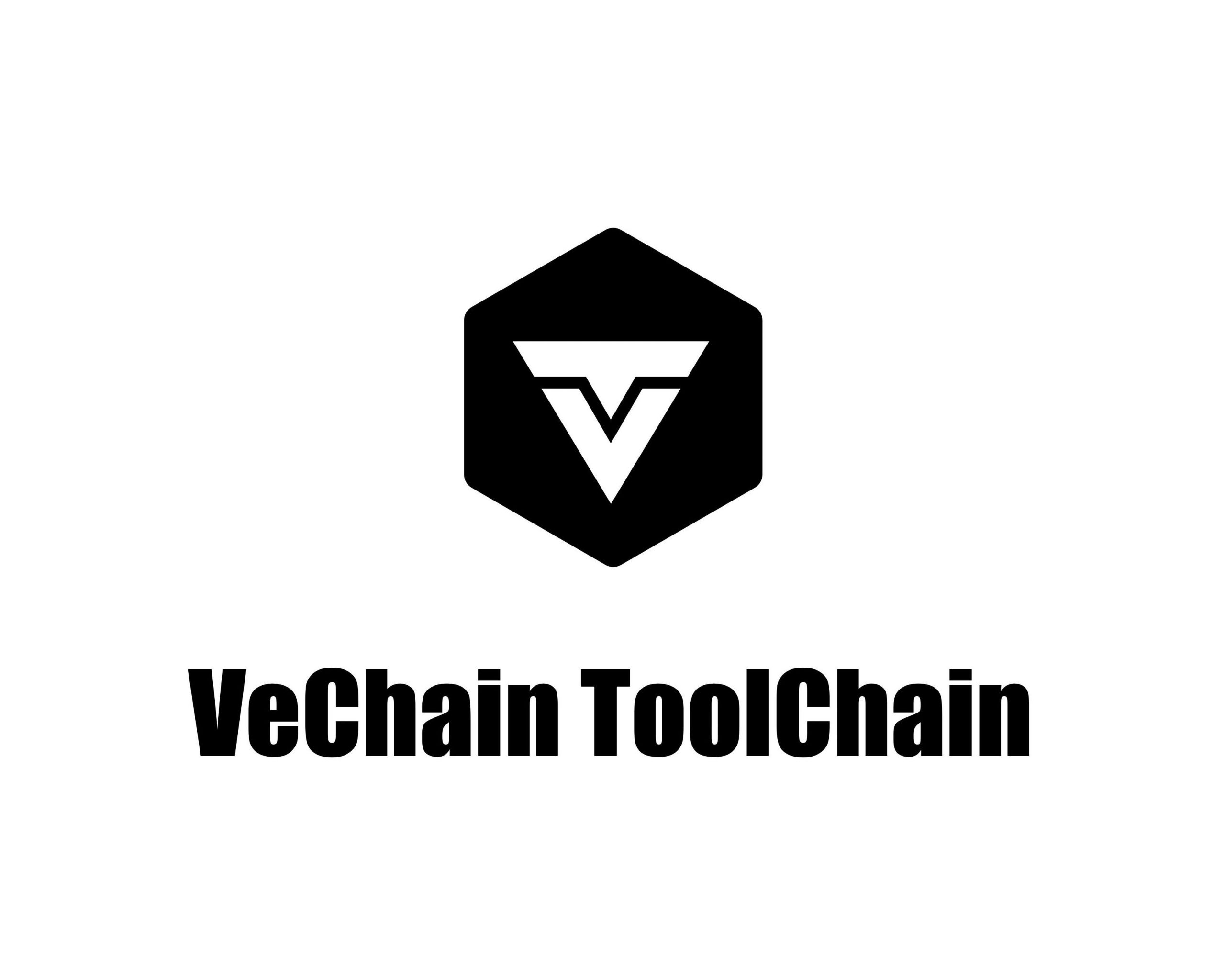 VeChain ToolChain can make supply chain management totally transparent, benefitting both the businesses involved and the end consumer. Using the VeChain Pro App, consumers will be able to scan a QR code on their product and see a full history of any materials used in production. Also, the app allows users to see all the locations a product has been prior to purchase.
VeChain Use Cases:
The VeChain protocol allows just about anything to be tokenized and tracked on the VeChainThor blockchain. As the world has become increasingly globalized with supply chains, VeChain can be applied to a whole host of industries. Below we've mentioned just a few of the ways that VeChain is being implemented into everyday activities.
Healthcare
The onset of the COVID-19 coronavirus pandemic has led to a wealth of innovation across the technology and medical industries. During this period, VeChain and I-Dante collaborated to create the E-HCert App. The application was designed for users to store their COVID-19 test results, whilst ensuring privacy and data integrity.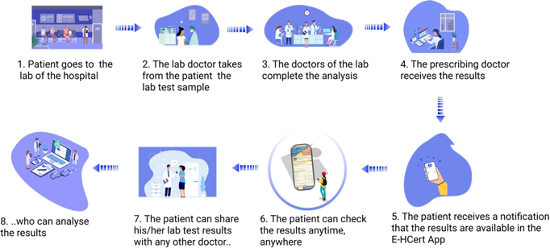 Following quick succession from the implementation at the Mediterranean Hospital of Cyprus, Aretaeio Hospital joined the VeChain ToolChain platform just months later, introducing the E-HCert App to their lab testing services.
Blockchain technology is ideal for storing medical records, thanks to its decentralized, secure, and immutable nature. Also, audit trails and monitoring processes become far easier with a fully transparent ledger of all transactions.
Carbon Emissions Tracking
Through a combination of blockchain and IoT (internet of things) technology, VeChain has devised a novel and enticing incentive to reduce carbon emissions. This is achieved by rewarding users with credits for reducing their energy consumption and CO2 emissions. These carbon credits can then be spent on various VeChain services and with partnered enterprises.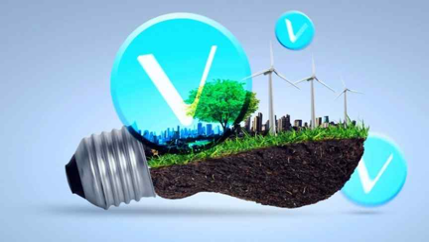 VeChain can track information from smart devices such as new energy vehicles (NEV), garbage collection vehicles, and energy-saving smart appliances, and register the energy used on the VeChainThor blockchain. This information is then verified by an independent third-party, before being deployed through smart contracts. The smart contracts use an expert-created smart carbon reduction model that calculates on a unit basis how much energy has been saved through various activities. These units are then converted into 'carbon credits'.
Food Health & Safety
VeChain utilizes 'internet of things' (IoT) devices throughout supply chains to promote transparency. Each step of the process, from the farm, to the warehouse, transport, and the distribution channel, can be monitored for quality assurance. For example, if a food product is supposed to be kept below a certain temperature, a vehicle or a storage facility could implement an IoT device that broadcasts data regarding the state of that product. If the temperature were to fall below a critical level, this could theoretically void a contract. In turn, this would ensure that the spoiled batch is not distributed, and a new batch could be distributed instead.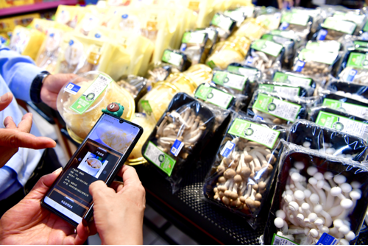 This has the potential to dramatically reduce food poisoning that occurs as a result of poor food handling throughout the supply chain. Furthermore, reducing product recalls could save the food and hospitality industry substantial sums. Food wastage has become a priority for many eco-conscious consumers. By minimizing any potential waste, or unnecessary distribution of spoiled goods, VeChain is reshaping the face of supply chain management.
Moreover, VeChain helps to verify the provenance of food products and other raw materials. This prevents product recalls and ensures that supply chain data is tamper-proof. Any IoT devices deployed can relay data in a decentralized way and upload information onto the VeChainThor blockchain.
Anti-Counterfeiting
Counterfeiting has become an increasing problem over the years as technology has developed. However, the introduction of blockchain has the potential to substantially reduce this by making the history and life cycle of a product openly accessible on the blockchain.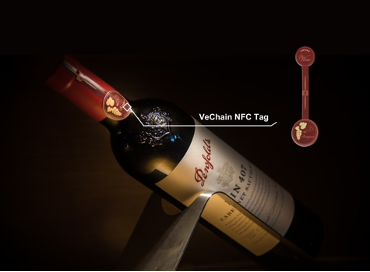 For example, VeChain has been cooperating with the Chinese mall, Shanghai Waigaoqiao Direct Imported Goods, to track luxury wines. Consumers can scan a QR code that's assigned to a microchip or a Radio Frequency Identification (RFID) sensor tag on the item. These chips or tags will have been scanned and monitored during the journey of the wine. From vineyard to warehouse to retail and consumers, each stage will be tracked. Additionally, car manufacturer Renault has also introduced VeChain, for tracking and authenticating their luxury vehicle components.
Anti-counterfeiting goes far beyond the luxury wine and motor industries. This technology can be used to prevent fraudulent activity in supply chain management across the pharmaceutical, fashion, and agricultural industries, among many others.
VeChain (VET), VeChainThor & VeThor Token (VTHO) Summary
VeChain offers the tools to make supply chain management more transparent, through the use of blockchain technology, so businesses and consumers alike can view and verify the history of a product. Moreover, this technology is also being used to encourage the reduction of carbon emissions. VeChain is incentivizing people to reduce their energy consumption and be rewarded with spendable carbon credits in return.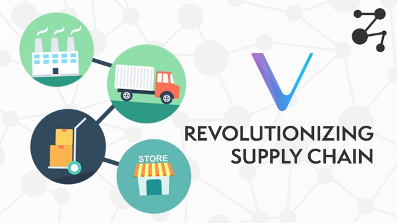 Additionally, VeChain ToolChain is being implemented by many businesses far and wide, as a simple blockchain-as-a-service platform for enterprises. VeChain is focusing on creating a decentralized trustless enterprise ecosystem, with efficient and transparent information communication. Research and development into blockchain technology is the way forward for achieving this.
As the number one in-demand skill, a strong knowledge, and understanding of blockchain is highly sought-after. Often this means salaries are higher than non-blockchain-related job roles. Ivan on Tech Academy is the biggest online blockchain education suite, with courses specifically dedicated to educating people on how to get a career in blockchain.
Moreover, Ivan on Tech Academy provides a short Study Guide course to advise you on the best ways to make the most out of the Academy. Ivan on Tech Academy provides the highest quality educational material to help you get a job in blockchain. Whether you're a blockchain developer wanting to work for a large company, or an entrepreneur wanting to create a start-up, Ivan on Tech Academy has the resources for you. If you haven't already, make sure to follow us on Twitter @Academy_IOT and let us know your thoughts on VeChain!