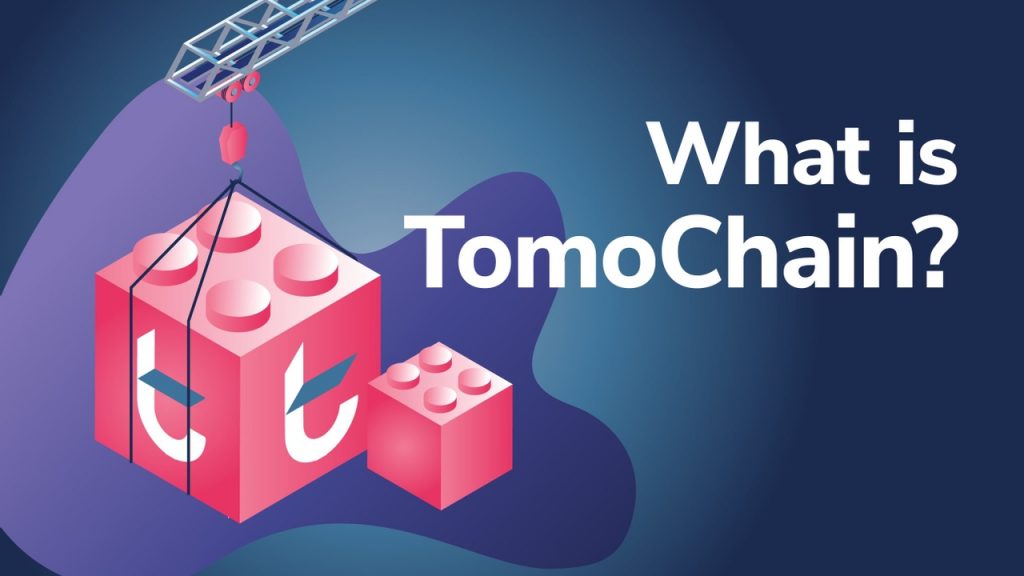 TomoChain is a fully decentralized landscape for developers offering a range of software development kits (SDKs), and protocol applications, with a choice of public or private transaction storage. Powered by a Proof-of-Stake Voting consensus through the TomoChain Masternode network, TomoChain has partnered with Vietnam's Ministry of Education, to secure, record, and validate graduation certificates and diplomas. Moreover, the TomoChain roadmap shows continuous development and progress for the TomoChain ecosystem. But, how does TomoChain work under the hood, and how does the TOMO coin ensure the network is decentralized?
In this article, we're going to explore the TomoChain ecosystem and discover the variety of decentralized applications (dApps) within the infrastructure. Moreover, we'll deep dive into the protocols of TomoChain, in addition to discovering the use cases of TOMO coin. We'll also cover the roles and functions of the TomoChain Masternode network too. Finally, we'll look at the TomoChain roadmap, and what lays ahead for the project.
If you're new to cryptocurrency, welcome! Ivan on Tech Academy provides a range of courses for people new to the industry, about the basics of blockchain, setting up exchange accounts, and how to avoid scams! If you've yet to invest in crypto for the first time, make sure to see our Crypto Basics course for a guided tutorial on setting up a wallet and storing your coins safely. Moreover, if you're interested in learning about the fundamentals of Bitcoin, see our Blockchain & Bitcoin 101 course today!
What is TomoChain?
TomoChain is an efficient and scalable blockchain that utilizes a Proof-of-Stake Voting consensus to create applications for real-world use cases. TomoChain has created a blockchain development landscape that is host to an array of products and applications running on the TomoChain blockchain.
Powered by the native TomoChain coin (TOMO), the TomoChain ecosystem is cultivating a broad and varied blockchain community that is accelerating the adoption of blockchain-based applications by removing much of the friction that has inhibited blockchain adoption for many years.
Exploring the TomoChain Ecosystem
TomoChain is an active blockchain with a variety of development protocols available for developers to take advantage of. Moreover, TomoChain has designed and deployed its own open-source and permissionless decentralized applications (dApps) for developers to build on. Additionally, TomoChain's dApps are designed for enterprise adoption, offering simple and user-friendly blockchain-based business solutions.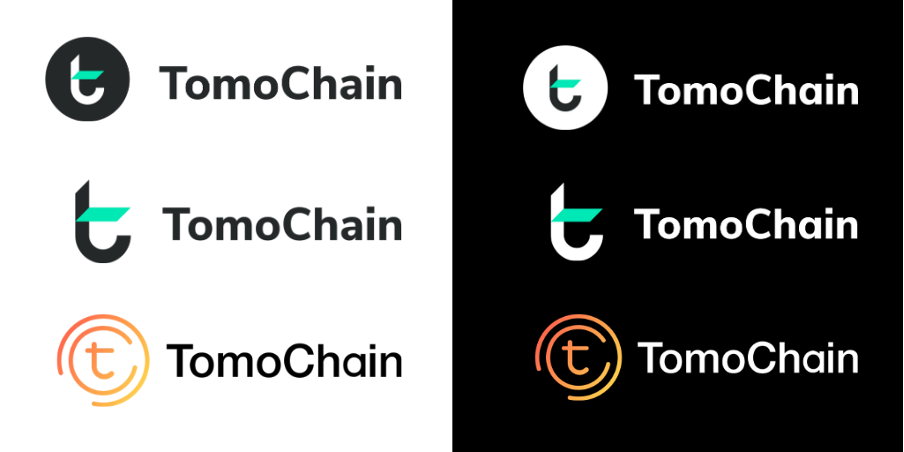 TomoChain Core Blockchain
The TomoChain core blockchain is operated and secured by the TomoChain Masternode network. The core layer of the blockchain is governed by a Proof-of-Stake Voting consensus algorithm. This enables a fully decentralized, optimized, and cost-effective transactional system for developers to create innovative, scalable applications with minimal-cost on TomoChain. We discuss the TomoChain Masternode network in more detail further on in the article.
TOMO Coin
TomoChain's ICO for the TOMO coin was in March 2018. Initially planned to last 20 days, the hard cap of $8.5 million was raised within just 24 hours during the public sale, with TOMO priced at $0.25. Originally, TOMO was released as an ERC-20 token created on Ethereum. However, following the launch of the TomoChain mainnet in December 2018, holders could convert their TOMO coins at a 1:1 ratio to the native TRC-21 token standard.
TOMO is the heart of the TomoChain ecosystem, facilitating decentralized governance of the platform. From the launch of the public sale, TOMO increased in value before peaking at $2.09 in April 2018 according to CoinGecko. The coin bottomed out in March 2020 lower than its ICO price at $0.19. However, in 2021 the TOMO coin has gone from strength to strength, smashing its previous all-time-high, sitting at around $3.31 at the time of writing.
TomoChain for Developers
TomoChain is EVM (Ethereum Virtual Machine) compatible. This makes it easy for developers to deploy any Etherum-based smart contract-based decentralized application (dApp) with near-instant finality and transaction fees.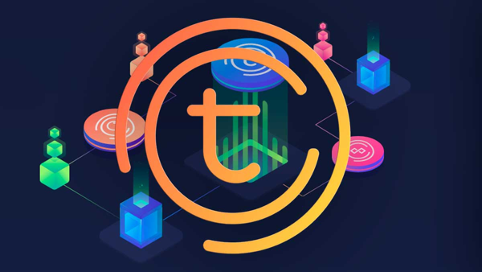 Also, TomoChain can be easily integrated with several industry-standard development tools such as Truffle Suite, Remix, and Web3 wallets such as MetaMask.
Furthermore, TomoChain helps developers to get dApps into action quickly, without compromising on security. This is achieved with the help of TomoChain software development kits (SDKs), TomoP SDK, TomoX SDK, and TomoWallet SDK.
Moreover, TomoChain is highly scalable. Boasting 2,000 transactions per second (TPS) and two-second confirmation times, the TomoChain blockchain has the capacity and throughput to make it secure and stable, even during times of high network congestion.
If you're a programmer looking to develop your skills in blockchain, look no further than Ivan on Tech Academy! As the world's largest online blockchain education suite, Ivan on Tech Academy provides a wide range of courses to suit all experience levels! Check out our Ethereum Smart Contract Programming 101 course to learn the basics of the Solidity programming language! Or, if you're completely new to coding, see the Javascript Programming for Blockchain Developers course first. Only at Ivan on Tech Academy!
TomoChain Masternodes
The TomoChain blockchain relies on Masternodes to secure the network. TomoChain Masternodes are full-nodes that play a crucial role in the TomoChain ecosystem by creating, verifying, and validating newly-generated blocks. To become a TomoChain Masternode candidate, applicants can deposit 50,000 TOMO and earn staking rewards. Candidates are free to resign when they please. However, all staked coins are locked for 30 days when a resignation is submitted.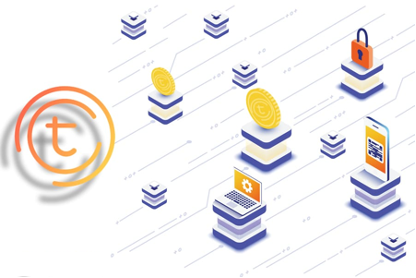 Candidates are eligible to become TomoChain Masternodes when they rank among the top 150 candidates voted for each epoch. TomoChain Masternodes can also resign and the 30-day lock-up period still applies. Furthermore, the rewards received by Masternodes are proportional to the amount of signatures they sign.
Security
TomoChain offers developers and businesses the opportunity to securely encrypt transactions for private or sensitive data. This is achieved through TomoChain Privacy, offering anonymous transactions through double validation security enhancements, randomization, and obfuscating transactional data including wallet addresses and transaction values.
TomoChain Protocols
The TomoChain Protocols layer is host to various decentralized applications (dApps) that run on the TomoChain blockchain. These dApps are designed to be extremely user-friendly, with a focus on user security and privacy. These include: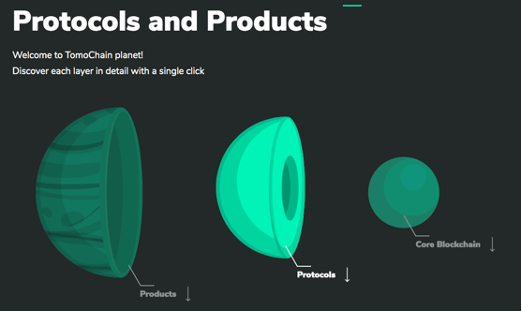 TomoX
TomoX is an application that facilitates the building of decentralized exchanges (DEXs) in a smart way. Developers with limited technical knowledge can harness the power of TomoX to quickly build and deploy DEXs with minimal costs. Furthermore, DEXs built using TomoX are completely decentralized.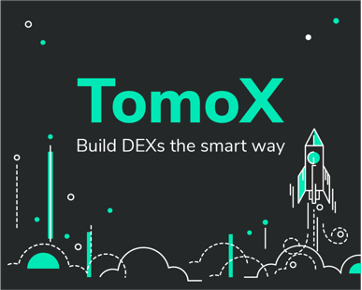 To discover how to design and deploy your own decentralized exchange on the Ethereum blockchain, see the Ethereum Smart Contract Programming 201 course at Ivan on Tech Academy. This course provides a video-guided expert-led tutorial on token standards, storage design patterns, security considerations, and much more.
TomoZ
TomoZ is a protocol whereby tokens can be issued and fees are paid for using said token. Using TomoZ, tokens can be issued quickly and easily, without friction. The TomoZ protocol utilizes the TomoChain TRC-21 token standard for token issuance. This allows users to pay transaction fees without requiring cross-chain transfers, creating a seamless user experience.
TomoP
The TomoP privacy protocol enables ultra-fast, private transactions, and cross-chain support for a range of decentralized applications (dApps). Also, TomoP supports private token issuance with a focus on regulatory compliance.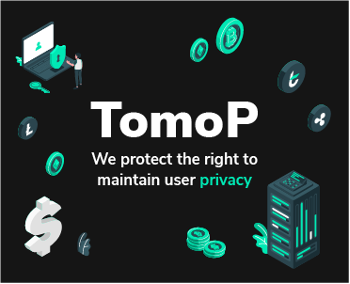 Built on TomoChain to facilitate safe, untraceable transactions, users of TomoP can rest assured that the wallet addresses used for sending and receiving transactions are anonymous and that the value of transactions is private.
TomoChain Products
TomoChain is also host to a varied range of blockchain products. Each of the products below is an essential element of the TomoChain ecosystem, creating an all-in-one platform for a range of different use cases.

TomoWallet
TomoWallet is the native wallet used across the TomoChain ecosystem. Secure, and easy to navigate, TomoWallet can be used for storing the TomoChain coin (TOMO), and any TomoChain-issued tokens.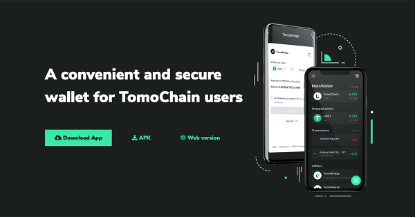 Also, TomoWallet is used to track user rewards, voting for TomoChain Masternodes, and interacting with decentralized applications (dApps) and crypto gaming platforms built on the blockchain.
TomoMaster
TomoMaster is an application used for staking, tracking rewards, and voting on which Masternodes will be eligible to secure the TomoChain blockchain. Furthermore, TomoMaster provides statistics relating to the performance of 150 Masternodes.
TomoScan
TomoScan is the native TomoChain block explorer. Similar to Etherscan, but with additional enhancements, TomoScan provides transparent on-chain analytics displaying technical visualizations of network activity.
TomoBridge
TomoBridge is a token swap and bridge application that allows TomoChain to interact with other blockchains. With TomoBridge, users can swap tokens from one blockchain to another using a simple graphical user interface (GUI).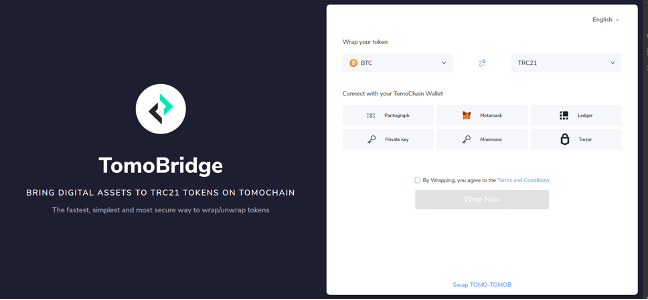 TomoRelayer
TomoRelayer is the dashboard used to register, launch, and maintain a decentralized exchange (DEX) built using the TomoX Protocol.
LuaSwap
LuaSwap is a cross-chain liquidity protocol that enables users to make swaps between the TOMO, ETH, and various ERC-20 and TRC-21 tokens. Furthermore, LuaSwap enables users to earn a passive income with crypto. This is achieved by providing liquidity, and staking the native LUA token.
TomoIssuer
TomoIssuer is an application that uses TomoZ protocol for issuing TRC-21 tokens. It provides a user-friendly dashboard and back-end functionality to issue TRC-21 tokens quickly and efficiently.
TomoStats
TomoStats is the TomoChain dashboard for network status. This is where you'll find important metrics such as the current number of TomoChain Masternodes and how they are performing. Other metrics include block time, confirmation time, transactions per second (TPS), and transaction finality.
TomoStatus
TomoStatus is the TomoChain system monitoring dashboard. It provides both historical and real-time data along with key insights about the system performance of the TomoChain product range.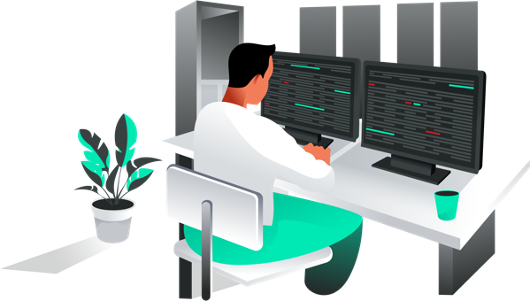 Masternode Council
As stated in the TomoChain whitepaper, the team has proposed creating a community-run Masternode Council. The proposal includes coordinating a non-profit body, receiving a fixed amount of income from the TomoChain network. This income would be solely in the interest of the development of the TomoChain ecosystem.
Moreover, the TomoChain Masternode Council would be able to assist with governance and update proposals from all TomoChain Masternode candidates. The Masternode Council would govern collective votes and discussions from the network. In turn, this would help TomoChain become a self-sustainable fully decentralized operation. Although there have been several statements in 2020 about the upcoming Masternode Council, there has yet to be an update or confirmation of the formation in 2021. However, the TomoChain roadmap may soon shed some light on the subject.
TomoChain Roadmap
The TomoChain roadmap offers detailed product development insights for users and potential investors in the project. The TomoChain roadmap website displays regular updates with projects completed, in progress, plus a feed of the latest commitments. Moreover, users are able to clearly view the stage of completion of the updates in progress.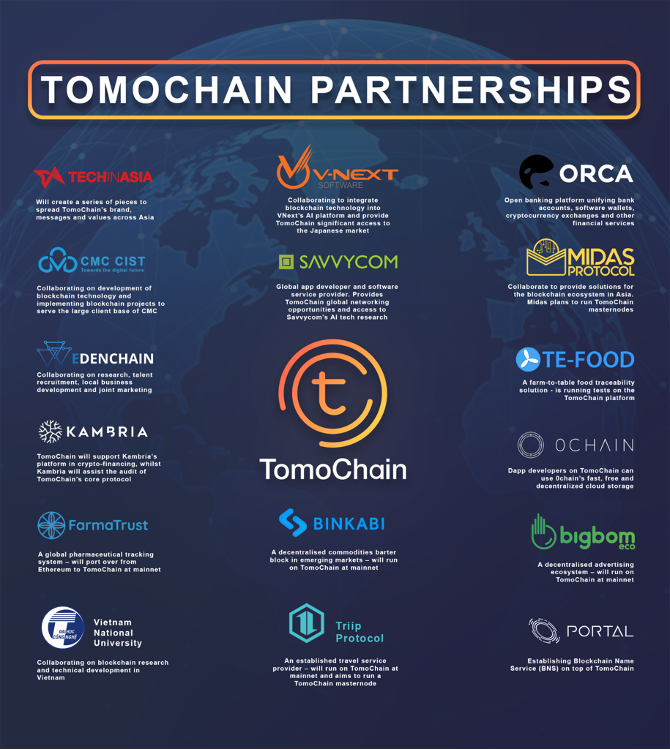 In Q2 2021, according to the TomoChain roadmap, we can expect to see upgrades to the TomoX SDK, with added new functions and facilities. Additionally, TomoChain v2.2.0 is scheduled for May 2021 before the further release of TomoChain v2.4.0 scheduled in late June. These technical updates under the hood of the project will improve the user experience on the front end. Moreover, these key milestones form part of the expansive TomoChain roadmap.
TomoChain Summary
TomoChain is one of the few chosen blockchains to already be adopted by enterprises. The blockchain offers near-instant transaction finality with minimal fees. Moreover, the breadth of decentralized applications (dApps) available alongside the easy-to-navigate development tools, gives TomoChain high utility and functionality.
Also, TomoChain can facilitate both public and private transactions, using an encrypted algorithm to ensure privacy around transactional data. This makes TomoChain a great choice for businesses wanting to keep sensitive data private and secure, with TOMO coin ensuring a fully decentralized network.
If you would like further information about how blockchain technology can be incorporated into a variety of industries, see our Blockchain Business Masterclass course. This course is ideal for anyone wanting to be a part of blockchain in business, either as an employee, employer, or contractor. Ivan on Tech Academy provides all the information needed to get started, including the FinTech 101 course teaching students about the regulatory impacts of the integrations of finance and technology. Discover how to get a job in blockchain today, only at Ivan on Tech Academy! Also, don't forget to follow us on Twitter @Academy_IOT and let us know your thoughts about TomoChain!