Non-fungible tokens (NFTs) and blockchain gaming have quickly become popular trends in the crypto industry. Introducing crypto through an innovative, fun, and engaging platform, The Sandbox is bringing blockchain to the masses. It's an exciting time of growth and innovation in the industry, with the SAND token reaching new all-time-highs and The Sandbox games becoming more popular than ever!
In this article, we'll explore The Sandbox ecosystem and the variety of components that make it so popular. Moreover, we'll explore the possibilities within a new metaverse, the utilities of the SAND token, and the variety of in-game assets available.
To learn more about non-fungible tokens (NFTs) and decentralized finance (DeFi) on a fundamental level, be sure to check out the DeFi 101 course at Ivan on Tech Academy. If you'd like to take it one step further and learn how to program your own NFTs, see the Ethereum Game Programming course. Ivan on Tech Academy provides all the educational tools and materials to be successful in crypto, in one easy, convenient place.
What is The Sandbox
In short, The Sandbox is a gaming platform that allows users to create their own worlds. The Sandbox has been available on mobile iOS and Android since 2012, and was also included in Apple's "App Store Best of 2012" in the "Hidden Gem" segment. In 2018, the game was acquired by Animoca Brands. Animoca Brands developed The Sandbox platform with Voxel-style graphics similar to other popular games such as Roblox or Minecraft. However, the blockchain-based protocol allows users to build their own virtual worlds and economies, taking The Sandbox to a whole new level.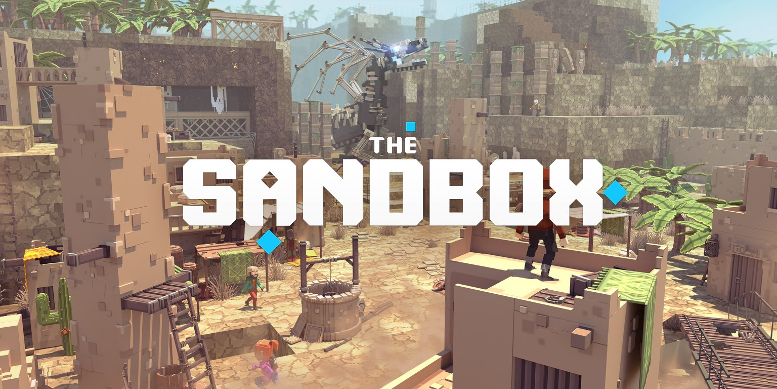 Players of The Sandbox have full freedom to now monetize their digital world through the use of non-fungible tokens (NFTs) and blockchain technology. This is made possible through the Ethereum blockchain, an immutable public ledger showing accurate records of all transactions. The Sandbox platform has been deployed on Ethereum to allow it to have the security and strength of the second-largest blockchain. The Sandbox is creating the opportunity for players to build games collectively and independently, across the globe without central control. This could be a potential new way to earn a passive income with decentralized finance (DeFi).
The Sandbox Decentralized Autonomous Organization (DAO)
The sentiment behind blockchain technology is decentralization, and the removal of any central power, control, or manipulation of transaction records. Naturally, in the early stages of the development of a blockchain project, elements of centralization are needed. This could be to create the protocols and manage any marketing and investment campaigns. Also, a projects' brand ideally needs to reach a point where the community is strong enough to market itself.
Furthermore, achieving a fully sustainable decentralized project requires a fair amount of infrastructure in place to achieve maximum user engagement and activity. Also, a decentralized autonomous organization (DAO) is often required as governance for decentralized projects. If you're unsure about how DAOs operate, save our What is a Decentralized Autonomous Organization article for later! In short, DAOs allow holders of projects' native tokens to use their stake to vote on updates or suggest proposals to change protocols.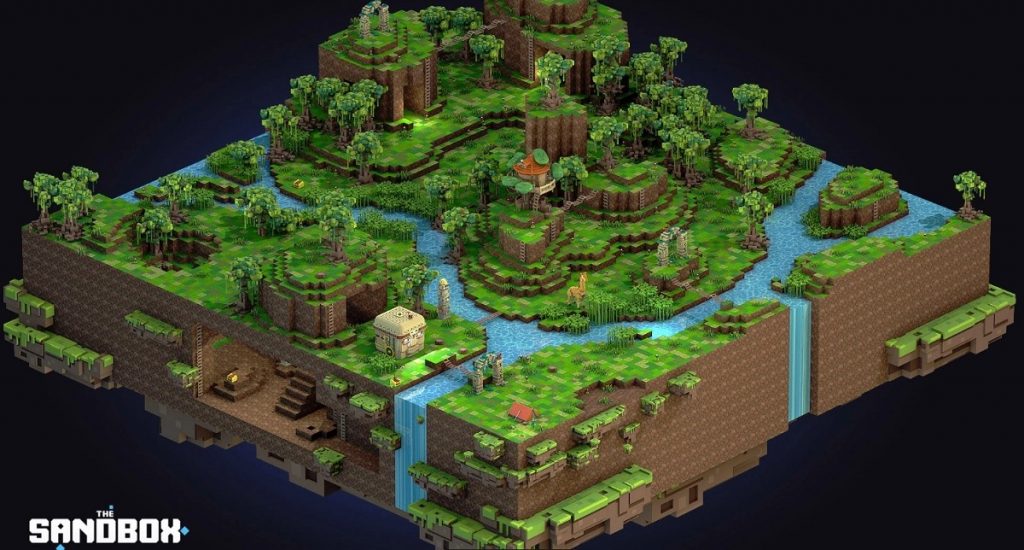 In 2023, The Sandbox will become 100% decentralized and player-owned. The Sandbox protocol will be managed through the introduction of The Sandbox DAO. This will allow SAND token holders to vote on any major updates to the game platform.
To learn about the fundamentals of blockchain technology, see Ivan on Tech Academy's Blockchain & Bitcoin 101 course. This course explains the basics in a simple, easy-to-understand, and interactive way. Moreover, this is a great place to start before completing the Ethereum 101 course, to gain an understanding of the foundation of decentralized finance.
The Sandbox Ecosystem
There are three key parts to The Sandbox ecosystem, from creation to commerce: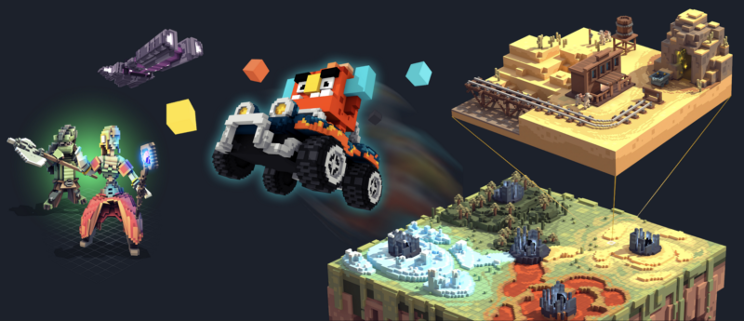 Firstly, the official release of VoxEdit 1.0 went live in Q4 of 2020. VoxEdit is a novel 3D voxel modeling software package, allowing anyone to create their own voxel assets. Then, users can also animate them. This could be absolutely anything from designing people, in-game tools, monsters, or architectural structures. Moreover, VoxEdit is the only current software supporting exports from VoxEdit to The Sandbox Marketplace, allowing users to sell their creations!
The Sandbox Marketplace is the next key element of The Sandbox ecosystem. Here, users can buy, sell, and trade their Voxedit creations. Located under the 'Shop' tab, The Sandbox Marketplace is a decentralized marketplace that supports both ERC-721 and ERC-1155 token standards. There are thousands of different assets available. Also, these can be filtered by rarity, categories, and themes. The Sandbox Marketplace is available for players to sell either unwanted or created assets for profit (ideally). Alternatively, the marketplace is available for those who would like to browse and add assets to their LAND in Game mode.
Game mode is the third and most active element of The Sandbox ecosystem. This is The Sandbox metaverse, where players can design, purchase, and now own digital assets on their owned virtual land. Moreover, in Game mode, players can explore other players' land and experience and interact with other users in The Sandbox metaverse.
LAND
Users can buy pieces of LAND to create experiences and decorate them with digital in-game assets. Using the Game Maker (explained further on), players can create their own games and experiences, which they can then import to their LAND in The Sandbox. Moreover, holding LAND gives users a voice in governance, allowing users to vote on any updates to the game. There are three types of LAND in The Sandbox: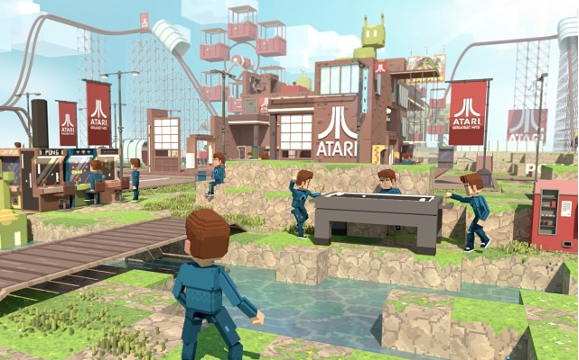 This is a basic 96m x 96m virtual landscape, with the facilities to create any experience one could imagine.
ESTATES are a combination of multiple LANDS, owned by an individual or a collective of players.
The next level up is DISTRICTS which are simply a collection of ESTATES owned by multiple players. This creates an opportunity for players around the world to work together on a shared goal. For ESTATES to become a DISTRICT, LANDS must be adjacent with at least two landowners staking some SAND tokens. Additionally, approval of a DISTRICT must be confirmed through a majority vote of participants.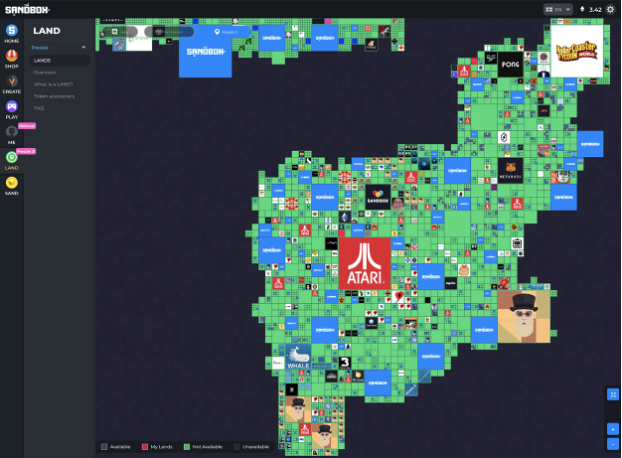 The next stage after purchasing LAND is populating it with assets, games, and experiences. The Sandbox is offering players unique opportunities to monetize their LAND through different revenue streams:
Stay ahead of the markets with real-time, on-chain data insights. Inform your trades with true market alpha!
Users can charge an entrance fee to visit their LAND experience using SAND tokens.
Alternatively, users can use LAND as a marketplace selling virtual in-game assets.
Users could purchase LAND, create a utility for it, then sell it for a profit.
Users could own their LAND, then rent it out to other users to make or create experiences.
Further to renting out LAND, users can rent out in-game assets created too.
LAND has a base sale price of $48 per plot until all 166,464 plots of LAND are sold. However, approximately only 124,000 are available for public sale. This is because 25,920 LANDS (around 15%) are allocated to form the Reserve. The Reserve funds are distributed to partners, creators, and as rewards for active gamers using The Sandbox. Approximately 10% of LANDS will remain owned by the team, for events and promotions held by The Sandbox. Similar to the traditional real estate sector, when buying in bulk, larger ESTATES can receive up to a 15% discount.
In-Game Items
In-game items provide the opportunity to design, decorate, and build anything the imagination beholds. Users can bring their LAND to life with assets that provide digital verification of finite supply. Also, assets are immutably recorded on the Ethereum blockchain, with all previous owners and prices paid publicly available.
With The Sandbox, the assets you create or purchase become your property, with true cryptographic ownership. This is down to the decentralization of the project, and the ability for users to be in the custody of their private keys using a web3 wallet such as MetaMask when interacting with the platform.
It's worth noting that any in-game items placed within a LAND plot, will also be sold with the LAND when a purchase is made.
SAND Token
The native SAND token is an ERC-20 token, built upon the Ethereum blockchain. Introduced through Binance Launchpad, SAND is a multi-utility token used throughout The Sandbox ecosystem. The SAND token holds three main use cases: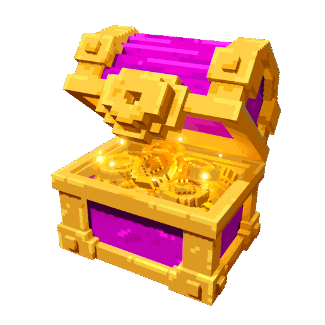 Firstly, SAND is used as a crypto medium of exchange for in-game transactions. Plus, in the future, SAND tokens will also be used when purchasing LAND and building in-game assets. Also, SAND tokens can be used in governance allowing token holders to vote on updates. Furthermore, users can even delegate their SAND tokens to another player, to vote on their behalf!
SAND has been introduced into circulation through three phases of a liquidity mining program. The first phase went live in September 2020, rewarding users who provided a SAND/ETH pair on Uniswap with SAND tokens. During the second phase, The Sandbox introduced a yield multiplier, based on the amount of LAND ownership a user has. These rewards rolled over into phase three (current phase), with an additional 1.5 million SAND tokens added to the rewards pool for the month of February.
SAND Tokenomics
The Sandbox has created an interesting tokenomic structure for the SAND token. 5% of all SAND token transaction volume is charged as a transaction fee. The revenue made from fees is then split 50/50. Half of the profits go to The Sandbox Foundation, a community focused on growing The Sandbox space by offering grants to promising upcoming projects. A lot of games currently in The Sandbox have been supported by The Sandbox Foundation. The other half of the revenue from fees is put into funds for staking rewards. This creates continuous cyclical utility for the SAND token as the platform grows. There is a max supply of 300 billion tokens, being introduced into circulation in stages. The next token unlock is expected to be in July 2021. The demand for SAND will continue to increase as the number of SAND tokens being used within the gaming ecosystem by developers and gamers grows.
Why use The Sandbox?
The Sandbox is a digital metaverse with infinite opportunity. From a development point of view, creations can be as simplistic or complex as one desires, with no need for any blockchain programming skills. The Sandbox offers users opportunities to create in-game assets with VoxEdit, and design virtual worlds, games, and economies through the Game Maker. These can then be monetized!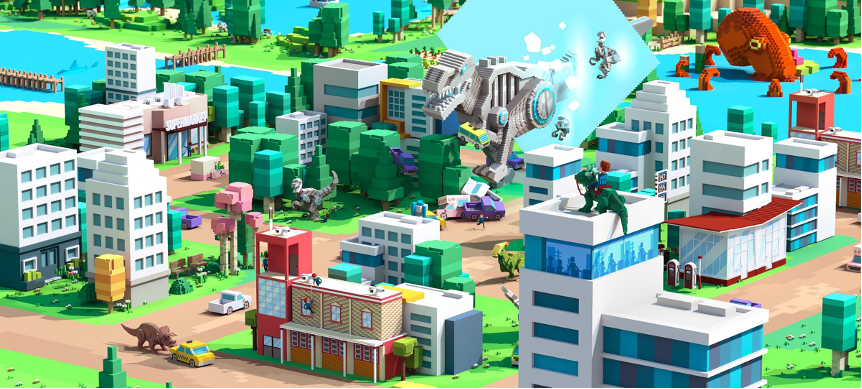 Thanks to blockchain technology and some creative computer science, The Sandbox means user-generated content is actually owned by the user, not by any centralized gaming company. With The Sandbox, there is no central control over the trading of virtual goods, unlike competing games Minecraft and Roblox. The Sandbox allows players to set their own price of virtual goods, without a middle-man taking a hefty cut from players' profits. Players will pay a price for in-game items that they believe to be of fair value, as The Sandbox creates a virtual, free-market, open-source economy.
Voxel art graphics, due to the nature of their design, can be easily copied and adjusted, making it difficult to tell the origin of true ownership. Introducing blockchain technology changes this. All transactions are registered on the Ethereum blockchain, and publicly available to view.
The Sandbox & SAND Token Summary
The Sandbox has flipped the 'Free-to-Play' model on its head to attempt a new and improved 'Play-to-Earn' model. The platform offers players the chance to earn money whilst playing and interacting with The Sandbox metaverse. Moreover, if players created a particular game or experience without the need for constant maintenance on the platform, this could even allow players to earn a passive income with crypto.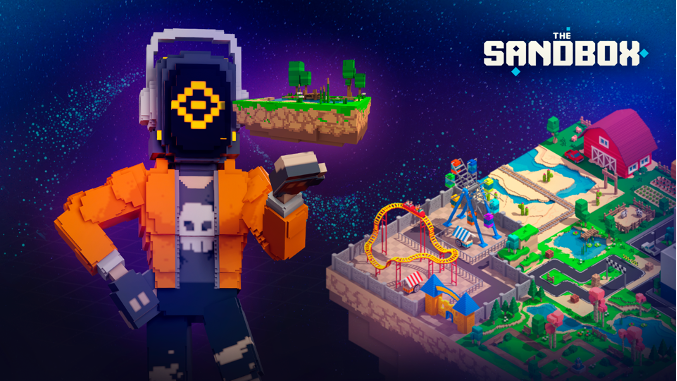 It is worth noting, however, that LAND is not as liquid as SAND tokens. Furthermore, when LAND is traded, all in-game assets on that LAND are also sold. Whilst there is a demand for purchasing LAND, it would not be as simple as selling your SAND tokens on an exchange such as Coinbase or Binance.
If 1% of users from Minecraft and Roblox tried The Sandbox, that would already be two million players entering The Sandbox metaverse. The popularity of the platform and token value has increased substantially over recent months, with many more announcements and developments in the pipeline.
If you'd like to get on board in the blockchain industry and discover the deeper depths of DeFi, see Ivan on Tech Academy's DeFi 201 course. Here, you can learn valuable information that can put you at an advantage in this emerging industry. Also, make sure to check out the Fintech 101 course to gain a wealth of knowledge and get an edge during job interviews. Ivan on Tech Academy provides all tools necessary to get into a career in the cryptocurrency and blockchain industry. Find your perfect crypto career today!