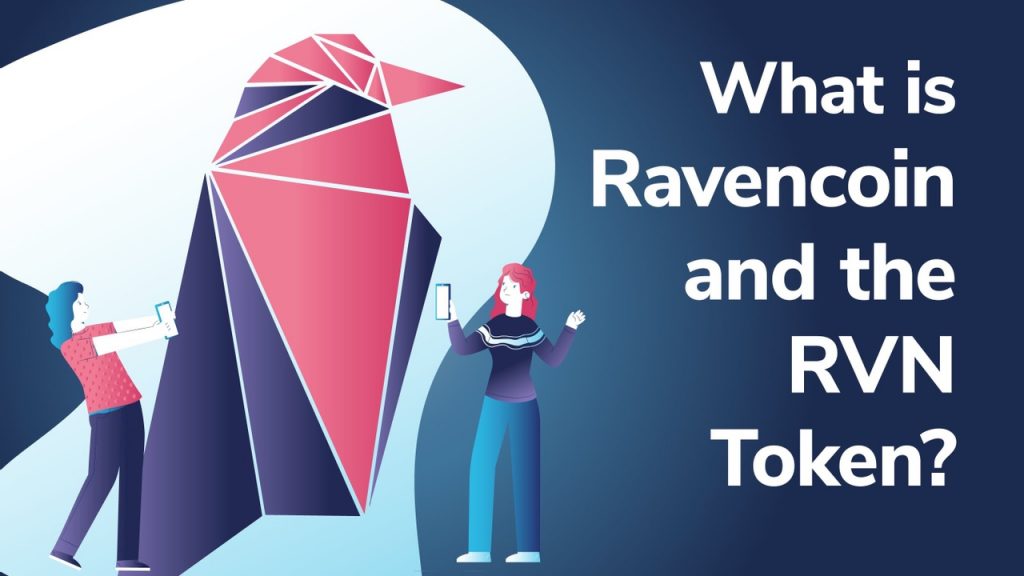 Taking the best bits from the biggest blockchain in the industry, the Ravencoin fork also includes some upgrades to the challenges that have faced Bitcoin since its launch. The project has many similarities with the big orange coin, including having a Ravencoin halving event. But there are some key differences. Ravencoin is a decentralized peer-to-peer network that aims to make transacting any kind of asset – physical or virtual – across geographic borders seamless. Ravencoin has a truly decentralized ethos, featuring an ASIC-resistant mining algorithm to ensure token distribution is fair when users mine Ravencoin (RVN). Further, there was no pre-mine, pre-sale, or RVN token distribution to founders or the team at the time of launch. Moreover, transacting and storing the native RVN coin could not be easier thanks to the availability of the Ravencoin Wallet.
In this article, we are going to dive deep into the Ravencoin fundamentals and explore the differences and similarities between this project and Bitcoin. Also, we'll discover the tokenomics and use cases of the RVN coin. Lastly, we'll be looking at the Ravencoin halving event, Ravencoin mining pools, and the Ravencoin Wallet.
Ravencoin is a project designed on the unspent transaction output (UTXO) model of Bitcoin and therefore the projects share some fundamental similarities. To discover how blockchain technology operates on a foundational level, be sure to check out our Blockchain & Bitcoin 101 course at Ivan on Tech Academy! We cover everything from nodes, hashing functions, UTXOs, plus much more! Also, our Bitcoin Money Revolution course is ideal to gain an understanding of the history of money, traditional financial infrastructures, and how blockchain technology can revolutionize the industry. Check out our interactive and welcoming community, at Ivan on Tech Academy!
What is Ravencoin?
Ravencoin is a peer-to-peer decentralized network built using blockchain technology. Launched on the ninth anniversary of Bitcoin's launch, Ravencoin released its open-source payments network on January 3rd, 2018. The project was primarily designed with the aim of facilitating frictionless borderless digital asset transactions from one individual to another.
The project's code is a fork of the largest blockchain in the industry, Bitcoin. However, Ravencoin has implemented four key differences which we will cover in detail further in this article. These are block time, issuance schedule, coin supply, and the mining algorithm.
All RVN coins have been fairly distributed, with no pre-mine, initial coin offering (ICO), pre-sale, or tokens reserved for the team and founders. Ravencoin ensured everyone had an equally fair chance of purchasing or mining Ravencoin from day one.
Ravencoin RVN Coin
Ravencoin's native currency is the RVN coin, also sometimes referred to as the RVN token. The RVN coin is introduced into circulation through mining rewards and is used to incentivize honest behavior on the blockchain. On a base level, RVN coin is technically very similar to Bitcoin (BTC) using the UTXO (unspent transaction output) model. However, the two coins differ in terms of maximum supply, distribution, and inflation, all of which we have discussed in this article.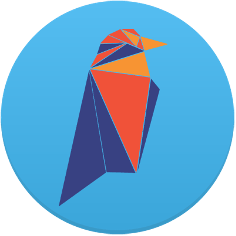 At the time of writing, Ravencoin has a market cap of $1.4 billion according to CoinGecko. RVN coin stands at $0.17 following its all-time-high of $0.25 in February 2021. The current circulating supply is approximately 8.7 billion.
You can find the Ravencoin RVN coin on many different exchanges, including the number one crypto exchange by trading volume, Binance. If you have yet to invest in cryptocurrency and would like a video guide from a leading industry expert, see our Crypto Basics course! Ivan on Tech Academy provides all of the knowledge and tools available to safely start investing in crypto. Learn how to create an exchange account, trade, and store your investments safely. After, see our DeFi 101 course to discover how to use the most-favored Web3 wallet, MetaMask with popular decentralized finance protocols! Get started in crypto today, at Ivan on Tech Academy!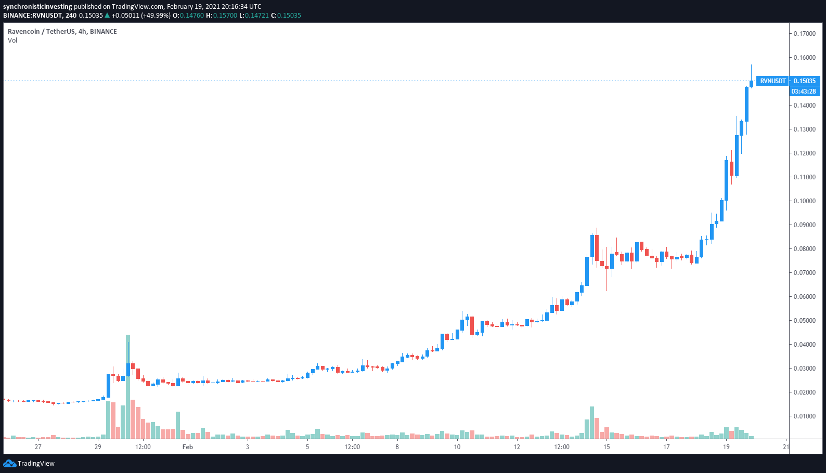 What Makes Ravencoin Different?
Ravencoin and Bitcoin are very similar – which serves as the basis for Ravencoin. However, the code features several areas of improvement that currently challenge Bitcoin. Below we have outlined the four main areas on which the Ravencoin fork has adapted and improved on.
Issuance Schedule
Issuance of new Ravencoin RVN coin is 100 times more frequent than the genesis Bitcoin block. At the time of launch, Bitcoin mined 50 BTC per block. Coins are introduced into circulation as mining rewards. However, every four years or so (210,000 blocks) the rewards for miners are reduced by 50%, known as the Bitcoin halving event. At the time of writing, miners now receive 6.25 BTC per block mined.
Ravencoin miners receive a block reward of 5,000 RVN. Similar to Bitcoin, there is a Ravencoin halving event that too reduces the block rewards for miners. We have discussed this in-depth later in the article.
Block Time
Bitcoin has a block time of 10 minutes, equating to approximately five transactions per second (TPS). This means every 10 minutes, a new block is mined on the Bitcoin blockchain. Ravencoin, however, has increased this tenfold. Miners on the Ravencoin blockchain produce blocks every one minute instead. This has drastically helped the transaction throughput to around 116 TPS.
Ravencoin Coin Supply
Similar to Bitcoin, there is a capped supply of RVN coins that can ever be mined. Bitcoin has a maximum supply of 21 million coins, as per the Bitcoin whitepaper. However, this has the potential to increase, should 51% or more of the network vote to increase the maximum supply.
On the other hand, Ravencoin has set a maximum supply of 21 billion RVN coins, 1,000 times more than Bitcoin. Moreover, as there are 10 times as many Ravencoin block rewards issued than Bitcoin, to begin with, it will take longer to reach the point where miners no longer receive block rewards, and solely transaction fees. Also, this increased max supply of RVN tokens incentivizes mining activity on the network for a longer period than Bitcoin.
The maximum supply of RVN coin was to keep in line with the ethos of Bitcoin, but also to create the feeling of additional inclusion. The idea in the Ravencoin whitepaper suggests a time when there is more than enough RVN for each person of the entire global population to hold one RVN coin. Moreover, to achieve a future scenario of each person in the world holding an RVN coin, Ravencoin has created a mining algorithm to encourage the fair distribution of tokens.
X16R & KOWPOW Hashing Algorithm
As stated in the Ravencoin whitepaper, the team wanted to use a mining algorithm specifically to "prevent immediate dominance by mining pools, and future dominance by ASIC mining equipment". Bitcoin has come under some scrutiny for potential centralization of mining, leaving some with questions around 51% attacks. Large mining corporations with plenty of capital to invest in expensive mining hardware with access to low energy rates have profitable advantages over an individual crypto-enthusiast looking to start mining.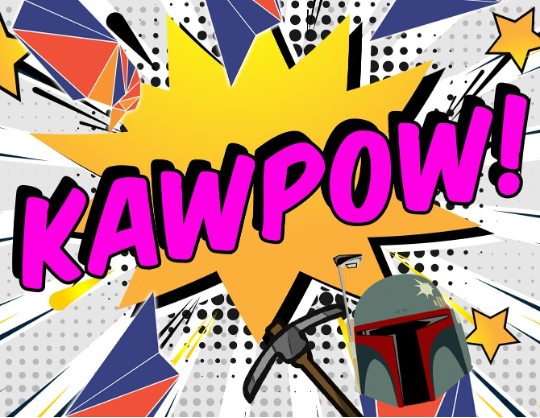 Ravencoin has solved this by using adaptations of Bitcoin's SHA-256 hashing algorithm. The project's original hashing algorithm, named X16R, was a co-construction of X15 and SHA-512 algorithms. However, Application-Specific Integrated Circuit (ASIC) mining shortly after became economically viable, so the community voted to introduce a new mining algorithm, KAWPOW, to remove the capabilities of unfair RVN token distribution.
KAWPOW is an entirely new mining algorithm derived from ethhash and ProgPOW. With adjustments to this combination, Ravencoin has produced an ASIC-resistant algorithm that is designed to discourage the production of ASIC mining hardware. Also, this improves the equality of token distribution for mining.
Asset Issuance and Transfer
Using the baseline code of the number one blockchain, Ravencoin aims to facilitate a peer-to-peer electronic network capable of transferring any digital asset. Assets on Ravencoin can be representative of almost anything, and be issued by users on the blockchain without the need to be mined.
In the project's whitepaper, there is mention of future use cases for asset tokens including real-world physical assets such as precious metals, energy credits for wood, gas, or oil, and even land deeds! Moreover, tokens could be used to represent the share of a project or virtual goods. This also includes representing credit such as air miles or a gift voucher. Asset token functionality has yet to be implemented on the blockchain. However, we can expect to see this in the second phase of the rollout according to the project's roadmap.
Ravencoin hopes to facilitate a network as robust and reliable as Bitcoin but with the ability to transfer almost any asset peer-to-peer. Further, this is to be achieved with lower fees and faster transactions than its giant competitor!
Ravencoin Halving
As mentioned previously, Ravencoin has a halving event similar to that of Bitcoin. This reduces the amount of RVN coin introduced into circulation through a reduction in mining rewards.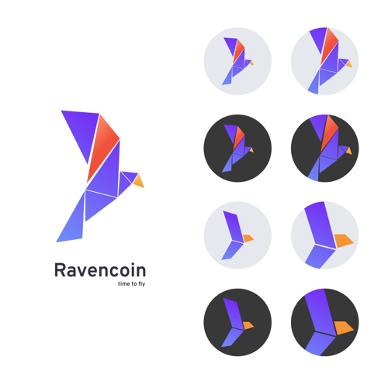 This also happens within a similar time frame to Bitcoin's halving event. Although Ravencoin produces blocks every one minute as opposed to Bitcoin's ten, the Ravencoin halving happens every 2,100,000 blocks. This is 10 times longer than Bitcoin's halving occurring every 210,000 blocks. However, in calendar terms, it equates to approximately every 1,458.3 days or 3.9 years (including a leap year), similar to that of the number one crypto.
As the project only launched in 2018, the first Ravencoin halving has yet to occur. Rewards from mining stand at 5,000 RVN per block, expected to reduce by 50% to 2,500 by mid-2022.
Ravencoin Mining Pools
Ravencoin's new mining algorithm KAWPOW is designed to be efficient on consumer-grade Graphics Processing Unit (GPU) hardware. Also, it is created to be Application Specific Integrated Circuit (ASIC)-resistant to prevent any large data farms from profiting unfavorably. If you would like to start mining Ravencoin, the process could not be easier.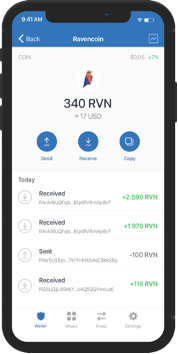 You will first need to create a Ravencoin wallet to begin mining. Then, generate a wallet address to receive your RVN tokens. After, select a mining pool to join from over 10 different choices! Although they are not traditional mining pools, they allow anyone to effortlessly participate in mining and earn rewards in return. Alternatively, users can mine Ravencoin using GamerHash.
Ravencoin Wallet
Hard wallet, soft wallet, paper wallet, you name it! From a customized paper Ravencoin wallet to integrations with popular third-party app wallets such as TrustWallet, you can rest assured your tokens are stored safely in a Ravencoin wallet.
The project has ensured there are plenty of places to keep your RVN coin safe. Users can store their RVN coin on the mobile Ravencoin Wallet, whether using an iOS or Android phone. Also, the desktop Ravencoin Wallet is available on Mac, Windows, and Linux computers!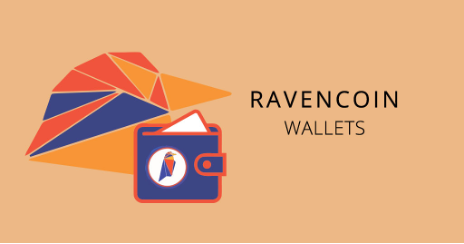 Alternatively, users could opt to store their RVN coins in one of the (as of May 8th, 2021) twelve supported third-party wallets. If that's not enough options, users can opt to have a paper Raven wallet available through the platform's website. By following the link, a unique hash key will be generated which will then be your Raven wallet address. Then, simply press print! After this, you will be able to share your public key with others, but make sure to keep your private key safe!
Ravencoin and RVN Token Summary
Ravencoin has a fundamental structure similar to that of the number one cryptocurrency. However, it boasts some advantageous updates to the code. By introducing a shorter block time, Ravencoin can offer faster transactions with cheaper fees. Also, the Bitcoin fork project will facilitate the peer-to-peer transfer of digital assets, representing almost any type of asset imaginable!
Although the project is still far away from completion, the project has seen huge success and adoption through the Ravencoin Wallet and the ease of mining Ravencoin RVN tokens. Moreover, there are plenty more exciting updates to expect from the project! These include rewards, messaging facilities, and voting. This will further improve the already-great user experience (UX) on Ravencoin.
Blockchain is a fast-evolving industry, with a high demand for professionals with this technical knowledge across an array of industries. Not just in the finance, insurance, and supply chain industries, but in the art, music, fashion, and sports industries too! Ivan on Tech Academy has all the tools and resources needed to gain the number one in-demand skill according to LinkedIn. Be sure to see our Blockchain Business Masterclass to see how blockchain can easily be integrated with current centralized IT systems. Also, our FinTech 101 course breaks down the regulations around the merging of finance and technology, in a simple and easy-to-understand video guide. Ivan on Tech Academy has helped countless students get a career in blockchain! Start your life-changing career today, at Ivan on Tech Academy! Also, if you haven't already, be sure to follow us on Twitter @Academy_IOT – we'd love to hear your thoughts on this article!