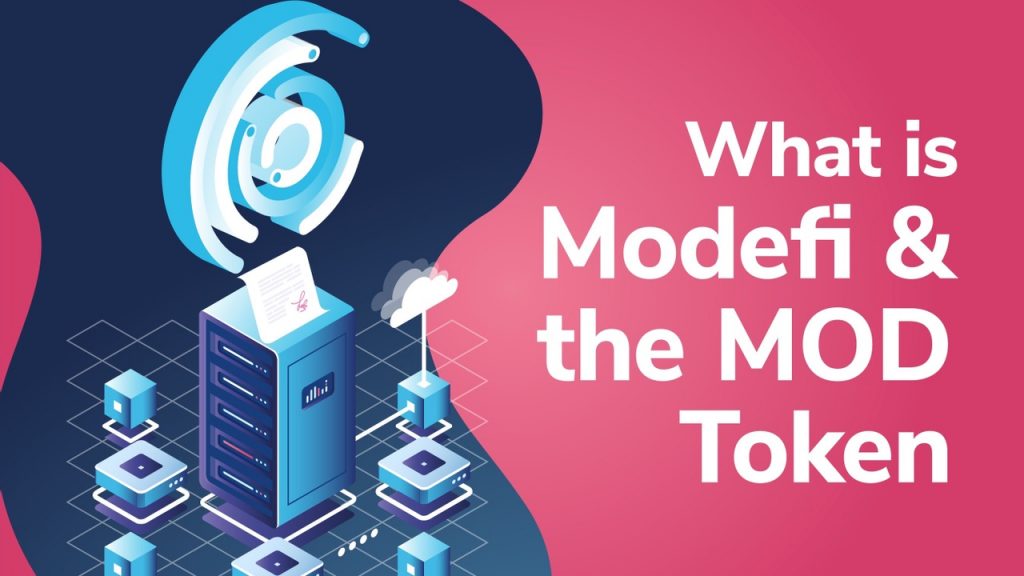 Modefi is a decentralized oracle aggregator that provides a range of trustless, interoperable oracle solutions. Furthermore, with the use of the Modefi token, or MOD token, Modefi is creating an all-in-one platform for DeFi users and those in need of customizable oracle services. Thanks to the Modefi Oracle Marketplace, users can create bespoke oracle services to suit their needs. Also, the oracle aggregator allows users to choose the best deal to suit their budget and goals. Moreover, after the introduction of Modefi staking, big things lie ahead for the project. But, what is Modefi? And, what is an oracle aggregator?
In this article, we're going to explore the Modefi oracle aggregator and the various oracle solutions it provides. Also, we'll discuss the MOD token, and the various uses it has within the Modefi ecosystem.
If you're new to crypto and want to learn more about oracles, smart contracts, decentralized finance (DeFi), and more, check out the huge range of courses available at Ivan on Tech Academy. Ivan on Tech Academy is the number one blockchain education suite with courses covering every area of the blockchain industry.
To learn how to safely buy, sell, and store crypto, see our Crypto Basics course. Following this, check out our DeFi 101 course to understand how to install and navigate Web3 wallets such as MetaMask. From here, be sure to check out our Blockchain & Bitcoin 101 and Ethereum 101 courses. These courses teach you how the two biggest blockchains operate on a fundamental level, and how they differ.
What is Modefi?
Modefi is a decentralized oracle aggregator and on-demand oracle data provider. Powered by the native Modefi token (MOD), the platform offers a secure, decentralized marketplace, and an innovative, modifiable, modular dashboard. Moreover, Modefi offers bespoke oracle solutions that are scalable, easy to use, and cost-efficient.

Smart Contracts
Smart contracts are pieces of code that exist on the blockchain that represent immutable, transparent agreements. This means that once a smart contract has been deployed and executed, it cannot be changed or altered.
The use of smart contracts has become an essential part of decentralized finance (DeFi). Moreover, without smart contracts, the vast majority of DeFi protocols would not exist. Smart contracts have become an integral part of the blockchain industry. Programmable money has changed the way we transact forever! If you want to explore smart contracts on a technical level, save or Smart Contracts deep dive article for later!
Chainlink has taken smart contracts to the next level by providing the go-to choice for industry-standard oracle services. If you're familiar with the Solidity smart contract programming language and want to learn how oracles work on a technical level, be sure to check out the Chainlink 101 course at Ivan on Tech Academy. This course is designed to teach you how to work with decentralized data, API calls, and much more!
What is an Oracle?
The use cases for smart contracts are increasing in line with blockchain adoption across multiple sectors. This includes art, real estate, insurance, supply chain management, and the energy industry. However, for complex smart contracts to function, they need real-world data, often from multiple sources.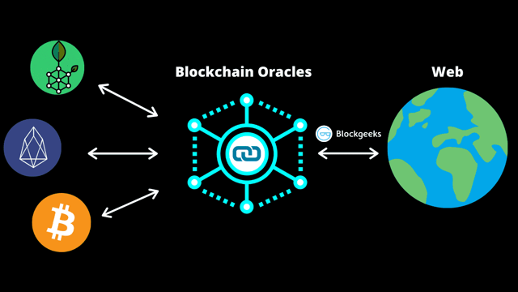 Blockchains mostly store transactional data regarding unsigned transaction outputs (UTXOs) and values. This is because storing any more than what is absolutely essential presents the risk of network congestion. However, if a smart contract requires data from a price feed, a weather forecast, or the result of a sports game, this data needs to be brought onto the blockchain from an external party.
This is where oracles come in. Oracles allow real-world data to be brought onto the blockchain, and are an essential component of decentralized applications (dApps) such as Aave, Compound, and crypto derivatives platforms such as Synthetix.
Rather than relying on centralized, siloed databases, oracles operate in a trustless, decentralized way. Centralized databases are prone to attacks and can be easily altered to provide falsified information. However, oracles rely on a network of decentralized nodes to verify the integrity of data brought onto a smart contract-enabled blockchain. Want to learn about the different types of oracles and how they function on a technical level? Be sure to save our Oracle Deep Dive article for later!
Decentralized Oracle Solutions
Modefi offers two different types of oracle solutions. These are decentralized aggregated oracles and on-demand oracles. These fully transparent oracle solutions cater to a wide range of users and applications.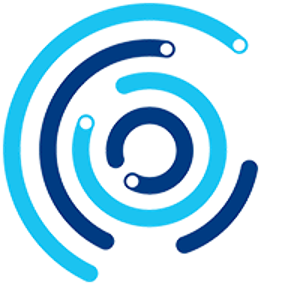 Decentralized Aggregated Oracles (DAOS)
Currently in Beta release, Modefi uses decentralized aggregated oracles (DAOS) to provide the first-ever completely decentralized and trustless oracle aggregation. Bad actors are automatically removed from the oracle service providers by smart contracts.
Centralized oracle solutions often reach consensus within their own native network. Also, slow and expensive data feeds can seriously limit the efficiency and reliability of oracles. This, coupled with the need for a highly technical understanding of oracles and smart contracts creates a situation that Modefi refers to as "The Oracle Problem". Furthermore, when using a single oracle network, it is much easier to manipulate data, which can leave doors open to bad actors and room for exploits.
Modefi aims to address these issues by utilizing multiple trusted oracle networks. The aggregated oracle solutions provided by Modefi feature bi-directional cross-chain interoperability and secure, efficient, cost-effective data feeds for layer 2 solutions, which can often be slow and expensive. Moreover, because Modefi accommodates multiple blockchains, it is highly scalable and secure.
On-Demand Oracles
Modefi will also allow developers to make one-time data requests for customized smart contracts to bring real-world data on-chain. Single-use oracles often provide limited or basic data and can be expensive to execute when doing so infrequently. Furthermore, traditional data validation models are often unsuitable for small tasks. This can be limiting for developers, as it restricts the amount of data they can handle.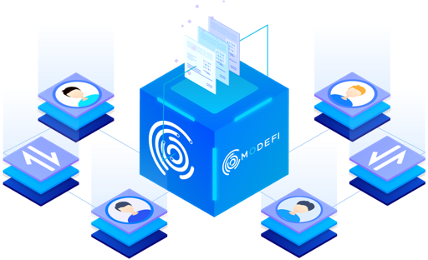 Modefi's On-Demand Oracles aim to solve this problem by providing trusted, cost-efficient data feeds from "socially vetted validators". These oracles can be used for many use cases and are extremely easy to implement, even for non-developers. Furthermore, validators are incentivized to provide accurate data feeds for all requests.
Oracle Marketplace
The Modefi Oracle Marketplace is designed to automate the exchange of data between parties on the blockchain. As a fully decentralized turnkey platform, the Modefi Oracle Marketplace will allow oracle providers to promote their services while offering clients the opportunity to easily create a request for quotation (RFQ).
The Modefi Oracle Marketplace uses reputation-based statistics to incentivize integrity for providers and clients to buy and trade oracle services. Furthermore, these oracle services are easy to implement and can be bought and sold at a price point that meets the needs of different users.
After reading about the Modefi Oracle Marketplace, if the idea of creating your own marketplace sounds appealing, Ivan on Tech Academy can help you achieve this goal – even if you have no previous programming experience! Start with our Javascript Programming for Blockchain Developers course to learn the basics of coding. Then, our Ethereum Smart Contract Programming 101 course introduces students to the Solidity smart contract language.
From here, students can take our Ethereum Smart Contract Programming 201 to create their own decentralized exchange. Alternatively, our Ethereum Game Programming course provides tutorials for deploying non-fungible tokens (NFTs) and a decentralized marketplace! No matter your age, experience, or background, Ivan on Tech Academy can take you from zero to blockchain programmer hero in just a few months!
DeFi Dashboard
Modefi's innovative Modular Dashboard provides a range of tools that can be used in conjunction with various decentralized finance protocols. Using the Modefi Modular Dashboard, users can search for the best yields for decentralized finance (DeFi) and decentralized exchanges (DEXs).

Furthermore, the Modefi Dashboard is fully customizable, and can harness the power of various application programming interfaces (APIs), artificial intelligence (AI), on-chain analytics, plus, a portfolio manager!
The Modefi Token (MOD)
In Q1 of 2021, the Modefi token sale went live via TrustSwap with a starting price of just $0.20. Following a successful launch, and a great deal of attention, the MOD token soared to an all-time high of $6.09 within just a few months.
Holders of the MOD token will soon be eligible to vote on proposals to make changes to the Modefi ecosystem via the Modefi Governance DAO (decentralized autonomous organization). Furthermore, MOD token holders can earn MOD by providing liquidity to the Modefi automated market maker (AMM), or by providing validation to the Modefi ecosystem.
At the time of writing, the MOD token has a market cap of around $22 million, and a circulating supply of 11.2 million MOD, with a maximum supply of 22 million MOD tokens, according to CoinGecko.
Roadmap & Updates
Having only launched in February 2021, Modefi is very much still in its infancy. However, with a successful launch completed and a host of new features, integrations, and partnerships, the Modefi oracle aggregator looks set to become a serious competitor in the field of oracle solutions.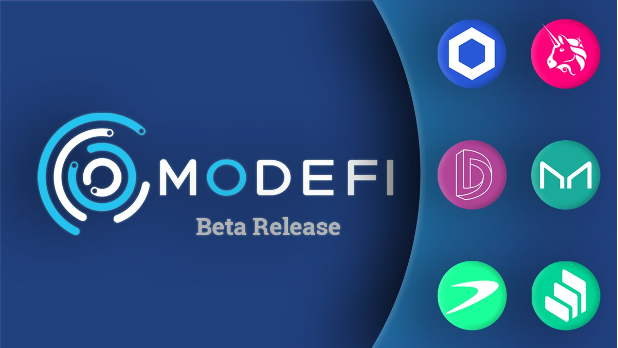 As we enter Q2 2021, Modefi has a busy few months scheduled with its 'Full Suite Beta Launch'. This will include the decentralized aggregated oracle public release, as well as a Beta v1 release of the On-Demand Oracle. Moreover, we can expect to see the Beta launch of the Modefi Oracle Marketplace. This is alongside introducing decentralized governance for MOD token holders, plus new partnerships for the project. Looking further into the year, Modefi will be focusing on scaling and optimization in addition to bridges and interoperability with other blockchains.
Modefi Staking
On April 16th, 2021, Modefi announced its second round of multi-chain staking on Binance Smart Chain (BSC), weeks after a successful initial launch on the Fantom network. The staking period is running for 30 days with funds locked for the duration. Rewards are distributed to staking participants proportionate to the amount staked.
There are two ways to get involved with the Modefi staking incentives on Binance Smart Chain (BSC). Users can choose to stake only MOD tokens. Alternatively, users can provide liquidity to the PancakeSwap MOD/WBNB pool by staking MOD and BNB tokens. Doing so will reward users with MOD/BNB Cake-LP tokens that are representative of the proportion of their stake in the pool. Users can then participate in the MOD/BNB CAKE-LP Staking pool with their rewarded tokens, to earn further rewards.
Users must be familiar with MetaMask to participate in staking, as this is currently the only supported wallet with Binance Smart Chain (BSC). A list of token addresses for the various aforementioned tokens is available through the relevant Modefi Medium blog post. The post also contains a link to the bridge to convert MOD (ETH) tokens to MOD (BSC) tokens to participate in staking activities.
Modefi Summary
Modefi is developing a comprehensive suite of trustless oracle solutions to create a truly decentralized vehicle for the integration of real-world data, smart contracts, and blockchain applications. By providing precise data with high levels of transparency, the Modefi oracle aggregator is creating an environment whereby smart contract manipulation and hacks are easily exposed, and the risk of centralized databases is removed.
As the use cases for blockchain technology continue to increase sector-wide, we can expect to see an increase in innovative oracle solutions built for the modern, complex smart contract-enabled blockchain. Modefi appears to be at the forefront of oracle innovation. With the launch of Modefi staking and other oracle services, we can expect to see the rollout of some incredible new features as the oracle aggregator reaches maturity.
Oracles enable the blockchain industry to continue growing and innovating. To discover how blockchain can be implemented into centralized IT systems, see our Blockchain Business Masterclass. Ivan on Tech Academy provides all the tools and information to confidently organize and manage a blockchain-based project across a range of industries. This includes healthcare, music, sports, and the fashion industry!
Moreover, to learn how some of the world's biggest companies are implementing Baseline Protocol, see the Blockchain for Enterprise course. No matter what your experience, Ivan on Tech Academy equips students with the education needed to get started in the world of blockchain. Join over 30,000 students today! Also, don't forget to follow us on Twitter @Academy_IOT to let us know your thoughts about Modefi!