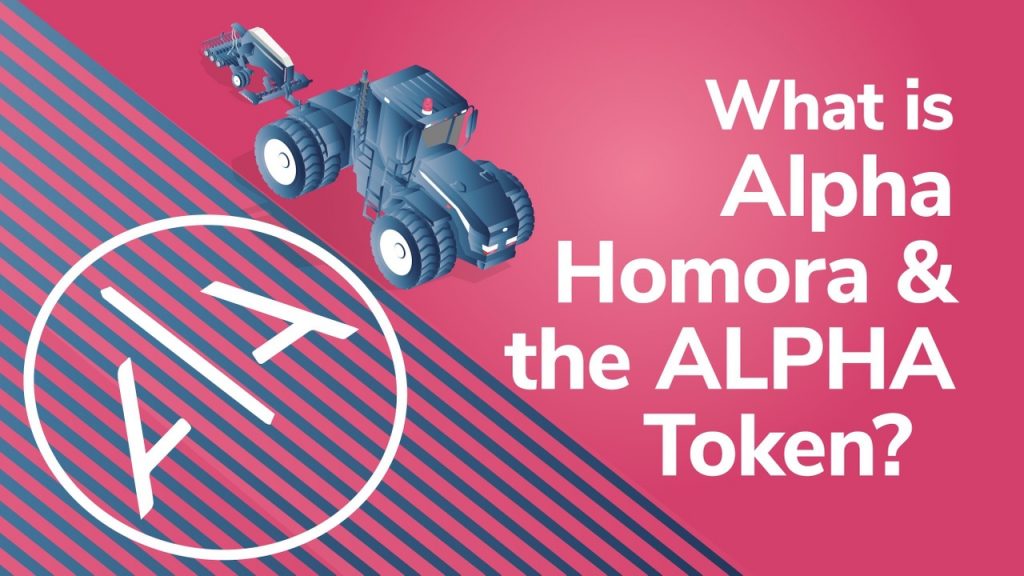 Fans of decentralized finance (DeFi) who are familiar with a particular children's book series following the adventures of a young wizard may be pleased to hear that Alpha Homora is aiming to bring the magic back to DeFi. Launched by Alpha Finance Lab on Ethereum mainnet and powered by the ERC-20 ALPHA token, Alpha Homora is a leveraged liquidity and yield farming protocol. Coincidently, "Alohomora" is a spell in the Harry Potter universe for unlocking doors and windows. This begs the question, could Alpha Homora "siriusly" be unlocking the power of DeFi? Also, how many Harry Potter puns can we "Slytherin" to this article?
In this article, we're going to explore the various elements of the Alpha Homora protocol and Alpha Finance Lab. Also, we'll look at the ALPHA token and how it is used across individual and multiple protocols. Furthermore, we'll take a look at the Alpha Homora V2 update and the new features coming to the platform!
When learning about cryptocurrency and blockchain for the first time, it's important to gain a solid foundational knowledge of how blockchain technology works and how to safely buy, store, and trade cryptocurrency. The Crypto Basics and Blockchain & Bitcoin 101 courses at Ivan on Tech Academy are designed to show you exactly what you need to know to begin your education in blockchain and get started on your crypto journey!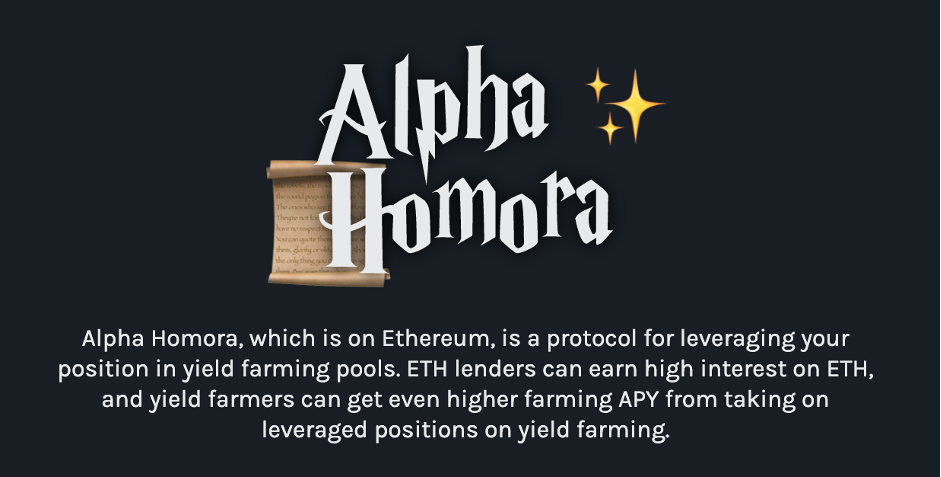 What is Alpha Homora?
The wizardry behind Alpha Homora comes from Alpha Finance Lab. Alpha Finance Lab is a suite of decentralized financial products designed for automated, interoperable, cross-chain yield-optimization. The project is designed to unlock the full potential of decentralized finance (DeFi) and in particular, yield farming. After a successful informal code audit, the mainnet launch of Alpha Homora took place in October 2020.
Alpha Homora is a decentralized application (dApp) that has been launched on Ethereum. The protocol offers users leveraged yield farming positions, alongside leveraged liquidity provision, through the use of unique protocols. Alpha Homora has captured the hearts of many Harry Potter fans through its magical Hogwarts-themed graphical user interface (GUI). The Alpha Homora protocol is governed by the ALPHA token, which was one of the successful Binance Launchpad projects in 2020.
Backed by esteemed crypto investors including the Spartan Group, Multicoin Capital, and DeFiance Capital, Alpha Hamora has the potential to be one of the hottest trends in crypto in the coming months. A lot of this is thanks to Alpha Finance Lab.
Alpha Finance Lab
Alpha Finance Lab is a suite of DeFi products that are interoperable across multiple blockchains. The goal of the project is to maximize gains and minimize risk. Alpha's mission is to bring DeFi to the masses through an innovative and user-friendly approach.

Alpha Finance Lab frequently researches the hurdles and drawbacks of current decentralized financial applications to improve the user experience. Furthermore, the project focuses on unaddressed gaps in the market and the encouragement of new participants in the crypto space.
Alpha Finance Lab takes a two-sided approach to developing any new application. First, the problem statement, followed by the solution statement. By researching and understanding the issues at hand experienced by DeFi users, Alpha can determine the main market problems to address. Furthermore, Alpha runs simulations of their product ideas to gain a better insight before developing creative and innovative user-friendly DeFi applications.
After the September 2020 launch of its first product Alpha Lending, on Binance Smart Chain, the second offering from Alpha Finance Lab facilitates leveraged yield farming, described as "dYdX for yield farming on Uniswap".
Alpha Homora is the first DeFi yield product to launch from Alpha Finance Labs on Ethereum. After substantial usage and adoption of V1, the Alpha team quickly started developing Alpha Homora V2 (more explained later). Another DeFi application that is currently under development in beta testing is AlphaX. There is private testnet access for users to sign up to test AlphaX via alphafinance.io.
AlphaX is a completely separate product from Alpha Homora, focusing on a perpetual swaps model. Once live, the services have been designed to work in synergy, allowing Alpha Homora users to hedge positions on AlphaX. This means Alpha Finance Lab users can benefit by using the products in tandem.
Alpha Finance Lab Team
Alpha Finance Lab intends to become fully decentralized over time. However, currently, the project is in the hands of two extremely experienced professionals in the blockchain field. Tascha Punyaneramitdee as Project Lead, and Nipun Pitimanaaree as Lead Blockchain Engineer.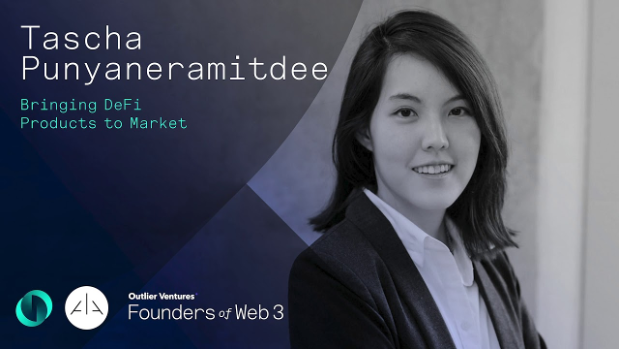 Punyaneramitdee had an international career as an investment banker, before working as Head of Strategy for Band Protocol prior to Alpha Finance Lab. Pitimanaaree is ranked 3rd in the global IMO (International Mathematics Olympiad) Hall of Fame and has created an automated stock price prediction algorithm used by Tech Square Trading. Moreover, Pitimanaaree developed an algorithm to detect and automatically trade crypto arbitrage opportunities and was Chief Research Officer at OZT Robotics before joining Alpha Finance Labs.
The intelligent and talented duo have proven Alpha Finance Lab to be successful thus far. Alpha Homora, in particular, has seen over $100 million locked into the platform within just a couple of months. With plans for future development and products, Alpha Finance Lab could become a key player in the crypto space.
How Does Alpha Homora Work?
Alpha Homora facilitates leveraged yield farming and liquidity providing (LP) positions by allowing users to borrow ETH. Both yield farmers and LPs will pay interest rates on ETH, however, this allows them to have leveraged positions to increase gains.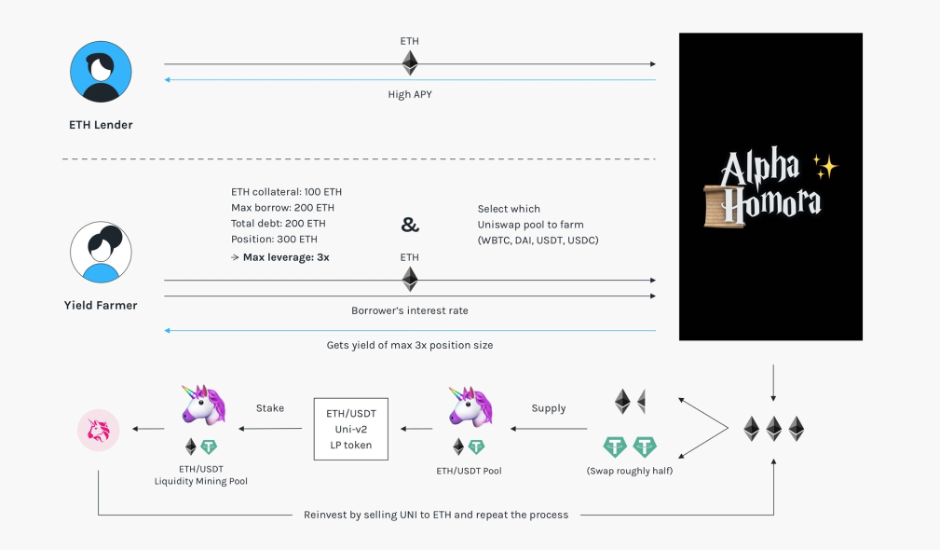 There are four main actors within the Alpha Homora ecosystem:
Yield farmers can borrow ETH and use up to 2.5x leverage for farming with supported Uniswap pools.
ETH lenders can earn interest for liquidity provision.
Bounty hunters earn a reward of 3% for reinvesting farmed tokens into Alpha Homora farming pools.
Liquidators can earn a liquidation bonus of 5% of the value of any positions liquidated.
ALPHA Yield Farmers
Yield Farmers will be able to use up to 2.5x leverage to borrow ETH when farming on supported Uniswap pools. Also, once every 24 hours, all farmed tokens will be converted and automatically added to a user's position. This helps to compound profits earned while automating yield maximization, thanks to the innovative Auto-Reinvest function. Leveraged yield farming entails Alpha Homora borrowing ETH on the behalf of a user for yield farming.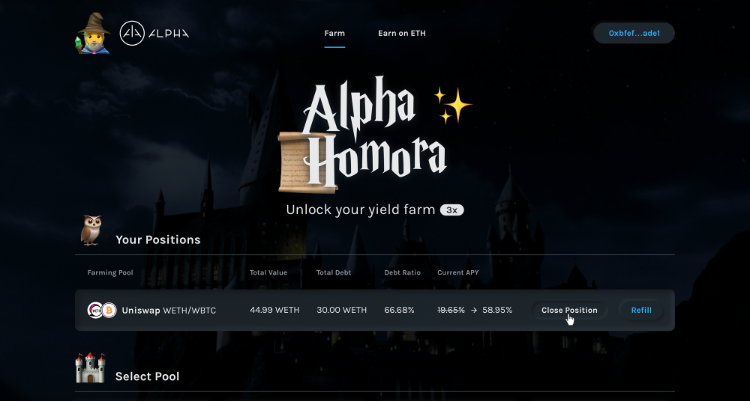 ALPHA Liquidity Providers
Furthermore, liquidity providers can increase trading fee earnings by taking on positions providing leveraged liquidity to the Alpha Homora protocol. To achieve this, ETH is borrowed by Alpha Homora on behalf of a user for liquidity provision.
ETH Lenders
Deposits made into Alpha Homora Bank will entitle users to a proportional amount of interest-bearing ETH (ibETH). Much like the cToken from popular DeFi protocol Compound, ibETH is an interest-bearing asset that is freely tradeable. The ibETH token is representative of a user's share of ETH in the Alpha Homora Bank pool.
Any interest paid in ETH by borrowers is distributed proportionally among ETH lenders. The interest rate a lender receives is dependent on the ETH utilization rate. Therefore, a higher ETH utilization rate generates higher interest rates for users. Furthermore, 10% of the interest from borrowers will be reserved as insurance in the Alpha Homora Bank Reserves in the event of any unforeseen situations. Also, Alpha Homora Bank Reserve could shift to a community governance model in the future.
ALPHA Token
The ALPHA token holds governing rights not only to the Alpha Homora protocol but also to the suite of DeFi applications created by Alpha Finance Lab. The ALPHA governance tokenomics is broken down into a two-tiered system: Product-level governance and Alpha Finance-level governance.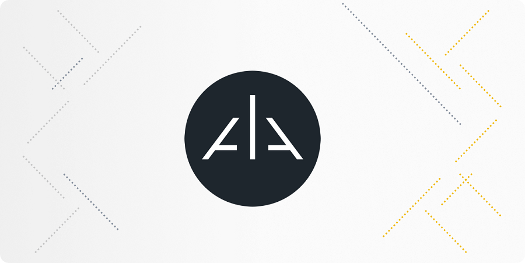 Product-level governance allows ALPHA token holders to vote on updates and fund allocations on specific platforms. This includes Alpha Homora, Alpha Lending, and soon AlphaX. Alpha Finance-level governance allows holders to vote with their ALPHA tokens on how all Alpha applications will interoperate.
The ERC-20 ALPHA token was the first-ever double launch seen on Binance. ALPHA was introduced into circulation through a Launchpad token sale and Launchpool farming for the token. During the Launchpad token sale, all 100 million ALPHA tokens were sold to participants. Although launched on Ethereum, the ALPHA token integrated with Binance Smart Chain in November 2020 to allow easy cross-chain token transfers.
As the Alpha Homora protocol develops and continues to gain usage, we can expect to see increased utility for the ALPHA token. This includes providing liquidity and staking to receive exclusive interoperable features among Alpha products.
Harry Potter could probably have been a pretty good programmer himself, seeing as he spoke Python (ba dum tss). If you too want to learn how to become a blockchain developer and build your own decentralized applications (dApps) and from scratch, check out the Javascript Programming For Blockchain and Ethereum Smart Contract Programming 101 courses at Ivan on Tech Academy! Regardless of your current level of experience, Ivan on Tech Academy has courses designed to get you up-to-speed in the world of crypto in no-time!
Pools
Upon launch, four initial pools were supported for deposits on Alpha Homora. However, Alpha Homora now allows users to farm tokens using up to 3x leverage for a vast range of crypto assets across multiple decentralized exchanges (DEXs) and pools. Furthermore, profits earned from farming can be automatically reinvested. Auto-reinvesting is a key element of the Alpha Homora magic, making it easy to maximize gains made from yield farming and liquidity provision.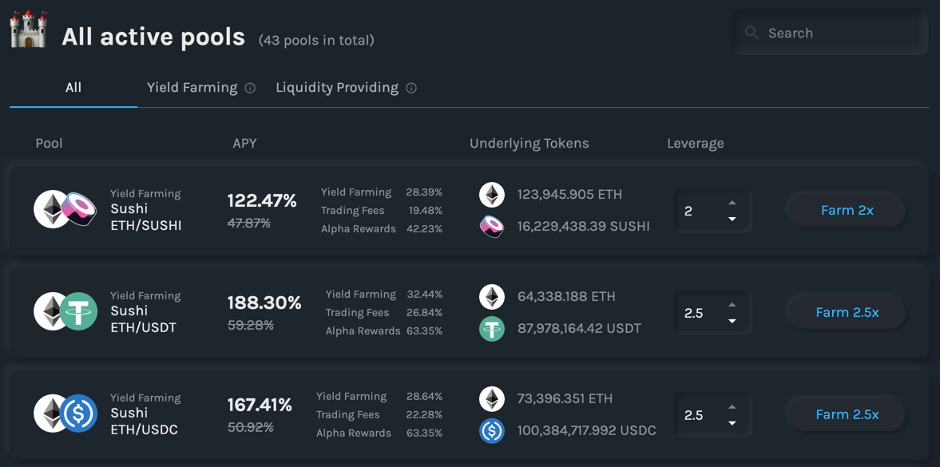 Another great feature of the Alpha Homora protocol is the ability to provide liquidity to certain pools with only one of the required tokens. For example, with the ETH/COMP or ETH/CRV pools, users only need to provide either ETH, COMP, or CRV tokens. Usually, when providing liquidity, users will have to provide both ETH and the liquidity token pair. However, with Alpha Homora, the protocol roughly splits the value of your provided token in half (e.g., ETH), and invests in the other half into the required token on your behalf (e.g., COMP or CRV).
Different pools offer different amounts of leverage. Alpha Homora facilitates token pairs across the two most popular crypto decentralized exchanges (DEXs) Uniswap and Sushiswap. Both of the DEXs support many ETH and wrapped ETH pools. The latest token pool additions include ETH/GRT (The Graph) facilitated through Uniswap and ETH/KP3R (Keep3r) through SushiSwap.
Why Use Alpha Homora?
Alpha Homora has made it extremely easy for anyone to access leveraged yield farming and liquidity provision. These magical leveraging protocols are only available at Alpha Homora, as no other current DeFi protocol facilitates leveraged yield positions.
Even if you're not looking to yield farm with leverage, Alpha Homora is one of the largest aggregate yield farming protocols. There are a plethora of pools to choose from. Moreover, as an ETH lender, Alpha Homora states to offer the highest APY rates in the market. Additionally, users of the protocol can benefit from other unique features such as optimal swap functionality, and gas-saving/loss-minimizing functions.
Alpha Homora V2
Due to launch in January 2021, Alpha Homora V2 will include an extensive range of new features and integrations. This includes partnerships with Cream Finance, Curve, and Balancer, to facilitate leveraged yield farming across some of the most popular DeFi liquidity pools. Also, yield farmers will be able to use up to 9x leverage on a wider range of assets.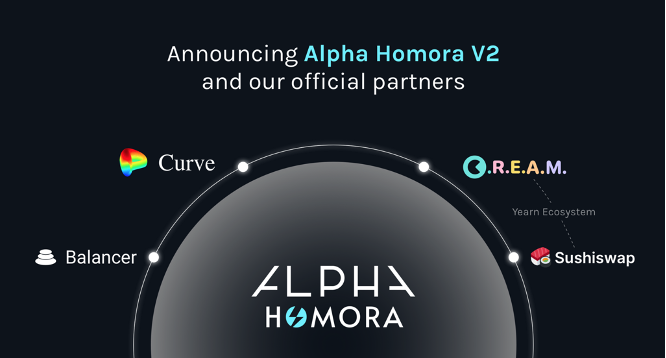 Furthermore, users can borrow several different assets at the same time, while re-leveraging and deleveraging positions frictionlessly. The introduction of these new functionalities could position Alpha Homora to be the go-to DeFi protocol for leveraged liquidity and yield mining. Moreover, the additional liquidity and interoperability between protocols could help to further promote cryptocurrency adoption.
The future is exciting for Alpha Homora, with updates such as the ibETHv2/ALPHA Onsen pool on SushiSwap. Also, several liquidity mining incentives have been extended until February 10th, 2020 to further bolster community support and adoption.
In December 2020, the AlphaX perpetual swap project went live on beta testnet. AlphaX will enable perpetual swaps without the use of an order book while allowing users to hedge leveraged yield farming positions. This product is being developed in tandem with the Alpha Homora V2 launch and promises to boast a range of new features in the near future!
Alpha Finance Lab & Alpha Homora Summary
Alpha Homora is creating a refreshingly compelling and innovative leveraged yield farming and liquidity application. As with all decentralized financial applications and leveraged trading tools, Alpha Homora comes with inherent risks. Frontrunning can cause high gas fees for bounty hunters when using the protocol, and yield farmers are at risk of being liquidated. Without the correct trading strategy and risk management, this could result in a one-way ticket to Rekt City.
However, the project has already undergone an informal audit and security review by PeckShield, and the team has shown strong intentions to undergo a full security audit soon.
Decentralized finance (DeFi) has developed rapidly throughout its short history. To gain a foundational understanding of the basic concepts used in DeFi, and familiarize yourself with some of the most popular protocols, the DeFi 101 course at Ivan on Tech Academy is the ideal place to start!
Following this, you'll be able to learn how DeFi works under the hood on a technical level. Also, if you want to put your assets to work with yield farming, arbitrage, and liquidity pools, be sure to check out the DeFi 201 course at Ivan on Tech Academy. With courses curated by our team of industry-leading experts, Ivan on Tech Academy is the ultimate online blockchain education experience!