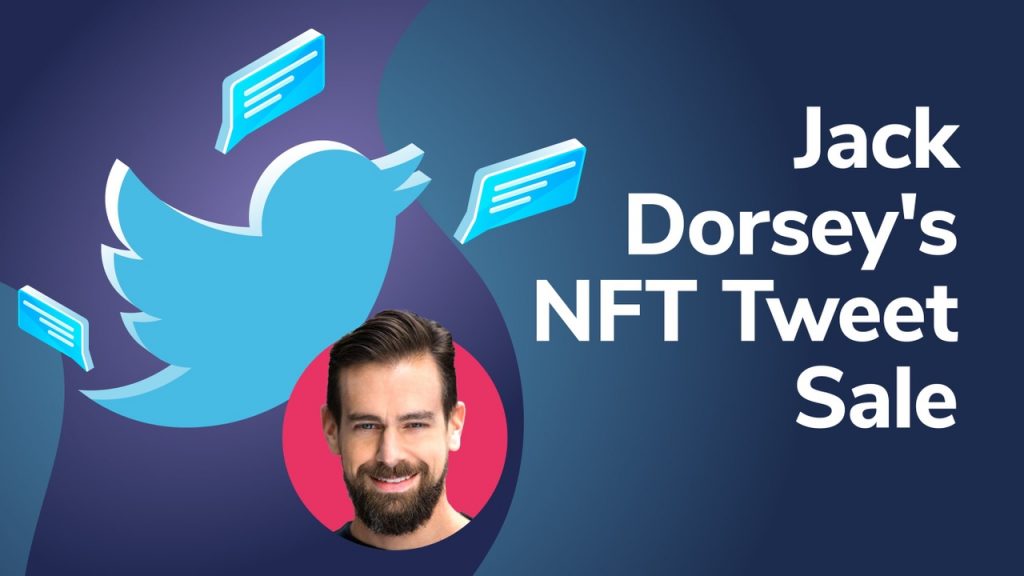 Anyone keeping track of NFTs will no-doubt have seen the recent news of the Twitter boss, Jack Dorsey's, NFT sale. Not only does this highlight the ability to sell tweets as "Twitter NFTs", it is also emblematic of how NFTs can bridge digital content with digital ownership. Moreover, it also serves as a striking reminder of the past few months' NFT boom and following hype. Read on for a full breakdown of the Jack Dorsey NFT sale, all of the backstory associated, as well as the potential implications this carries.
Specifically, this Jack Dorsey NFT sale just a few days ago saw Dorsey auction off Twitter'sfirst-everr tweet, a 15-year old tweet that reads "just setting up my twttr". The tweet ultimately sold for over $2.9 million to Sina Estavi, the CEO of the Malaysian blockchain firm Blockchain Oracle. However, this NFT sale stands for much more than merely a one-time transaction. Rather, it is a symbol of the current NFT hype, as well as how companies outside the traditional blockchain sector are now waking up to the potential of non-fungible tokens.
What's more, NFTs essentially allow people to purchase or sell ownership over digital assets. As such, NFTs can serve as a useful bridge between digital asset or digital content and ownership over this material. As such, it's clear that Jack Dorsey's recent NFT sale of the first Twitter tweet is a part of a wider context. If you're looking to learn more about NFTs and cryptocurrency in general, be sure to check out the Ivan on Tech Academy courses for smart contract programming, decentralized finance, and crypto basics. Now, let's break it all down!
What Does NFT Stand For?
As longtime readers of the Ivan on Tech Academy blog will know, the term NFT stands for "non-fungible token". Non-fungible tokens, or NFTs, differ from most other digital assets in that they are one-of-a-kind. If the term "fungible" confuses you, simply liken it to something being interchangeable. As such, a "non-fungible" item is not interchangeable with others of its kind. Consequently, you can think of two glasses of water as being "fungible" in the sense that it is more or less exactly the same in them. Moreover, they can easily be interchanged without it even being possible to tell them apart. Something which is "non-fungible", then, is instead unique, and not readily interchangeable with another of its kind.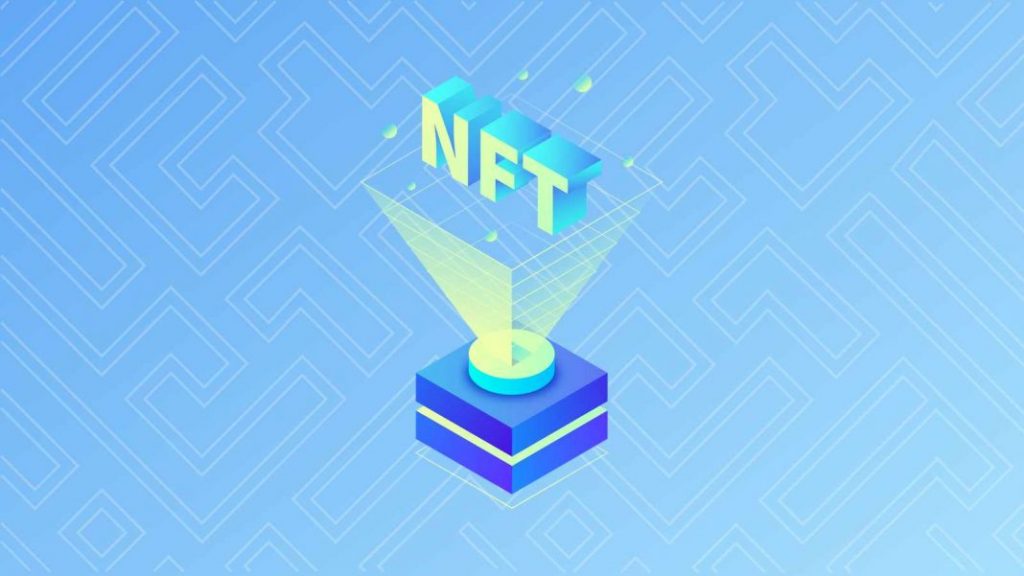 A non-fungible token takes this notion to digital assets. A Bitcoin is essentially fungible, seeing as you can trade it for another Bitcoin, and still have more or less the same thing. This makes Bitcoin a "fungible token". A non-fungible token could, instead, be likened to a one-off playing card or postage stamp – for the philatelists among us – and is entirely unique.
If you're interested in NFTs like this, you should make sure to enroll in Ivan on Tech Academy's new Ethereum dApp Programming course! This course allows you to create your own marketplace for ERC-721 CryptoKitties NFTs. What's more, Ivan on Tech Academy is full of material for anyone wanting to better understand the NFT world. If you haven't already, check out our articles on top NFT marketplaces in 2021, including some of the biggest players like OpenSea and Rarible. With NFTs being on everyone's lips, you should do the same as over 30,000 others and enroll in Ivan on Tech Academy – the premier platform for blockchain and cryptocurrency education! 
The Recent NFT Hype
2021 has seen a lot of hype in the cryptocurrency and blockchain industry as a whole. For example, Binance Smart Chain came out of nowhere and rose to popularity following exorbitant Ethereum gas fees. Nonetheless, the recent NFT hype is perhaps the most noticeable phenomenon of 2021. Some are predicting that just like 2020 was the year of DeFi (although DeFi in 2021 is still alive and well), so could 2021 be the year of NFTs. With this in mind, let us take a closer look at some of the recent developments that exemplify this NFT hype.
Perhaps the most well-known example of the recent influx of interest in NFTs is when an NFT became one of the most expensive artworks to ever be sold. Specifically, the digital artwork "Everydays – The First 5000 Days" by the American artist Mike Winkelmann sold for over $69 million at an auction at Christie's. In fact, this excessive price tag put Mike Winkelmann as one of the top three most valuable artists alive today. The digital artwork, which consists of a collage of 5,000 images taken once-a-day over the span of more than 13 years, had a starting bid of $100 – before rocketing up past $69 million by over 350 prospective buyers. We've previously covered how blockchain technology and NFTs are changing the art industry.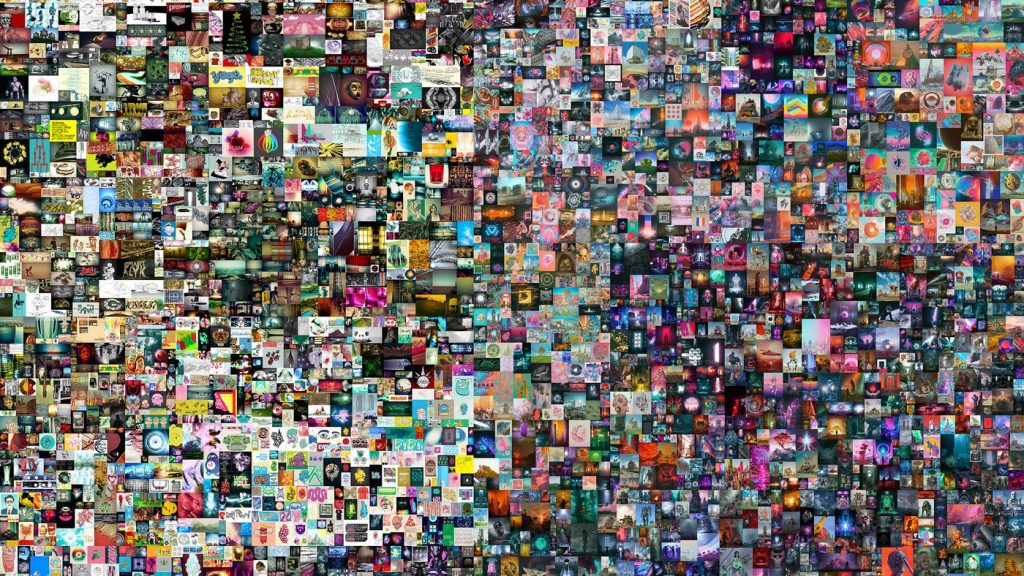 Everydays – The First 5000 Days
However, the recent NFT hype extends further than just the art industry. For example, non-fungible tokens could potentially play a huge role in the gaming industry. Blockchain games allow players to actually own the in-game items they earn or trade. Similarly, there's a lot of interest for NFTs in the music industry. For example, the rock band Kings of Leon recently revealed that they will release their new album as an NFT. 
Background to the Jack Dorsey NFT Sale
With this in mind, it might seem inevitable that Jack Dorsey would sooner or later join in the NFT hype. After all, Jack Dorsey is a well-known fan of cryptocurrencies and blockchain. In fact, Jack Dorsey's Twitter profile description reads "#bitcoin", back in 2018 Dorsey said he believes Bitcoin will become the one global currency within a decade and his other company Square is well known for making substantial investments in Bitcoin and features Bitcoin integration. This, however, is not all. Dorsey has also partnered with Jay-Z on a Bitcoin development fund, and he even owns a Bitcoin "BlockClock" in his house.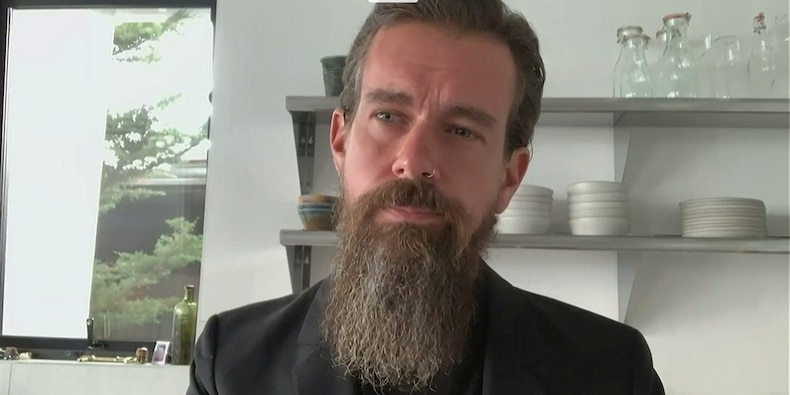 Jack Dorsey
Early in March 2021, Jack Dorsey again publicized that he was selling the first-ever tweet posted to Twitter. This tweet, which is widely known as the "just setting up my twttr" tweet, was originally posted on March 21st back in 2006. Dorsey stated he was going to sell his original tweet on the "Valuables" marketplace by Cent. The Valuables platform allows users to either buy or sell tweets, and is therefore bridging the gap between digital content and digital ownership. If you want to learn more about this, enroll in Ivan on Tech Academy!
This Jack Dorsey NFT sale is generally seen as a way to boost mainstream attention of crypto, Ethereum and NFTs. Moreover, it merges Twitter's social network with the NFT sector, which arguably is a way to validate the perceived "value" of tweets in general. The discussion of whether digital items have a value predates the most recent NFT hype, and is found whether people are talking about blockchain-based cryptocurrencies or in-game items. However, seeing as NFTs are non-fungible, bridging tweets and NFTs means they can actually be regarded as "unique", and can be seen as digital autographs of ownership.
Jack Dorsey's Twitter NFT Sale
In fact, bidding on Jack Dorsey's NFT had begun on Valuables as early as in December of 2020. Anyone who wants to take a look at the detailed bidding history of the tweet can do so through Valuables. The bidding war was not without famous bidders, as Justin Sun, a tech entrepreneur and the founder of TRON, bid $2,000,000 worth of Ethereum for the coveted tweet on March 6th. However, in the end, this historic tweet was snatched by a massive bid from Sina Estavi.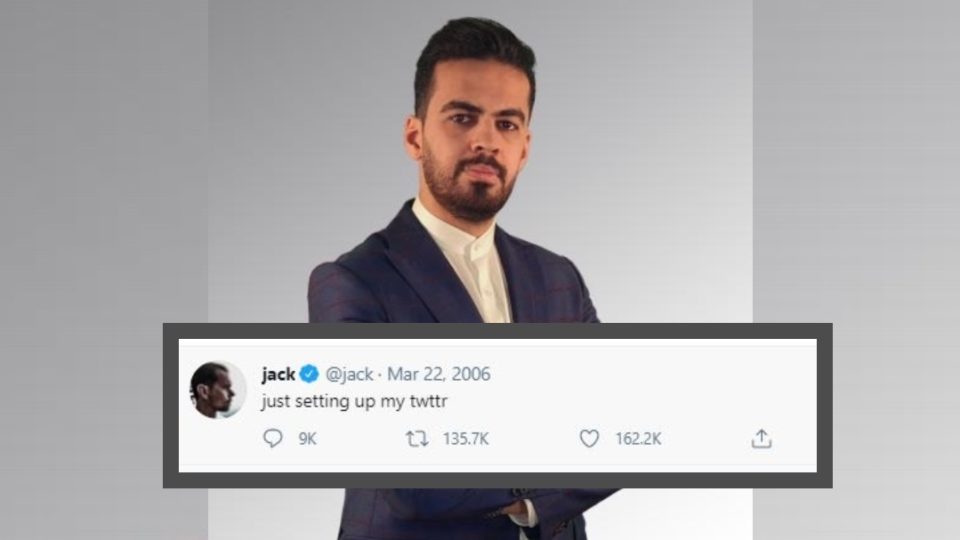 Sina Estavi
Specifically, Sina Estavi is the CEO of the Malaysia-based blockchain firm Bridge Oracle. In the end, Estavi bought the tweet on March 22nd for more than $2.9 million, or a little over 1630 ETH. When asked about his motivations when buying the historic tweet, Estavi made sure to emphasize that it was "more than a tweet". According to a Twitter update by Estavi after winning the auction, he believes the tweet will appreciate with time. In fact, he compares it to the Mona Lisa painting, in that people will only realize the "true value" of the tweet "years later".   
This, however, is not the only instance of a tweet being sold as an NFT. Supposedly, Mark Cuban also sold this tweet for $1,000. Moreover, one of Elon Musk's tweets, reading "Doge day afternoon", is up for sale right now. However, it seems unlikely that the Jack Dorsey Twitter NFT sale will be surpassed anytime soon. Mainly, this is due to Dorsey's tweet being such an iconic and well-known tweet, which is also likely why it fetched as high a price as it did.
Just Setting Up My Twttr
Before delving deeper, let's first take a quick look at this Jack Dorsey NFT tweet that was recently sold. The "just setting up my twttr" tweet has become somewhat famous in its own right, as the first-ever tweet. For those unaware, "twttr" was the original name for Twitter, a branding the company has since moved away from. However, the "just setting up my twttr" tweet stands as a testament to this abandoned moniker.

The name Twttr was originally conceived by Noah Glass, an American technology entrepreneur widely credited as a co-founder of Twitter. The name "Twttr" always referred to the chirping of birds – i.e. birds twittering. However, the name "Twttr" was meant to evoke the style of "Flickr", which was big at the time. Moreover, "Twttr" would also fit in an American SMS short code, which would enable easy branding over text message. Although largely archaic today, this SMS short code service would let people opt-in to SMS marketing campaigns by texting a keyword or phrase to an SMS short code. All of this is, naturally, mostly forgotten today. Nevertheless, the "just setting up my twttr" tweet has stood as a reminder of Twitter's beginnings.
Even in later years, Twttr was more than a mere abbreviation for Twitter. In fact, Twittr was brought back as a name in some capacity, as an experimental testing ground for new Twitter features. In essence, this new "Twttr" – which was rolled out in early 2019 – was meant to test out new possible changes that Twitter wanted to introduce to its main service. At the time, this included things like color-coded threaded conversations to differentiate between people, and status update modifications. This Twttr prototyping app was finally shut down in late 2020, after it had fallen into disrepair.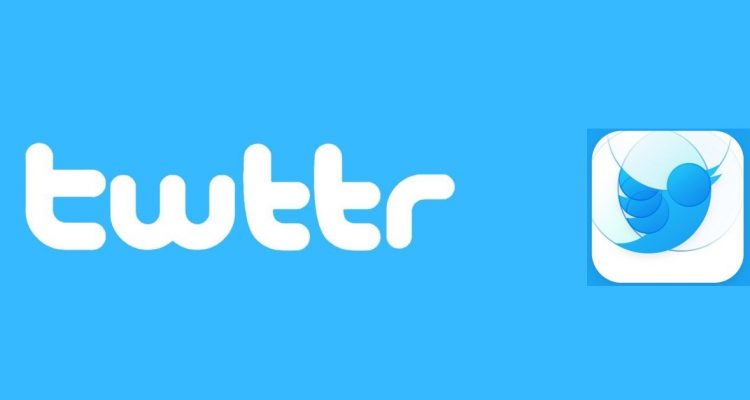 Summary of Jack Dorsey's NFT Twitter Sale
Our society is, without a doubt, growing increasingly digitalized each and every year. As such, digital ownership will become increasingly important in coming years. We've previously covered issues such as digital identity, which blockchain technology could play an important role in solving. However, NFTs are another example of a blockchain-powered solution that could instead help us solve the issue of ownership over digital assets.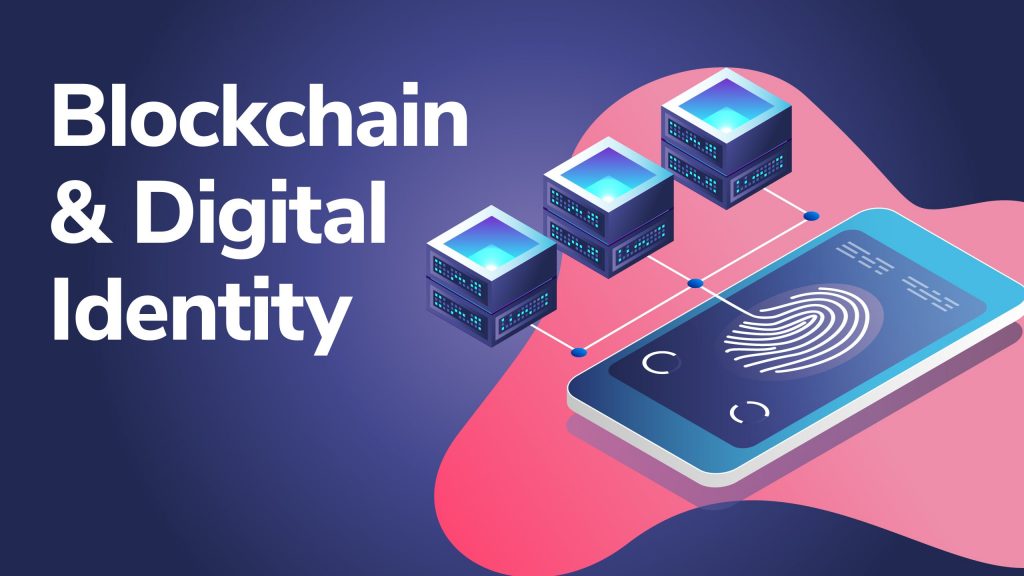 The Jack Dorsey NFT sale is likely just the first high-profile sale of this kind. Granted, Jack Dorsey is a vocal proponent of cryptocurrency and blockchain in general, but it's not inconceivable that other companies will follow in Twitter's NFT footsteps. If this vision comes to fruition, we could potentially see other well-known, iconic digital "items" be auctioned off in a similar manner. For example, this could conceivably see ownership of the first YouTube video "Me at the zoo", with roughly 160 million views, or the first Instagram image, be auctioned off as NFTs in a similar manner.
For now, the sale of the "just setting up my twttr" Jack Dorsey NFT just serves to highlight the past few weeks frantic NFT hype. Only time will tell whether interest remains as high as it currently is, or whether it will calm down a bit. Nevertheless, no matter whether the recent NFT hype calms down or not, Ivan on Tech Academy will be at your disposal with world-class courses on all things cryptocurrency and blockchain-related. Are you just looking to brush up on your knowledge of cryptocurrencies, or are you looking to change your career to become a blockchain developer? No matter what, Ivan on Tech Academy has got you covered with in-depth courses that'll take you from zero prior knowledge to blockchain hero. What are you waiting for?