You've likely heard of the advent of the metaverse. However, the metaverse is not only gaining steam among companies like Meta and Microsoft. In fact, a much larger shift is currently going on, and analysts believe the metaverse could have far-reaching implications. For example, shopping in the metaverse could be a potential multi-billion dollar business. As such, let's take a look at how some shopping behemoths like Walmart intend to provide shopping in the metaverse.
A Short History of Walmart
Walmart Inc. is one of the most successful companies globally, and it hails from the town of Bentonville, Arkansas, which only has a population of only 50,000 people. Most people think giant retailers can only come out of a metropolis like New York City or Chicago. But Walmart's small-town origins make sense when considering the niche of customers it targets.
It all started in 1962 when a local businessman named Sam Walton founded the first store in Rogers, Arkansas. After investigating underserved markets in small towns, he saw many opportunities, and his instincts were right. The rural niche became wildly successful for Walmart.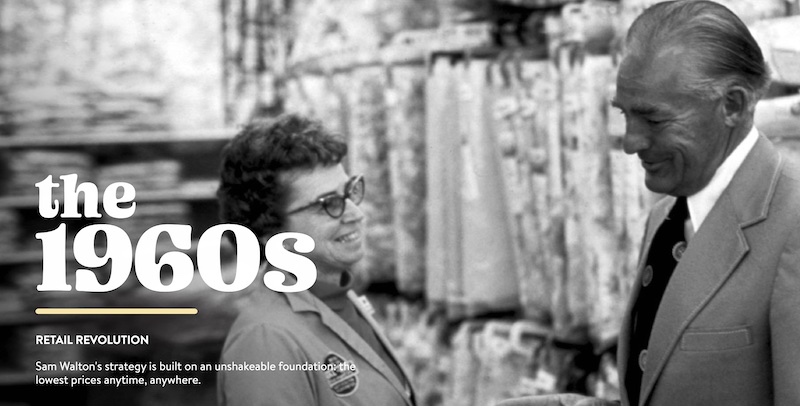 The first Walmart store was an experiment of sorts as Mr. Walton sought to separate his offering from the major retailers at the time, Kmart and Sears. Moreover, Walmart found success early by emphasizing direct mail (and other customer-focused advertising campaigns) and locking in low prices for its customers. As a result, it wasn't long before Walton began adding stores outside Arkansas.
Walmart continued to grow, eventually becoming the largest retailer in the U.S. After conquering America, it began to branch out internationally by opening new stores in Mexico, Canada, Britain, Germany, and China.
Walmart's Exponential Growth
In 1995, three years after Sam Walton's death, Walmart doubled its sales. It had to take on some debt risks to hit this number, but it was able to open a bevy of new superstores with the financing. The pile of debt grew, but the risks ultimately paid off, and Walmart was able to pay off its financing loans with the extra cash earned from the new stores.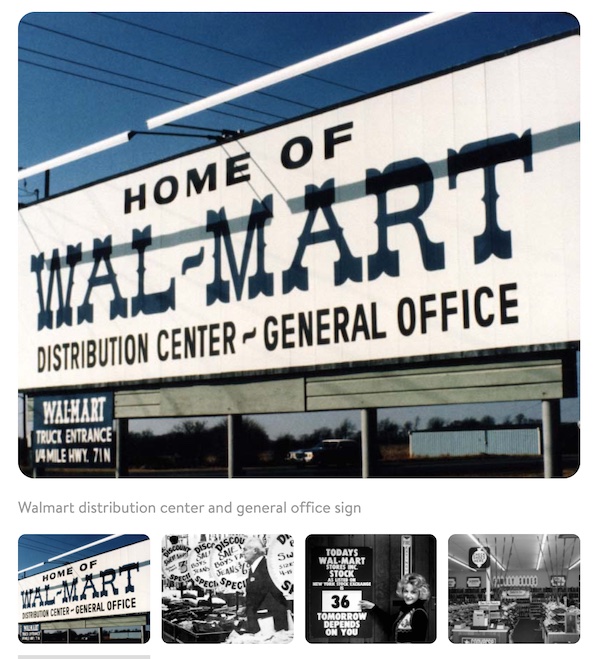 The company's growth was so exponential that by 1999 it became the largest private employer in the whole world. By 2001, it even surpassed Exxon-Mobile Corporation's position as the wealthiest company in the world. Ultimately, Walmart couldn't hold on to that title as the rise of digital giants like Amazon, Apple, Microsoft, and Alphabet (Google) caused it to slide in the rankings.
On the subject of evolving technologies, find out what the Polkadot vs. Cardano debate is all about. More importantly, get up to speed with blockchain technology by taking the Crypto for Beginners class at Moralis Academy!
The Walmart Metaverse Video Goes Viral
At present, companies like Walmart find themselves striving to adapt to new frontiers like the metaverse. The metaverse is a digital combination of various technologies to create virtual worlds for users to experience. With virtual worlds looming on the horizon, it's not surprising that the Walmart metaverse video went viral on social media earlier this year.
Walmart's metaverse video is titled "This Is How Walmart Envisions Shopping in the Metaverse." Moreover, it walks the viewer through the steps involved in a virtual shopping experience.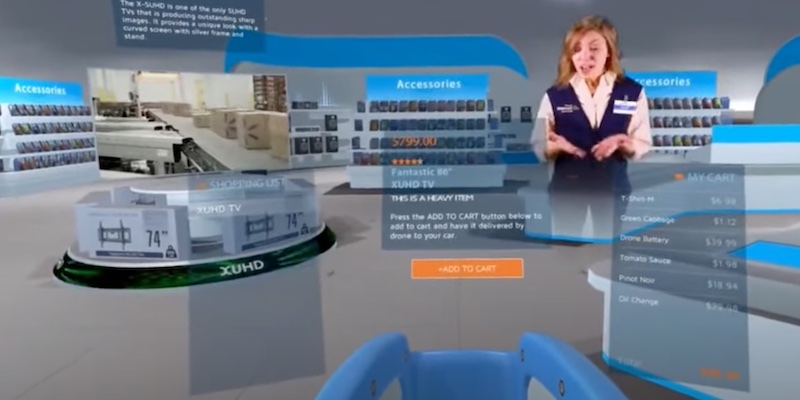 Walmart Metaverse Video – the Virtual Shopping Process
The digital guide offers you (the consumer) a wine pairing in an early scene because your age has already been pre-verified through an online profile. Hence, there's no need for an I.D. at checkout. The bottle of wine gets placed in your cart once you're ready.
Next, a notification from your home's smart device indicates you already have a whole gallon of milk, so you should return the milk you selected back to the shelf. A notice then appears on the screen that a partner lube express finished your oil change. For your convenience, your shopping cart has automatically added the charge.
Additionally, an offer for a TV pops up before you checkout. It has excellent reviews on Walmart.com. After adding it to your cart, a list of accessory options pops up on the 3D screen. Lastly, after checking out with Walmart Pay, a drone snatches up the TV and flies it out to your car.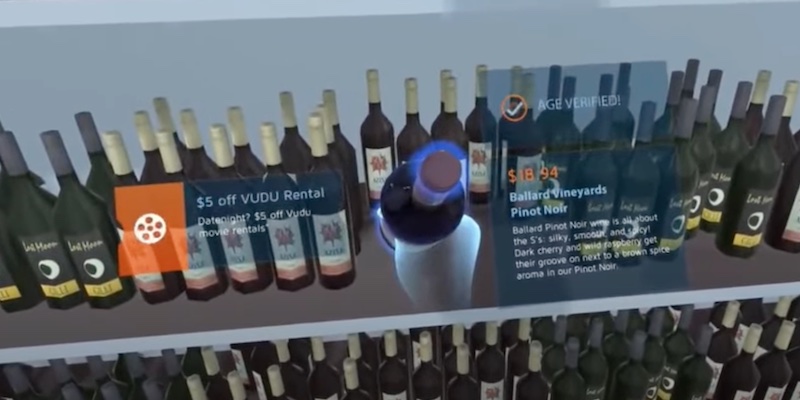 The Walmart metaverse video represents one possible future of how shopping will look with new technologies like VR. Although it went viral in late January 2022, a digital ad agency created the clip years before in 2017 for the annual South by Southwest exhibition. So production happened way before the current metaverse hype. More importantly, being that video is five years old helps explain some criticism for its lack of energy.
A company spokesperson now says the Walmart metaverse video does not reflect its current plans accurately. But some recent trademark and patent filings indicate the direction the retail giant is heading.
Walmart to Enter the Metaverse
Walmart recently filed trademarks with the US Patent and Trademark Office, implying that it intends to create and sell virtual goods, including home decor, electronics, toys, furniture, appliances, musical instruments, and sporting goods.
A separate filing shows Walmart is preparing to offer customers cryptocurrency and NFTs. In a public statement, Walmart confirmed that it's "continuously exploring how emerging technologies may shape future shopping experiences." However, there is no comment on what specific trademark filings might have to do with the future of Walmart metaverse shopping. Spokespeople only say that Walmart is constantly testing new ideas.
However, one trademark attorney (Josh Gerben) called the filings "super intense." He also believes the language in these documents demonstrates lots of planning behind the scenes about how the corporate giant will address innovations such as the metaverse and cryptocurrencies.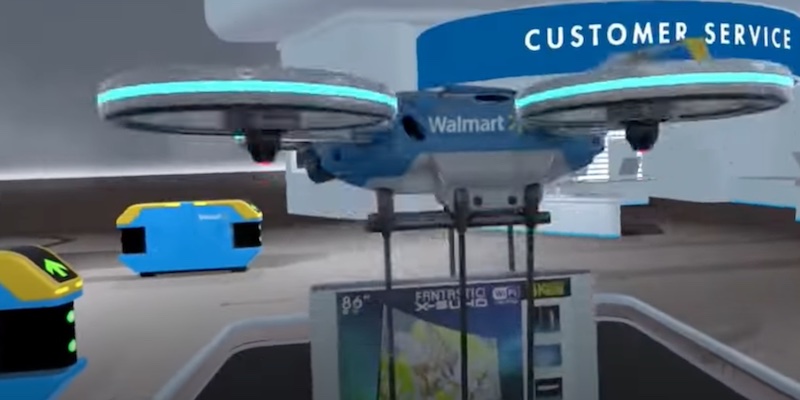 Now you can learn all about the grandfather of cryptocurrencies by taking the Blockchain and Bitcoin Fundamentals course at Moralis Academy.
Metaverse Shopping – the Race Begins
Facebook changing its name to Meta likely sent other businesses scampering to figure out how to fit their business models into a metaverse shopping world.
Nike, for example, filed a bevy of trademark applications in November 2021 that revealed its plans to sell virtual sneakers and other fashion apparel. Later that month, the firm announced it was creating an online world called "Nikeland." Further, in December, it purchased RTFKT, a virtual sneaker company.
The Gap is also selling NFTs for its sweatshirts and Under Armour, and Adidas recently sold out their NFT debuts that fetch high prices on the OpenSea marketplace. Apparel retailers Ralph Lauren, Abercrombie, and Urban Outfitters, have also filed trademarks detailing their intention to offer metaverse shopping options.
Many companies will be "apeing" into this ecosystem after seeing the moves by numerous big players towards entering the metaverse. Speaking of apeing in, don't forget to check out our article on exploring Apecoin (APE). It's timely since APE's price soared yesterday after an Elon Musk Twitter post.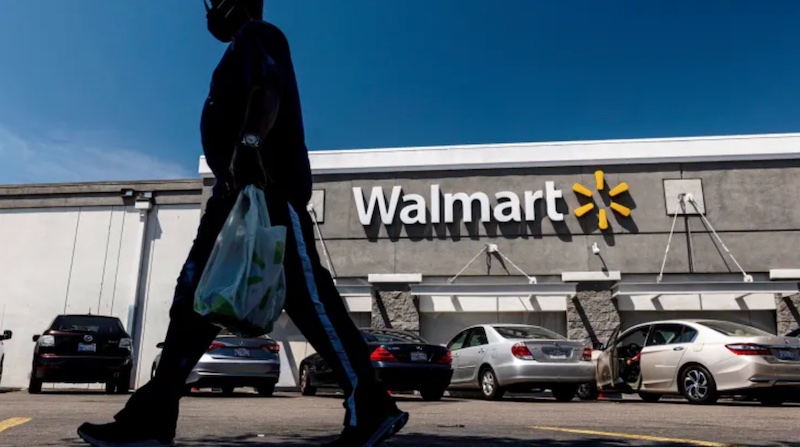 Walmart Metaverse Shopping and Other Brands
Now that the metaverse is becoming a real prospect with more prominent companies making a play, others will be fearful of getting left behind and want to secure their place in the metaverse shopping world.
Big retailers are always looking for new revenue streams, which e.g. a Walmart metaverse shopping option could offer. Further, with NFTs, they can tokenize goods and services, which should lower online transaction costs. For luxury brands like Louis Vuitton, NFTs can be a form of authentication for the buyer.
Thus, as more customers get comfortable with NFTs and the metaverse, more retailers are likely to want to build their ecosystem around it, particularly retailers who were late to the e-commerce game. These companies are not going to want to get left behind again. However, the metaverse isn't only for shopping. Learn how to build a metaverse game by reading our recent article on the Moralis blog.
To grasp where Walmart's metaverse shopping could be headed, let's review the company's historical timeline.
Timeline from 1962 to the Walmart Metaverse Shopping Era
The 1960s to 1970s
1962
Sam Walton opened the first Walmart store on July 2 in Rogers, Arkansas.
1967
Walton's number of stores rises to 24 with $12.7 million in sales.
1969 – 1970
Walmart officially incorporates and becomes a publicly-traded company. Above all, the first stock share price is $16.50 per share. These days, with the price hovering around $150 (not counting all the stock splits), buying Walmart stock in 1970 would be like the early miners finding gold. Learn about crypto backed by gold here.
1972
Its number of stores climbs to 51, and its sales reach $78 million.
1978
Walmart opens its first pharmacy.
Walmart in the 1980s
The first Sam's Club opens in the 1980s to serve individuals and small businesses. The first Walmart Supercenter also opens. It's a combination of general merchandise and a supermarket.
1980
Walmart's annual sales hit $1 billion, reaching that mark faster than any other company at the time.
1983
Walmart begins to phase out its traditional cash registers with computerized point-of-sale systems bringing greater efficiency and accuracy to the checkout process.
1987
Walmart builds the most extensive satellite communication system in private hands in the U.S., linking all the company's operations.
Walmart in the 1990s
By 1990, Walmart is the Number One retailer in the USA. Above all, its Supercenter redefines one-stop shopping.
1991
Walmart goes global by opening Sam's Club in Mexico City.
1992
Sam Walton passed away in 1992 at the age of 74. Before his passing, he delivered a speech defining the company's mission to keep prices low so that its customers could save money and live better lives. By this time, Walmart has 371,000 employees with 1,928 stores and clubs.
1993
Walmart reaches $1 billion in one sales week for the first time.
1994 to 1996
Walmart expands its operations to Canada and China.
1997
Walmart reaches $100 billion in a sales year for the first time.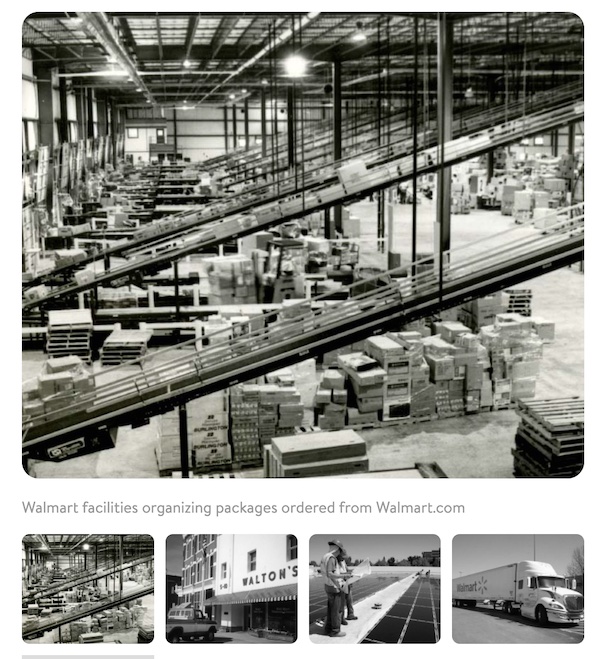 2000 to 2010
2000
Walmart.com launches welcoming online customers in the U.S. Walmart now has over 1,000,000 employees with nearly 4,000 stores globally.
2002
Walmart tops the Fortune 500 list of America's largest companies.
2007
Walmart.com begins its "Site to Store" service. This feature enables customers to buy merchandise online and pick them up at store locations.
2009
Walmart's annual sales exceed $400 billion.
2010 – 2011
Walmart opens its first store in India and expands to South Africa.
2012 to Present
2012
Walmart's 50th anniversary.
2015
Walmart's numbers escalate to 11,000 stores in 27 countries, with 2.3 million employees serving over 200 million customers each week.
2016
Walmart Pay allows customers to purchase with their smartphones.
2017
Walmart launches a tech incubator to help transform the future of retail and produces its video on shopping in VR.
2018
The company legally changes its name from Wal-Mart Stores, Inc. to Walmart Inc.
2021
Walmart shared its plans to acquire Zeekit, a startup specializing in virtual technology.
2022
"This Is How Walmart Envisions Shopping in the Metaverse" video goes viral on social media, with many viewers unaware that Walmart produced it years earlier.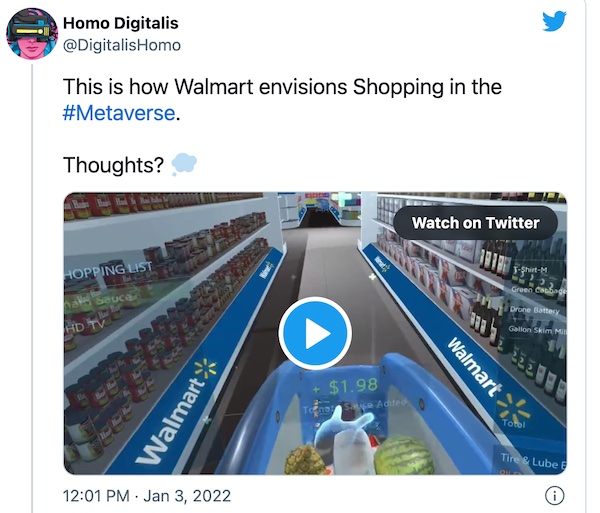 The Future of Metaverse Shopping
So, what will Walmart metaverse shopping look like in the future? Will virtual goods float around in space, enticing us to purchase with the cryptocurrency of our choice? Or will payment options be limited to a cryptocurrency version of Walmart Pay? Hopefully, the future will be more exciting than the Walmart metaverse video depicting a 3D version of today's online shopping experience.
In the meantime, don't overlook how the metaverse and Web3 are becoming increasingly interconnected. You will enhance your career by staying current. Further, here are some reasons why to learn Web3 development.
For sure, Walmart has always been about growth, as its timeline demonstrates. Walmart was relatively quick to act on the new internet technology that swept the globe in the 1990s. Furthermore, it kicked off the new millennium by working on a seamless online shopping experience. So, it's likely it has already started working on a Walmart metaverse shopping experience for the future.
After all, arriving late to the metaverse party could cost millions (if not billions) of dollars. Therefore, giant retailers like Walmart will be working to predict how metaverse shopping will evolve and how it can solve problems for consumers. Based on the latest patent filings, Walmart's initial metaverse play is an upcoming NFT collection and a cryptocurrency. Only time will tell how the rest plays out.
Whether you're interested in the metaverse, NFTs, or cryptocurrencies, visit the Moralis Academy to learn more about the latest blockchain technology!