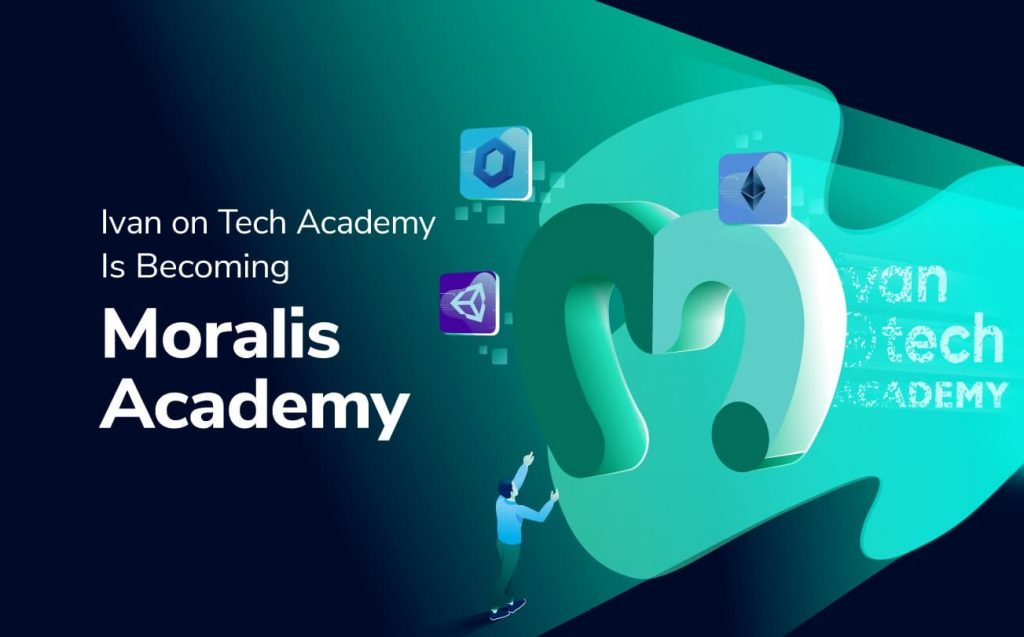 Is Ivan on Tech Academy looking a little different to you? If so, this is because Ivan on Tech Academy is now officially becoming Moralis Academy. We are excited to share this rebrand with you, and will continue to offer the same features our users know and love.
Let us, therefore, address how Ivan on Tech Academy will become Moralis Academy, and how this will affect you (spoiler: it shouldn't).
How Will This Affect Me?
The change from Ivan on Tech Academy to Moralis Academy will not in any way impact you nor your Academy membership. Instead, the main changes merely have to do with changing the name of the Academy (from Ivan on Tech Academy to Moralis Academy) and the looks of the platform.
None of the Academy's pricing, your subscription, logins, forum, or content will change. As such, you can continue your studies and taking your blockchain skills to the next level. The only change you will notice is the change in name and the graphical user interface.
What is Moralis?
To answer why Ivan on Tech Academy is now becoming Moralis Academy, we first have to look at Moralis. So, what is Moralis? Last year, the team that brought you Ivan on Tech Academy began working on a comprehensive solution to accelerate Web3 development. Specifically, this tool would enable developers to build Web3 apps, dApps or DeFi projects in days rather than months. As you might suspect, this is where Moralis comes into the picture.
Moralis provides developers with a readily available blockchain backend infrastructure. Moralis' plug-and-play functionality means that anyone with some basic JavaScript knowledge can begin developing dApps. If you need to brush up on your JavaScript skills, be sure to check out Moralis Academy's JavaScript course for Beginners.
As such, Moralis is a Web3 development platform for quickly developing and deploying projects. Moreover, Moralis is now quickly becoming the go-to platform for Web3 development. If you are looking to become a blockchain developer, Moralis is the natural choice.
If you haven't already, be sure to check out Moralis for free to access all of the great features!
Why is Ivan on Tech Academy Becoming Moralis Academy?
We felt the time was right to now change Ivan on Tech Academy into Moralis Academy. This will allow us to bring even more great courses, features and content to Moralis Academy.