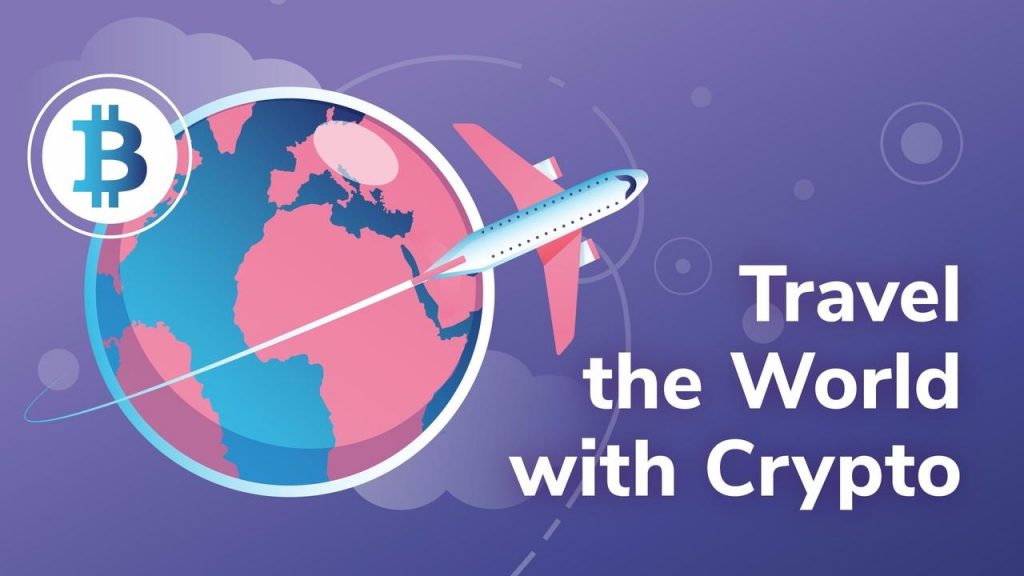 Bitcoin and other cryptocurrencies are fundamentally about decentralized, global, financial independence and freedom, and the ability to have complete, full ownership of your assets. Bitcoin is a borderless, censorship-resistant digital currency and available to anyone across the globe with internet access. Consequently, crypto, at least in theory, lends itself well to being an asset class for international travelers or "digital nomads".
As the growth rate of blockchain technology and crypto adoption increases, it makes sense with rising demand that we are seeing more ways than ever to spend and travel the world with crypto.
In this article, we will cover a range of different ways you can spend your crypto whilst traveling, why people choose to do so, and how moving into the $1 trillion travel sector is a big deal for the cryptocurrency industry.
In the case that this article happens to peak your appetite, be sure to check out Ivan on Tech Academy. Whether you are just looking to learn how to use crypto, or if you are interested in learning enough about blockchain technology to land a job in the industry, Ivan on Tech Academy has got you covered.
Why Travel Using Your Crypto
At this stage, some crypto enthusiasts ask why would you want to spend your crypto in the first place? Ultimately, if you believe in the underlying Bitcoin fundamentals and the protocols outlined in the Bitcoin whitepaper, then the only way Bitcoin can truly become a global, peer-to-peer electronic currency, is if some people are going out and spending it.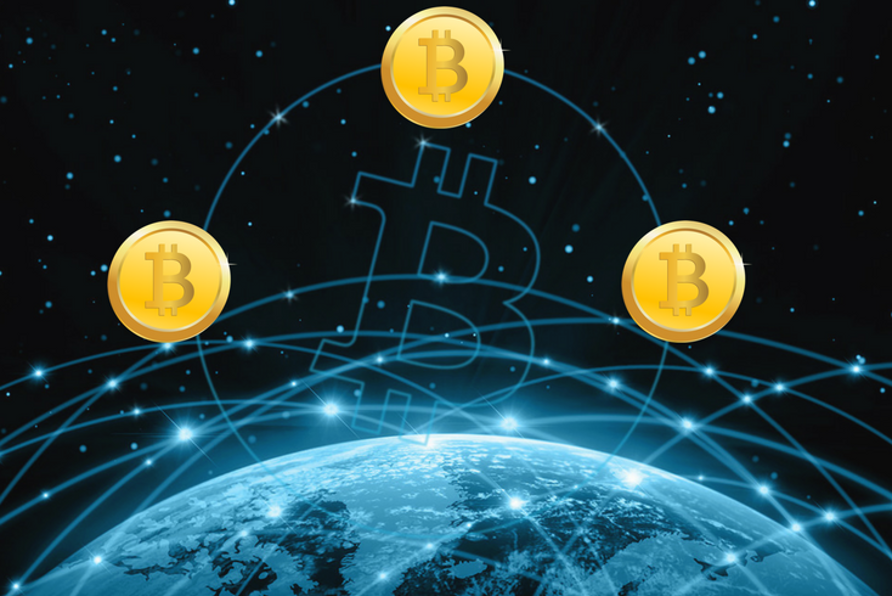 In turn, this creates a demand for crypto merchant solutions across the globe for people looking to spend their cryptocurrencies. Below are a few other reasons people may choose to travel the world with crypto:
Local Economies
For some people living in economic hardship and/or hyperinflation of their native fiat currency, choosing to switch cash from fiat to crypto will maintain their wealth as a hedge against inflation.
Choosing to store their wealth in Bitcoin or other crypto assets, can sometimes be the only option to allow people to save and travel, or to leave their country.
Going Cashless
If you choose to travel the world with crypto, you can forget about the hassle with local currency exchanges when arriving/departing a foreign country. Instead, the thinking goes that all your funds are stored electronically either online or on a portable device i.e., a smartphone or a hard wallet.

Traveling cashless is also possible using fiat currency with the likes of Apple Pay and Google Pay from your smartphone or watch, however, this usually incurs a 3% foreign transaction charge that will apply every time you make payment. The cost of most foreign crypto transactions is 2% according to dontstopliving.net; each little 1% soon adds up by the end of the trip!
Less Risk
Some argue there is a lower personal risk for being attacked or mugged by not carrying cash around on your personal belongings whilst traveling in a foreign country.
Besides, if there is an emergency in your home country, you can send cryptocurrency across the globe at any time 24/7, with minimal fees compared to the usual foreign exchange rate. It's a comforting thought knowing you're able to support your family or friends from anywhere in the world without the stress of any cross-border intermediaries.
Discounts
There are some travel, gift card, and retail sites (mentioned below) that offer customers discounts if they're paying with Bitcoin or other selected cryptocurrencies for a range of everyday transactions that can be used whilst traveling.
Felix Weis
Felix Weis, a software developer, made a name for himself in the crypto community for traveling the world using only Bitcoin as a currency, across 27 countries in 18 months.
On January 12, 2015, Weis began his voyages by purchasing an international travel railcard through all4btc.com, now redundant, however, offered users the chance to purchase anything online with Bitcoin. Customers would simply paste in the URL link, and then would pay for their product/service through all4btc using their Bitcoin!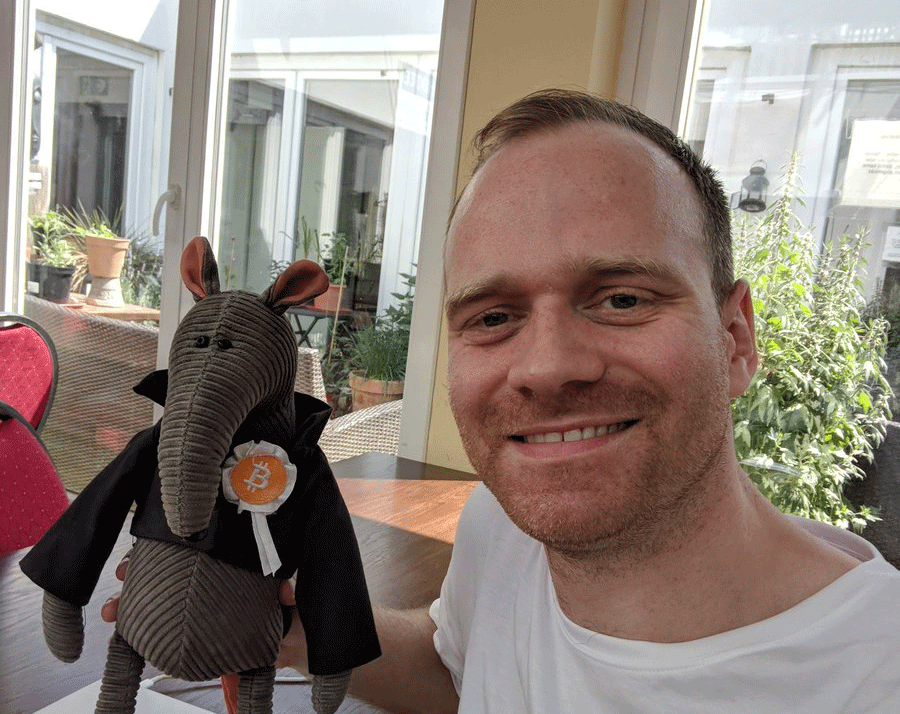 Felix Weis
When Weis found himself in developing countries with poor economies, he would educate the locals and show them how to create a Bitcoin wallet. Weis not only traveled the world to educate himself on the real-life adoption of cryptocurrency, but he also educated others and gave generously to communities and foundations along the way through fundraising, tipping, and teaching.
In certain circumstances when cash was needed, e.g. a hotel deposit with Weis not carrying a credit card, he used the website LocalBitcoins to find local people who would offer a peer-to-peer exchange of his cryptocurrency for fiat money.
The most challenging part according to Weis was eating out in restaurants or cafes – not many accepted Bitcoin, far fewer than now. Weis had a useful tool to locate restaurants accepting crypto on his phone. We have explained the CoinMap app later in this article.
Felix Weis is proud to say, in 2016, that he successfully used Bitcoin as a global currency to transact in 27 different countries, through purchasing, trading, and peer-to-peer exchanges.
In Venezuela, when Weis found himself unable to pay via Bitcoin directly, friends from communities and travels would help out. "For everything where I wasn't able to pay in Bitcoin directly, Anderson and his dad paid for me and at the end I paid them back in Bitcoin." – Felix Weis in his interview with Forbes.
How To Travel The World With Crypto
Flights
CheapAir.com became the first US online travel agency to start accepting Bitcoin as a payment method, back in 2013. The multi-service booking site also currently accepts Litecoin, Bitcoin Cash, and Dash payments.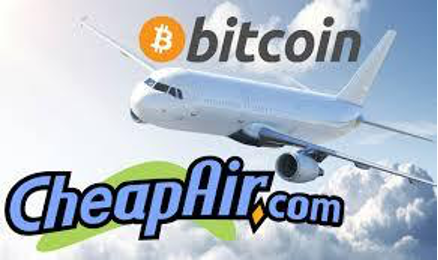 Global online travel giant Expedia started accepting Bitcoin as payment for flight bookings from 2014 until they quietly removed this option in 2018. However in the summer this year Expedia announced an integration with Travala.com.
Travala allows future-voyagers to book trips using more than 30 popular types of cryptocurrencies, including top active coins such as Bitcoin (BTC), Ethereum (ETH), Binance Coin (BNB), and Travala.com's native cryptocurrency (AVA), with access to millions of hotels and villas worldwide.
Other popular travel sites such as the Spanish site Destinia.com, also accept Bitcoin as payment for their flights and holidays. Other airlines around the world are also beginning to take notice of the trend, with airBaltic (Latvia), Surf Air (California, US), and Peach Aviation (Japan) all now allowing their flyers to pay and travel the world with crypto.
Accommodation
Holistic travel sites that can arrange flights and accommodation in one transaction are increasingly popular. We have already mentioned some of these, such as Travala/Expedia, and Destinia.
Destinia offers customers a choice of currencies available to view offers when landing on the homepage, however, if missed before checkout, customers are redirected to the GoCoin merchant-plugin, where there is the choice of which cryptocurrency they wish to use.
US-based CheapAir.com also includes accommodation options on their website. A Bit Sky – though itself is primarily a flight planner – has partnered with Booking.com, allowing its millions of users travel access across the globe today, exposure to crypto payment options when planning their next trip away.

There are also popular crypto Airbnb-like start-ups such as 99Flats based in India, and CryptoCribs created by Reddit user Winthegym. Moreover, he created the platform in 2017, saying he had "scaled it to 1500 listings in just 4 months."
Another up-and-coming project is XcelTrip – a decentralized travel ecosystem, allowing people to book at a choice of more than 1.5 million hotels through over 400 airlines, using the project's native token XcelToken PLUS (XLAB), and other leading cryptos like Bitcoin, Ethereum, Litecoin, alongside Visa (crypto debit cards mentioned further below).
Food and Drink
CoinMap is an application for anyone and everyone searching for crypto-friendly hospitality merchants. As mentioned by Felix Weis and many more crypto influencers in the scene, CoinMap has been the savior for locating the closest cafe, bar, or restaurant that accepts Bitcoin, including global chains such as Subway, or independent providers using crypto merchants.
A popular alternative to paying hospitality merchants directly is to purchase a gift card online through Gyft or eGifter, with eGifter offering a 5% discount for transactions made with Bitcoin, across gaming, streaming, and take-out related cards.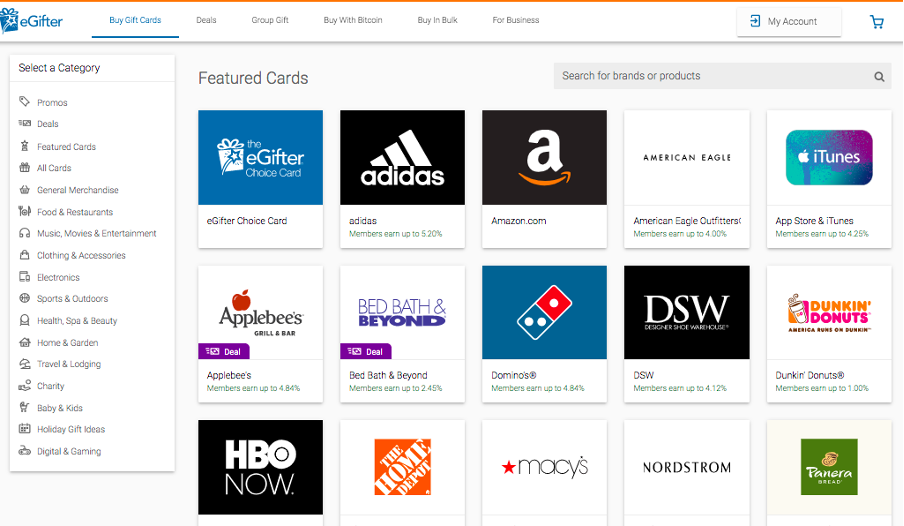 You can find all your favorite food outlets on eGifter, including Papa Johns, Dunkin' Donuts, RubyTuesdays, Dominos, Taco Bell, TGI Fridays, UberEats and so many more! Simply choose the gift card for a set amount with your BTC, eGifter then uses BitPay to process Bitcoin transactions, and then you'll receive a digital gift card to spend in stores – simple!
Car Rental and Transfers
Previously mentioned abitsky.com, offers car rentals deals which can be easily found on their homepage. Expedia, CheapAir, and Destinia all offer the option of arranging transfers or car rental services whilst you are away on their websites.
However, should you choose not to hire a car whilst away, Gyft and eGifter also offer Uber gift cards ranging between $15 and $500. This allows you to have the opportunity to pay for your transfers using a variety of different cryptocurrencies including Bitcoin, Bitcoin Cash, Bitcoin SV, Ethereum, Litecoin, and Dash.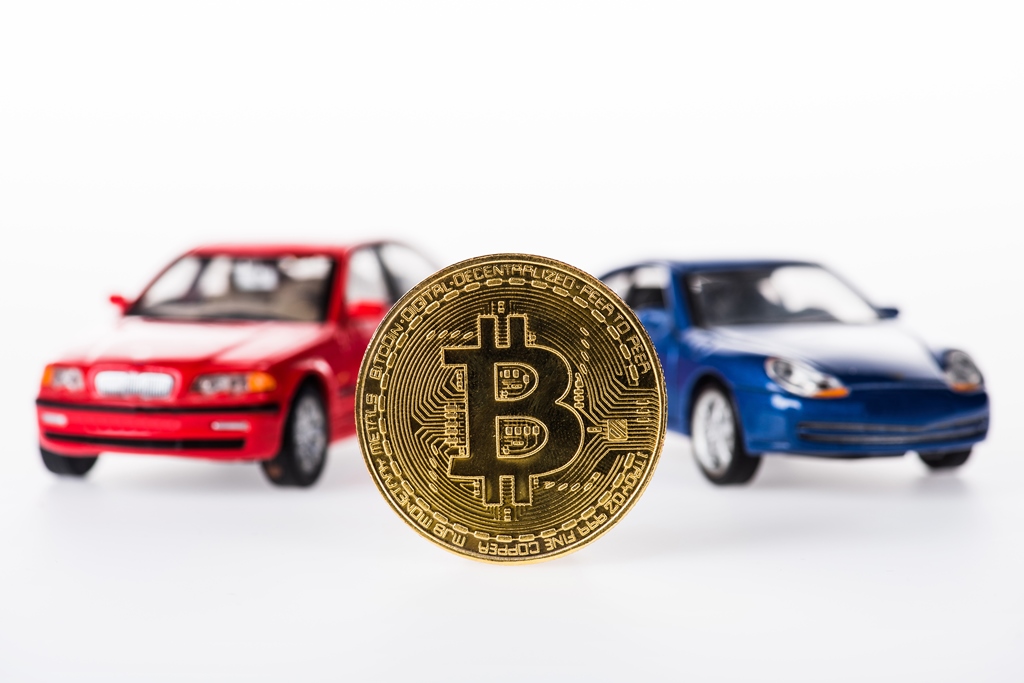 Alternatively, you could choose to check out SpendBitcoin.com, where you can locate different services available including a 'car rental' filter option, so you can visually see on a global map where businesses are located, giving you a heads up before arriving into a country.
As you might be picking up on, Bitcoin and crypto is bigger than ever. Ivan on Tech Academy offers courses that can take you from zero blockchain knowledge to cryptocurrency hero. We strongly encourage you to enroll in one of our courses before going traveling with crypto. Best of all, right now you can get 20% when you enroll if you use our promo code BLOG20.
Activities
If you haven't guessed by now, both Gyft and eGifter will come in seriously handy when you want to travel the world with crypto. There are a variety of local indoor and outdoor activities that can be found on Groupon, and with both gift card sites offering Groupon cards, this makes it possible to use your crypto for thousands of activities!
A note from Coin Bureau, a crypto YouTuber who recently went on a trip only using Bitcoin as currency, advises that should you need to make an emergency Amazon purchase, (for example, forgetting your flippers and snorkel and don't want to pay for the extortionate rental costs) purse.io is the best solution.
The largest online retail giant doesn't accept Bitcoin (yet), however with Purse.io you can create a wishlist of your items on Amazon, then import this into Purse.io by copying and pasting the link, and then you can pay for all these items in Bitcoin!

Purse.io also offers discounts of up to 15% if you are prepared to wait a little longer for shipping. One thing on nearly every holiday-maker's list is to visit the gift shop! Make sure to check out the gift shops at airports, with many merchants beginning to accept Bitcoin and other cryptocurrencies following the move of International Brisbane Airport in Australia, who became the first airport for all of their merchants to accept cryptocurrencies!
A key takeaway from Felix Weis was his enjoyment in finding and connecting with crypto community networks in the local areas he was traveling to and from. Bitcoin is a global currency, however very few are yet aware of its true potential. Finding people with similar interests around crypto whilst traveling could result in learning something new, finding a business partner, or making friends for life.
Crypto Travel Insurance
For anyone traveling who wants extra knowledge of security of compensation due to delayed flights, look no further than crypto travel insurance.
Fizzy, an insurance product through AXA, operated using smart contracts – if you don't understand the significance of this, feel free to check out one of our articles to learn how smart contracts work.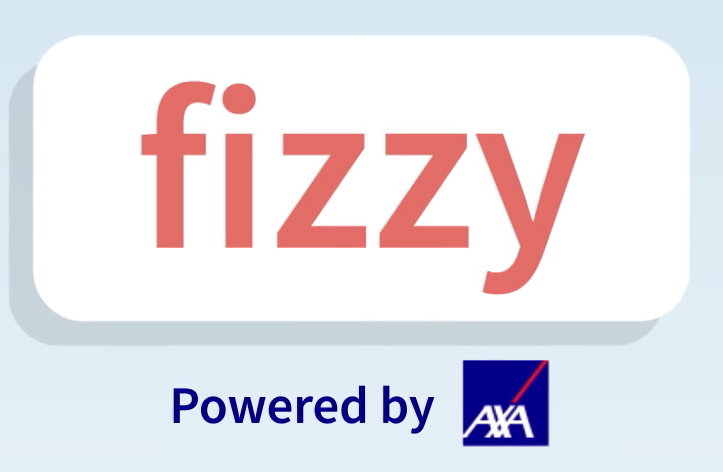 In short, with programmable money, you can set conditions for money to move from A to B. For example, a smart contract can be programmed to confirm flight departures were on time, and if not, insurance funds can be released into the policyholders' account immediately with no questions asked.
It was a smooth and simple setup, however, sadly AXA had to close the doors with their Fizzy insurance in 2017 due to essentially lack of demand and inability to meet targets. However, this has shown the world what smart contracts and crypto travel insurance can do for the industry.
Security Tips to Remember
It is also worth mentioning a few security tips when deciding to travel the world with crypto. After all, you are acting as your own bank. Theoretically speaking, as long as you can remember the seed phrase to a wallet, you can access your funds anywhere in the world with internet access, without the need for any physical device.
However, should you forget or lose your private keys or seed phrase, your funds are then lost for eternity – so it's worth taking precautions.
Firstly, have funds in multiple hot wallets, either online or mobile. This means that, for whatever reason an exchange might be down or inaccessible, you still have access to some funds in another wallet.
Secondly, use 2FA (Two-Factor Authentication) for all your wallets and exchange sites – this could be a handy indicator if someone attempts to log in as you somewhere else, by you receiving an email or text alert.
Finally, the majority of your funds should ideally be stored on a cold hard wallet. It is not advisable having large amounts of wealth in an online hot wallet that is more vulnerable to malicious attacks.
Storing your coins on a hard wallet means you're able to transfer across funds to your online/mobile wallets safely and securely, at any time of day or night. Be sure to have the seed phrase to your hard wallet secure, and never stored in the same place with the hard wallet. You can read more on how to keep your coins safe, by clicking here.
Conclusion
Bitcoin has proven itself as a global currency, truly allowing you to travel across the world and beyond – with Virgin Galactic also accepting Bitcoin payments for a seat on its upcoming space tourism jet. It's reported Tyler Winklevoss paid for a seat worth $250,000 in Bitcoin, at the time spending approximately 312.5 BTC for his ticket.
In addition to all the projects and merchants mentioned in this article, one of the biggest influences of moving crypto into the travel industry this year has been the integration and partnerships with the likes of Visa, Mastercard, and PayPal.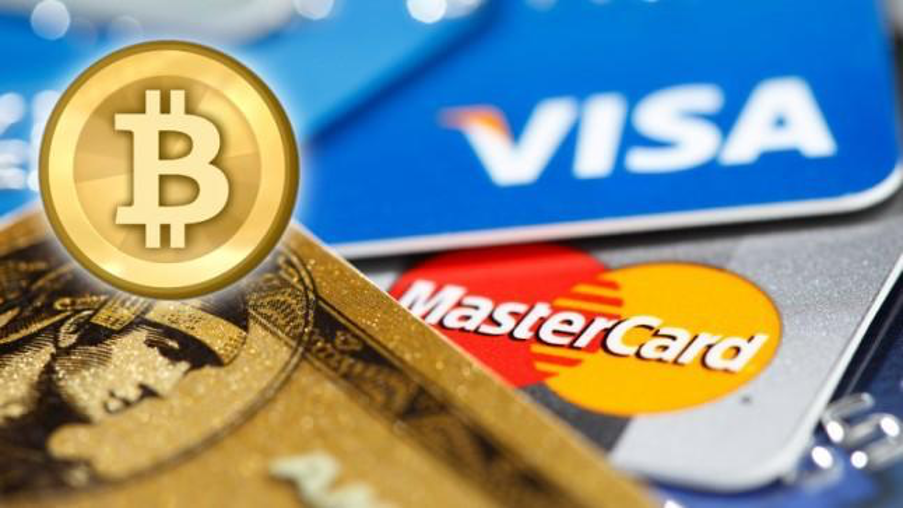 With Visa crypto debit cards, it is easier than ever for people to make everyday transactions across the 100 million Visa merchants worldwide covering 200 countries. Although Mastercard hasn't shown as much public awareness with its crypto integrations, Mastercard covers a wider geographic area than Visa with a presence in 210 countries.
Fast-forward to the future and nearly every hotel, bar, restaurant, or shop will have an electronic wallet to accept Bitcoin and likely other cryptocurrencies too. This could occur in developing countries sooner than in developed geographies, with many countries in Africa 'leapfrogging' technology, having access to smartphones and the internet, already using cryptocurrency as a necessity in everyday life.
Are you surprised over the growing adoption rate of cryptocurrencies? If so, you should definitely check out Ivan on Tech Academy. The Academy is quickly becoming one of the most popular platforms for blockchain education, and offers countless courses for those wanting to learn more about blockchain, Bitcoin, cryptocurrencies and DeFi.