Despite the current turbulence in the crypto and NFT markets, Solana (SOL) NFTs are rising in popularity. Because of this, it's essential to know how to choose the right Solana NFT marketplace for buying, selling, and minting NFTs. During 2021, the NFT market reached its highest trading volumes and NFT prices for most collections. However, even now, user demand for NFTs isn't considerably dropping during the bear market. The Ethereum blockchain is the leading ecosystem for launching NFTs, and it's known to be super expensive for creators and NFT buyers. Ethereum gas fees can go relatively high during NFT minting periods when users compete with each other by setting higher transaction fees. Users hope to outbid each other and thus succeed in minting a specific Ethereum NFT. During these so-called "gas wars," a transaction fee for minting a popular NFT can go for upwards of 100 US dollars.
Solana is much more affordable for minting NFTs, which is just one of the benefits of the SOL ecosystem. This article will go deep into the characteristics of Solana NFTs, why they are becoming so popular, and what are some of the top SOL NFT collections. We'll then check out the top five Solana NFT platforms to help you choose a Solana NFT marketplace according to your needs.
If you've just discovered crypto and don't know where to start, it's a good idea to learn some of the basics about the industry. Moralis Academy's Crypto for Beginners course will teach you the essentials.
The Solana Blockchain
Before diving into the details about Solana NFTs and marketplaces, let's explore the Solana blockchain. Solana launched in 2020 as a super-fast, Proof-of-Stake (PoS) blockchain platform that offers similar services to Ethereum. Instead of using crypto miners for validating transactions, Solana uses blockchain nodes who stake the native SOL coin to secure the network. These nodes check and process all transactions. Users who stake SOL coins earn staking rewards for participating in the network's security. The rewards come from network transaction fees.
However, Solana also uses a Proof-of-History (PoH) algorithm in combination with PoS to ensure fast transaction approval and processing. The PoH mechanism uses timestamps to eliminate unnecessary transaction verification procedures and speed up transfer finality time. Because of this, Solana can theoretically process around 65,000 transactions per second, which rivals TradFi payment processors like Visa.
Solana's high transaction throughput and transaction processing times of under 20 seconds make it a highly scalable blockchain network. These stats are much better than Ethereum's 15 TPS and average five minute processing time. Transactions on the Solana blockchain are very cheap, with an average transfer fee of a fraction of a US dollar. Because of these characteristics, Solana is becoming an increasingly popular network for launching decentralized apps (dapps). You can find numerous decentralized exchanges (DEX), DeFi platforms, blockchain games, and NFT marketplaces based on Solana.
The Rising Popularity of Solana NFTs
The Ethereum blockchain dominates the NFT market regarding the number of available NFT collections and trading volume. However, Solana is rapidly increasing its share of the NFT market. Data shows that in September 2022, Solana NFT marketplace trading volume grew from 7% of the whole market to 24%. One of the critical reasons for the rising popularity of Solana NFTs is that minting an NFT on Solana is incomparably cheaper than doing it on Ethereum.
You don't need to pay high transaction fees, and the price range of NFTs on Solana is much lower than on Ethereum. Solana NFT collections aren't as hyped as some blue-chip NFT collections on Ethereum, like Bored Ape Yacht Club or CryptoPunks. Because of this, the prices are mostly lower than on Ethereum, which attracts a considerable number of users. Also, during NFT minting, there's no network congestion or slow processing periods. Thanks to Solana's high TPS capacity, users can mint NFTs in seconds while paying low transaction fees.
Solana's technical characteristics make it very attractive for creators to launch their collections on a Solana NFT marketplace. The SOL ecosystem is rapidly expanding and onboarding new users and developers, judging by the number of new dapps and transaction volumes.
NFTs are a vital part of Web3 technology, so it's a good idea to learn the basics about this new internet iteration. Check out Moralis Academy's Web3 ebooks to learn the critical points about Web3. Also, if you're already familiar with Web3 and want to start your Web3 project, see our guide on how to make a Web3 website.
Leading Solana NFT Projects
If you aren't acquainted with Solana NFTs, it can be challenging to recognize top-quality projects on a Solana NFT marketplace. Here are some top collections you should check when visiting a Solana NFT marketplace, according to their trading volumes.
Degenerate Ape Academy and Degen Trash Pandas are a must-know among Solana NFTs. While the Apes come in various forms and styles and with numerous accessories, Pandas focus on abstract art.
The Aurory collection is one of the pioneers of NFTs on the Solana blockchain. The collection features anime-style characters with unique stories behind each NFT. The artwork is hand drawn, and token holders get various types of airdrops.
Okay Bears are among the most popular Solana NFTs according to trading volume. The famous digital artist Beeple is behind this collection of stylish bears wearing various hats, t-shirts, and other accessories.
Ethereum has NFT-based metaverse projects like Decentraland, while Solana has the innovative Portals metaverse. Users can purchase NFT real estate ownership cards and various additional collectibles to participate in the Portals ecosystem.
Taiyo Robotics brings pixeled NFT artwork to the Solana blockchain. This collection contains NFTs of futuristic robots with numerous details on retro backgrounds, accompanied by authentic storylines.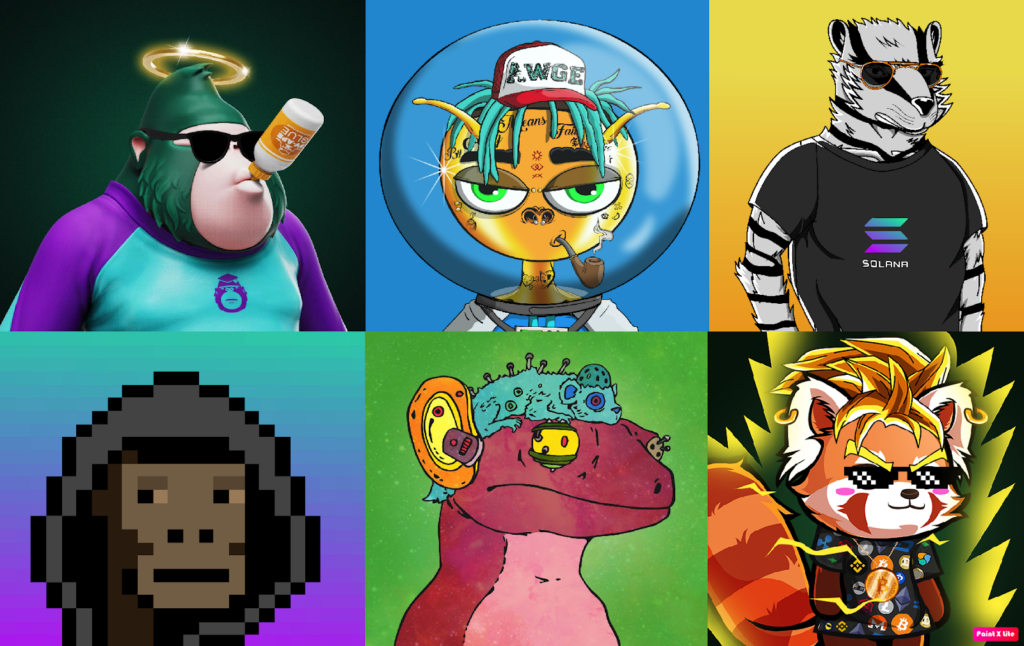 The bear market is a dangerous environment for investors of all experience levels. Check out Moralis Academy's guide on how to invest during a crypto bear market to learn how to make the most out of it.
What is the Best Solana NFT Marketplace?
Although the Solana blockchain is relatively young, its NFT ecosystem is vast and contains numerous artists, collections, and trading platforms. It's difficult to point the finger at one platform and say it's the best Solana marketplace for NFTs. There are numerous NFT markets on Solana, with different operational mechanisms, features, and rules. The best Solana marketplace is the one that fits your needs.
We've prepared a list of the top five NFT markets to help you decide which is the best Solana marketplace for you.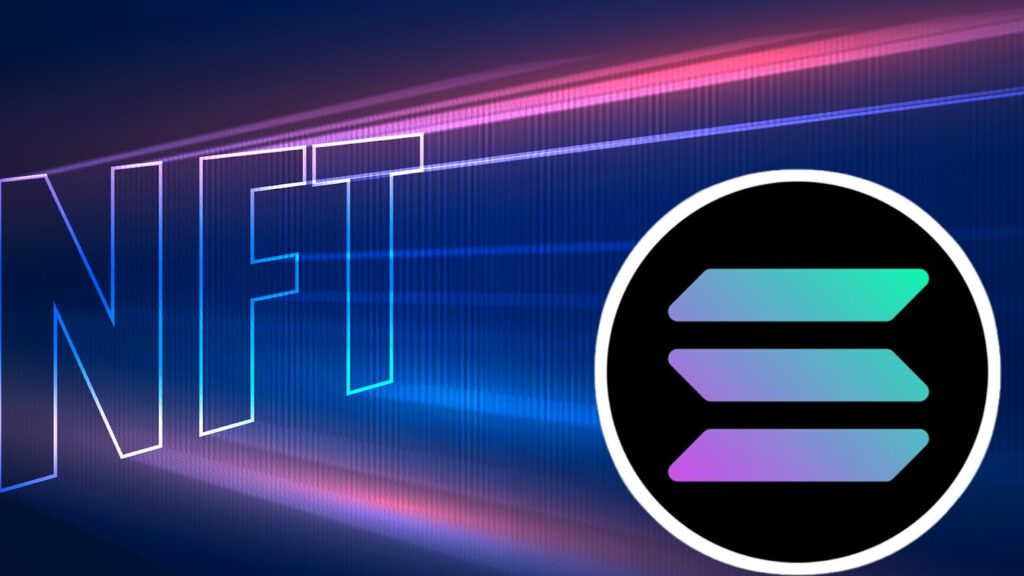 If you're starting your crypto journey, you need to understand the basics behind blockchain technology and how it works. Moralis Academy has a broad range of blockchain guides and a guide on crypto terminology to help you understand the key terms.
Magic Eden – The Largest Solana NFT Marketplace
Magic Eden is the largest Solana NFT marketplace and has the highest trading volume. Since the platform's launch in September 2021, Magic Eden has seen a total trading volume of over 700 million USD. Magic Eden has the highest number of users among SOL NFT markets, and it's often referred to as the best Solana marketplace for NFTs. You'll find many NFT collections on this easy-to-use platform.
Magic Eden doesn't charge listing fees so you can sell your NFTs without extra expenses. Transactions incur a 2% fee, and collectors can set royalties for secondary NFT sales. When you visit Magic Eden, you can navigate to the NFT launchpad to see a list of the recently listed NFTs and upcoming collections. You can easily mint these NFTs through the Magic Eden launchpad. Magic Eden requires sellers and creators to go through a curating process before listing their NFTs or minting a collection. This measure aims to ensure that only high-quality NFTs are available on the platform. Users can filter NFT collections, set up or participate in auctions, and analyze NFT stats on Magic Eden.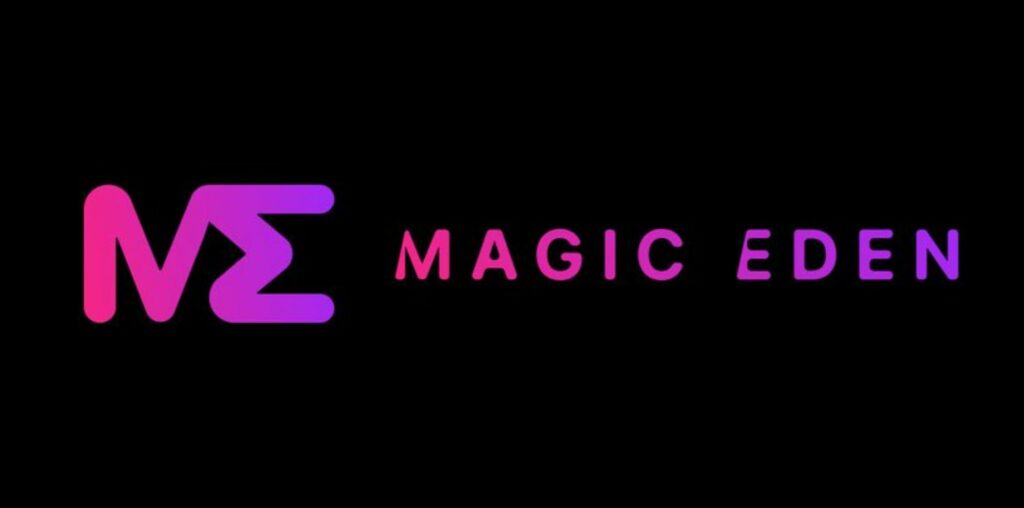 JavaScript is an essential programming language for Web3 developers because it contains the basics for important Web3 programming languages. Moralis Academy has a thorough JavaScript Programming 101 course to jumpstart your Web3 developer path.
Solanart
Solanart is another major SOL-based NFT marketplace. This platform is often considered the best Solana marketplace when it comes to connectivity because it supports a high number of Solana crypto wallets. In terms of NFT collections, you'll find all of the trending Solana NFTs on Solanart. The platform charges a 0.02% listing fee and a 3% transaction fee on NFT purchases. Also, creators can set their additional fees for NFT collections.
Solanart has a strict quality control policy to maintain high standards for listed NFTs. Creators need to fill out a form on the Solanart website and pass through an evaluation process before they can list their collections on the platform. Users can view the general rarity of their NFTs, along with the rarity of specific NFT elements such as accessories, coloring, and other features. Solanart also provides extensive data regarding the general Solana NFT market and the trading history for particular NFTs.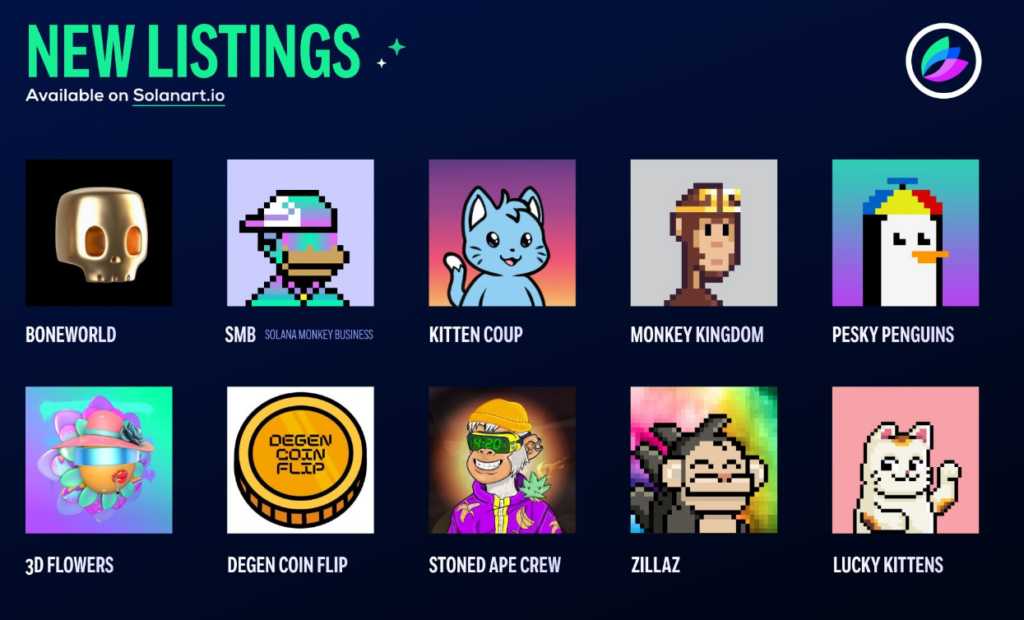 Solsea – The First Solana NFT Marketplace
Solsea is the first Solana NFT trading platform, and many Solana enthusiasts consider it the best Solana marketplace for NFTs. In many aspects, Solsea is similar to the Ethereum-focused OpenSea platform. Solsea took some of OpenSea's fundamental operational mechanisms and fitted them into the Solana ecosystem while adding authentic upgrades. The platform works smoothly and allows users to easily manage their NFT collections, buy, sell, list, and mint collectibles.
Solsea is specific for allowing NFT artists to install copyright licenses within their collections. This feature is essential for creators looking to protect their copyrights when issuing NFTs. Through this feature, creators get to set up rules regarding how buyers can use their creations in the future. Solsea is an open marketplace, meaning there aren't any requirements for creators and sellers to list their NFTs. You can post a collection on Solsea without any strict curation process. These features make Solsea an extremely friendly platform for beginner NFT creators.
The platform doesn't charge fees for listing NFTs, but it does charge a 3% fee for transactions. Although the NFTs are on Solana, users can also pay with USD Coin (USDC) and Tether (USDT). Solsea also has features for analyzing NFTs, such as a rarity score measurement tool. Users can even switch the visibility of their listings between public and private. The unique platform features are why many users regard Solsea as the best Solana marketplace.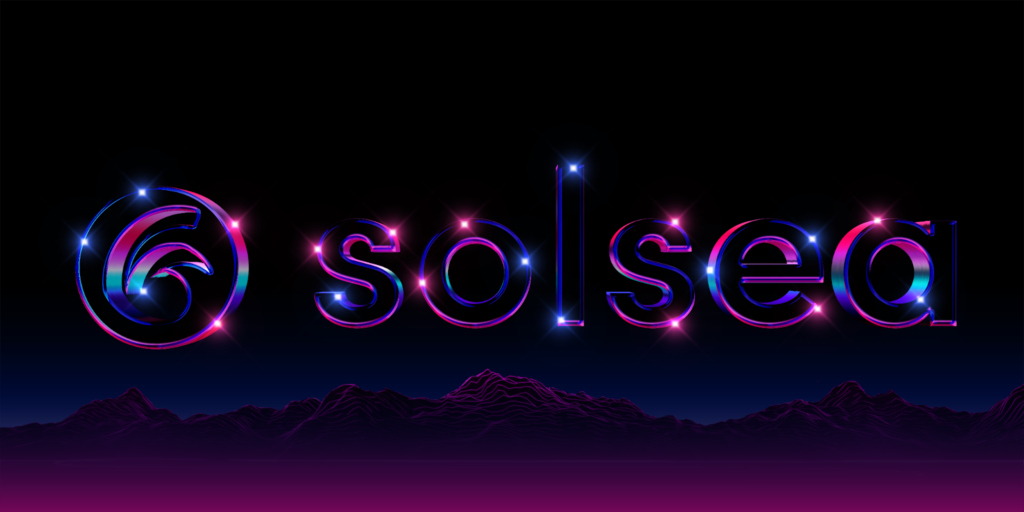 Exchange.art
The Exchange.art platform is unique among Solana NFT marketplaces because of its focus on independent NFT creators. Instead of seasoned digital artists with various NFT collections in their portfolio, Exchange.art is more geared toward artists new to NFTs. You can find numerous NFTs that aren't part of a collection on Exchange.art. The platform encourages creators with authentic artwork to list their art as NFTs. As far as fees are concerned, there aren't any fees for listing NFTs, and there's no curating process before listing an NFT. Transactions on Exchange.art incur a 2.5% transfer fee, and creators can set additional royalty fees.
Users can make an offer on any NFT on Exchange.art, regardless if it's for sale or not, which usually isn't possible on NFT markets. Additionally, the platform supports live auction features for placing bids on NFTs.

Artz – The First Decentralized Solana NFT Marketplace
Artz is the first decentralized NFT marketplace on Solana. The platform is unique because it doesn't use any centralized operational mechanisms. All NFTs remain in the users' crypto wallets during the listing process. An NFT leaves the user's wallet only once a sale is finalized. This contrasts centralized NFT markets, which usually require users to deposit their NFTs into an auction account. Some users in favor of decentralized trading platforms regard Artz as the best Solana marketplace for NFTs.
Artz doesn't charge any listing fees, while transactions incur a 2% fee, which is lower than most of the other marketplaces in this guide. Anyone can list or mint NFTs on Artz, while creators also get to set royalty rates for their NFTs. Artz is still a relatively small NFT marketplace, but it deserves its spot on our list because of its handy decentralized features and ease of use.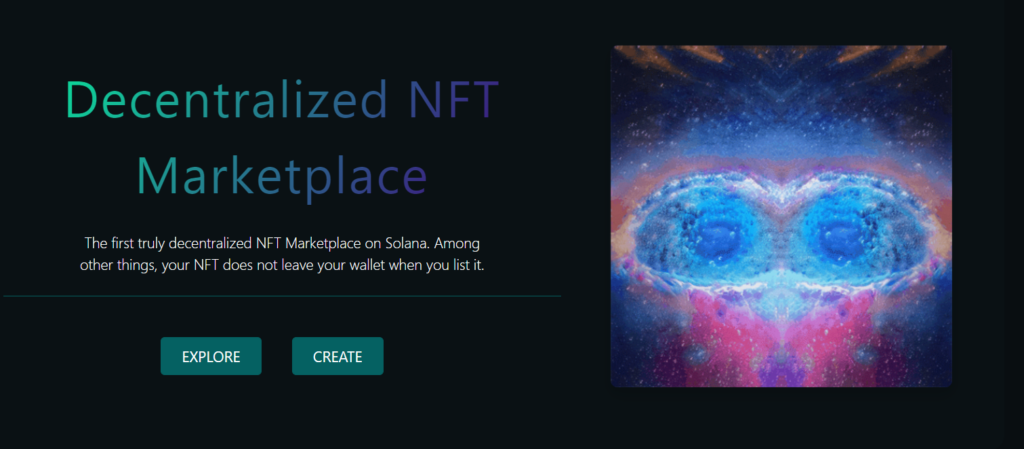 The popularity of Solana NFTs is rapidly growing. Moralis has a detailed guide on how you can create and launch your Solana NFT collection.
Exploring the Top Solana NFT Marketplaces – Summary
Solana NFTs are far from taking the spotlight away from Ethereum, the largest NFT ecosystem. However, the rapid growth of Solana NFT collections and marketplaces signals that more users and creators are trying out alternatives. Solana is much more affordable, faster, and more scalable than the Ethereum network. For these reasons, it doesn't come as a surprise that the number of NFT creators and users on Solana is growing.
It's challenging to select the best Solana marketplace for NFTs, but if you choose any of the ones we've described, you will be at the heart of the Solana NFT space. These platforms provide high-quality services and offer a broad range of NFT collections.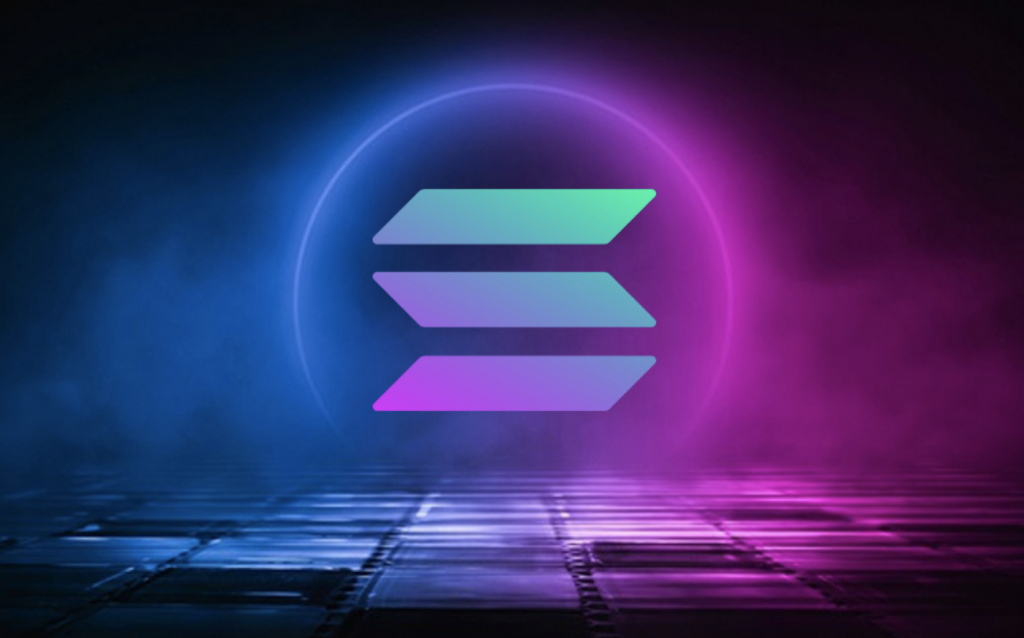 You can't understand crypto without knowing the essentials of blockchain technology and Bitcoin. Moralis Academy's Blockchain and Bitcoin 101 course will teach you how blockchain technology and Bitcoin work.