Brad Garlinghouse, Ripple's CEO, stated on Monday night that the US Securities and Exchange Commission (SEC) plans to sue Ripple over the sale of XRP cryptocurrency. And it looks like they're also naming Garlinghouse and co-founder Chris Larsen as co-defendants in the lawsuit.
The announcement stated that Ripple received allegations that they violated investor-protection laws. And these laws pertain to the selling of unregistered securities. That occurred, they say, when Ripple sold XRP tokens to investors.
In essence, the SEC Chairman Jay Clayton considers XRP to be a security, and it appears the lawsuit will focus, at least in part, on the sale of XRP to the public.
People have debated for years whether or not XRP is a security, so let's dig deeper into both arguments.
Nevertheless, the cryptocurrency sector can seem hard to get into. If you properly want to understand it, you should enroll in a dedicated academy such as Ivan on Tech Academy, which has already got over 30,000 enrolled students. Learn all about blockchain technology and cryptocurrency at Ivan on Tech Academy!
The SEC Sues XRP, Why?
The Wall Street Journal describes the Ripple lawsuit as revolving around "whether XRP, a digital asset that the company launched in 2012, is a security that should have registered with the SEC." If so, this would deem Ripple's XRP token "unlicensed."
Ripple's argument has always been that XRP is just like Bitcoin, which the SEC has exempted. Whereas the SEC regards XRP as a security, and as such, Ripple should have registered it.
To register with the SEC, a company must disclose its financial condition and inherent risks to investors. The SEC then reviews the disclosures and provides feedback to help protect investors.
So, who is right? Yes, XRP is similar to Bitcoin, but it is also different. Bitcoin was an open-source software project created by a person (or group of people) called Satoshi Nakamoto back in 2008. Also, the Bitcoin ledger can only transfer Bitcoin from one person to another. The XRP ledger, however, can transfer any form of value from one person to another.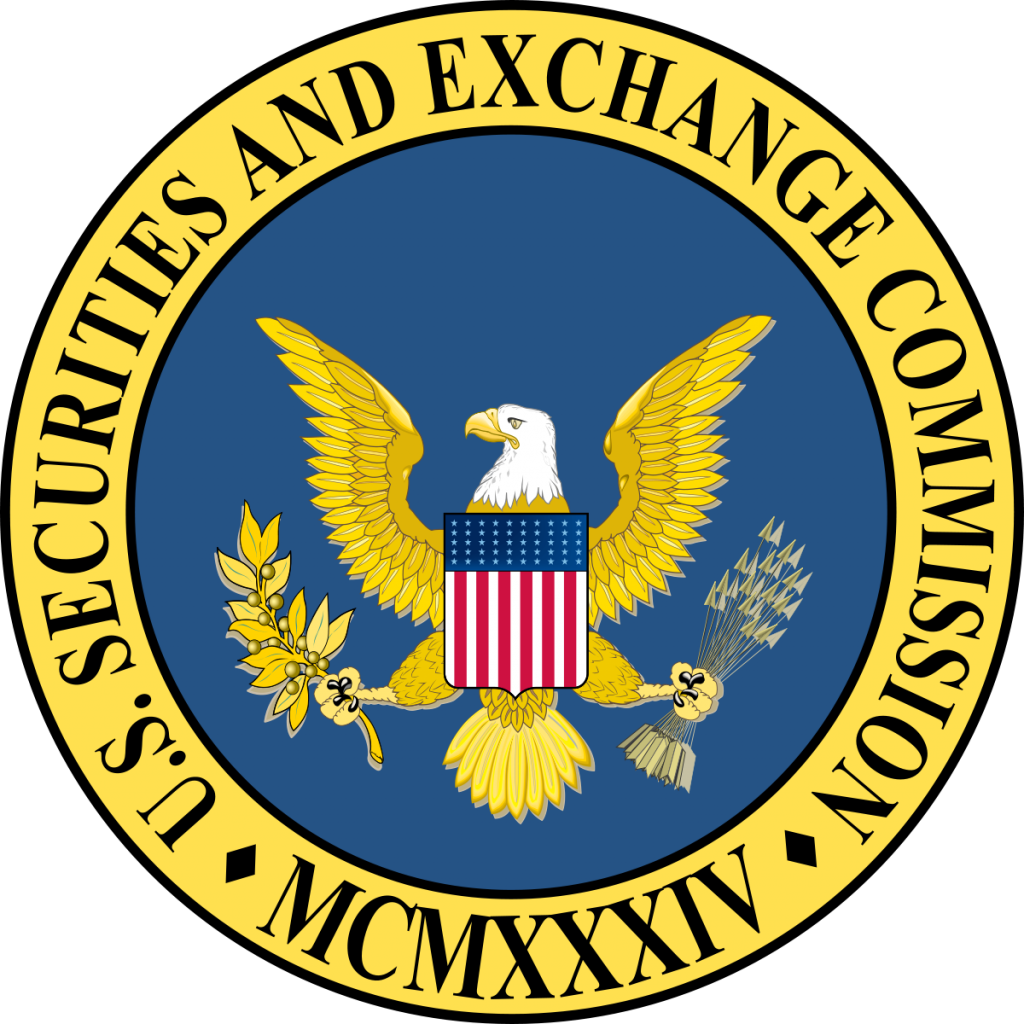 But that isn't the difference that seems to interest Jay Clayton. SEC interest centers around Ripple's founding and whether or not the initial distribution of their XRP token was, in fact, a securities offering.
The Ripple Lawsuit – Who Has Control?
Ripple was one of the earlier cryptocurrency companies, and it started with a total supply of 100 billion XRP. Ripple Labs got 80 billion of that with the three founders, Chris Larsen (allegedly named in the lawsuit), Jed McCaleb, and Arthur Britto, splitting the remaining 20 billion. That's quite a different start than Bitcoin.
Ripple has been selling chunks of XRP to the public from its 48 billion held in escrow but still retains most of the XRP. Even though it has ceded control over its development to independent developers, critics believe that initially, it was all about central control. Only later, they argue, did it make efforts to separate the entities.
Since Ripple still controls most of the XRP supply, the SEC believes that it is not a currency but instead, buying XRP is more like buying shares of company stock.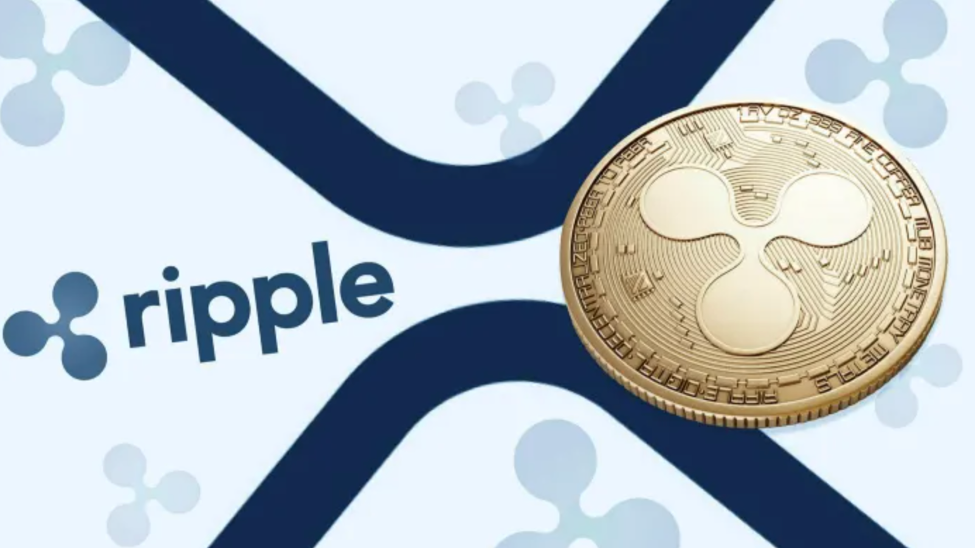 Bitcoin and Ethereum both got a "hall pass" from the SEC as it considered neither to be securities. However, the SEC seems to be growing less eager to grant passes to other digital assets so easily. And the SEC has a track record of filing and winning civil lawsuits against startups looking to raise money via cryptocurrency sales.
If the SEC files this Ripple lawsuit, it will be one of the highest-profile cases for them in the crypto space. Ripple was valued at $10 billion back in its 2019 funding round; It even surpassed Ethereum in total market cap at one point. Currently, it sits in 4th place at $18.8 billion behind Bitcoin, Ethereum, and Tether (USDT), according to CoinGecko. So, this is no "small fry" crypto outfit.
The Ripple Lawsuit – Is XRP a Security?
And so the debate rages on: Is XRP a security? Or is it a currency beyond the reach of the SEC?
Ripple argues that it's merely holding XRP while its ecosystem grows. The regularly scheduled XRP sales mean it has ceded control, and therefore XRP is not a stock.
If the SEC Sues XRP then we'll know they're not buying what Ripple is selling. Nonetheless, it's hard to say what the government hopes to gain through this lawsuit.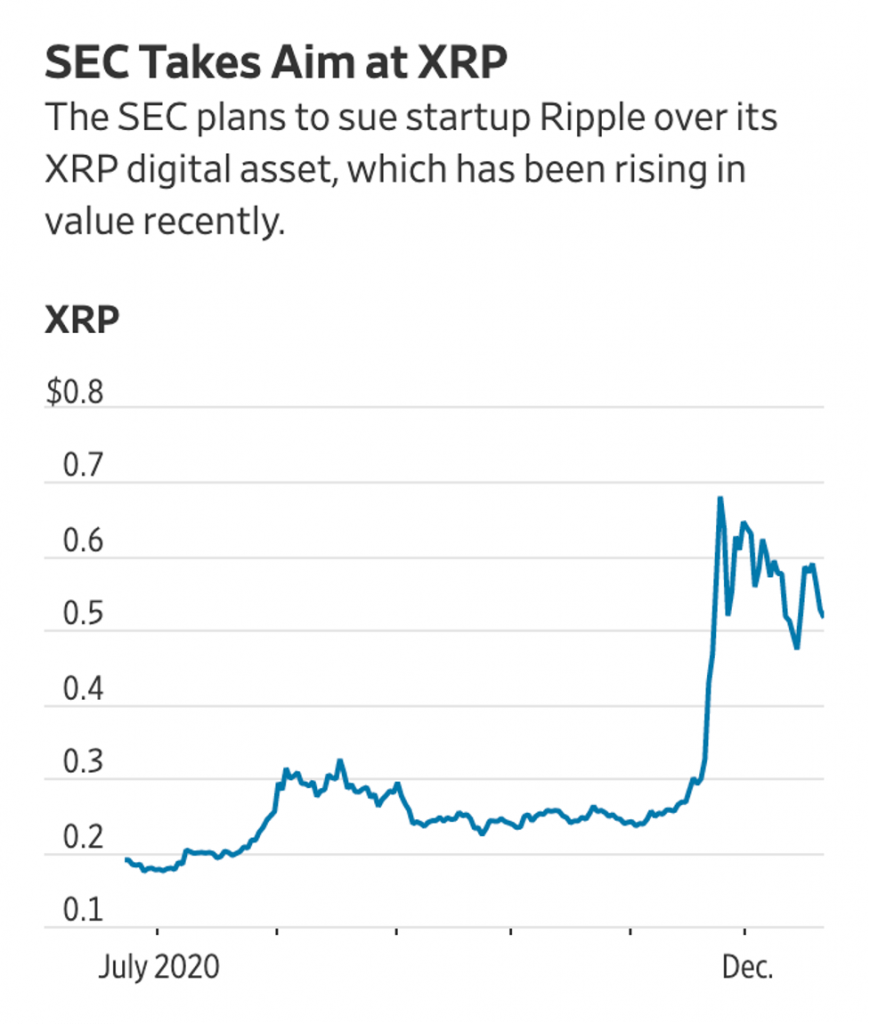 Is it looking for extra funds to add to its coffers via financial penalties? Does it want to make an example of a large company to let everyone know who's boss? Is this merely an exercise in chest-thumping to apply periodic punishment to some random billionaires? Or is this threatened suit a way of putting the crypto community on notice that securities law is about to be rigorously enforced?
Hopefully, it's none of the above. Maybe the SEC just wants lifetime snooping rights so it can perpetually look over Ripple's shoulder with mandatory, periodic disclosures. No one's saying yet as SEC representatives have been unavailable for comment to major media outlets.
Chairman Jay Clayton is reportedly leaving though at year's end. And it is a bit "grinchy" to file a suit so close to the end of his tenure. But he's reportedly a crypto skeptic said to consider many cryptocurrencies as operating outside of securities law.
The SEC Sues XRP – Garlinghouse's Response
Garlinghouse has not been cowed by any of this so far. He quickly lashed out on Twitter that Ripple is ready to fight to win and that the battle has just started. Furthermore, he called Jay Clayton's XRP lawsuit "an attack on the entire crypto industry," not just Ripple.
Now he might just be saying that to rally the crypto community. However, if the SEC can successfully beat down a behemoth like Ripple, it could set a precedent to go after other big fish in the cryptocurrency sea.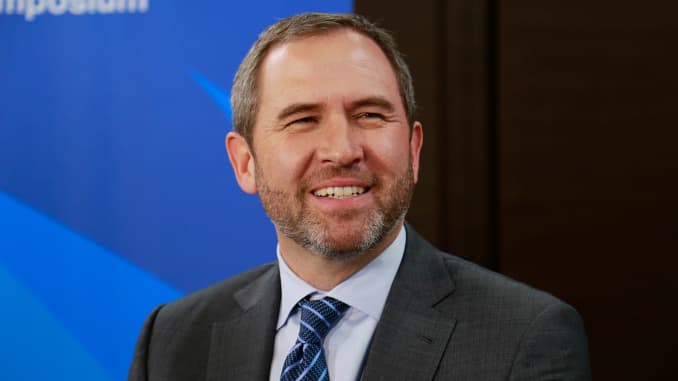 Brad Garlinghouse
But the Ripple CEO didn't leave it at that. He had lots more to say, even going after Jay Clayton personally. When describing his adversary, who is to step down soon, he said that Clayton "shamefully… has decided to sue Ripple, and leave the legal work to the next Chairman."
Questioning the Timing of Jay Clayton's XRP Suit
Garlinghouse also questioned Clayton's timing. "The SEC has permitted XRP to function as a currency for over eight years, and we question the motivation for bringing this action just days before the change in administration."
Speaking of timing, he also referred to Clayton as the "Grinch who stole Christmas" since his decision to sue came right before the holidays.
Jay Clayton
When turning his attention to the SEC as a whole, Garlinghouse claimed that it is "out of step with other G20 countries and the rest of the US government". "XRP is a currency," he said, "and does not have to be registered as an investment contract." Furthermore, "the Justice Department and the Treasury's FinCEN already determined that XRP was a virtual currency in 2015 and other G20 regulators have done the same. No other country has classified XRP as a security."
Is the Ripple Lawsuit Fundamentally Wrong?
Garlinghouse says this lawsuit is "fundamentally wrong as a matter of law and fact." He insists that Jay Clayton's XRP assessments are flawed and that XRP is like Bitcoin – an asset with "a fully functional ecosystem and a real use case as a bridge currency that does not rely on Ripple's efforts for its functionality or price."
On a more optimistic and somewhat braggadocious note, he said that "crypto and blockchain technologies aren't going anywhere. Ripple has and will continue to use XRP because it is the best digital asset for payments – speed, cost, scalability, and energy efficiency. It's traded on 200+ exchanges globally and will continue to thrive."
Will the Ripple Lawsuit Benefit China?
His next attack shifted the focus to the United State's top economic rival, stating that the SEC shouldn't limit innovation, primarily when it "directly benefits China." He accused the government of picking winners ceding favoritism to the top two players, Bitcoin and Ethereum.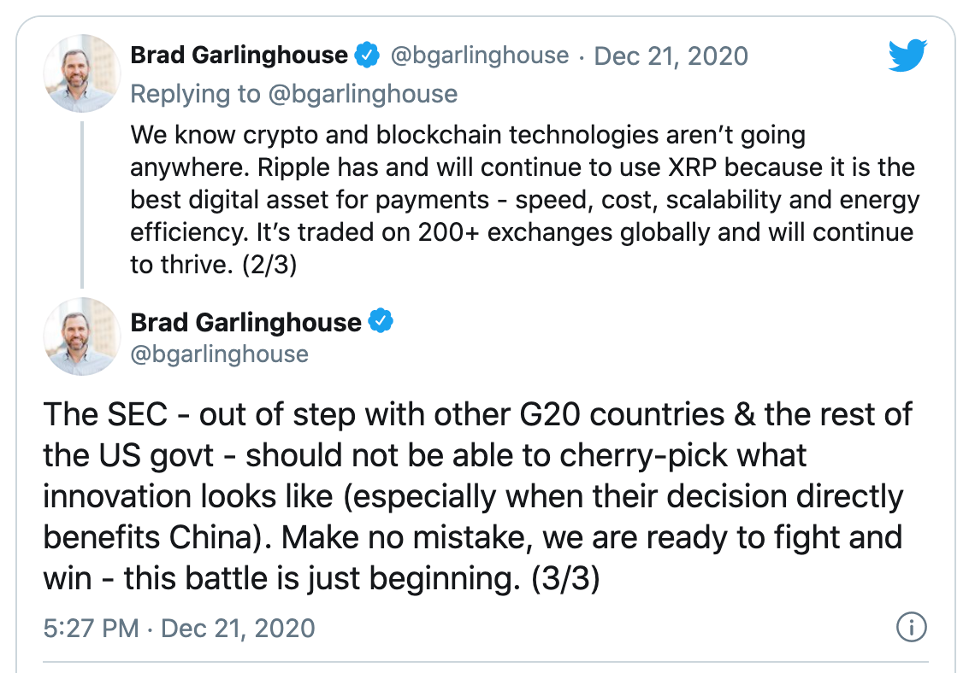 How does this benefit China? Well, Garlinghouse thinks that both of those blockchains are more susceptible to Chinese control because they are subject to simple majority rule. Facebook tried a similar tactic with their Libra Coin, arguing how it was all about preventing China's dominance in the coming digital currency world.
The SEC Sues XRP – Early Disclosure Strategy
Some of Garlinghouse's arguments are plausible, while some sound a bit unusual. However, one thing is definitely unusual, and that is how Ripple has opted for the public disclosure route. After all, the lawsuit hasn't been filed yet.

So one has to wonder if it's wise to taunt the SEC Chairman needlessly? Bureaucrats don't like to be publicly maligned. They're easily provoked, and it might make them more determined to proceed.
But, maybe Garlinghouse is taking President Trump's lead, who routinely berates lifelong bureaucrats and saddles them with unflattering nicknames that stick. Garlinghouse's "Grinch who stole Christmas" moniker sounds very Trump-like.
Or maybe Garlinghouse is following in the footsteps of Elon Musk. In 2019, Elon mastered the art of hurling Twitter taunts against his SEC foes to the delight and chagrin of his large social media following. Maybe Garlinghouse is playing the "taunt the regulator" game? Or maybe Ripple is going on the offensive early to take control of the narrative on social media, strategically blasting out their side of the story first.
Others Weigh In on the Ripple Lawsuit
Ripple's CEO isn't the only one speaking out, however. Christopher Giancarlo, a former chairman of the Commodity Futures Trading Commission, has argued before that XRP doesn't qualify as a security.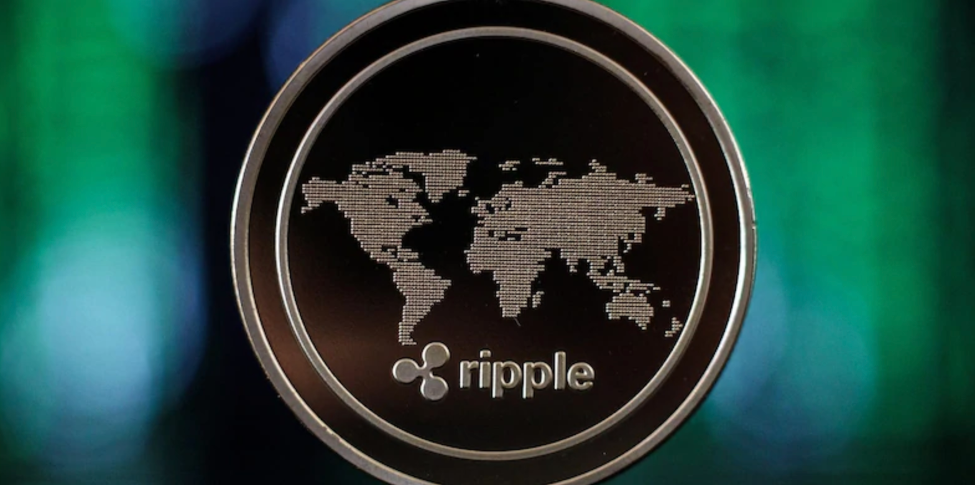 "We are being too restrictive and too cautious in the US, and too reliant on legal frameworks developed… for an analog world," he stated. "The lack of an open and constructive legal framework will only assist America's economic competitors in pioneering the digital future of money."
That is a good point. However, Giancarlo has also disclosed that he counts Ripple as a client at the law firm where he now works and thus far hasn't explicitly commented on the Ripple lawsuit.
Ripple also released a statement provided by Michael Kellogg, an attorney from the Kellogg, Hansen, Todd, Figel & Frederick firm. "This is not the first time the SEC has tried to go beyond its statutory authority. The courts have corrected it before and will do so again."
Yoshitaka Kitao, Ripple partner and president of SBI Holdings, is optimistic about its chances against the SEC. He stated that the Financial Service Agency in Japan "has already made it clear that XRP is not a security."
The SEC Sues XRP – The Early Days of Ripple
XRP has always played somewhat of a divisive role in the crypto community attracting strong proponents and opponents alike. XRP and Ripple are names people toss about as if they're the same entity, but they are separate.
Ripple is a Fintech company that builds distributed ledger technology (DLT) for financial services companies. In comparison, the XRP ledger is an open-source distributed ledger developed by Ripple Labs. Also, XRP is the native token of the XRP ledger.
So Ripple and XRP are different but not completely disassociated from one another. They maintain some essential links. Ripple's technology solutions use the XRP ledger, and XRP is its settlement mechanism.
Ripple designed the XRP ledger to be an international payment system powered by a peer-to-peer network of servers. The goal was to allow users to send international payments as quickly as an email. And more specifically, they wanted people to send other currencies, whether crypto or fiat.
The XRP ledger is decentralized, secure, and censorship-resistant. But before the XRP ledger, people were locked into the Swift banking network, a centralized payment system.
So, to the community of early adopters, XRP was seen as a solution to revolutionize the money exchange business. And the price of the XRP has been steadily rising, that is, until this week.
SEC Sues XRP – The Fallout
After the Twitter storm of lawsuit announcements, XRP's price fell sharply and now sits at $0.41 at this writing time. Not financial advice, but one could be interested in shorting.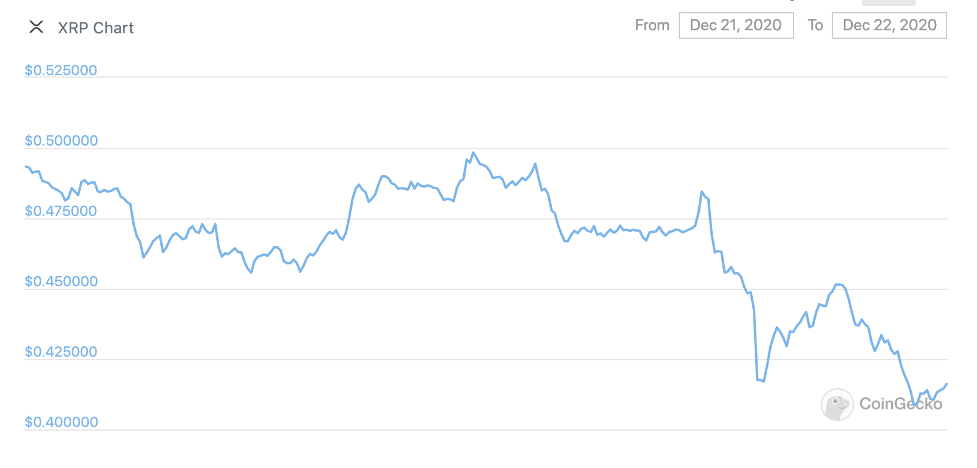 And even before the Ripple lawsuit announcement, CEO Garlinghouse had expressed his growing dissatisfaction with the United States' regulatory environment. Co-founder Larsen also mirrored his sentiments, even threatening to pull up stakes and leave the US for greener pastures if regulations did not become more favorable for crypto companies.
If the SEC sues XRP, it could push them to do just that. And regardless if you think Ripple deserves it, losing cutting-edge crypto companies to overseas competitors is never a good thing, nor are invasive legal precedents.
Do you want to learn more about Ripple or even become a blockchain developer yourself? If so, visit Ivan on Tech Academy today!
Author: MindFrac