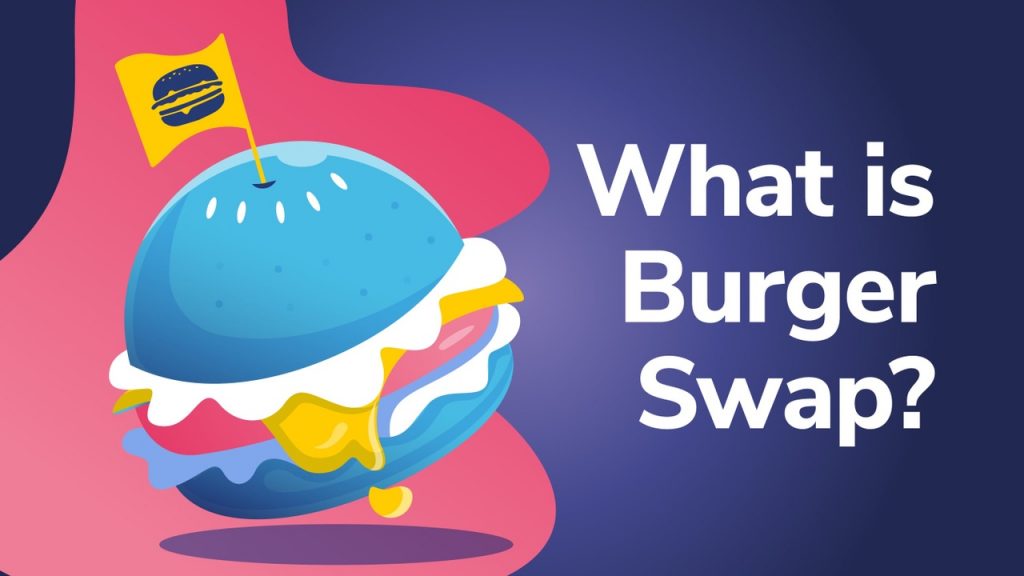 In recent weeks, we have witnessed a huge surge in the participation and total value locked (TVL) in decentralized finance (DeFi). In particular, projects within the Binance ecosystem have seen a massive spike in users and popularity. Launched on Binance Smart Chain (BSC) in September 2020, BurgerSwap is a democratized automated market maker (AMM) built on Binance Smart Chain (BSC) with Binance Smart Chain MetaMask utility. It has since become a popular decentralized exchange (DEX) for cross-chain token swaps. Users of the BurgerSwap platform can swap between BEP-20 and ERC-20 tokens without friction. Also, the BURGER token allows users to participate in governance and earn BurgerSwap token (BURGER) mining rewards! Furthermore, this is achieved in a way that is familiar to users of popular DEXs such as Uniswap.
In this article, we'll explore Binance Smart Chain's top automated market maker (AMM), and why BurgerSwap has become so popular. Furthermore, we'll explain the unique characteristics of the BurgerSwap AMM and the BURGER token. Also, we'll cover why the community is so important, and how BurgerSwap is developing a community-driven AMM of the future.
If you're still relatively new to the crypto world and would like to understand a bit more about the fundamentals of the technology, see Ivan on Tech Academy's Blockchain & Bitcoin 101 course! Here, you'll learn the unique value propositions of blockchain and why it is critical to the future of technological development.
Alternatively, if you have yet to purchase any cryptocurrency, why not check out the Crypto Basics course before doing so. Ivan on Tech Academy provides all the educational tools and materials needed, with step-by-step video guides, to safely purchase, sell, trade, and store your cryptocurrency. Also, this course provides a wealth of vital information to learn how to avoid scams in the industry.
What is BurgerSwap?
BurgerSwap was the first Uniswap-like automated market maker (AMM) to launch on Binance Smart Chain (BSC). The BurgerSwap protocol allows users to earn rewards by providing liquidity using the BURGER token. This can be achieved with a simple Binance Smart Chain MetaMask wallet integration.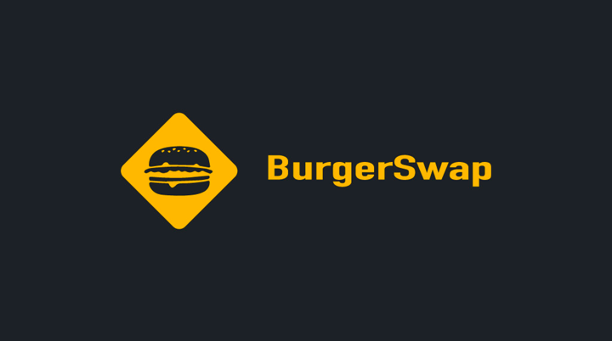 Furthermore, BurgerSwap is just one of many successful decentralized applications (dApps) that form the Binance ecosystem. Moreover, the BurgerSwap platform is a fully-decentralized and democratized AMM that puts the interests of the community first.
Automated Market Makers (AMM)
An automated market maker (AMM) is a decentralized application (dApp) that uses smart contract-based protocols to facilitate peerless trading. This means there are no order books, and there's no need for a buyer to be on the other end of any token swap. Liquidity for these token swaps comes from AMMs. People can lend their crypto assets in pairs to DeFi protocols such as Aave and Compound.
Automated market makers (AMMs) have reshaped decentralized finance (DeFi) in recent months. After popular decentralized exchange (DEX) Uniswap exceeded the 24-hour trading volume of Coinbase, the centralized crypto exchange (CEX) with the most users in the world, it became almost impossible to make small trades on Ethereum-based protocols and participate in governance due to high network congestion and gas fees. Therefore, interacting with Ethereum-based decentralized applications (dApps) can often be restricted to only those large bag-holders who can afford the fees without it taking a huge chunk out of any potential profits.
Uniswap was such a game-changer, it has been copied and cloned multiple times! Protocols such as PancakeSwap and SushiSwap took the Uniswap model and created healthy competition within the DeFi space using the blueprint. However, one of the main issues faced by some clones is a lack of transparency and accountability. Often, community governance can take a back seat in DeFi protocols. Also, as the market becomes saturated, the incentives for liquidity providers and staking rewards are reduced. This can make the risks involved outweigh the potential rewards, especially when it comes to yield farming.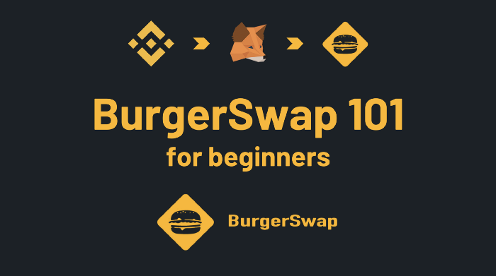 However, BurgerSwap is changing the game with the BurgerSwap token (BURGER) by incentivizing community participation as a way of increasing adoption, and it seems to be working!
Binance Smart Chain MetaMask Integration
Binance Smart Chain (BSC) aims to make DeFi accessible for everyone. By facilitating low-cost, cross-chain token swaps and simple Binance Smart Chain MetaMask integration, BSC lowers the barrier of entry to DeFi.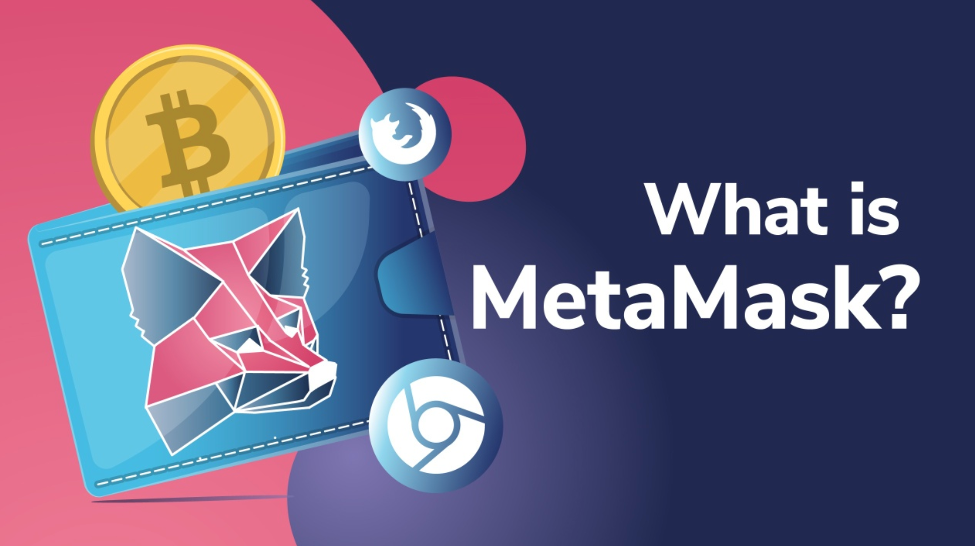 MetaMask is a web3 wallet - an online 'hot' wallet that features in your browser. MetaMask makes it super easy to interact with hundreds of platforms across different blockchain networks. If you'd like to learn how you can integrate MetaMask into your web browser, be sure to save our Beginner's Guide to MetaMask article for later!
To gain a better understanding of decentralized finance (DeFi), be sure to see Ivan on Tech Academy's DeFi 101 course. This course covers everything you need to know about the digital financial stack, and how to interact with DeFi protocols.
If you'd like to take your crypto game to the next level - flash loan programming, yield hacking, DeFi hedge funds, and crypto arbitrage opportunities - then look no further than our DeFi 201 course. Ivan on Tech Academy provides an opportunity to learn how to take advantage of DeFi opportunities, in safe, pragmatic, and efficient ways.
Community
BurgerSwap is a proudly democratized and decentralized exchange (DEX). The platform is built for the community, and continues to grow to meet the needs and wants of the community as a whole, not just those that create the most revenue for the platform. Accordingly, community governance is mandatory.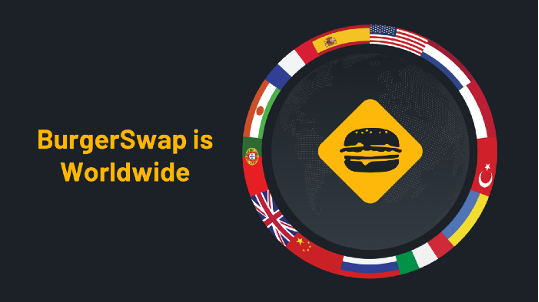 The BurgerSwap team believes that current governance models in DeFi fail to actually govern many protocols. Token pairs are added and metrics are tweaked, but for most DeFi applications, a change in smart contract code is required for real change to take place. BurgerSwap token holders can vote to change parameters such as trading fees, mining speed, staking rewards, and more! Moreover, only those that participate in voting are eligible to receive BURGER token staking rewards.
Listing and Delisting
Before a newly proposed project is listed, it must first reach maturity. Thereafter, a project must be vetted by the BurgerSwap community via governance voting. Also, a voting mechanism will be implemented to delist tokens associated with scam projects. If a project is delisted, the listing fees paid by the scam project will be distributed among BURGER token holders who vote once per week.
BURGER Token
BurgerSwap's token (BURGER) is a BEP-20 token standard, native to the Binance Smart Chain. BURGER offers great utility within the BurgerSwap ecosystem, including representing governance rights in votes on updates or proposals to the protocol. Additionally, BURGER tokens are used as liquidity rewards.

Initially, the supply of BURGER tokens was elastic. However, following the token listing, the community voted on a capped supply of 21,000,000 BURGER. Furthermore, BURGER tokens can only be generated by liquidity provision. Each block creates 40 BURGER tokens. A miner's share of these rewards is proportional to the amount of liquidity provided to the protocol. Although this can change through community governance, a maximum cap of 120 BURGER per block and a minimum supply of 1 BURGER per block is in place.
Moreover, the BurgerSwap protocol had no pre-mine or team allocation. Alternatively, 10% of all transaction fees generated from the protocol will be allocated to the vested team account. This shows the long-term goals of the project and reassures users that the team won't dump their share of the tokens on users at the drop of a hat!
Stay ahead of the markets with real-time, on-chain data insights. Inform your trades with true market alpha!
The BURGER token closed December 2020 at a price of $0.60. Since then, however, BURGER has seen a new parabolic all-time-high price in February 2021 of $15.52 following the surge in usage of the protocol. At the time of writing, BURGER's price sits around $7.05.
Mining Rewards
As with PancakeSwap, token pairs for liquidity providers on BurgerSwap have Binance Coin (BNB) pairs. Also, liquidity providers are required to use a BURGER token pair. BURGER needs to account for a minimum of 1% of the liquidity of concerned assets to be eligible for liquidity mining rewards. However, this could be subject to change, if the community votes to make changes to this limit. This ratio is set to 1% by default, with the upper limit set at 5%.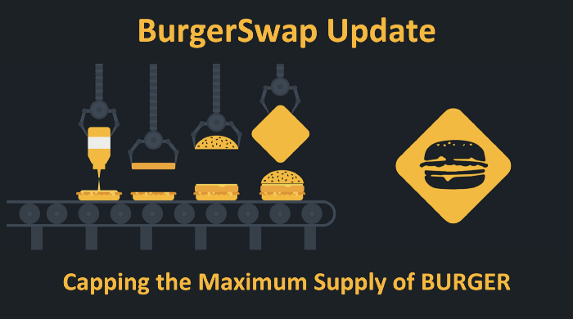 BurgerSwap mining incentives are key to the growth of the platform. Users can vote to keep mining distribution fair and even by increasing or decreasing the speed by which rewards are issued. This innovative model aims to promote healthy adoption and protocol growth.
Normally, when users provide liquidity to a pool they receive liquidity provider (LP) tokens. The tokens represent the portion of a stake that a user has in the pool. Unlike most automated market makers (AMMs), BurgerSwap does not use liquidity provider (LP) tokens. This mitigates the risk of liquidity migrating to other protocols.
Transaction Fees
From launch, transaction fees on BurgerSwap were set to 0.3%. Any transaction fees collected are converted into BURGER tokens and added to the governance pool. To claim transaction fees, users must stake BURGER tokens and participate in governance once per week. This can be done easily with the Binance Smart Chain MetaMask integration.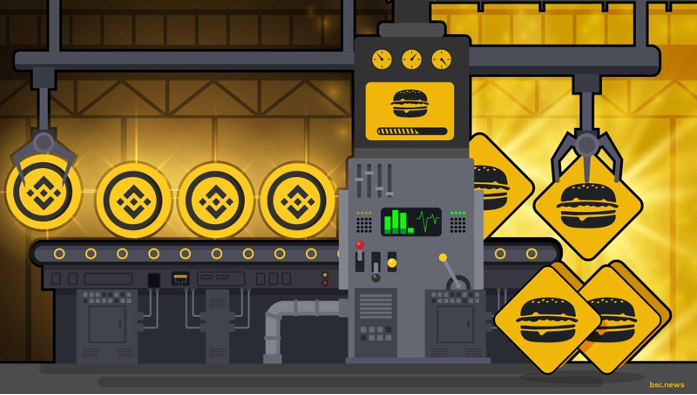 Each time a new governance proposal is created, the total balance of BURGER tokens is transferred into a newly created proposal contract. If a user participates in the voting of a proposal, they will receive a share of this reward pool once the proposal has ended. Furthermore, if a proposal is successful, the creator of the proposal gets bonus BURGER token rewards!
Why Use BurgerSwap?
Several reasons are causing people to turn away from Ethereum towards Binance Smart Chain (BSC). BSC is usually faster and cheaper to use than Ethereum. With gas prices reaching incredible heights, many simply can't afford to use Ethereum-based DeFi protocols. BSC has a fixed transaction fee which can be as low as 1 cent. Furthermore, block confirmation times are around three seconds per block. Also, when compared to Ethereum, BSC has a much lower barrier to entry.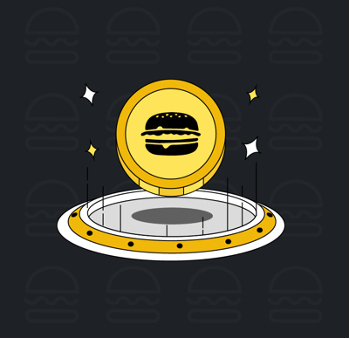 The Binance ecosystem is thriving at the moment, with several successful projects all supported by one of the largest and most successful blockchain communities around. Complete with Ethereum Virtual Machine (EVM) compatibility, BSC makes it seamless for Solidity developers to go ahead and move to the new BSC platform.
BurgerSwap is not a clone. The project was built using 14 original contracts, which is substantially more code than any BurgerSwap competitor has produced. Whereas many similar protocols are simply copies of Uniswap, BurgerSwap has designed the protocol from scratch. This gives an element of authenticity to the project that could make it appeal to users old and new.
Fast Food Alliance
Initiated and coordinated by the globally-distributed team at BurgerSwap, the Fast Food Alliance is a collective of decentralized finance (DeFi) protocols based on the Binance Smart Chain. Recent partners include 7up Finance and Fry World.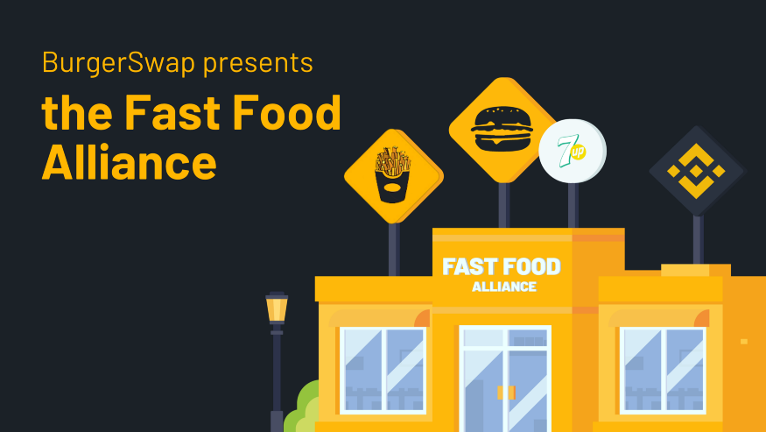 The Fast Food Alliance is designed to build relationships and synergies between like-minded developers and bring further utility to the BURGER token. For example, you can now stake your BURGER tokens on Fry World. This is the Binance Smart Chain equivalent of yield aggregator Yearn Finance.
Thanks to the Binance Smart Chain MetaMask incorporation, users can easily hop between various DeFi protocols, using one protocol token within another protocol. Also, MetaMask gives users control of their private keys, adding another layer of decentralization to the Binance ecosystem.
In the future, the Fast Food Alliance hopes to be the chosen collective of DeFi platforms. This is largely due to cheap transaction fees, high throughput and fast confirmation times, and interoperability between each platform.
BurgerSwap & BurgerSwap Token Summary
Following the recent Bitcoin 2021 bull run, it's now Binance Smart Chain that currently appears to be at the forefront of the hype. BurgerSwap is the democratized and decentralized automated market maker (AMM) for the Binance ecosystem. Plus, BurgerSwap has collaborated with several other DeFi protocols, creating an Alliance to bring cross-protocol utility to the BURGER token.
BurgerSwap is more than just another AMM in the DeFi space. Under the hood, the protocol is unique and innovative, not cloned, with community governance at the forefront of design. This being said, from a user perspective the interface is very similar to that of Uniswap or PancakeSwap. BurgerSwap has intricately combined novel governance rights alongside a familiar user experience. The platform has seen tremendous growth in 2021 and appears set to continue as the adoption of Binance Smart Chain increases, along with Binance Smart Chain MetaMask integration.
The saying, "the best investment you can make, is in yourself" has proven fruitful for many. Secondary to that, investing in education about the history of money and how the modern-day banking world operates could prove vital to creating and preserving a store of wealth. If this sounds interesting, Ivan on Tech Academy's Bitcoin Standard Course comprehensively and articulately explains the shifts in monetary policies over time.
Additionally, our Ethereum 101 course explains the foundations of the next chapter of the financial revolution; decentralized finance (DeFi), and how this is fundamentally different from Bitcoin. Gain an exciting and valuable education today to propel yourself into an exciting career in crypto! Also, follow us on Twitter @Academy_IOT to let us know your thoughts about BurgerSwap!