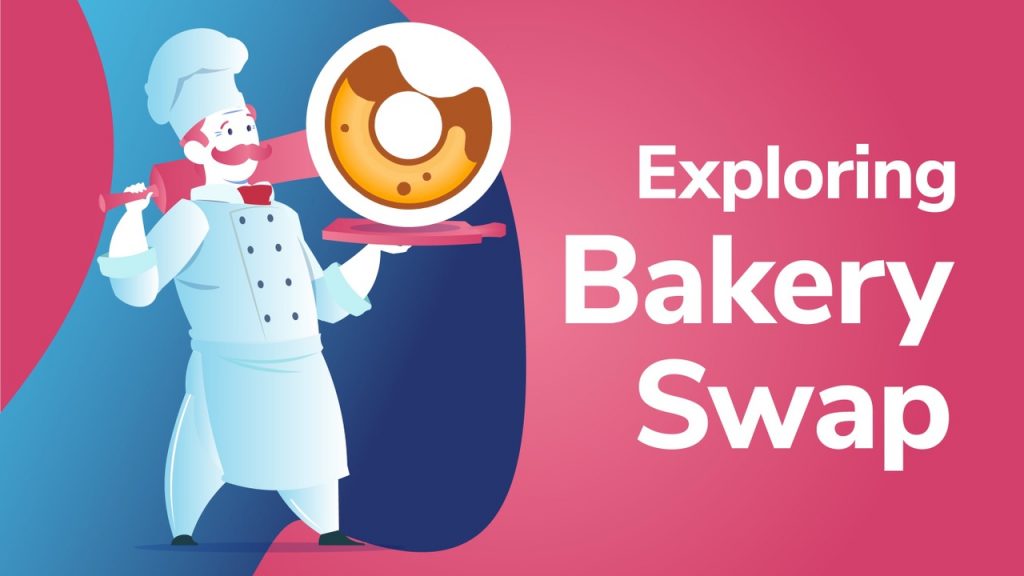 BakerySwap is a next-generation automated market maker (AMM) and decentralized exchange (DEX) on Binance Smart Chain (BSC). Powered by the native BakerySwap token (BAKE), BakerySwap is one of several new protocols to combine many popular features into a single, easy-to-use platform. By providing liquidity to the BakerySwap protocol, users earn BAKE rewards from trading fees. Also, BAKE can be used to vote in protocol governance proposals. BakerySwap is a multi-functional crypto hub that offers a range of decentralized finance (DeFi) services, along with a crypto launchpad and non-fungible token (NFT) supermarket.
In this article, we're going to explore the BakerySwap platform and the various features on offer. Also, we'll discuss the key functions of the BakerySwap token (BAKE) and what gives it such high utility. Furthermore, we'll take a look at Binance Smart Chain (BSC) and the important role it has played in the success of the BakerySwap project!
With so many new crypto projects emerging, it can be difficult to know where to begin when learning about blockchain technology and cryptocurrency. However, the Crypto Basics course at Ivan on Tech Academy is the perfect place to start your journey! This course is designed to help you learn how to navigate the crazy world of crypto safely for the first time.
Following this, if you'd like to learn how blockchain works on a technical level, be sure to check out the Blockchain & Bitcoin 101 course at Ivan on Tech Academy, the number one blockchain education suite online!
What is BakerySwap?
BakerySwap is a multi-functional decentralized application (dApp) created on Binance Smart Chain (BSC). The platform features yield farming opportunities, a non-fungible tokens (NFTs) supermarket, plus a crypto launchpad for both cryptocurrencies and NFTs.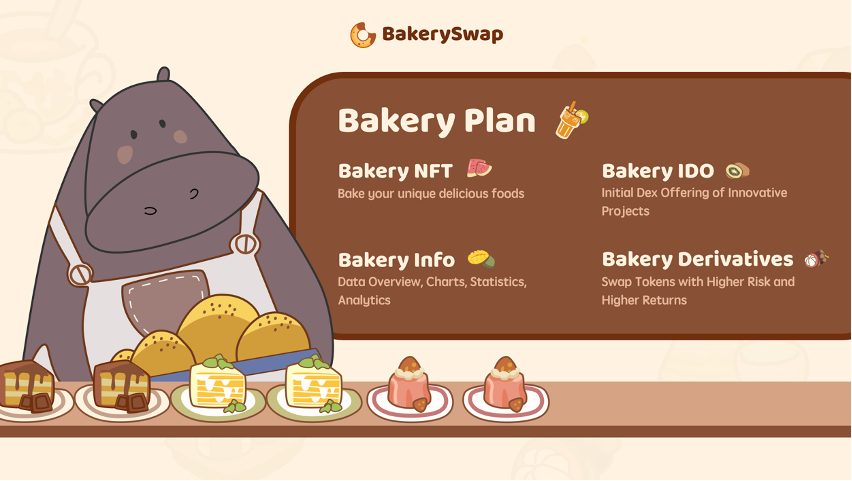 BakerySwap was one of the first platforms on BSC to use the automated market maker (AMM), model. This works similarly to BurgerSwap. However, BakerySwap was the first to offer liquidity pools for altcoins such as Polkadot (DOT) and Chainlink (LINK) on Binance Smart Chain (BSC). In addition to this first move, BaskerySwap was also the first to create a BSC non-fungible token (NFT) supermarket. BakerySwap's NFT supermarket offers a range of limited edition NFTs, including the opportunity to mint and sell your own NFTs!
Binance Smart Chain (BSC)
During times of high network congestion, gas fees on Ethereum can become excessively high. Not only does this slow down transaction times, but it can create a high barrier for entry to decentralized finance (DeFi). Binance Smart Chain (BSC) was created to facilitate super-fast, inexpensive transactions for smart contract-based decentralized applications (dApps). This significantly lowers the barrier for entry to DeFi and makes it easy for developers to get a project into production quicker and cheaper than they could on Ethereum.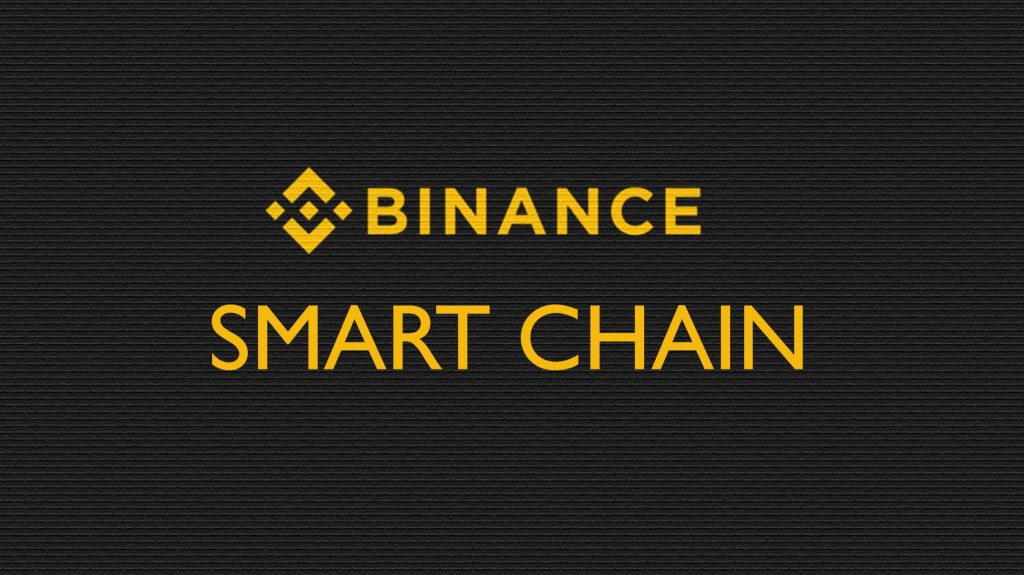 BSC is host to many new DeFi protocols, including BurgerSwap, PancakeSwap, and Spartan Protocol, to name just a few. Though these platforms are varied, they all share a common goal of making DeFi accessible to everyone, with the help of the Binance ecosystem. Protocols that run on Binance Smart Chain are simple to use and easy to access with a web3 wallet such as MetaMask.
BAKE Token
The BakerySwap token (BAKE) is a multi-utility token used across the BakerySwap platform. Additionally, BAKE tokens can be used cross-platform in other Binance Smart Chain (BSC) decentralized applications (dApps). These include Fry World and PancakeSwap. BAKE token holders hold governance rights for future proposals of the BakerySwap protocol and a chance to vote on updates. Also, BAKE tokens create an opportunity to make a passive income across several revenue streams.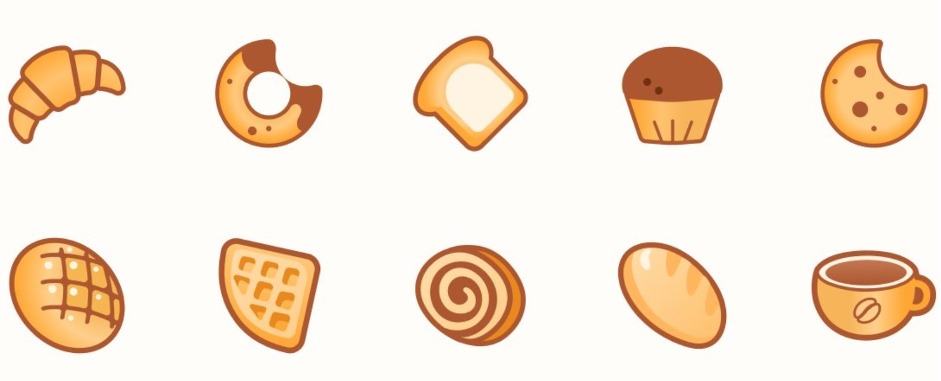 The total supply of BAKE tokens is just over 731.7 million, being entered into circulation in stages. The first is through liquidity pools in accordance with the respective reward multiplier (i.e. 3x, 5x). Early farmers (or bakers) received higher rewards initially, as per the protocol's Binance Smart Chain (BSC) 'block release' schedule. Rewards were reduced from 400 BAKE per BSC block during the first 30,000 BSC blocks, to an average of 73 BAKE per BSC block from block 900,001 onwards. The BakerySwap team wanted to maintain a fair token distribution, with no pre-mine or pre-sale. The team themselves only receive 1% of BAKE farmed on the platform.
BAKE tokens can be used on BakerySwap to earn more BAKE tokens, or staked to earn non-fungible tokens (NFTs). Users who stake their BAKE to create an 'NFT combo meal' earn more BAKE rewards than in other pools. Moreover, there is an opportunity to sell combo meals in the NFT supermarket, or, opt to use BAKE tokens to purchase some NFT artwork!
BakerySwap Exchange
The BakerySwap exchange is one of the first automated market maker (AMM) models built on Binance Smart Chain (BSC). AMMs facilitate peerless token swaps using smart contracts, rather than order books. This allows users to easily swap tokens without a buyer or seller on the other side of the transaction.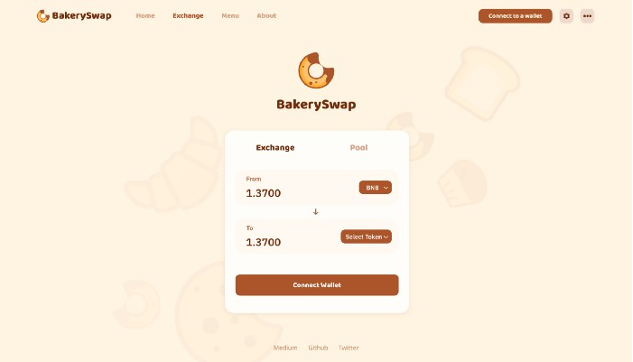 This is presented in a way that is extremely familiar to users of popular decentralized exchange (DEX) Uniswap. However, all token pairs on the BakerySwap exchange use Binance Coin (BNB) as the common base asset. This is as opposed to Ethereum (ETH), which is the common base asset used for Uniswap.
To familiarize yourself with some of the most popular decentralized finance (DeFi) protocols and learn how to use them, check out the DeFi 101 course at Ivan on Tech Academy. Then, if you want to learn how to master the art of DeFi, the DeFi 201 course is designed to teach you all about yield farming, crypto arbitrage, and much more! With courses curated by our team of industry-leading experts, Ivan on Tech Academy is the all-in-one blockchain education platform designed to help you achieve your goals in crypto!
Earning with BakerySwap
There are three main ways to earn with BakerySwap, depending upon risk appetite and investment size.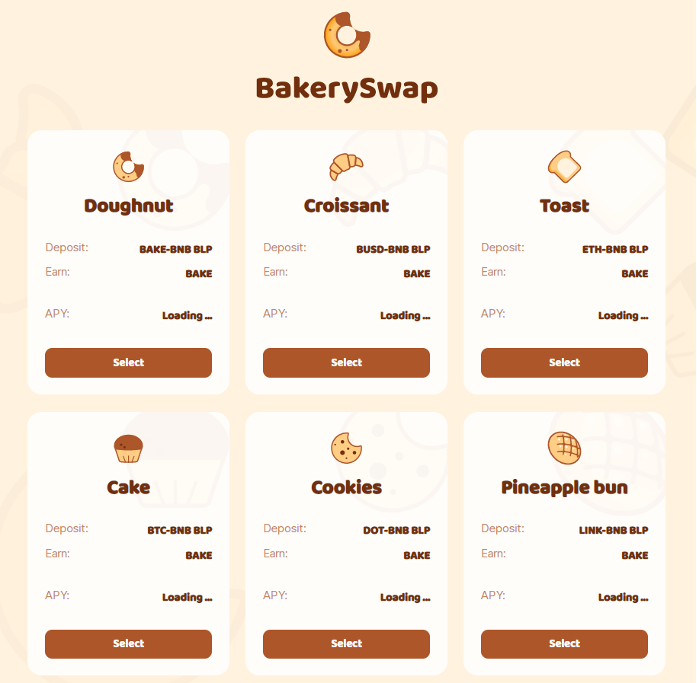 Firstly, users can provide liquidity to one of the BakerySwap pools to earn fees and BakerySwap liquidity pool (BLP) tokens. BLP tokens represent the percentage of a user's pool contribution. Then, users can stake their BLP tokens for more BAKE tokens, or other limited edition tokens. There are two types of pools; pools with BAKE rewards and pools with no BAKE rewards. Users can earn extra BAKE tokens through multiplier pools. The highest multiplier pools are BAKE/BNB and BAKE/BUSD offering 12x BAKE rewards. These are referred to as the 'Doughnut' (BNB) and 'Waffle' (BUSD) pools. As you may have noticed, most pools on BakerySwap are named after bakery foods!
Stay ahead of the markets with real-time, on-chain data insights. Inform your trades with true market alpha!
In addition to liquidity provision and token farming, users can also stake their BAKE tokens to earn more BAKE! This is done so in the 'Bread' pool, and there is no minimum requirement or lock-up period. Additionally, users can currently stake Berry (BRY) tokens also, and receive BAKE tokens as rewards. Users have the option of staking their BakerySwap tokens to receive further BAKE. Alternatively, users can stake their BAKE to earn non-fungible tokens (NFTs). These can then be sold on, should the user choose, for further BAKE tokens in the BakerySwap NFT supermarket. Or if they prefer, as users have custody of the private keys to the NFT, users can sell it on another NFT marketplace such as OpenSea or Rarible.
BakerySwap NFT Supermarket
BakerySwap's NFT supermarket offers a selection of exciting non-fungible tokens (NFTs). Examples include Binance NFTs, 'Musk & DOGE', 'BTC Artwork', and 'Battle' NFT categories, ranging from abstract or bold artwork to digital pet kittens and puppies. Also, some categories appear for a limited time only, such as previous successful sales like 'Pet Eggs', and 'Weapons', to the current 'BAKE & Banana' category available now. Here, there is a vast range of digital artwork available with the BakerySwap doughnut logo and cartoon monkeys, featured on the most creative backgrounds imaginable.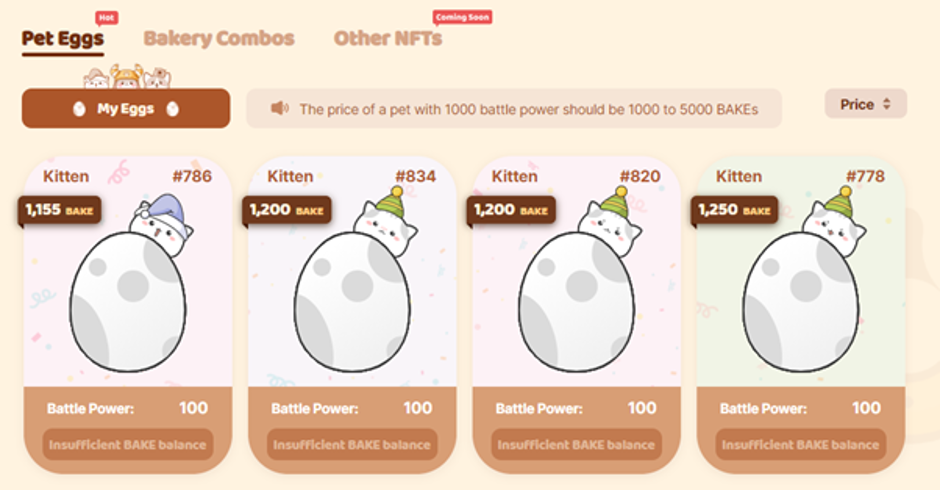 Purchasing non-fungible tokens (NFTs) through BakerySwap is easy with the Binance Smart Chain MetaMask integration. Using a web3 wallet such as MetaMask allows users to interact with multiple platforms whilst holding custody over their private keys. Purchasing NFTs on BakerySwap can be achieved in just a few simple clicks. Also, some Battle Pets NFTs offer 'burn back' options, which means that, upon 'abandoning' your kitten or puppy NFT, you will receive either PET or BAKE tokens. However, this will be less than the amount initially paid. Also, all NFTs in the BakerySwap supermarket are purchased in BAKE tokens.

The 'BSC Artists' section is a place for anyone to upload their original artwork and tokenize it on the blockchain. The process is super simple and achievable in a few short steps. Simply click 'Mint Artworks', fill in a few details about the artwork and artist, upload the original artwork, then press 'Mint'! BakerySwap is offering anyone the chance to sell their own digital artwork and potentially earn a passive income with crypto.
BakerySwap Launchpad
In addition to the exchange, liquidity pools, and NFT supermarket, BakerySwap also features a crypto launchpad. Token launchpads have become one of the hottest trends in crypto over recent months. This is largely due to the model benefitting investors, projects, and the token launchpad all-in-one! However, BakerySwap is taking this to the next level.
In addition to ERC-20 and BEP20 based cryptocurrencies, BakerySwap's launchpad also launches new NFT projects. BakerySwap has harbored the initial dex offering (IDO) token distribution model in its own way. Launchpad tokens are purchased using the Binance Stablecoin (BUSD) and all BAKE token holders are eligible to participate.
The usual token distribution model is based on a 100 BAKE:1 BUSD ratio. This means that for every 100 BAKE you hold, you can purchase 1 BUSD worth of tokens or NFTs. This has seen success through previous launchpad projects including Battle Pets and DEFI100. However, the most recent BakerySwap launchpad project is operating slightly differently.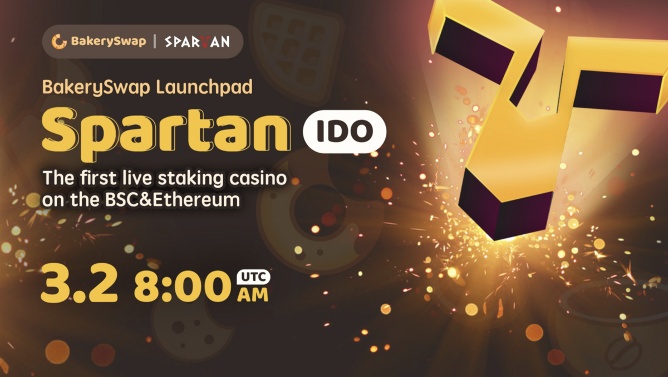 For the Spartan Casino initial dex offering (IDO), investors can purchase Spartan Casino's WAR token at a 1:1 ratio of BAKE to BUSD. This means for every 1,000 BAKE you hold, you can purchase up to 1,000 BUSD worth of WAR. The Spartan Casino IDO event will be in March 2021, with improved IDO rules to better the user experience. Previous IDO events have reached the maximum funding level in under three seconds! BakerySwap acknowledges and understands how this affected the experience for traders and investors. However, the new IDO operations for the Spartan Casino launch promises to avoid future whale-induced token sell-outs.
Why Use BakerySwap?
BakerySwap is the Swiss-army-knife of crypto services on Binance Smart Chain (BSC). The platform features a wide range of the most popular tools and protocols used in crypto today. Additionally, the platform is confirmed as being audited by defistation.io. This site is dedicated to tracking the volume and growth of the Binance Smart Chain, plus provides visual indications as to whether a protocol has been audited or not.
Furthermore, the BakerySwap BAKE token can be used across other protocols on the Binance Smart Chain. Equally, other protocol tokens can be used with BakerySwap e.g. Berry (BRY), Shield (SHIELD), and Dogecoin (DOGE).
BakerySwap & BAKE Token Summary
The BakerySwap platform appears to be the ultimate combination of Burger Swap, PancakeSwap, Uniswap, and UniLayer. BakerySwap offers yield farming, a crypto launchpad, and non-fungible token investment opportunities, all on one platform!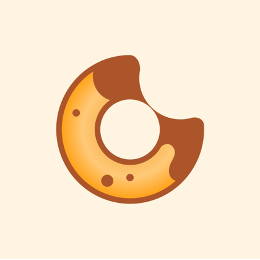 BakerySwap has taken the automated market maker (AMM) model and created a diverse and versatile application that is simple and easy to use for newcomers. Also, BakerySwap is one of the many ways you can earn a passive income with DeFi. With the upcoming Spartan Casino token launch and exciting future announcements, BakerySwap is one to watch as the participation on Binance Smart Chart continues to increase. The total value locked (TVL) in BakerySwap has increased from $1.8 million on 1st February 2021 to $22.2 million less than 20 days later, according to DeFi Station.
Blockchain is currently one of the fastest-growing industries. Furthermore, the demand for blockchain programmers is creating an extremely competitive job market! Ivan on Tech Academy is the ultimate all-in-one educational platform for blockchain technology to help you get ahead!
Blockchain developers can demand a handsome salary. Regardless of your experience, you can become a certified blockchain developer in no-time with Ivan on Tech Academy. Check out our Ethereum Smart Contract Programming 101, Javascript for Blockchain, and C++ courses to get up to speed and find that perfect job in crypto! Also, if you haven't already, don't forget to follow us on Twitter @Academy_IOT for all the latest crypto updates!