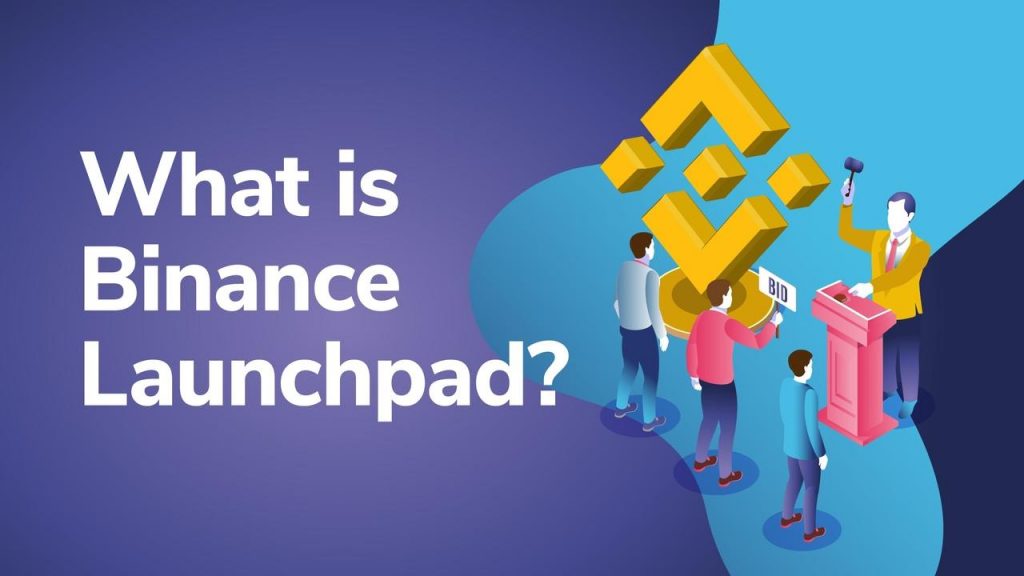 Binance is the world's largest Bitcoin exchange in terms of trading volume and is reportedly the fastest-growing profitable unicorn start-up in history. However, there is much more to the ecosystem than just the exchange. There have been several very successful projects that have launched their initial token issuance through the Binance Launchpad. With each launch, more projects are attracting the eyes of investors.
In this article, we'll explore how to access the Binance Launchpad from both a project and user perspective. We'll take a look at previous projects, and what makes Binance Launchpad projects successful. Furthermore, we'll explain the other aspects of the Binance ecosystem that projects can access when successful in the Launchpad program.
It's great to see we have readers interested in up-and-coming crypto projects! If you'd like to learn more about the basics of blockchain technology whilst you're here, make sure to check out our Ivan on Tech Blockchain and Bitcoin 101 course. Or, if you're more intrigued to learn about the history of money and crypto - take a look at our Bitcoin Standard Course!
What Is Binance?
Binance is the historic crypto unicorn that has continued to grow, adding more products and expanding geographically. Thus, Binance has created a whole ecosystem of crypto services. Their mission is to be the chosen infrastructure for services within the DeFi industry. With a vision to "increase the freedom of money globally", it's no wonder the Binance platforms have performed so well.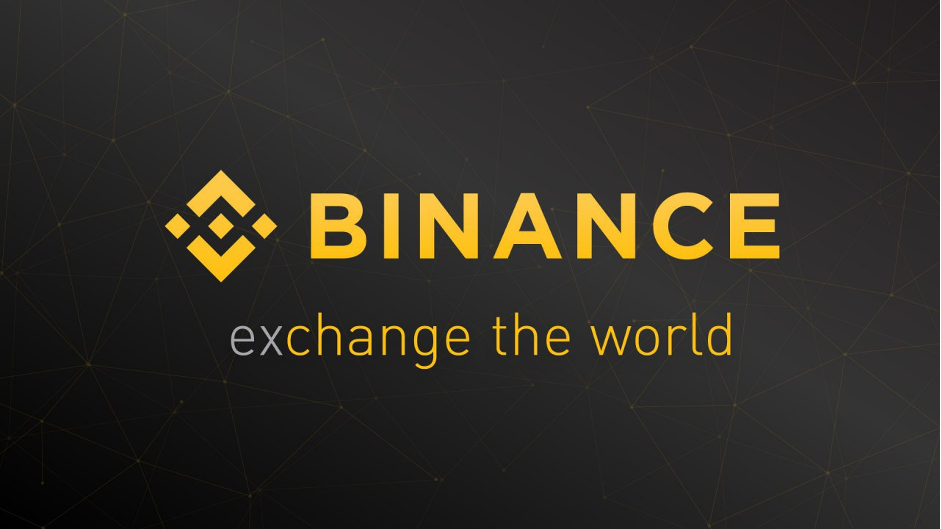 Binance covers a huge demographic, offering services in both English and Chinese languages, with international translator positions currently being recruited. This is just one of the many careers in crypto you could apply for.
Binance operates an impressive 1.4 million transactions per second, offering its users a premier experience when trading. With a collective estimate of 15 million users, Binance sees an average of $2 billion in 24hr trading volume.
Binance Chain & Binance Smart Chain
The Binance Chain was created to host the BNB token and facilitate the transactions on the Binance DEX (explained below). To achieve maximum scalability and prevent congestion of users on Ethereum, Binance Chain does not facilitate smart contracts.
Binance decided to scale by innovatively creating a Binance Smart Chain running in parallel with the Binance Chain. Binance Smart Chain is a smart contract-friendly platform where developers can build dApps and cryptocurrencies.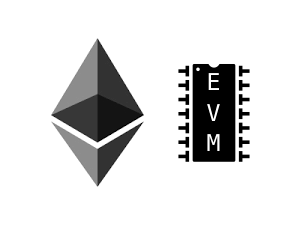 Developers have the opportunity of using the EVM (Ethereum Virtual Machine) compatible blockchain for high performance. Also, this results in lower fees than Ethereum. The mainnet offers BNB staking and cross-chain DeFi tools available for devs.
BNB Token
The BNB token is the gas for the Binance Ecosystem and provides key roles and functions within its infrastructure. Additionally, holding the BNB token in your Binance account allows you to use this token for exchange fees. Doing so offers a 50% discount compared to regular trading fees in the first year of hodling.
Furthermore, as we'll explain later on, BNB token hodlers are entitled to token airdrops and early access to coin offerings through the Binance Launchpad. It's really simple and easy. Previous airdrop tokens have historically proven to be a profitable hold. The BNB token is currently valued at just over $30 at the time of writing. There is a lot of hype around the BNB token leading into 2021, with some price predictions suggesting a Binance Coin price of over $60.
Other aspects of the Binance Ecosystem include:
Broker
Offering the highest available commissions to its partners, the Binance Broker Program offers solutions for everyone. With a unique API functionality and customizable strategies, the Binance Broker Program supports exchanges, developers, community traders, wallets, and also the legacy financial sector.
Charity
The leading crypto exchange is a pioneer for using blockchain technology for social good. Binance's latest charitable action, according to their blog, is through funding toward the restoration of Notre-Dame in Paris following the devastating fire in 2009. Binance Charity has donated $60,000 to the French capital's historic landmark. This will cover the cost of restoring Notre-Dame's well-known "Mays paintings", accompanied by poems in honor of the Virgin Mary.
Cloud
Entrepreneurs now have the opportunity to create their crypto business within minutes through Binance Cloud. With the security and liquidity of Binance, plus the independence of token economics, Binance Cloud allows anyone to create an online crypto service or product. An initial consultation is required to gain a full understanding of the desired services and design.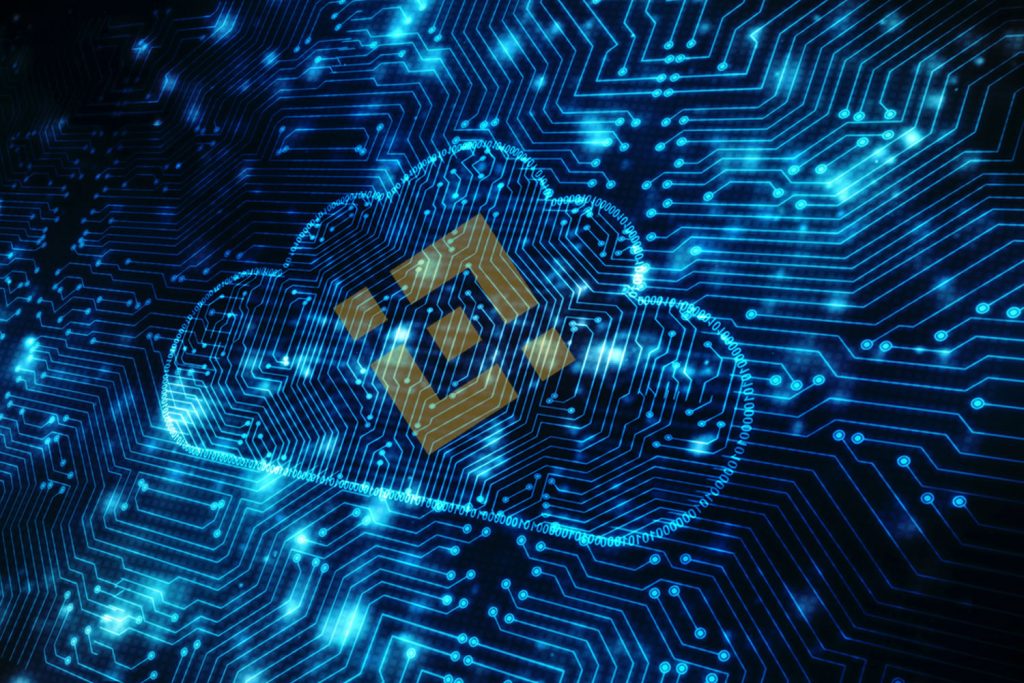 DEX (Decentralized Exchange)
The number one crypto exchange in terms of trading volume is the centralized Binance exchange platform. However, Binance has also created a decentralized version of their exchange. This means users can interact directly with a smart contract to process transactions, and be in possession of their own private keys.
Labs
Binance Labs is a "blockchain technology incubator", and can be referred to as the venture arm of the ecosystem. Binance Labs invests in the development teams of projects they believe will have a long-lasting and positive effect within the blockchain industry.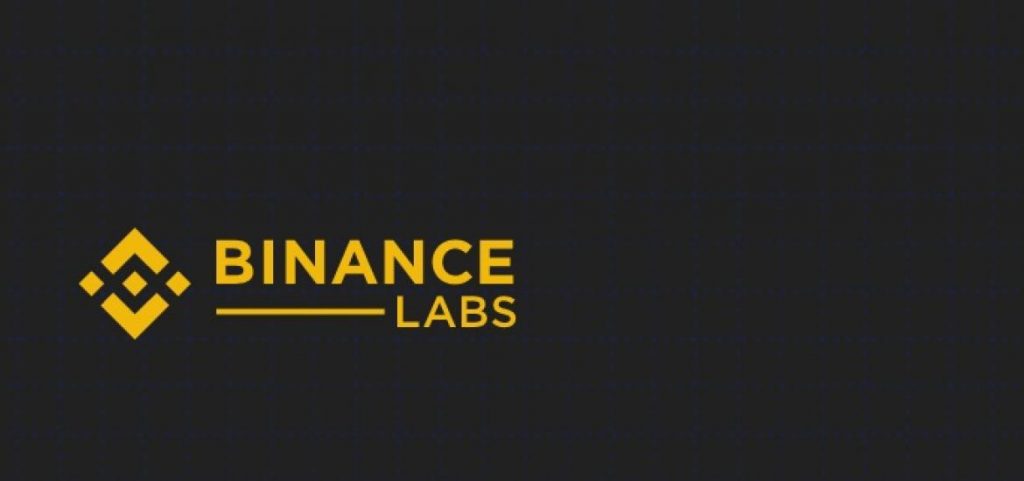 Other aspects of the Binance ecosystem include Research and the Academy. Finally, we have the Binance Launchpad which is the part of the Binance ecosystem we will be doing a deep dive on today!
What Is Binance Launchpad?
At the time of writing, Binance Launchpad has successfully launched 24 projects, with 6 currently in process. According to Binance, the Launchpad is "a significant part of our holistic support when it comes to supporting blockchain startups".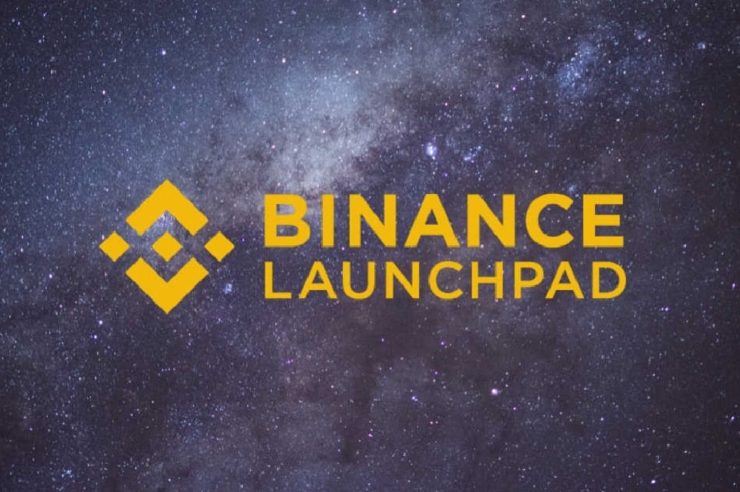 When a project is accepted within the Launchpad, the project has the backing of the world's largest crypto exchange offering the initial issuing of its tokens. Issuance is based on a similar and improved version to the previously hyped-ICO (initial coin offering) model. This time, however, and most significantly for investors, Binance Launchpad must evaluate and approve a project before its listing. Binance refers to this as its IEO model (initial exchange offering). Applications are open to submit a project to Binance Launchpad now for any developer or project manager looking for the largest token issuance service in crypto.
How To Access Binance Launchpad For Projects
For anyone interested in participating in the Binance Launchpad, there's a link for an application at the top of the Launchpad landing page. An external form will appear to complete company and project details, alongside personal contact information. If you decide to apply, make sure to have all documents to hand and at least an hour of your time free.
Stay ahead of the markets with real-time, on-chain data insights. Inform your trades with true market alpha!
Before a project can be confirmed and transitioned to the Binance Launchpad, the project is subject to thorough investigations. These include the business and token economic models, auditing, alongside a brief history of the development and project team. These are key elements Binance looks for in a project before it can be listed. Ensuring the project is at a relatively mature stage of development, and offers a scalable infrastructure are some points to consider. Additionally, Binance favors projects that will offer genuine utility and benefit to the wider crypto community.
If a project is successful through the selection process, it will then be featured on the Binance Launchpad. This exposes the project to all users within the Binance ecosystem to check out for potential investment.
How To Access Binance Launchpad For Users
For the users of the Binance platforms that wish to partake in IEOs, the process is simple. Firstly, you will need to sign up and create an account with Binance and complete the KYC (Know Your Customer) procedures before being able to enter. Secondly, to participate in IEOs requires holding at least 100 BNB tokens in your account.
Binance Launchpad Lottery
The Binance Launchpad lottery is a popular form of token distribution. Originally, project tokens were available on a first-come-first-served basis through the Launchpad. In light of fairness and a growing user base, Binance updated the token distribution to a lottery format which can be seen below. Once a new IEO is announced, a snapshot is taken of BNB holdings over a set period. The period varies according to each sale.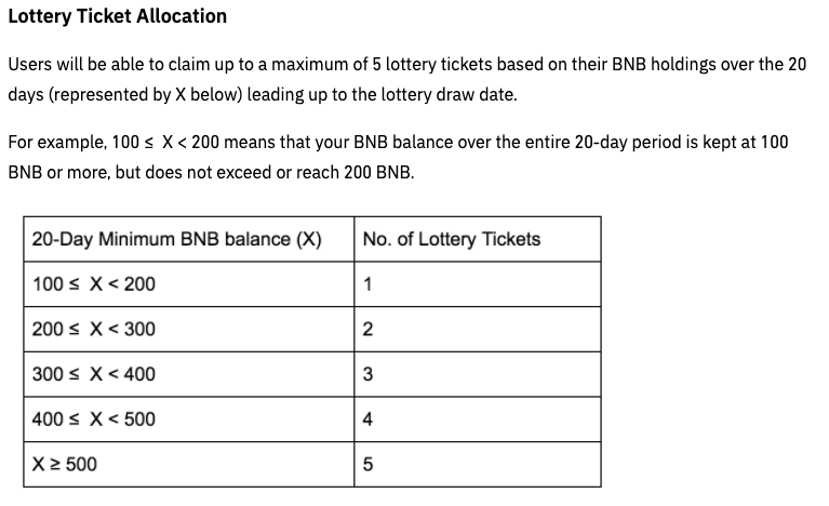 Immediately following the BNB holding period, a 'claim tickets' button will appear for 24 hours for users to confirm their lottery tickets. After this, the lottery will occur and the winners will automatically allow users to become participants of the IEO in exchange for their BNB tokens. All of this happens swiftly and smoothly, offering a seamless user experience for investing in up-and-coming projects.
If you have an idea for a project that you could see being launched on Binance, but you're not sure how to make it a reality, it's definitely worth checking out Ivan on Tech Academy. We have courses covering every aspect of the blockchain industry. The Academy has all the tools you need to learn how to program your own decentralized application on Ethereum. Also, the Academy has courses on Ethereum Blockchain Gaming, Bitcoin Programming, and much more! If you enroll using the exclusive promo code BLOG20, you get 20% off on your subscription!
BNB Token Hodlers
Any Binance user that has BNB tokens in their Binance account will be eligible for occasional airdrops for token promotions. These are usually tokens from projects in partnership with the Binance ecosystem, such as Swipe's SXP token. SXP tokens were airdropped to BNB holders relative to the amount of BNB held. The addition of tokens into user's accounts happens automatically.
Airdrops such as this are not guaranteed, nor do they occur on a regular basis. Binance also offers airdrops for users holding any partnered tokens alongside BNB. For example, in 2018 having BNB and NEO in your Binance account entitled you to both ONT and BCPT token airdrops. Users can choose to hodl their newly-found tokens, or to sell them back for BNB or other desired crypto might they prefer.
Successful Binance Launchpad Projects
BitTorrent, a peer-to-peer file sharing platform was the first project to be released on Binance launchpad. The sale was a success raising $7.2 million in under 15 minutes. Following this was the launch of Fetch.AI. An event that went down in crypto history - raising $6 million in a mere 10 seconds.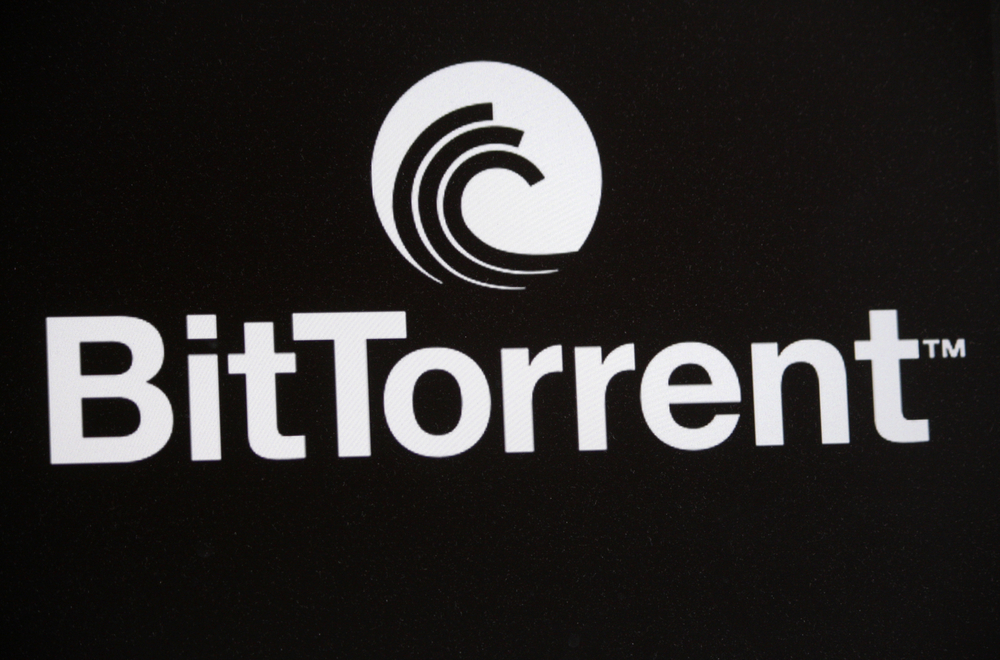 More impressive than the sale times, Binance Launchpad has produced some solid projects over the past few years. There have been some major accomplishments in the last 18 months for Launchpad projects. These include the likes of Matic Network (save our Matic Network Deep Dive for later!) Celer, and Elrond.
Band Protocol was Launchpad Project #9 released on 17th September 2019. The BAND token saw prices rocket over the summer as the most successful oracle after Chainlink. Projects will need multiple oracles, and like Pepsi is to Coca-Cola, Band Protocol is to Chainlink. As one of the most successful launches so far, Band Protocol became the first Binance Launchpad project to be listed on Coinbase Pro from August this year.
Other successful well-known projects include KAVA which was launched shortly after Band Protocol. KAVA was announced the winner of Binance Launchpad Project of the Year Award 2020 earlier this summer. Injective Protocol has also caught the eye of many investors being the first Binance Labs project to also use the Binance Launchpad springboard. Make sure to read our Injective Protocol Deep Dive article to learn more about the layer 2, cross-chain derivatives DEX.
Binance Launchpad Summary
Changpeng Zhao (aka CZ), CEO of Binance, has done a tremendous job of creating and contributing to one of the biggest brands in crypto. Further to offering an exchange to buy crypto, Binance goes two steps further by helping the development of successful crypto start-ups. Binance Launchpad has proven to be the most successful IEO model in the space, with token offerings selling out in seconds.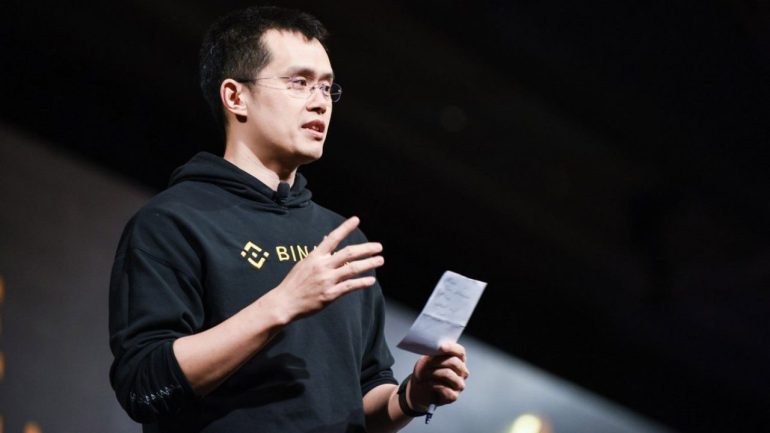 Changpeng Zhao
We should be clear that this article is not financial advice. However, it is worth bearing in mind the list of projects that were released through Binance Launchpad that are now valued in the hundreds of millions. Are you interested in learning more about the differences between the world's two largest crypto exchanges? Then make sure to check out our Binance vs Coinbase article.
Unfortunately, due to local laws and regulatory procedures, there are some countries and regions that are unable to participate in token sales on the Binance Launchpad. These include Belarus, Democratic Republic of Congo, Cuba, Iraq, Iran, Mainland China, North Korea, Sudan, Syria, United States of America and its territories (American Samoa, Guam, the Northern Mariana Islands, Puerto Rico, and the U.S. Virgin Islands), Zimbabwe.
However, all is not lost. If you live in one of those countries you are still more than welcome as a student of Ivan on Tech Academy! We have a wide breadth of courses to cover all experience levels. If you're just starting out in the crypto basics and wanting to learn programming for the first time, no problem. If you're an experienced developer looking to update your coding skills to accommodate for the blockchain infrastructure -great! You could start with the Ethereum Smart Contract Programming course now!