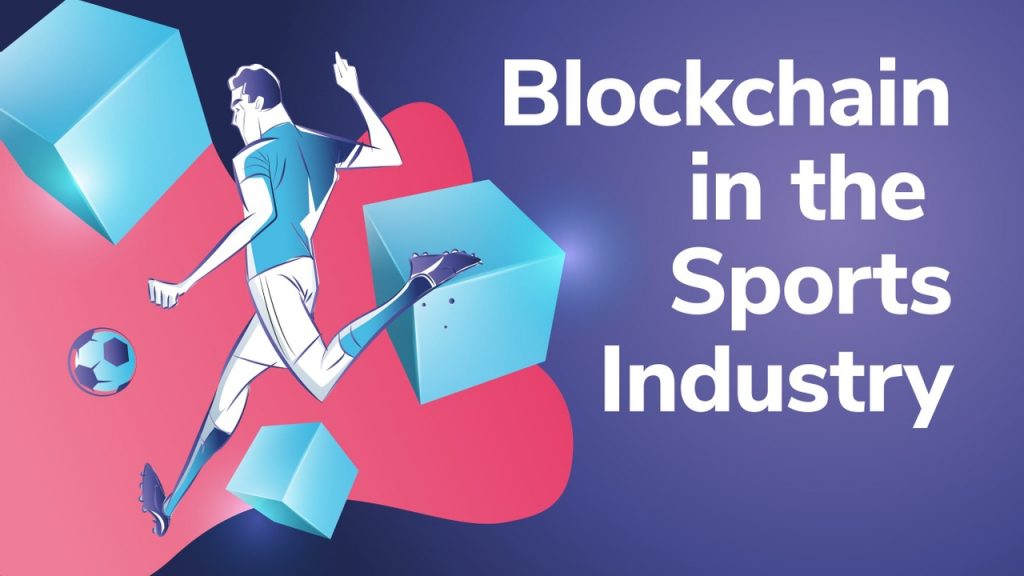 Blockchain-based sports betting has been a catalyst for the widespread adoption and use of crypto and blockchain in sports and esports. Now, with professional athletes being paid in Bitcoin, top-tier endorsements, sponsorships, and fan incentive initiatives, blockchain technology in the sports industry is beginning to thrive. Though this may not be obvious to all, soon, blockchain could play a major role in sports, entertainment, and esports. The number of blockchain use cases in esports has skyrocketed in recent months. Furthermore, this looks set to continue as mainstream crypto adoption grows exponentially sector-wide!
In this article, we're going to explore the many different blockchain use cases in esports, traditional sports, players, and fans. Additionally, we'll take a look at how the introduction of blockchain technology in sports organizations can increase efficiency with timing and funding. Alongside this, we'll explore what the future may hold for blockchain technology in the sports industry.
Blockchain is a revolutionary technology that is slowly creeping into mainstream consciousness. However, there is still a lot of misunderstanding or confusion around the subject. Ivan on Tech Academy teaches the fundamental basics of blockchain in a simple and easy-to-understand approach. The Blockchain & Bitcoin 101 course provides a foundation of knowledge to continue learning about this exciting and evolving industry! Alternatively, should you prefer a step-by-step video guide on how to securely purchase and safely store cryptocurrency, then the Crypto Basics course is the best place to start!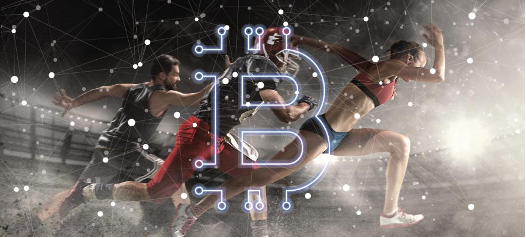 Why use Blockchain Technology in the Sports Industry
Blockchain brings many benefits to the field of sports and esports. For example, blockchain is widely used to incentivize fan interaction and create unique experiences. Blockchain also allows athletes to crowdfund performances by utilizing income share agreements. Blockchain technology in the sports industry is reimagining the fan experience to create innovative fan engagement opportunities. Furthermore, blockchain has created new revenue streams for teams and clubs, while monetizing fan engagement through tokenized teams and loyalty reward schemes.

Also, blockchain is rapidly developing in the collectible and gaming worlds, plus sports betting. If you didn't already know, the sports betting market is huge! When combined with the collectibles market, this covers an extensive global user base that could be exposed to blockchain and crypto through their side-hustle or favorite pastime.
Blockchain Technology in Sports and eSports Use Cases
By providing useful insights and actionable data to their respective teams and organizations, athletes can benefit from blockchain-based identities. This enables sensitive medical and performance data to be tokenized on the blockchain in a trustless way. This may seem arbitrary to some. However, data regarding the health, fitness, medical status, and performance of a player can be pivotal in player transfer markets. This information often informs decisions during transfer windows for team-based sports and can make or break a deal.
Furthermore, blockchain helps to facilitate cross-partner loyalty programs to incentivize fan engagement. This can range from unique experiences to exclusive goods and merch and more! Also, blockchain could be a game-changer when it comes to preventing ticket counterfeiting and the sale of fraudulent memorabilia and collectibles.
Also, blockchain is becoming increasingly prominent in esports. Moreover, blockchain in the sports industry is creating a market for a new wave of sports collectibles and in-game items made possible by the use of non-fungible tokens (NFTs).

Another important use case for blockchain in the sports industry is the ability for organizations to crowdfund training facilities in exchange for a portion of future revenue or shares in the team, organization, or club. Given the impact of global lockdowns, sports teams are looking for new revenue streams and ways to ameliorate the income lost over the past 12 months.
Below we have explained several different blockchain use cases in esports and traditional sports industries, benefitting fans, players, and clubs simultaneously.
Player Salaries Paid in Bitcoin
One of the reasons blockchain technology in the sports industry has hit the headlines recently is due to a top athlete now receiving their salary in Bitcoin! The NFL star Russell Okung became the first American footballer to receive part of his salary in Bitcoin towards the end of 2020. Following a two-year legal battle, Okung was finally granted the ability to receive half his $13 million salary in Bitcoin. This has been achieved with the aid of payment firm Strike.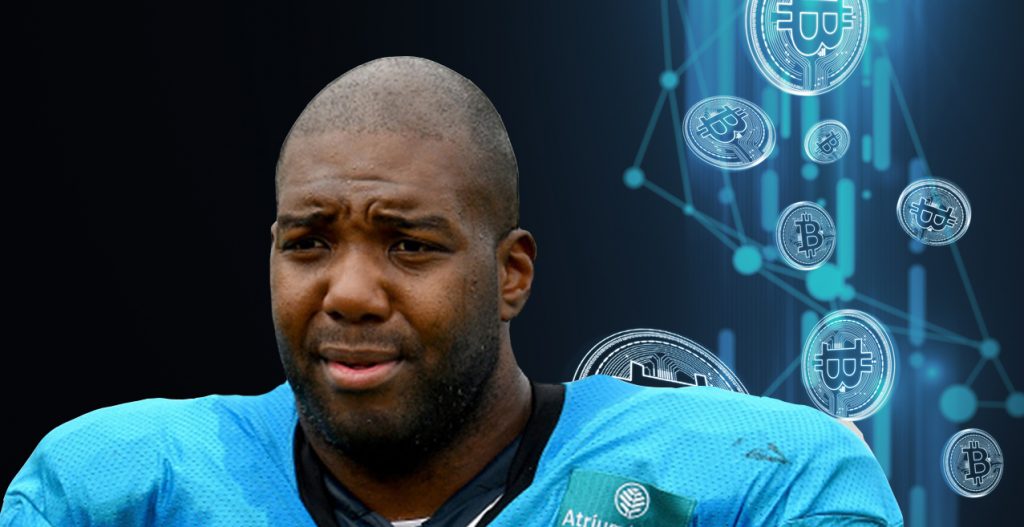 Russell Okung
As Bitcoin and other cryptocurrencies become more widely accepted as a form of payment, we will likely see other athletes also requesting a partial or full salary in cryptocurrency.
Cryptocurrency Advertising
Recent blockchain use cases in the sports industry include cryptocurrency advertising. Moreover, crypto projects are now beginning to advertise their services on football pitch-side sponsorship boards! Crypto payments firm Zumbo recently made history by appearing on pitch-side sponsor boards in a Scotland vs Serbia football match during the Euro 2020 qualifier round.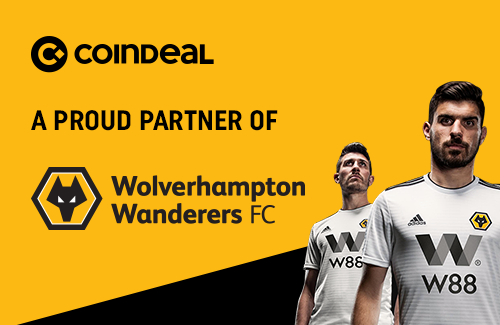 In February 2020, popular crypto exchange CoinDeal signed a partnership with Wolverhampton Wanderers. The sponsorship included CoinDeal's logo on the players' kits plus a promotional video on YouTube, attracting over 400,000 views in a couple of weeks. This could be the beginning of other crypto-related businesses approaching teams to advertise their services.
Ticketing
Through the use of non-fungible tokens (NFTs), an additional blockchain use case for esports and the sporting industry is digital tickets. Cryptographically and mathematically verifiable, unique, blockchain-based sports tickets mean token fraud could soon be a thing of the past.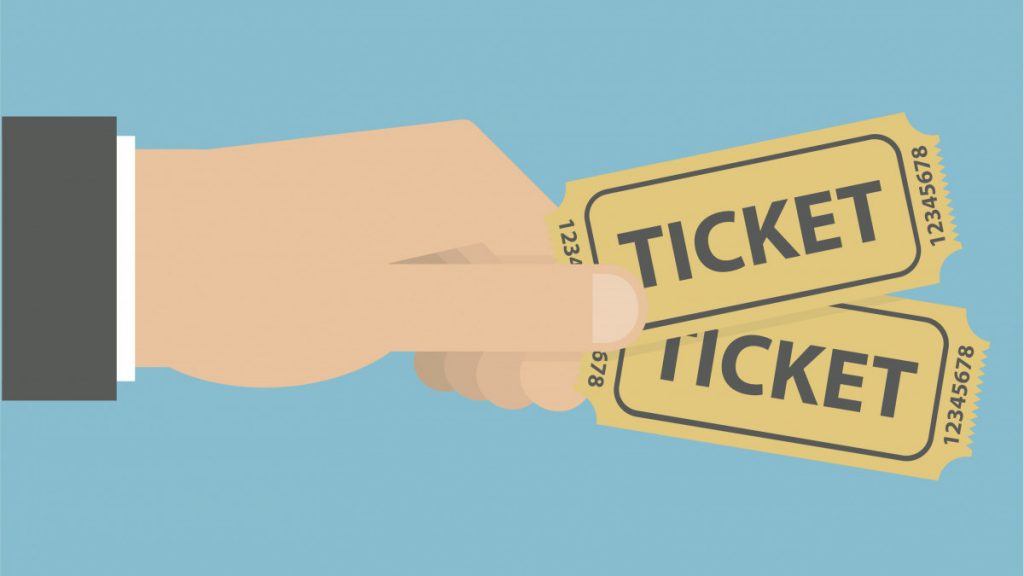 Moreover, using non-fungible token standards makes it easier to implement exclusive features or rights to VIP tickets. Additionally, these tickets will be impossible to reproduce.
Player Rights
There is a lot of detail that goes into creating a player transfer contract. Mandatory in every contract is the breakdown of the players' rights when signing to a new club. As contracts thus far have been created using documents and software liable to change, players now have blockchain-backed protection with their club contracts through the use of immutable smart contracts.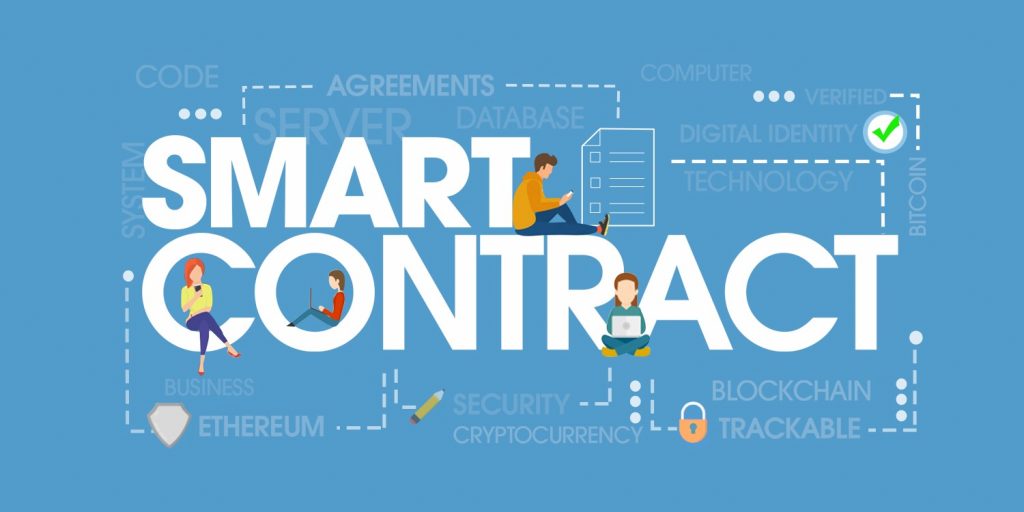 Some of these rights include salary and expected hours of commitment to the team. Moreover, royalty rights for a players' image, name, or brand can now be cryptographically protected too! Thanks to non-fungible tokens (NFTs) players can automatically receive royalty payment on branded merchandise or memorabilia each time an asset is sold.
Doping Management and Regulation
Introducing blockchain technology in the sports industry brings with it increased transparency and liability. Any medical data provided on to a blockchain is immutably stored, meaning it can not be altered or removed. Different types of medical data could be stored between public and private blockchains. This would protect an athlete's personal data, but additionally, be publicly transparent about any test results.
This would increase the honesty and liability of players as it would be near-impossible to cheat or lie about drug test results. Only if a player managed to tamper with the result prior to it being appended to the blockchain could this technology provide inaccurate information.
Player Analytics
Similar to players' rights and doping management, a further blockchain use case in the sports industry is storing and viewing player analytics. Through immutable smart contracts, multiple types of data about a player can be stored in one convenient place. Moreover, this information could be accessed publicly or securely, using a private key given to potential employers or sponsorships.
Player analytics can include performance tracking, health data, previous club transfers, and management fees and payments. Using a decentralized ledger, players can now securely share all relevant analytics required and choose to keep private any personal data. Moreover, for sponsors and club organizations, introducing blockchain will drastically improve the management and storage of player analytics.
This doesn't just apply to just the sports industry either. Any industry that involves the storage of data or financial transactions can benefit from the implementation of blockchain. Many industries such as the insurance, energy, real estate – even the music and art industries are now incorporating blockchain into their existing IT infrastructures.
Ivan on Tech Academy provides a wealth of knowledge to seamlessly incorporate blockchain technology into your current enterprise IT system. Alternatively, why not learn how to achieve this yourself to provide a service to other businesses? Check out the Fintech 101 course to gain an understanding of how finance and technology meet, alongside Fintech regulations. Furthermore, Ivan on Tech Academy's Blockchain Business Masterclass course will teach you everything you need to know to lead a blockchain development project and kick-start your career in blockchain!
Sports Betting and Gaming
According to Statistica, the global sports betting industry surpassed $203 billion in 2020 alone. This is an enormous market that blockchain can streamline with cost and efficiency thanks to the nature of the technology.

Blockchain technology in the sports industry has created an opportunity for real-time sports betting. This is one of the exciting blockchain use cases in esports. Moreover, as smart contracts are deployed and executed near-instantly, winnings can be received into a wallet within seconds. Additionally, as smart contracts remove the need for a third-party intermediary, users can save on traditional brokerage cuts, only needing to cover the cost of gas fees.
Fantasy Sports
Similar to real-life sports betting, blockchain technology has created the opportunity for fans to create and monetize their own fantasy sports teams. Through the use of tokenized assets, fans may soon be able to purchase a non-fungible token (NFT) of their favorite player, that could be valued based on performance. Blockchain-based games allow participants to use their NFTs in-game, or trade on an NFT marketplace such as Rarible, Nifty Gateway, or OpenSea.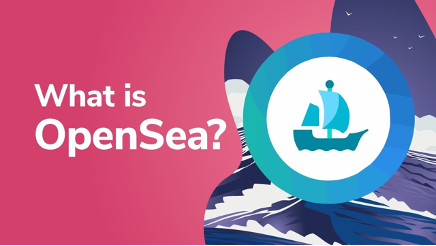 Sports Collectibles
One of the great blockchain use cases in esports and the traditional sports industry is verifiable authentication of memorabilia and collectibles. Organizations and clubs can securely sell merchandise directly to their fans and remove intermediaries. Also, this creates a new way for fans to show their support and commitment to a team.
Additionally, the technology can potentially eradicate counterfeit sporting merchandise and goods. Using blockchain, each branded collectible item or memorabilia can be given a unique digital identity. Then, buyers and fans can view the authenticity of an item or garment by scanning a QR code. Moreover, this can also verify the maximum available supply and display a chain of previous ownership.
Fan Identity
By removing a lot of third-party intermediaries, sports organizations and teams can get closer to their ever-adoring fans. Blockchain-based identities open up a whole new paradigm of player and fan interaction. 'Superfans' could receive a verified profile or non-fungible token (NFT) representing their fan status. Additionally, the public data provided by the fan on a blockchain could be used by sporting organizations. This would allow them to offer customized and personalized experiences to continue driving fan engagement.
Fan Engagement
When combining the blockchain use cases for esports, traditional sports, players, and organizations, a key focus is on fan engagement. Blockchain technology is taking interaction with fans to the next level. Fans can interact with multiple platforms, clubs, and protocols whilst maintaining one verified user 'fan' identity.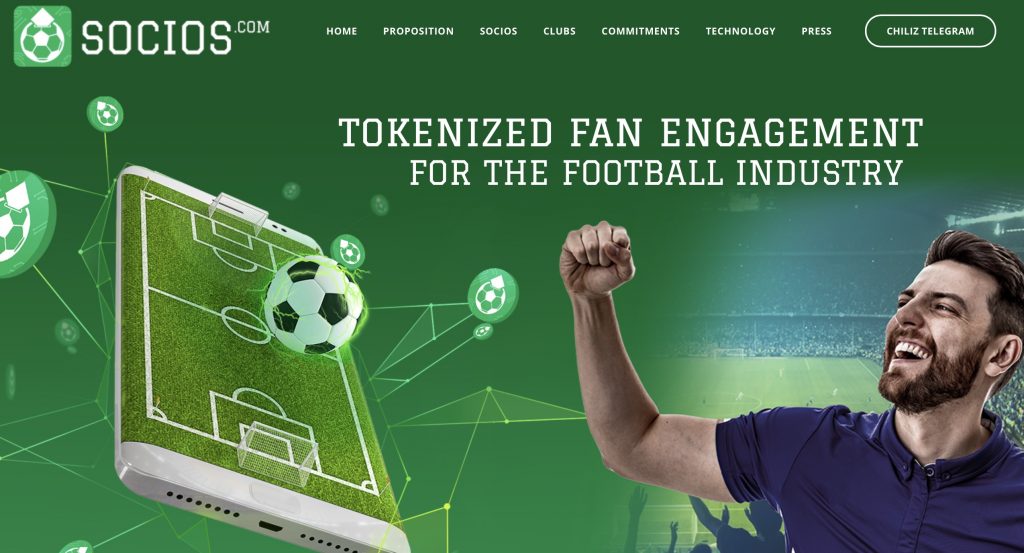 Rewards and payouts for fans' winnings will be distributed almost instantaneously, as smart contracts can operate with real-time performance and transactions. The introduction of a blockchain-based identity makes it easier for teams and sponsors to communicate and network with fans. The technology is enhancing levels of engagement and loyalty, bringing the fans closer to players and teams than ever before.
Player and Club Participations
The popular Chiliz project allows fans to purchase 'Fan Tokens' of their favorite football teams. Also, these Fan Tokens come with voting rights for decisions around kit designs and training ground names amongst other things. This is revolutionary for fans to get a say in how their favorite team operates. Be sure to save our Chiliz article for later!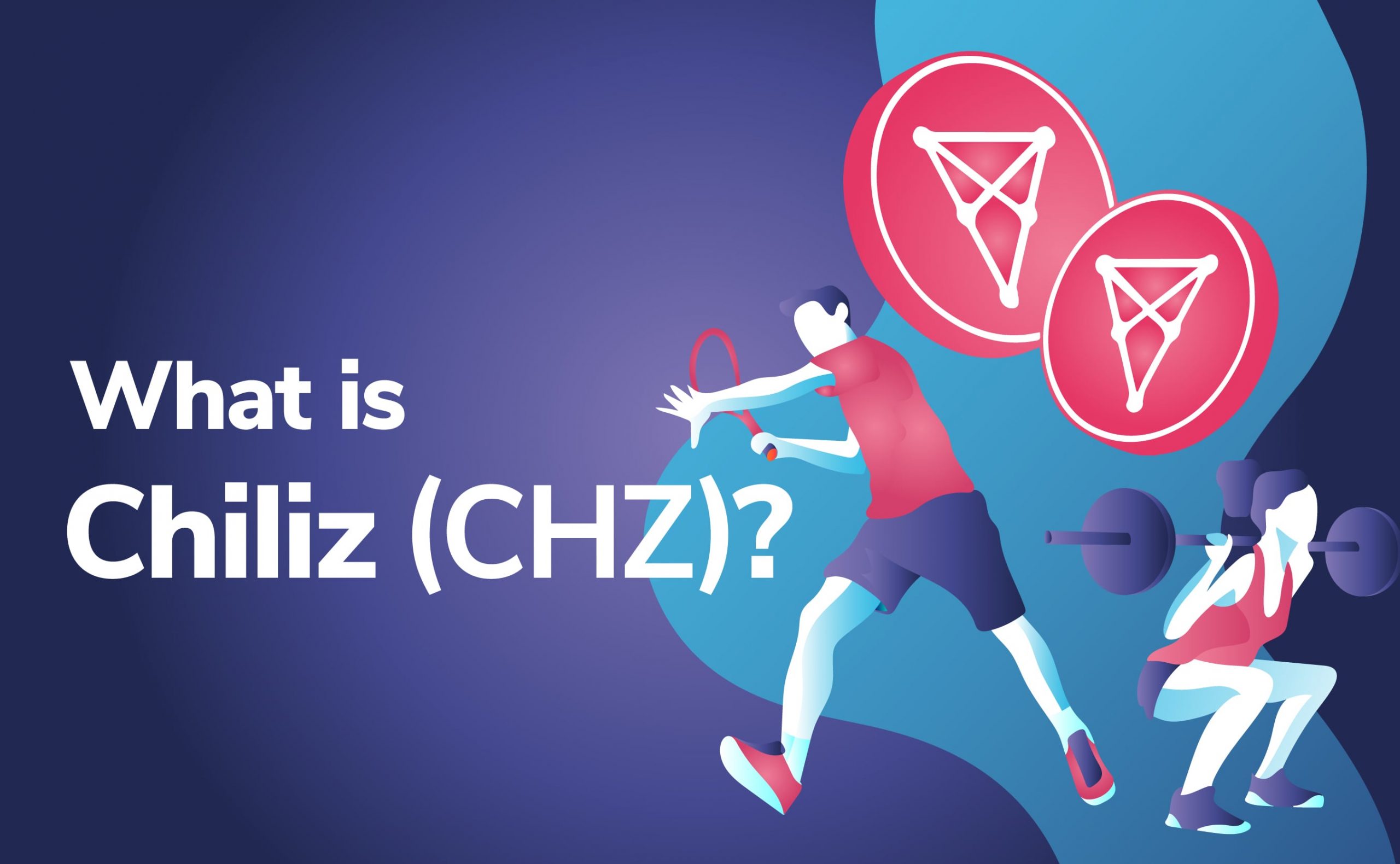 Moreover, in the future, large public blockchains such as Ethereum may see teams and clubs selling shares represented as tokens. This presents a novel fundraising route allowing fans to directly contribute to sports organizations through purchasing tokenized shares. Similar to Chiliz, holders of the club's tokens could receive exclusive rights or access as rewards for helping the club.
Blockchain Technology in the Sports & eSports Industry Summary
There are a plethora of options when implementing blockchain technology in the sports industry. Each offering a solution or enhancement to traditional infrastructures, benefitting both players and fans. Furthermore, clubs and organizations can too benefit from blockchain with decentralized crowdfunding and tokenized sale of shares. This is also a far cheaper and more cost-efficient fundraising solution compared to the traditional sector. This can often result in a loss of equity and/or hefty fees to third parties.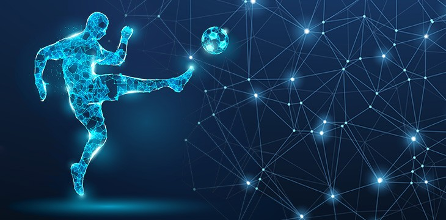 Blockchain technology is recreating the fan experience and allowing users to make their voice heard in club or team decisions. There is a range of blockchain use cases for esports and non-fungible tokens (NFTs) redefining the parameters of fantasy football and other sports games. Moreover, NFTs allow clubs to provide digitally verifiable match or season tickets, drastically reducing chances of counterfeiting. Also, NFTs can be used with sports memorabilia and collectibles, to verify items are authentic.
The non-fungible token (NFT) market is one of the hottest trends in crypto at the moment. With an infinite possibility of use cases, NFTs are expected to become mainstream alongside cryptocurrency adoption. If you would like to create your own NFT today – see Ivan on Tech Academy's Ethereum Game Programming 101 course for everything you need to know! If you are starting out with no programming experience, be sure to see the Javascript Programming for Blockchain and Ethereum Smart Contract Programming 101 courses first. Ivan on Tech Academy has a range of courses to suit all abilities, regardless of prior experience!