What tool are we referring to? Well, it's none other than Moralis Money. If you'd like to know how to find Arbitrum gems for those life-changing gains, follow along as we dive deeper into how you can use this tool. But, before we showcase it, we're going to look at the three primary reasons why so many fail in their investment strategy and how you can avoid them. In turn, you can truly leverage Moralis Money to your benefit. That said, if you can't wait, here's a sneak peek of how Moralis Money works:
Arbitrum Gems Will 100x Next Bull Run
To the average person, 100x gains sound like a fairytale. However, those who were around in the previous crypto market cycles have experienced those insane gains firsthand. After all, it was Ivan on Tech who spotted MATIC and EGLD before they mooned.
It turns out that the average altcoin actually experiences somewhere between 50x and 70x upward price movements during bull markets. But there are also many tokens that do 100x and even 1000x. Just look at the charts below and see for yourself:
Ripple (XRP) made a 433x move between 2017 and 2018: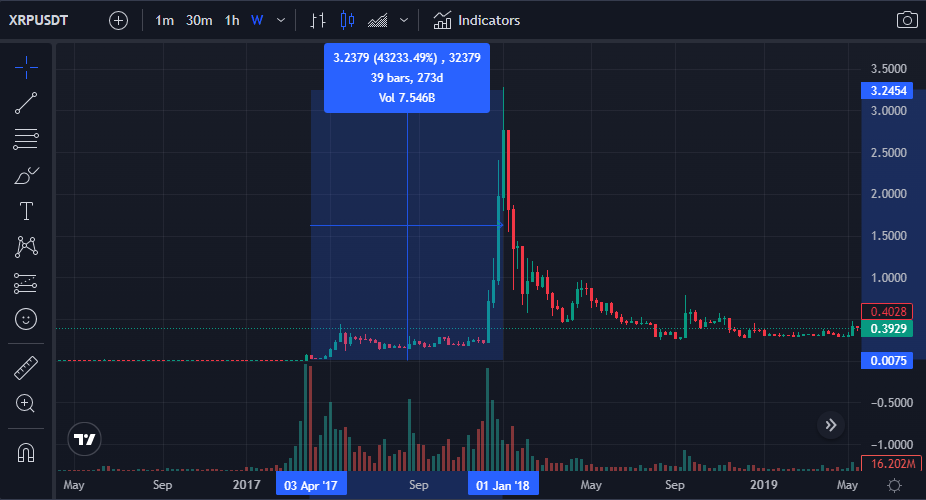 Polygon (MATIC) experienced a whooping 5544x increase: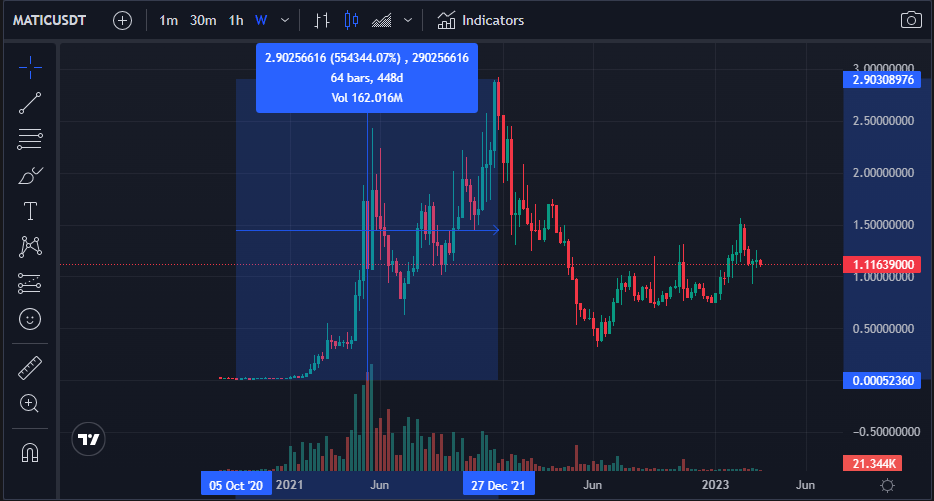 While the above examples may seem extreme, there are actually many altcoins offering such amazing returns, especially on new popular chains. Therefore, Arbitrum gems could offer some amazing opportunities in the upcoming bull market.
Now, for the highest rewards, you should strive to find new crypto coins early on the Arbitrum network before they take off. There's no better and simpler way to do that than with Moralis Money. With this tool, you can find gems on Arbitrum with just a few clicks!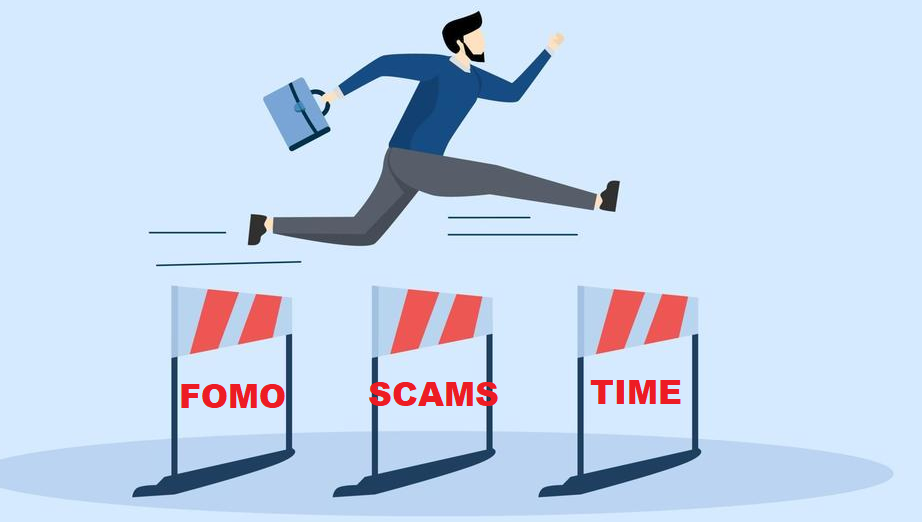 Avoid These 3 Investing Strategy Fails
Despite the enormous potential of altcoins, many traders fail to profit from these high-risk, high-reward assets. The most common reasons for coming up short is usually because of one of the following three mistakes:
FOMO – Without the proper tools for trading and a systematic approach, you are guided by your emotions. Moreover, when trading, emotions are what get you wrecked. That is how folks end up FOMOing into coins after they've already pumped. As a result, they experience price dumps.
Scams – Unfortunately, there are those with bad intentions in the crypto space. Many casual traders tend to get scammed by rug pulls and exit scams. Folks simply fail to identify sketchy-looking coins.
Time – Crypto markets are on 24/7 and react fast. So, opportunities come and go quickly. In response to that, many traders end up spending hours in front of their screens to spot potential opportunities.
Fortunately, you can now bypass the above.
A team of experienced altcoin traders and Web3 programmers built Moralis Money specifically to tackle the above-outlined challenges. What's more, whether you want to find gems on Arbitrum, Ethereum, or other chains, you can try this tool for free.
Plus, it's super easy to use Moralis Money. In fact, you can find Arbitrum gems with this tool with just a few clicks! Let's explore how!
Want to Find Arbitrum Projects That Can 100x?
If you want to find Arbitrum projects with high potential, follow these simple steps:
Visit Moralis Money
Go to Token Explorer
Switch to the Arbitrum network
Apply filters to find gems on Arbitrum
The above steps are the gist of finding Arbitrum gems. Since Moralis Money is simple and intuitive to use, you'll have no problem figuring out the details as you go.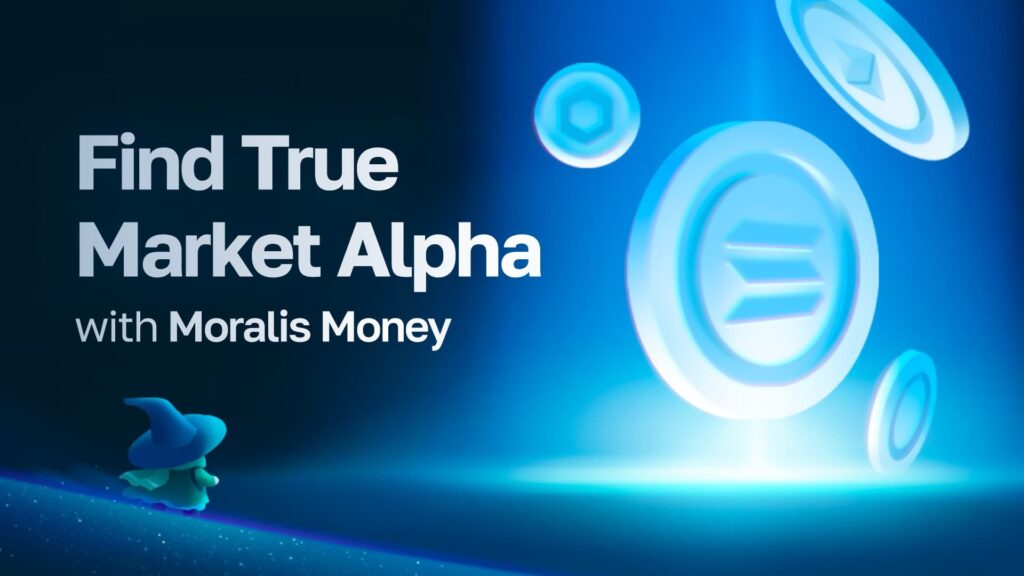 How to Find Arbitrum Gems - Use Moralis Money
Since Moralis Money is a cross-chain interoperable tool, it lets you find tokens before they pump on all leading chains. So, in this part of today's article, you'll learn how to use Moralis Money's core features in general - for any chain. Without further ado, let's explore the steps on how to find these 50x gems on Arbitrum!
Steps Showing How to Find Arbitrum Gems with Moralis Money
Visit Moralis Money:
Go to Token Explorer - You can initiate your first Token Explorer search right on the homepage (see image above). Another way to access this powerful feature is via the Token Explorer option in the side menu:
Switch to the Arbitrum Network - To find gems on Arbitrum, you must, for obvious reasons, switch to that network. You can do this on the homepage, or you can select the Arbitrum network once on the Token Explorer page:
Apply Filters to Find Gems on Arbitrum - There are several metrics that you can use to find Arbitrum projects with promising potential. To find new tokens, you want to use the Coin Age filter. Then, you want to further refine the search to determine which tokens might have some momentum. For instance, you can use a Coin Age and Liquidity combo:
You can access all the filters as a guest or with a free plan. However, you are limited to the weekly or higher timeframes. This can be enough to find potential gems, though to time your entries better, you'll want to upgrade to the Pro plan. Then, you'll be able to refine your token search based on hourly and daily activities:
Investigate Potential Gems Further with Other Tools
Looking at the Moralis Money token search results, you can see "copy" and "link" icons next to the token addresses. The former gives you an easy way to copy the token's address and explore it further with other tools. Additionally, the "link" icon takes you to that token's DEXTools page:
Find Gems with Token Explorer Filters
If you want to be early into new coins that may rally 50-100x in the near future, the first step is to open up Moralis Money Token Explorer. Next, just use the Coin Age filter to see all coins listed in the last three days:
As such, you get a list of all the tokens younger than three days.
Of course, as you may know, there are many garbage coins among the newly minted ones. So, you want to apply an additional filter only showing coins that are gaining momentum. For that, the Holders filter does the trick.
For example, let's say we only want to see tokens that acquired 100 new holders for the previous day:
Can you see how powerful and simple this is? You get to find potential 50x alts by just applying some simple filters.
Stay ahead of the markets with real-time, on-chain data insights. Inform your trades with true market alpha!
With Token Explorer, you get to find hidden crypto gems in minutes. Simply set your own filters and find new Arbitrum crypto gems before they pump! Say goodbye to FOMOing for good.
For an even quicker start, you can also use our preset filters:
Moralis Money is already the most powerful tool you can use to find gems on Arbitrum, Ethereum, and other leading chains. However, this is just the beginning.
The Moralis Money team plans to implement many additional filters to help you further refine your search results. This launch phase is also the reason why you can get the Moralis Money Pro plan at such a low price. So, visit Moralis Money, connect your wallet, and upgrade before the price increases!
Benefits of Token Shield
The Token Shield feature was designed to keep you safe from scams. Moralis Money automatically analyzes projects' on-chain data, such as total liquidity locked, to determine their legitimacy.
Projects that pass that "test" earn the green shield. You can also inspect the details by hovering over the shield icon:
The team behind Moralis Money is committed to continuously adding new and improved security parameters to Token Shield.
Moralis Money Token Alerts
The Token Alerts feature frees up your time. Thanks to the alert that you can set for your saved queries, you can step away from your computer and relax. Furthermore, with Token Alerts, you don't have to scope for opportunities all day long. Instead, Moralis Money keeps an eye on all new coins that match your filters. Then, an email notification informs you when new opportunities arise.
What is the Arbitrum Network?
Arbitrum is an Ethereum scaling solution based on the optimistic rollup method. Offchain Labs designed this layer-2 (L2) network with the purpose of reducing costs and latency of on-chain transactions. This means that the network makes decentralized applications (dapps) a lot friendlier for both developers and users.
The Arbitrum rollup protocol essentially takes the load of the Ethereum mainnet by verifying individual transactions off-chain. Then, the protocol bundles those transactions and stores them on Ethereum.
Arbitrum is EVM-compatible, which means it supports arbitrary Ethereum Virtual Machine smart contracts and common Ethereum tooling. So, just like on Ethereum, devs can create Arbitrum smart contracts with the Solidity programming language.

The above info on Arbitrum is all you need to start looking for Arbitrum gems. However, you might want a more in-depth answer to the "what is Arbitrum?" question. It's also good to get that topic explained further if you'd like to build on the Arbitrum testnet and mainnet. You'll also want to learn how to properly utilize an Arbitrum Goerli faucet if BUIDLing is your ambition!
Summary - How to Find Arbitrum Gems That Can 100x Next Bull Run
Altcoins, especially new projects, offer insane opportunities, such as 50x, 100x, and even 1000x gains. Moralis Money is a powerful new tool for finding those opportunities before it's too late. With this tool, you easily find gems on Arbitrum, Ethereum, and other popular chains. As you've learned, Moralis Money includes Token Explorer, Token Shield, and Token Alerts features to overcome FOMO, scams, and lack of time, which are the three main obstacles to making profits when trading altcoins.
Here are the steps to follow in order to find Arbitrum projects with high potential:
Visit Moralis Money
Go to Token Explorer
Switch to the Arbitrum network
Apply filters to find gems on Arbitrum
The ability to find altcoin gems early is one of the most valuable skills. But you can also make a dent in the crypto space by focusing on BUIDLing. Thanks to Moralis, creating dapps has never been easier.
Thanks to Moralis' cross-chain interoperability, you can join the Web3 revolution with your legacy programming skills. So, if you know JavaScript, Python, Go, or any other leading Web2 programming language, sign up with Moralis today. This will give you access to the enterprise-grade Web3 APIs from Moralis, which are the key to creating blockchain-related backends the easy way.
Also, feel free to explore other Web3 topics and aspects. For instance, you can get acquainted with zk-rollup projects, which are shaping to be the most popular scaling solutions for Ethereum. If you can't stop asking yourself, "is it too late to buy HEX?" you may also want to read our article answering the "what is PulseChain?" question!