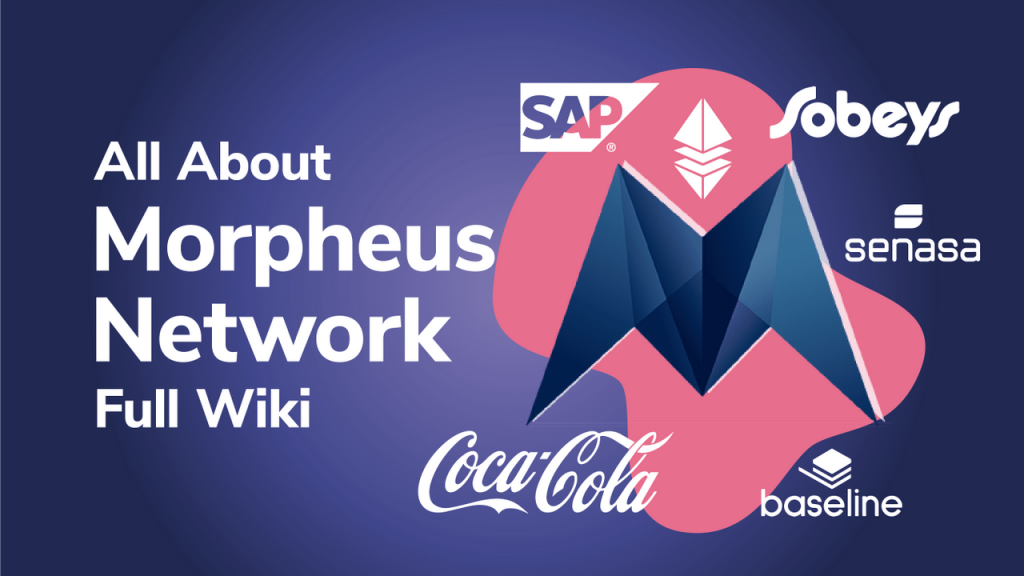 Welcome to the Community Wiki for Morpheus.Network. Here you will find a community-sourced collection of available information indexed, into one easily searchable resource.
Morpheus.Network is a supply chain SaaS middleware platform that seamlessly integrates legacy systems and emerging technologies (E.g. Blockchain, IoT, RFIT, AI/ML, etc.). Billion-dollar clients such as Coca-Cola, Sobeys and FCL Co-op are just the beginning.
National governments such as Argentina have mandated the use of the platform as a standardized, interoperable blockchain solution for the agribusiness industry.
Thousands of companies and hundreds of thousands of farmers are impacted, leading to hyper-accelerated growth of the network.
This Wiki includes current tokenomics, social media links, technical partnerships, paying customers, blockchain integrations, global resellers, ongoing pilots, and more.
Note: this Wiki is not an official source of information, so always Do Your Own Research (DYOR).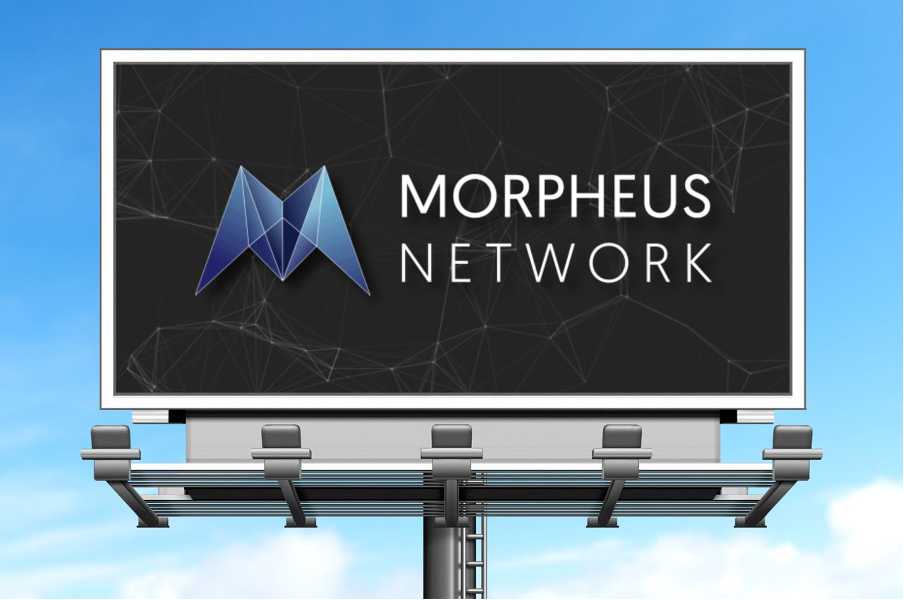 Tokenomics – Unofficial Resource
Market Cap
CoinGecko, CoinMarketCap and DexTools are inconsistent about the circulating supply. There are no more than 47.8M tokens. This is a fixed total supply with no ability to mint more tokens.
CMC states 47.8M circ / 47.8M total
Coingecko states 35M circ / 47.8M total
DexTools states 35 circ / 47.8M total
The difference can be explained by the 12M tokens held by the team, which are effectively in circulation. Team tokens were locked till the end of 2019 (18 months from the end of the ICO/ APRIL 2018). Advisor tokens are distributed and unlocked already (end of 2018).
Token Distribution (at ICO) – Unofficial Resource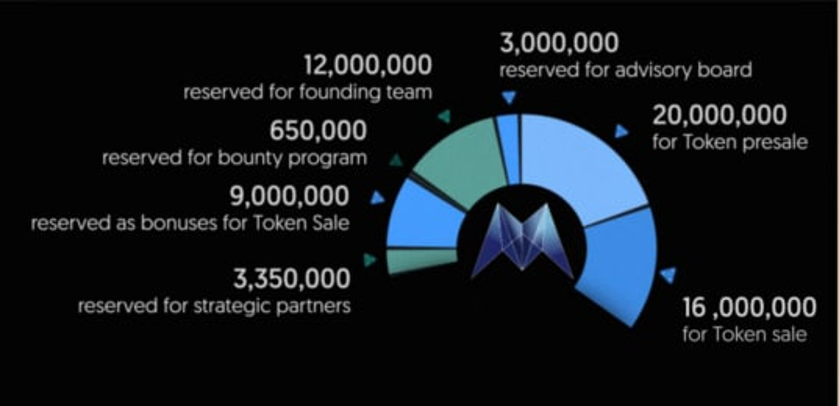 MRPH Statistics – Unofficial Resource

Source: https://twitter.com/trippledutch
Liquidity in Uniswap
Source: https://info.uniswap.org/pair/0xb89ed43f45d1f870be815c7b53368a1cc5184474
Currently there's a Morpheus.Network Uniswap Liquidity Provider Bonus Program running. See Part 3: MRPH Uniswap Liquidity Provider Bonus Program is Live! in the Articles section.
Morpheus.Network Links
WARNING
SCAMMERS ARE IMITATING MORPHEUS.NETWORK TEAM MEMBERS AND ADMINS.
THERE'S ALSO A 100% FAKE TELEGRAM GROUP MIMICKING MORPHEUS.NETWORK'S TELEGRAM.
SEE LINKS BELOW FOR CORRECT WEBSITES AND SOCIAL MEDIA.
To prevent being automatically invited to scammer Telegram groups:
Open the Telegram app.
Tap on the three horizontal lines in the upper left-hand corner of the window.
In the new menu, select Settings.
Click on Privacy and Security
Under Privacy, click on Groups & Channels
In the Group invite settings (Who can add me to groups and channels) change the settings from Everybody to My contacts and click save
Stay safe Morpheans
Morpheus.Network website\
Morpheus.Network Overview video
https://www.youtube.com/watch?v=4jbPwmyk8nA
Ask Me Anything with Dan Weinberger (Submit your questions here)https://www.reddit.com/r/MorpheusNetwork/comments/kmqlxl/january_2021_ama_thread_ask_questions_here/
Official Twitter
https://twitter.com/MRPHSupplyChain
Official Telegram
https://t.me/themorpheusnetwork
Official Morpheus.Network Announcement Channel
https://t.me/MorpheusNetworkAnnouncements
YouTube
https://www.youtube.com/c/MorpheusNetwork
Official Instagram
http://instagram.com/morpheusnetwork
Unofficial Price Discussion Telegram
Official Facebook
https://www.facebook.com/themorpheusnetwork/
Official Medium Community Blog
https://medium.com/morpheus-network
UNC Bot for MRPH
https://twitter.com/uncbot_com/status/1354353101894000641?s=21
MRPH Contract address
0x7b0c06043468469967dba22d1af33d77d44056c8
DexTools
https://www.dextools.io/app/uniswap/pair-explorer/0xb89ed43f45d1f870be815c7b53368a1cc5184474
Uniswap
https://app.uniswap.org/#/swap?inputCurrency=0x7b0c06043468469967dba22d1af33d77d44056c8
Signup to become liquidity provider
https://liquidity.morpheus.network/Platform/Login
Step-by-Step for buying MRPH on Uniswap and providing liquidity
https://1drv.ms/u/s!AglTCjVGM7qW37M2Mbj6j5hpdewZsg?e=SmgX3h
CoinGecko
https://www.coingecko.com/nl/coins/morpheus-network
CoinMarketCap
https://coinmarketcap.com/currencies/morpheus-network/
Morpheus.Network All in One
Morpheus.Network offers SaaS, which is a cloud-based, blockchain middleware platform designed to disrupt the $15 trillion Global Trade Industry.
Since inception in 2015, and then ICO in 2018, Morpheus.Network is quickly becoming the industry leader, and is already adopted by some of the most powerful companies in the world.
Paying Customers
SENASA – Argentina Government department which regulates the agri-business sector. Regulations mandate the use of Morpheus.Network to track shipments of phytosanitary products across the country. 100,000 farmers impacted. There is a second project already in the works with SENASA, working on blockchain and IoT for animal management and certification.
FCL Co-op – Retail co-op comprising hundreds of independent businesses, across over 1500 locations across Canada. 10B$ Canadian retail company using the platform.
Vitalcan – This is the #1 largest pet food supplier in Argentina with connections across the industry.
MaxiaNet – A global distributor of consumer goods. The only logistics provider for food giant Maruchan Noodles (ramen).
Unannounced Paying Customers
Technical Partnerships
Baseline Protocol — COO of Morpheus.Network, Noam Eppel is part of the Technical Steering Committee.
Ethereum Enterprise Alliance – https://ethereum.org/en/enterprise/
SAP – SAP is the biggest software corporation in Europe – Around 80% of Fortune 500 companies use it. Co-developed a Prevention & Fraud protocol with Morpheus.Network as a member of SAP's Co-Innovated Program.
GeoTab – Marketleader in Telematics & Geotracking.
Baseline Protocol – A cross border POC between the US and Canada Governments.
ISCEA – International Supply Chain Alliance. Members of the alliance include multiple Fortune 100 companies globally.
Hanhaa – Innovative IoT hardware provider and Morpheus.Network reseller for clients leveraging blockchain. Solutions include BREXIT, USMCA, and other international compliance regulatory challenges.
Blockchain Partners
Ethereum
Hyperledger
Baseline
Chainlink
Holochain
Gochain
Payment Integrations
SWIFT (1600 banks globally, one of the largest global payments gateways)
DAI
BTC
Litecoin
XRP
BNB
and more
Global resellers
Joffroy Group – Platform reseller who provides logistics platforms to global clients like PepsiCo and M3.
LIS Solucione – ERP systems provider that integrated Morpheus.Network – serves global clients such as Coca-Cola FEMSA, Mars, Mondelez International.
Demand Solutions – (Supply Chain Precision) a Global provider of solutions used for managing the supply chain of companies of all sizes, from £25m to £multi-Billion, in multiple markets, including Pharm, Food & Bev, Fashion, etc – and multiple geographies across the globe.
DMS – Australian and Asia Pacific supply chain service provider with global clients like Hyundai, Fujitsu, BP, or Ingram Micro
Blockchain Guru – Canada's leading blockchain solution provider.
Polaris Network – Connections with Argentina Government (SENASA)
28 Total Global Resellers Confirmed
Unannounced Partnerships or Customers – Unofficial
These partnerships are discovered by the community and often gathered from AMAs
Reboot SupplyChain – UN & ISCEA project
AT&T – 9th on the Fortune 500 list. Technology Partner combining IoT devices with Morpheus platform.
Telefonica – Largest Telecom company in Europe
Jose Cuervo – Mexican tequila giant who is the largest tequila seller in the world.
Massive US Liquor producer – A multi-billion company.
One of the largest auto parts manufacturers – in the US.
Bayer – German multinational pharmaceutical and life sciences company (€43.545 billion (2019)
Blockchain Guru – and Morpheus.Network have co-developed the following products in Africa:

Crop Input Platform is deployed in three countries (Uganda, …)
Livestock Identification Tracking System (LITS) is deployed with two major global Agriculture Ministries.

Polaris Spain – was recently disclosed by Jorge, ceo of Polaris in Argentina
AHA – American Hospital Association (seen in Blockchain Guru website, logo at top left corner of the morpheus.network platform). 5,000 hospitals, health care systems, networks, other providers of care and 43,000 individual members come together to form the AHA. (AHA logo seen in Morpheus.Network presentation slides)
MAXCOM – $300+ million Mexican Telecommunication company (MAXCOM.NETWORK logo seen in morpheus.network presentation slides)
Running Pilots
Pilots with the US Government – Successful pilots with the Department of Homeland Security and Customs Border Protection Agency
Pilots with Bayer
Pilots with YPF
Pilots with many companies in China
Pilots with L'Oreal (SAP and MRPH co-develop the Fraud Prevention Protocol)
Technologies
SaaS – Software as a Service
The way this platform leverages technologies — not just blockchain — is entirely unique in the industry, allowing for interoperability between legacy and modern systems seamlessly.
Imagine a supply chain platform that can pivot to EOS, IPFS, Holochain or Hyperledger (very different types of DLT's), the same way it can pivot to an SAP / MS Dynamics ERP system, or a FedEx / DHS / UPS API, or a SWIFT / AccessPay Payment Platform, or a Customs Border Protection Compliance Platform, or an IoT device like Hanhaa Parcelive attached to an actual container in transit, or an AI / Machine Learning algorithm… SEAMLESSLY using a simple drag and drop interface — all contained within a fully automated workflow that is 100% reconciled and notarized on the ETH mainnet.
Literally every technology out there – including other proprietary blockchains (like VeChain) – can be integrated within the platform and leveraged in a fully automated and reconcilable workflow.
Once Morpheus.Network reaches a bottleneck with the current way the platform is functioning (hashing transactions to the Ethereum mainnet as each module completes) the team will launch an ETH sidechain via masternodes that will batch a majority of the tx's together and only hash to ETH mainnet at a cadence which the customer needs (hourly, daily, etc.).
Standard in the making
Morpheus.Network itself is making standards by onboarding Government sectors, however, we are a member of a larger foundation, Baseline Protocol, a collaboration between major players like;
Microsoft, Ernst & Young, AMD, BP, Enterprise Ethereum Alliance, Ethereum Foundation, Chainlink, Unibright, and more.
Being so deeply integrated on every level of industry makes Morpheus.Network well positioned to be the supply chain leader.
Now consider this — the world economy is looking for standards. Blockchain, in all its incredible decentralized goodness, hasn't produced a standard solution that can be ADOPTED as a STANDARD. You have big companies diving into blockchain and the value is obvious. But the biggest criticism of Ethereum to date is this — where is the globally disruptive dApp? You have plenty of cool technologies available but global enterprise adoption this far has been MIA.
And out of the blue — Morpheus.Network becomes adopted by a national governing organization SENASA to provide a STANDARD solution for the use of a digitized, blockchain-based, middleware platform to STANDARDIZE an entire national industry.
This is a tiny preview of what is to come. Use your imagination. Argentina is where this begins and ends? No way – if you're actually paying attention you already know there are more countries that have adopted Morpheus.Network as a NATIONAL STANDARD.
Uniswap
MRPH Contract address
0x7b0c06043468469967dba22d1af33d77d44056c8
DexTools
https://www.dextools.io/app/uniswap/pair-explorer/0xb89ed43f45d1f870be815c7b53368a1cc5184474
Uniswap buy/sell
https://app.uniswap.org/#/swap?inputCurrency=0x7b0c06043468469967dba22d1af33d77d44056c8
Signup for becoming a Liquidity Provider
https://liquidity.morpheus.network/Platform/Login
Impermanent Loss Explained
https://academy.binance.com/en/articles/impermanent-loss-explained
How Do Liquidity Pools Work? DeFi Explained
https://finematics.com/liquidity-pools-explained/
How to use Coinbase Wallet App with Metamask to buy MRPH on Uniswap?
https://blog.ujomusic.com/how-to-buy-eth-using-metamask-coinbase-ecffe9ede78e
Ledger – Why UniSwap transactions keep failing?
https://teckers.co/uniswap-ledger/
What is impermanent loss?
See article under Uniswap header. Understand this:
Impermanent Loss plays a large factor in your upside returns. If Coin A moons and Coin B stays put (from the levels you added liquidity at) then you will make less return in LP than you would have otherwise holding Coin A alone (or staking it).
Also, you have to factor in the opportunity cost of Coin B being locked as opposed to Coin A alone. Lots of considerations that have to be made in spite of project belief.
Step-by-Step for buying MRPH on Uniswap and providing liquidity
https://1drv.ms/u/s!AglTCjVGM7qW37M2Mbj6j5hpdewZsg?e=SmgX3h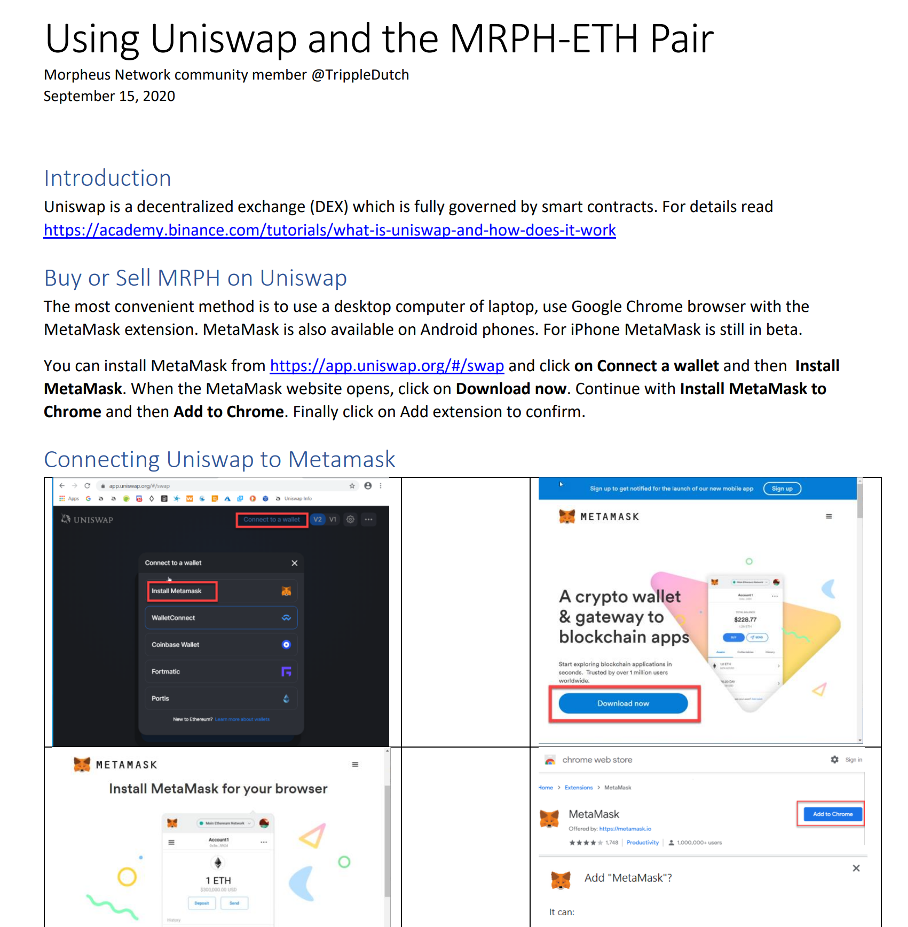 Pictures
https://drive.google.com/drive/folders/1vGA4jphx-uTgfGjGY7jDDuza_kxL5wuJ
Videos
Morpheus.Network Overview video
https://www.youtube.com/watch?v=4jbPwmyk8nA
Morpheus.Network AMA with Oddgems (Ask Me Anything)
https://www.youtube.com/watch?v=AY0pI7Q74a0
Going Global – Morpheus.Network – Interview With the Global Business Director
https://www.youtube.com/watch?v=nVmGU_F_niQ&feature=youtu.be
Morpheus.Network Baseline Protocol Webinar
https://www.youtube.com/watch?v=qEmnyVRrZUw&t=454s
Fees & Masternodes
https://www.youtube.com/watch?v=i6Nj8o28o_g&feature=emb_logo
Supply Chain Management and Blockchain
https://www.youtube.com/watch?v=T8pdS-MauMc&t=655s
Chico Crypto on Morpheus.Network
https://www.youtube.com/watch?v=Opnwm0VKOdo
Sheldon Evans on ETH/BTC and Morpheus.Network at 20:15
https://www.youtube.com/watch?v=Fk8BOfma1O0&feature=youtu.be
Working with Government
https://www.youtube.com/watch?v=E0MAA-7AMeU&t=101s
The next VeChain (Coca-Cola mentioned)
https://www.youtube.com/watch?v=x3vC_I-HSMs&t=9s
CEO Dan and Vignesh discuss a sidechains & layering technology
https://www.youtube.com/watch?v=X8zLMKvzif4&feature=youtu.be
Other videos
https://www.youtube.com/results?search_query=morpheus+network+
Articles
3-Part series explaining the utility of MRPH
Part 1: https://medium.com/morpheus-network/part-1-mrph-platform-scalability-masternodes-layering-and-sidechains-10fa91aaf3
Part 2: https://medium.com/morpheus-network/part-2-token-functionality-and-scaling-morpheus-network-e54b7f15ec5b
Part 3: https://medium.com/morpheus-network/part-3-platform-mrph-token-flow-7d148f960bc6
Morpheus.Network/Hanhaa Brexit solution EU news article
https://www.eubusinessnews.com/how-to-prepare-your-company-for-brexit/
Morpheus.Network and Hanhaa tackle supply chain issues around Brexit
https://irishtechnews.ie/morpheus-network-hanhaa-supply-chain-issues-brexit/
IPFS – Case study: Morpheus.Network
https://docs.ipfs.io/concepts/case-study-morpheus/#overview
Fees & Masternodes
https://medium.com/morpheus-network/legal-update-dan-and-head-of-legal-grant-gulovsen-discuss-fees-masternodes-video-ee6f84e27ec0
Part 3: MRPH Uniswap Liquidity Provider Bonus Program is Live!
https://medium.com/morpheus-network/part-3-mrph-uniswap-liquidity-provider-bonus-program-is-live-3793691577fc
Blockchain Guru have created The Dimitra Platform
https://blockchainguru.ca/dimitra
Worldwide Supply Chains 2021 – Top 10 predictions
https://www.linkedin.com/pulse/worldwide-supply-chains-2021-top-10-predictions-chitravanshi/
Let's build together a more sustainable supply chain
https://www.linkedin.com/pulse/lets-build-together-more-sustainable-supply-chain-karl-mcdermott/
Do or Die for the Obsolete Supply Chain Management Practices in 2021
https://www.supplychainquarterly.com/blogs/2-scq-forum/post/4335-do-or-die-for-the-obsolete-supply-chain-management-practices-in-2021
Department of Homeland Security (DHS) Trials Blockchain Solution for Canadian Borders
https://blockchain.news/news/Department-of-Homeland-Security-DHS-trials-Blockchain-solution-for-Canadian-borders
Graphics
Partnerships and collaborations
Integrations and partnerships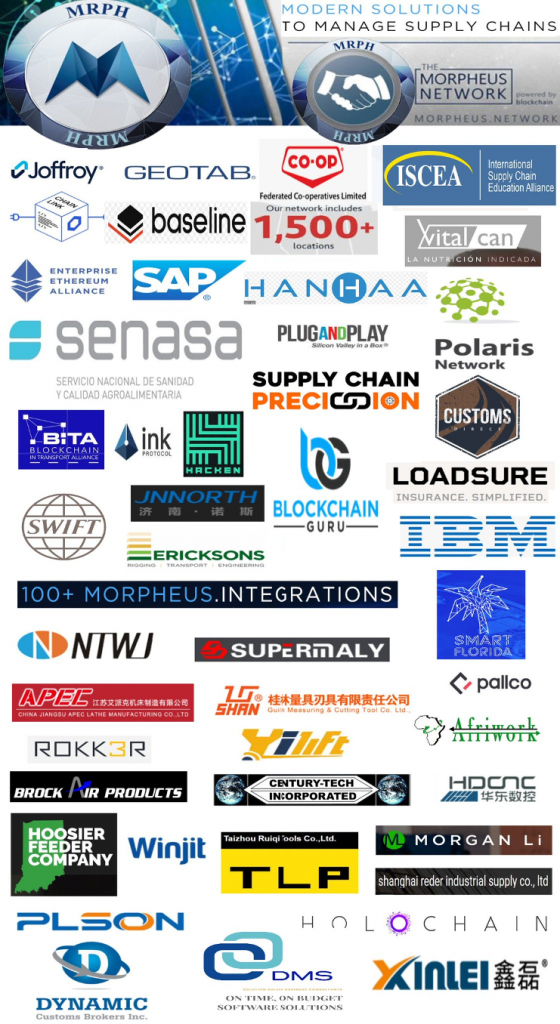 Technologies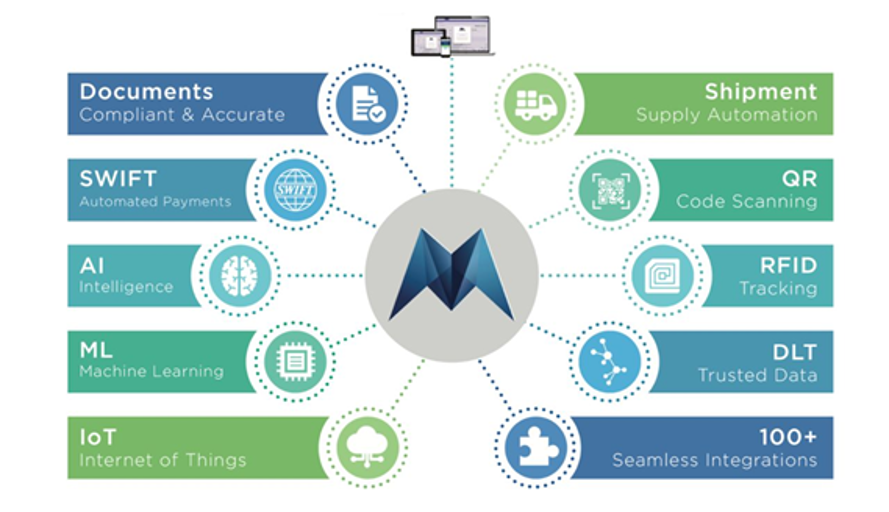 Optimized Supply Chain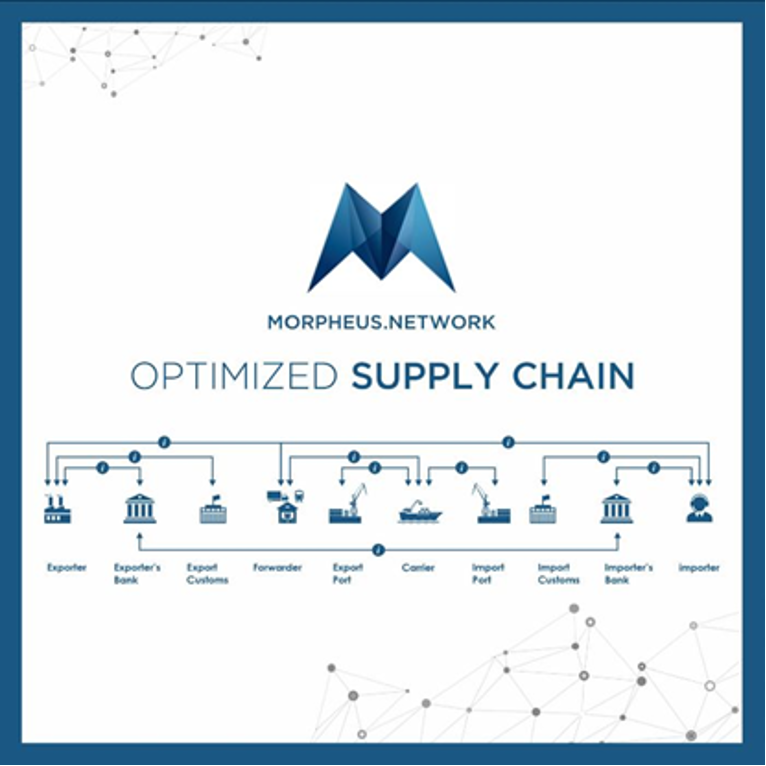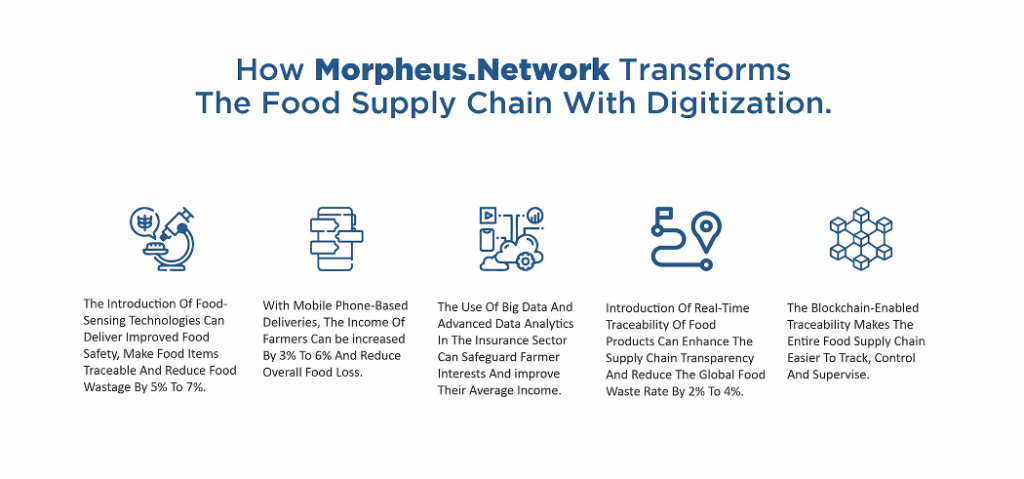 Export-Import Flow Canada – USA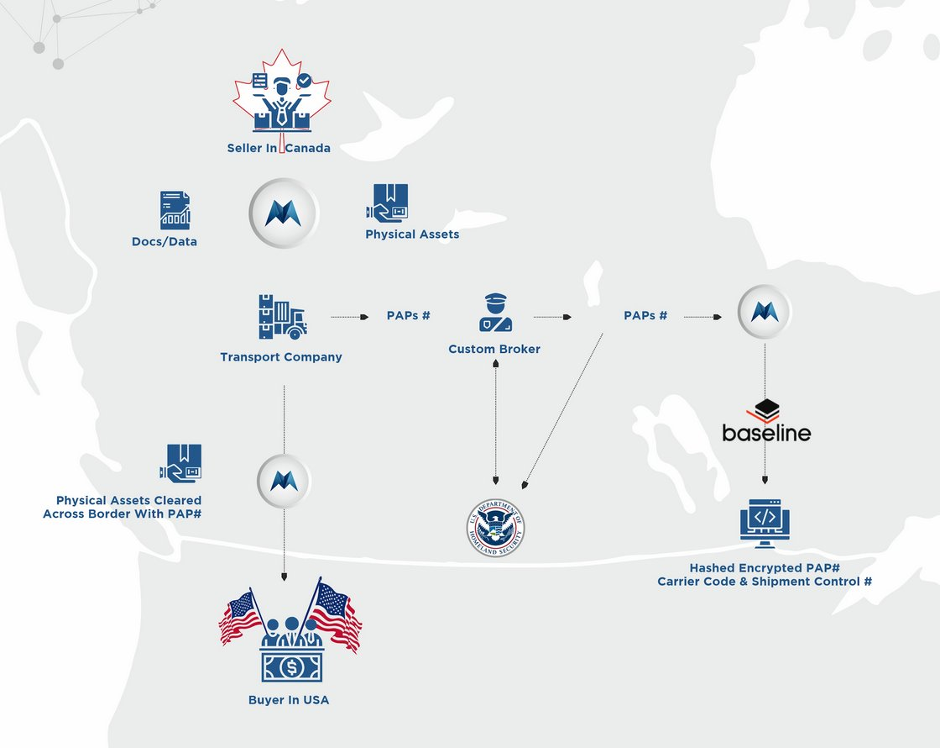 Emerging technologies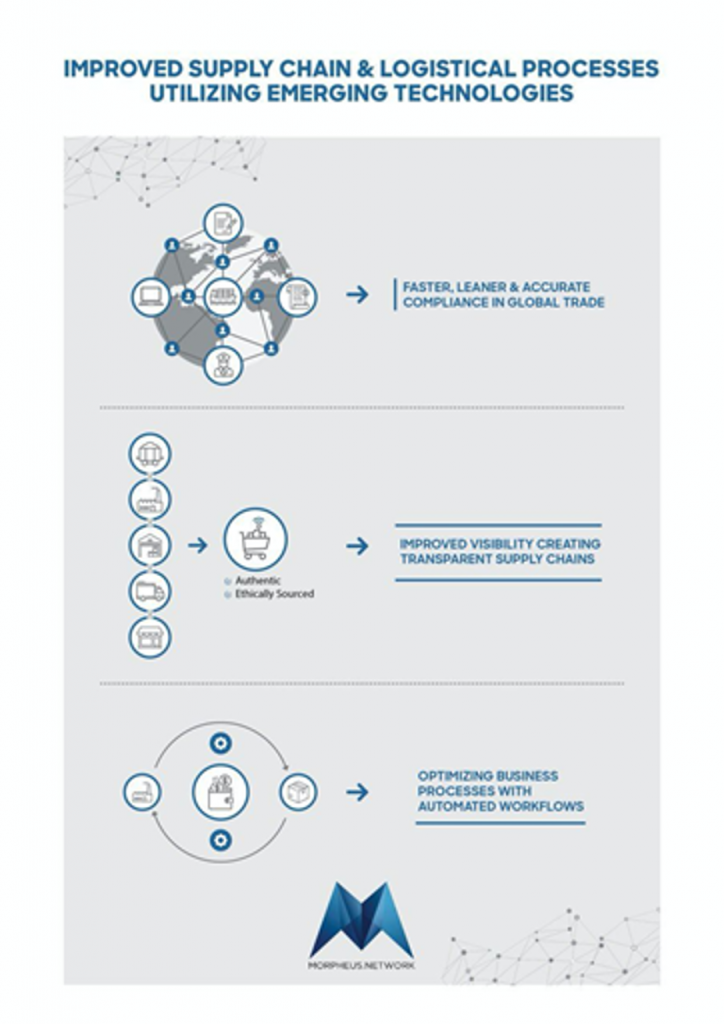 Geo Tracking and traceability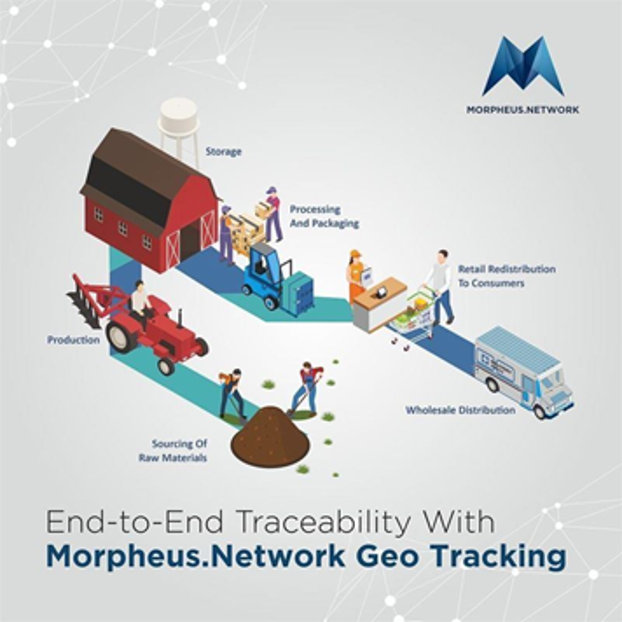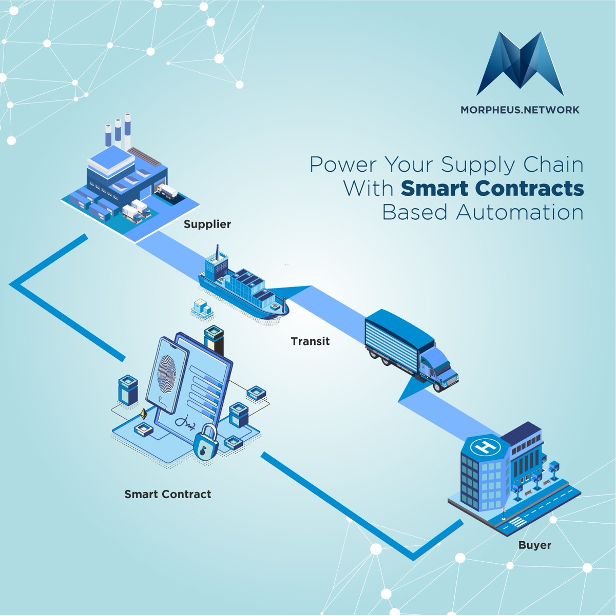 Machine Learning (ML)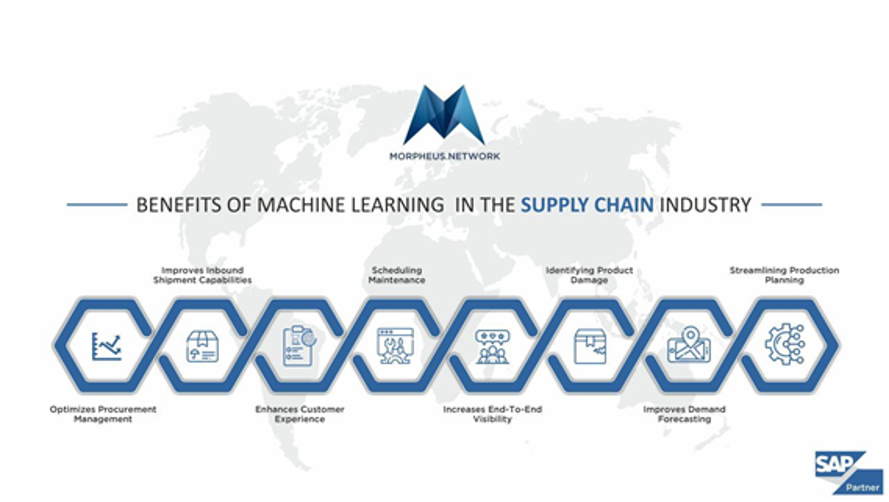 Baseline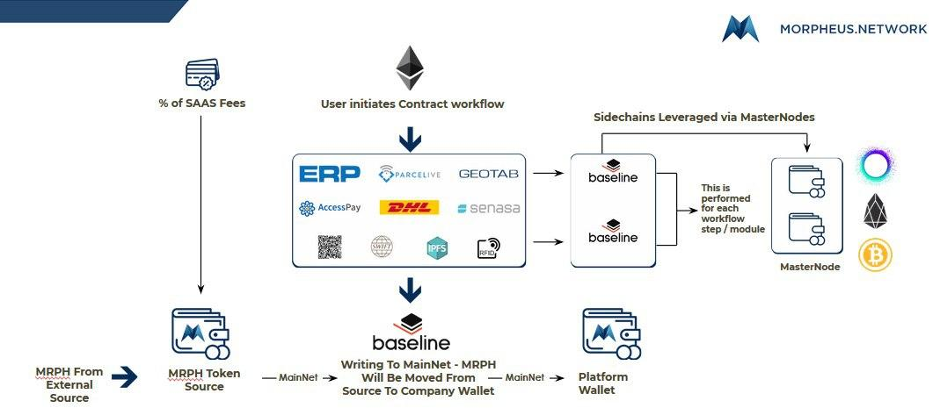 Farming Platform
Sustainable Supply Chain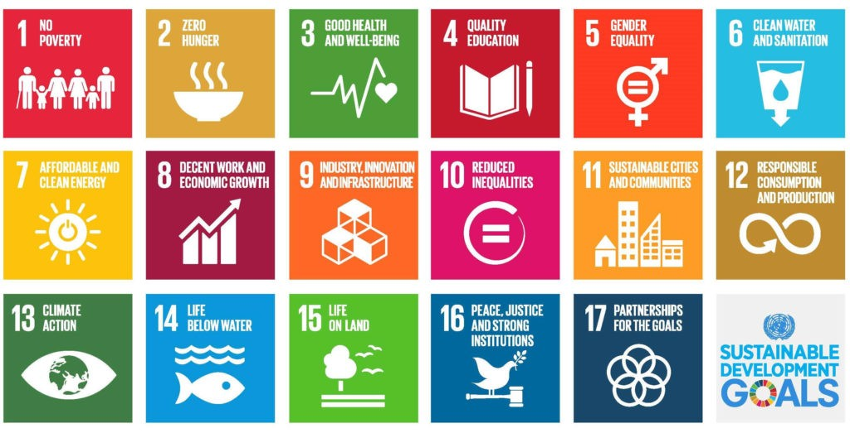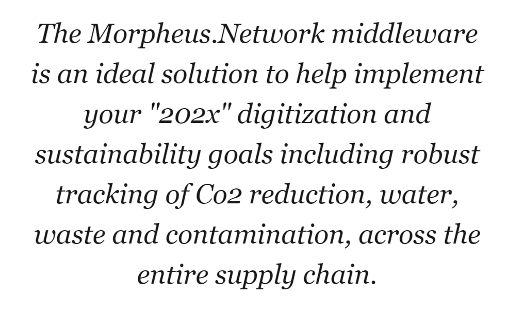 The Smart Supply Chain Alliance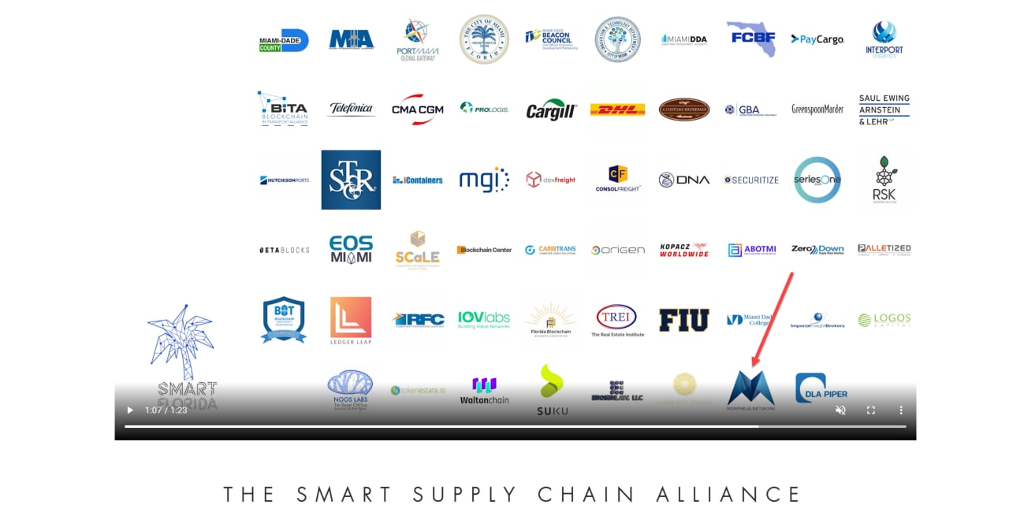 Roadmap
The last published roadmap and projections can be found on the Morpheus.Network Roadmap.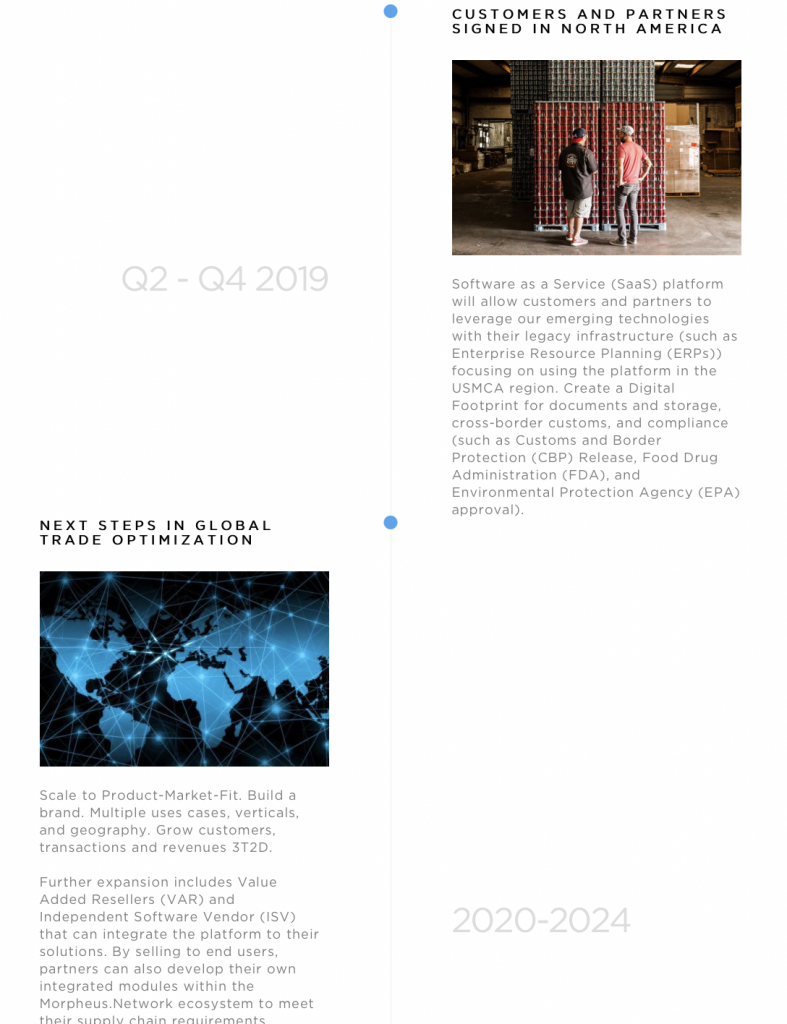 Google Docs
If you want to access the latest version of the Morpheus.Network Wiki, be sure to check out the wiki's continuously updated Google Docs: https://docs.google.com/document/d/1oqrAV8VkdPvRY7jKZ8HQtXe29FMBgm-UuTRXw67Ny2A/edit?usp=sharing
Acknowledgments
A sincere thank you goes to the members of the Morpheus.Network Marketing Team, headed by @MarcVC. We also appreciate the many social media contributors on Twitter, and Facebook who all helped to put Morpheus.Network on the map.
Telegram names with Twitter links: